Like any other medium, anime has a few titles that are pretty bad. But to understand and enjoy Japanese animation, sometimes you need to give these series a chance. After all, a "bad" reputation doesn't necessarily make for a forgettable anime. In fact, the opposite is true.
These shows usually have something, such as awful visuals, absurd dialogue, or clichés, that make them not only unforgettable but entertaining. Who hasn't watched a bad movie just for fun, especially with friends? It's addicting. So, next time you're in the mood for a bit of mindless fun, give these five bad (but watchable!) anime a chance.
School Days
There are many things wrong with School Days. However, what stands out is its lead male character. The anime series quickly turns from an average harem into a sordid love triangle between the main characters, Sekai Sainoji, Kotonoha Katsura, and Makoto Itou.
Throughout the series, the mild-mannered Makoto lies, cheats, and publicly embarrasses his girlfriends to the point that you'll hate him with all your might. Typically, shows featuring terrible people give its audience a break by making its other characters likable. Unfortunately, those characters don't exist, as the others are just as disgusting as Makoto, with little regard for other's feelings.
School Days is an overblown representation of school life. However, the unbelievable emotional rollercoaster that the series puts viewers through is worth it. Its controversial ending puts modern soap operas to shame. School Days will pique your interest for all the wrong reasons, but that's what makes it so good.
Pupa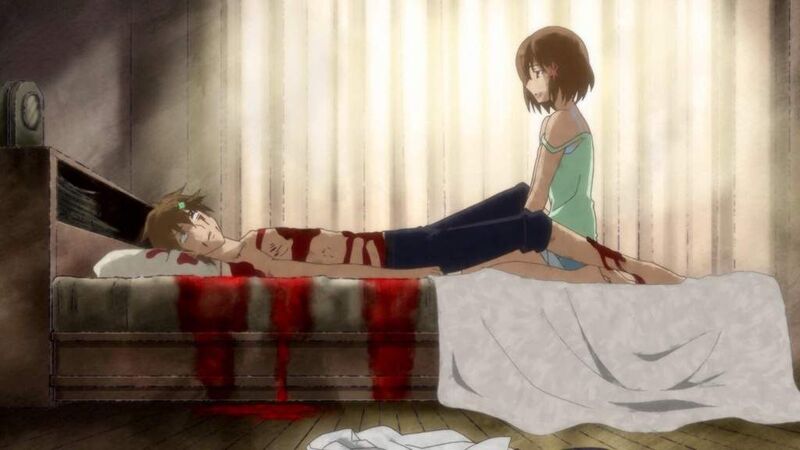 Sibling incest is enough to turn off any anime fan, especially when its there purely for shock value. However, aside from its sexual undertones, Pupa is a great series to watch. The anime follows Utsutsu and his younger sister, Yume, who contract a mysterious virus, which scientists call "Pupa," while taking a stroll in a park.
The symptoms of this inexplicable virus cause Yume to sprout grotesque wings and gain a limitless desire for flesh. Utsutsu, on the other hand, obtains the power to regenerate, as he is only partially affected by the virus. Unable to let his sister kill innocent people for food, Utsutsu offers Yume his body to quench her uncontrollable hunger.
Many anime fans feel that Pupa does the horror genre a disservice, even though it has all the necessary tropes: gore, mystery, evil scientists, and sacrifice. It's so short that it never gets the chance to fully explore its dark themes or the siblings' relationship. Not to mention, for a show that seems aimed at fans of strange fetishes, it sure does censor itself quite a bit. However, watching this anime try and tell a cohesive story, despite the obstacles it put in its own way, is part of the fun. On top of that, each episode is 4 minutes long, perfect for binge-watching in one sitting.
Ghost Stories
The English-dubbed version of Ghost Stories is infamous for butchering Japanese folklore. What was meant to be a horror story involving kids and Japanese mythology turned into a gag dub. ADV Films, the licensor, and the anime's ADR director Steven Foster, decided to replace the English script with a comedic one.
The improvised script allowed the voice actors to set the tone and subject for each scene, and they took full advantage of this. Their ad-libbed performances resulted in random characters telling lewd jokes and breaking the fourth wall. Simply put, the voice actors had fun with the script. On the one hand, the English-dubbed version is terrible. It fails to explain the intricate details of Japanese folklore and mythology. On the other hand, it's a good thing that it doesn't take itself too seriously. We rarely see horror anime series take this approach.
Chargeman Ken!
No studio sets out to make a bad anime, but it happens sometimes. Unfortunately, for its creators, Chargeman Ken! falls into this category.
The 1974 series follows the hero Ken Izumi, and, based on the title, you can already guess what his abilities are. Ken can absorb the energy from surrounding light sources and transfer it into his laser gun. With his custom, cool car Sky Rod, he fights alien invaders known as Jural Seijin. Joining him are his sister Caron, who often becomes a target for the Jurals, and their robot dog, Barican.
The animation studio behind Chargeman Ken!, Knack, had a meager budget during the time of production. These constraints led to stiff animation, nonsensical writing, poor sound design and a terse 6 minutes run time per episode. These setbacks earned the anime a place in the "so-bad-it's-good" category and a cult following in Japan.
Valvrave the Liberator
In the distant future, war is as common as it is today. However, countries such as Japan and the Islands of the Oceanian Republic (JIOR) live peacefully, maintaining neutrality between themselves and other warring nations. Yet, all of this comes to an end when a fleet breaches the neutral colony in search of the mechanized weapon known as "Valvrave." Caught in the middle of it all is 17-year-old Haruto who stumbles upon the weapon and now must start a revolution to free the world.
Valvrave the Liberator is nuts, goofy, and above all very fun to watch. The plot makes no sense. In fact, some might find it infuriating. Each episode alters the anime's story arc so much that you'll ask yourself, "What did I just watch?" Accompanying these nonsensical scenes are beautiful visual graphics on par with top-rated mecha series, such as Aldnoah.Zero or Gargantia on the Verdurous Planet. Studio Sunrise condenses fighting robots, insane dialogue, and awesome animation into 12 episodes, resulting in a so-bad-it's-good level that few anime shows can surpass.