Remember when the best video game players could only showcase their skills at the local arcade? Now millions of fans watch people playing games live or on network broadcasts as they compete on a global stage. Professional gaming viewership has amassed levels which, at times, rival traditional sporting events.
Currently, professional gaming is seeing tremendous growth in the U.S. The $700 million professional gaming industry could double in size by 2020. Gamers finally have the opportunity to ascend from local heroes to professional legends. Although American professional gaming remains obscure outside of the industry, the gaming landscape looks set to change with the launch of Blizzard's Overwatch League.
Overwatch League
Blizzard's Overwatch League (OWL) launched this month (and will be followed by a post-season in August 2018). The professional gaming league features teams competing globally in the extremely popular first-person shooter Overwatch, one of Blizzard's most popular titles with over 35 million players.
The league employs a structure similar to that used by more traditional sports leagues. Like the NBA or NFL, permanent team franchises located in different cities with unique branding compete against one another. Other eSports leagues use a system of promotion and relegation where teams can change based on performance. The stability of teams within the OWL will help to retain fan loyalty and encourage owner investment.
League play kicked off at the new Blizzard Arena in Los Angeles. In future seasons, teams will host games from their own custom arenas. Individualized local arenas set the OWL apart from other eSports leagues by allowing fans to truly support the home team.
International Teams
The OWL is comprised of 12 teams competing in two divisions for the inaugural Overwatch League season. Representing 11 major cities across four countries, the geographic placement of teams will help the league stimulate regional interest in the eSport. Cities represented in the first season include Los Angeles, Boston, New York City, San Francisco, Miami/Orlando, Philadelphia, Dallas, Houston, London, Shanghai, and Seoul.
This local support will be essential if OWL is to break the mold and attract fans and sponsorship from outside the gaming world. Gamers and casual fans alike will feel tied to the success of their local teams. Their support will come in the form of purchasing event tickets, game merchandising, team jerseys, and even in-game items like team skins. This will also attract involvement from local sponsors as they provide activities geared at supporting teams.
Player Development
Blizzard has created a clear talent development pipeline focused on helping its players grow from amateur to pro. For the inaugural OWL season, Blizzard used a "combine" approach similar to the NFL's to help teams discover and sign top talent. Team owners are responsible for cultivating team and player development. Blizzard even created a development league, Overwatch Contenders, to further hone the skills of aspiring Overwatch League players.
OWL-signed players received one-year team contracts with a minimum annual salary of $50,000 and a second-year option. Players also get health and retirement benefits, housing and training support, and a split of 50% of season bonuses earned by the team. With the accumulated prize pool for all stages of the season totaling $3.5 million, this is an exceptional career opportunity for top talent.
Unlike other professional eSports leagues, the OWL doesn't lock talent to specific regions. International players can sign with teams outside of their home country. As some of the strongest gamers often come from one region, not locking talent will help to balance power across teams within the league. This will allow for greater parity and improve the fan experience.
League Investment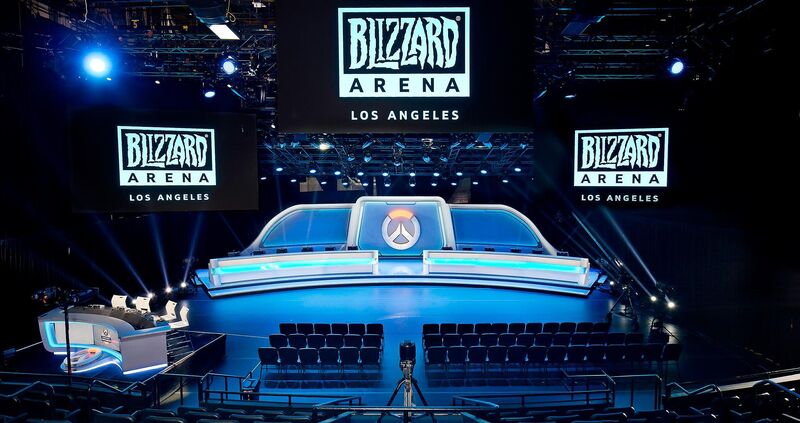 The tremendous growth potential for eSports helped Blizzard entice investment in the OWL. Speculation is that the cost of acquiring a franchise in the league was as much as $20 million. Blizzard not only secured investment from endemic eSports brands but traditional sports teams as well. Participants associated with the LA Rams, New England Patriots, Philadelphia Flyers, NY Mets, and Sacramento Kings are among the investors for the OWL's first season.
Attracting investors outside of endemic gaming brands will help to expand the league's footprint. It also provides an opportunity to leverage their experience in operating a professional sports league. The sizable investment in the league possibly alienated potential investors up front. However, the investment should ensure a long-term commitment on the part of those who participated towards the success of the league. A successful inaugural season will likely draw future franchise interest from investors that initially balked at the high investment.
League Coverage
Blizzard launched a brand new Overwatch League app to allow fans to watch and track team performance in the OWL. The app is a portal into everything a fan will want to know about the game. Hopefully, the app will allow Blizzard to bridge the gap between fans and players. Building a story around the players will create more of an emotional connection for fans. It will help foster feelings of joy in times of triumph and despondence in times of defeat.
In addition to the Overwatch League app, games during the inaugural season will be broadcast across several platforms including Twitch, OverwatchLeague.com, MLG.com and the MLG app. Reaching mainstream audiences is an essential step to legitimizing professional gaming. This is another place where having buy-in from owners in traditional sports leagues should help. As the league evolves, OWL should be able to leverage off their experience to help secure major network coverage for at least one major game a week. However, the jury is still out on whether OWL will be able to accomplish this.
Potential Impact
OWL represents the next step in the evolution of professional gaming. By combining aspects of traditional sports platforms with that of professional gaming, Blizzard can create a league experience that appeals to mass audiences. Success for the league will draw in more investment and sponsorship from participants outside the gaming world. The expansion of the league's footprint will provide the opportunity to reach greater audiences and increase its impact. The Overwatch League is definitely poised to legitimize professional gaming.