Black Panther is one of the most eagerly anticipated movies of the year. And thanks to a recent announcement, its soundtrack album is now equally eagerly anticipated. So the following is everything we know about the record. And with more info dropping between now and release, we'll keep updating this feature, with the most recent news at the top.
'Pray For Me' Featuring The Weeknd and Kendrick Lamar Released
February 2, 2018 – Kendrick Lamar and The Weeknd have released an absolute banger from the soundtrack entitled 'Pray For Me.' The track has The Weeknd singing "Who will pray for me? Take my pain for me? Save my soul for me?" during the chorus. Lamar then stops by to rap about needing a hero, fighting the world, and sacrificing for the greater good. We reckon this one is a strong contender to play over the end credits.
Kendrick Lamar Tweets Cover/Track-List
February 1, 2018 – Kendrick Lamar has given us our first look at the soundtrack's cover art, and it's simple, but effective. He also posted the track-list, with the album featuring 14 songs, performed by the likes of The Weeknd, Travis Scott, Vince Staples, 2 Chainz, Jorja Smith, and Lamar himself. Click on the above Tweet to see the full line-up.
New Track 'King's Dead' Features Jay Rock and James Blake
January 12, 2018 – Another new Black Panther track has been released via Soundcloud…
'King's Dead' is by Jay Rock featuring Future and James Blake, as well as the soundtrack's producer Kendrick Lamar. The track is produced by Mike WiLL Made-It and Teddy Walton, and is also the first single from Rock's forthcoming Top Dawg album.
Collating Original Songs Was Director Ryan Coogler's Idea
January 10, 2018 — Director Ryan Coogler says it was his idea to pull together original songs for the soundtrack. Speaking to Fandango, Coogler said: "Yeah, it was initially my idea, but hats off to the Disney marketing team and the music team here for being completely open to it.
"I think that I was fortunate that I had a relationship with Top and Kendrick before signing on to do this film, but it was working with doing something that I really thought would be right for this project, specifically, and also happy that Disney was open to it and Marvel was open to it and seemed supportive of the idea. I can't wait for the world to hear some of the art that they've been working on. I think that folks will be really excited to hear that stuff, man."
Vince Staples Appears on New Black Panther Cut
January 9, 2018 — The newest Black Panther trailer features a collaboration between Kendrick Lamar and Vince Staples, and is a much more aggressive track than the SZA cut. Check it out below…
Kendrick Lamar is Producing the Black Panther Soundtrack
January 4, 2018 — Marvel has announced that hip-hop superstar Kendrick Lamar will oversee the soundtrack, producing songs for the movie and curating the music of others. Lamar follows in the footsteps of other artists who have recently produced soundtracks, including Jay-Z (The Great Gatsby), Lorde (The Hunger Games: Mockingjay – Part 1) and Pharrell Williams (Dope).
Lamar said in a statement: "Marvel Studios' Black Panther is amazing, from its cast to its director. The magnitude of this film showcases a great marriage of art and culture. I'm truly honoured to contribute my knowledge of producing sound and writing music alongside [director] Ryan [Coogler] and Marvel's vision."
Anthony Tiffith is Co-Producing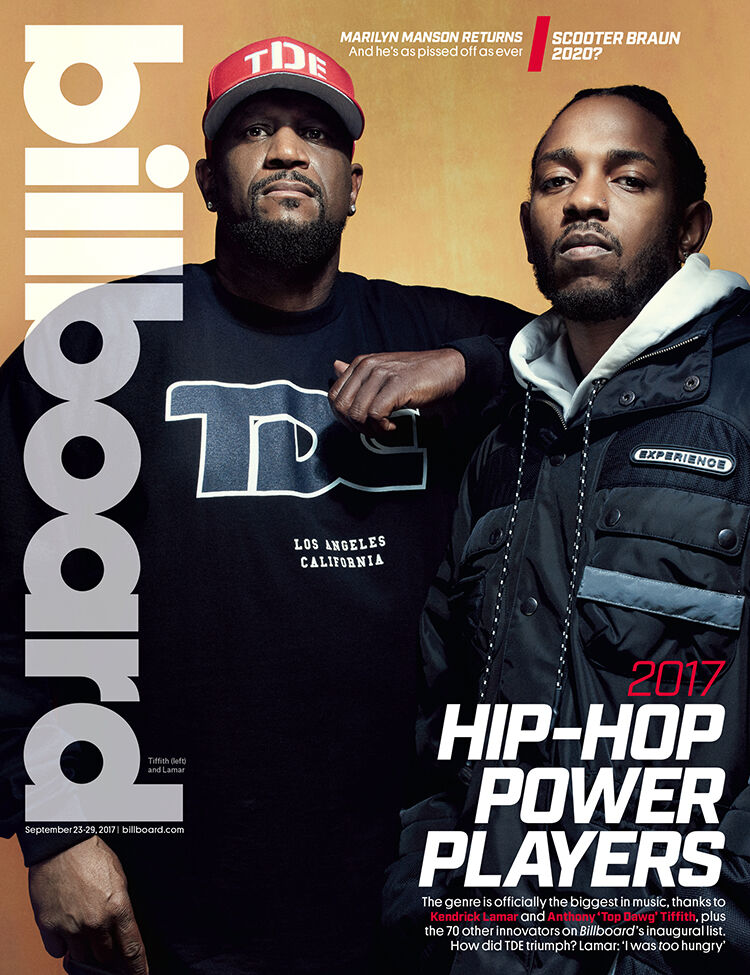 January 4, 2018 — Anthony 'Top Dawg' Tiffith is co-producing the soundtrack alongside Lamar. As the founder and CEO of Top Dawg Entertainment (TDE), Tiffith has signed the likes of Isaiah Rashad, Jay Rock, Schoolboy Q, SiR and SZA, as well as Lamar.
Director Coogler is excited to be collaborating with the pair, stating "I am honoured to be working with such an incredible artist whose work has been so inspirational, and whose artistic themes align with those we explore in the film. I can't wait for the world to hear what Kendrick and TDE have in store."
The First Single is Called 'All the Stars'
January 4, 2018 — 'All the Stars' is the first single from the Black Panther soundtrack. It's a collaboration between Lamar and SZA, and can be viewed below…
The Black Panther soundtrack is released on February 9, while the movie hits screens in the UK on February 12 and in the US on February 16.