Two years after Jurassic World brought dinosaurs stomping back onto the big screen, Universal has finally given us a glimpse of its highly anticipated sequel. Depending on your expectations, this trailer will either delight you or bore you to tears. Based on what we've seen so far, it looks to offer less of the carefully crafted suspense of Jurassic Park and more of Jurassic World's suitably over the top CG action.
Unsurprisingly, Fallen Kingdom is a fairly direct sequel. After Chris Pratt's Owen and Bryce Dallas Howard's Claire were evacuated from the ruined park at the end of the last movie, it seemed as though the dinosaur-themed wonderland was done for good. Sadly for fans of the happy couple, though, it turns out their brief fling met a similar fate.
During an awkward meeting in a bar, Claire seeks out Owen after months apart, begging him to return to the abandoned island. It soon transpires that Jurassic World's park was built on the site of an active volcano, which is now starting to erupt, leaving the defenceless dinos in great danger.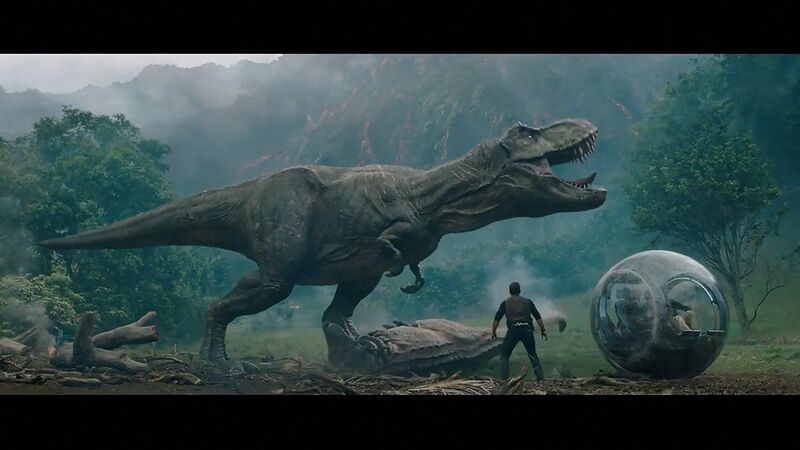 The trailer then cuts to a court hearing, revealing the return of Jeff Goldblum's Dr. Ian Malcolm as he implores a committee that Isla Nublar's endangered dinos are worth saving.
The rest of the trailer shows our stars running away from panicked dinosaurs, a new horned carnivore getting torn apart by a T-Rex, and one of Pratt's beloved raptors – Blue – not being too happy to see its old handler. As you'd probably guess, the military is helping out once again, so you can most likely expect Owen and the military to clash like before.
There's also a nod to the original movie, with a quick shot revealing an old truck emblazoned with the Jurassic Park logo.
Launching in June 2018, this sequel looks set to offer more silly, CG-tastic dinosaur action.