The director and cast of Pacific Rim Uprising stopped by New York Comic Con today to launch the film's first full trailer and to spill the beans regarding the characters, tech, and plot of the sci-fi sequel.
A World of Chaos
Writer-director Steven DeKnight — appearing onstage in full military uniform — explained that he grew up watching and loving Ultraman and Godzilla movies, so he used that passion to play in the Pacific Rim world that Guillermo Del Toro had created.
DeKnight explained that the sequel takes place 10 years after the events of the original, and will "explore where humanity is at this point in time."
The writer-director added, tantalisingly, that the sequel will "give some insight into why the Kaiju are attacking."
Rather than separating forces into countries/nationalities, all of humanity is working together in Pacific Rim: Uprising, while the film features a new generation of Jaeger pilots who, according to DeKnight, "have only known a world of chaos."
The Last Jedi's John Boyega plays pilot Jake Pentecost, the son of Idris Elba's Stacker Pentecost from the first movie. Boyega, who also serves a producer on Pacific Rim: Uprising, said that Jake is a thief and hustler who "doesn't want to live up to the Pentecost name."
But thanks to his connection with a young girl called Amara, Jake joins the fight and "realises he has to step up and be a leader."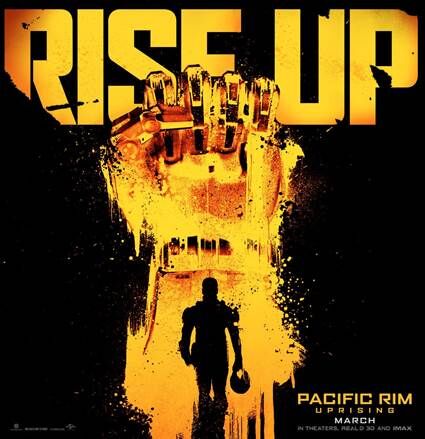 More Key Info From the Pacific Rim Panel
Because they were all destroyed at the end of Pacific Rim, the Kaiju have been rebuilt from the ground up for Uprising.
Gipsy Avenger, the successor to the Gipsy Danger Jaeger, features lots of upgrades and wields a 'Gravity Sling' that allows Gipsy to hurl cars and buildings.
Bracer Phoenix has a three pilot rig wherein the third pilot can operate a massive gun called the Vortex Cannon.
Saber Athena is the most advanced of the Jaegers, and attacks using a pair of Plasma Swords.
Titan Redeemer has a 'ball of death' attached to an arm, and according to DeKnight, is "pretty damn cool."
Guardian Bravo has a whip for a weapon, and uses pure brute force.
Scrapper is the smallest of the Jaegers and was "slapped together" by Amara.
Scott Eastwood's character is Nate Lambert, a great pilot and former friend of Jake Pentecost. Uprising will find them dealing with their past.
Cailee Spaeny plays Amara, whose family was killed 10 years previous. She's ready to fight, and according to Spaeny, is "super-badass."
Burn Gorman returns as Dr. Hermann Gottlieb, who "still has problems with personal hygiene." He's a man very much affected by what happened in the first movie, and is dealing with those issues in the sequel.
Finally, and perhaps most excitingly for Pacific Rim fans, DeKnight said that this new film is "hopefully the first step in a bigger Pacific Rim franchise."
Pacific Rim Uprising hits cinemas in March 2018.