Describing Ready or Not, co-director Tyler Gillett told Fandom, "A bride marries into a very eccentric family and on the night of her wedding she has to play a game and she picks hide and seek which is a game you can't really win. And things go really badly for the rest of the night."
Of course "go really badly" is a big understatement for the bride in question, Grace (Samara Weaving), who finds herself being hunted by her new in-laws, who fully intend to murder her as part of a longtime family ritual with mysterious origins.
Gillett and collaborators Matt Bettinelli-Olpin and Chad Villella make up the trio known as Radio Silence, whose previous work includes Devil's Due and segments in the anthologies V/H/S and Southbound. The trio recently stopped by Fandom to discuss Ready or Not, and how it combines elements of comedy, horror, suspense and more into a rather irresistible combination that has been garnering the film a ton of positive buzz and strong reviews.
FINDING THE TONE
Ready or Not is written by Guy Busick and R. Christopher Murphy, and as Gillet explained, "I think the tone and characters were really what drew us to the script from the get. The tone is just exactly the experience we want to have when we got to a movie. There's very real emotional drama. It's fun, it's funny, it's scary, it's thrilling. It just hit all of these notes. It's a real mix of genres. And we loved the challenge of taking this huge cast of really interesting characters and just grounding all of those tones really emotionally. It was a really fun ride and a real page turner with a bunch of cool set pieces and moments that we hadn't seen before really that we're so stoked about."
Combining comedy and horror can be tricky, but Villella noted, "I think we approach it first and foremost like a thriller so we just want to live in the tension of every moment. So you don't know what's going to happen next. You don't know what's around the corner. It could be a joke or it could be a jump scare and really letting that build out and getting the audience leaning in that way."
HERE COMES THE BRIDE
With a movie like Ready or Not, you need a cast who understand exactly what you're going for and the film boasts a very talented group playing the family, including Mark O'Brien, Adam Brody, Henry Czerny, Kristian Bruun, Melanie Scrofano, Elyse Levesque, Nicky Guadagni and Andie MacDowell. But it's Samara Weaving who is front and center for nearly the entire running time, carrying the film as Grace. Asked how quickly they knew they found their leading lady after meeting her, Gillett replied, "I think it was instantaneous."
He continued, "There is an honesty and a fearlessness with who she is in her everyday life. There was so much of Grace in her when we first met her. She had a really interesting take on the character. It would have been easy to do the cliché of this girl who doesn't know who she is, and is afraid and incapable at the beginning, becoming more and more proficient with dealing with the situation as the movie goes on. And instead she was like, 'No, my backstory is this and I'm a scrapper and I'm kind of a badass from the start' and it's the movie's job to stack a ton of obstacles in front of her that make the journey to the end as impossible as [it is] possible. She just had a great time embodying that."
Ready or Not takes place over the course of one night, with Grace forced to fight for her life in her wedding dress – albeit with several alterations along the way, from the chucks she puts on in place of fancy footwear to the weapons she begins to carry to defend herself.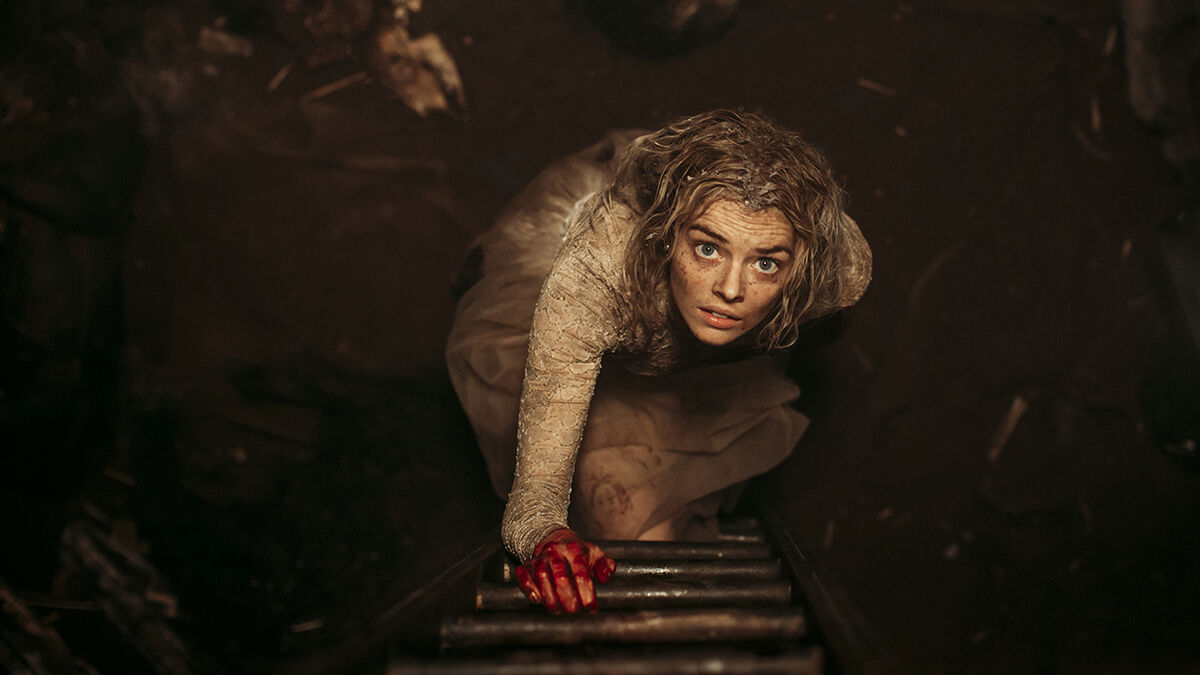 As Bettinelli-Olpin explained, "The dress was like such a big deal for us because it really is a metaphor throughout and you have to watch it fall apart in a way through the whole story. We talked with Avery [Plewes], our costume designer, at length about 'How do we make this feel — if we're lucky, in its form — like an iconic image? The bride in the torn up dress with the chucks and the shotgun.' But it was really finding a way to ground that where it was like that's her, she's the chucks. The dress is the family, and it's falling apart throughout this ordeal. It was about leaning into it, storywise, but also production wise. I think we had seventeen dresses."
Added Villella, "Avery was excited about the dress too. She used a lace material that she was thrilled with the way it caught blood, caught dirt… caught goat… and everything else Grace had to go through in the movie. It becomes a part of the dress once you go through it once and it gets that dirty feel."
THE RESPONSE
Ready or Not received an incredibly enthusiastic response at the Fantasia Film Festival last month, which Bettinelli-Olpin described as "Thrilling. It's crazy. That was a wild screening. There's a moment that happened the same at the test screenings — but it was even more fun at Fantasia. At the test screenings, people don't know what they're getting into because it's blind [testing]. So you see them being like, "I'm laughing. Why am I laughing? Should I be laughing? Is this okay?" And at Fantasia, they knew you could laugh, so as soon as funny stuff starts happening you could feel it – and the same thing with the scares."
For more of what Radio Silence had to say about making Ready or Not – including the amusing fact that the Fox Searchlight film is now owned by Disney – check out the entire video at the top of the page.
Ready or Not hits theaters in the US on August 21st.