With an army of Marvel and DC movies coming out this year, not to mention a brand new Ghosbusters and Jason Bourne film, 2016 has a lot in store for fans of cinema. Nevertheless, I've picked and pruned down the larger list to deliver my own selection of the 2016's most anticipated films.
Midnight Special
March 18th
Written and Directed by Jeff Nichols, the creator of the superb Mud and Take Shelter, comes a science fiction thriller that looks like an homage to the '80s genre flicks we know and love. Everything Nichols creates feels special, so to see him tackle a genre I adore fills me with hope.
The BFG
July 1st
Speaking of '80s-inspired genre flicks, the grandfather of them all, Steven Spielberg, directs this adaptation of the much-loved Roal Dahl story, The BFG. Like many Roald Dahl stories, The BFG is adored by kids and adults alike, and frequently makes the list of the best children's books of all time. Source material this strong in the deft hands of Steven Spielberg will be sure to delight.
Fantastic Beasts and Where to Find Them
Nov. 18th
To stay in the family-friendly zone, we return at long last to the world of Harry Potter. David Yates, who in my opinion directed the best entries in the Harry Potter film franchise, continues depicting J.K. Rowling's vision for fans of the books. Free from the pressures of adapting the original series, I'm eager to see how magical Fantastic Beasts can feel without the boy wizard himself.
Rogue One: A Star Wars Story
Dec. 16th
No one can get enough of Star Wars. Fresh off the success of Godzilla, Gareth Edwards directs this main series spin-off starring Felicity Jones as a rebel soldier tasked to steal the plans for the first Death Star. Yes, we already know how the story ends, but the adventure is in the heist itself.
Suicide Squad
Aug 5th
I begrudgingly cut Batman V. Superman from my list, but couldn't say no to this DC flick. Writer-director David Ayer has some amazing films under his belt like Training Day (screenwriter) and End of Watch (screenwriter/director). In a movie landscape full of heroes, I'm fascinated to see what he can do with some truly iconic villains. Also, Suicide Squad has one of the best trailers of any comic book film to date.
Captain America: Civil War
May 6th
Speaking of comic book movies, what kind of a list would we have without Captain America: Civil War? One of two Marvel movies this year (November's Doctor Strange being the other), Civil War aims to mix things up the cinematic universe in dramatic fashion by pitting friends against each other. Oh, and if that wasn't enough, Civil War marks the first appearances in film of both Black Panther and Tom Holland's friendly neighborhood Spider-Man.
Hail, Caesar!
Feb. 5th
The Coen brothers are some of the best creative minds in film today and I couldn't be happier to see them release another comedy. George Clooney, Tilda Swinton, Channing Tatum, Scarlett Johansson, and — of course — Frances McDormand appear in this one. Everyone appears to be bringing their A-game and the classic Coen wit shines through in the trailer. Hail, Caesar! should deliver a heaping of the same charm.
Silence
TBD 2016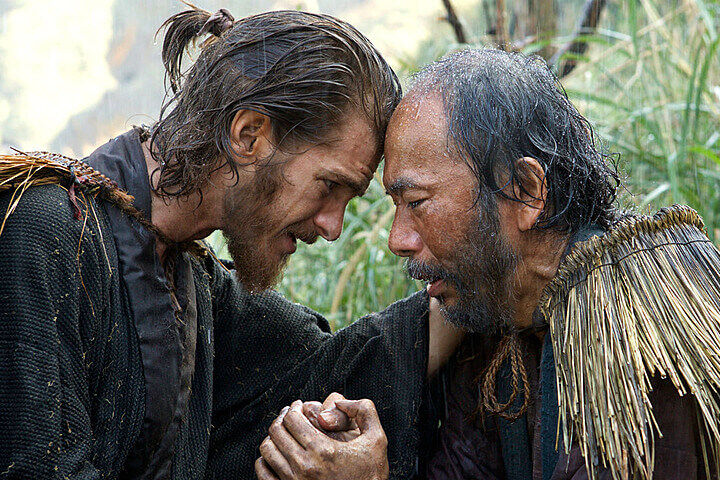 Martin Scorsese directs this historical drama about 17th century Jesuit missionaries facing violent persecution in Japan. Silence is actually an adaptation of a 1966 novel by Shūsaku Endō. Scorsese has been trying to get this film off the ground since 2009, when he originally planned Daniel Day-Lewis to star. Liam Neeson, Adam Driver, and Andrew Garfield now star in the film, set for release some time this year.
The Witch
Feb. 26th
The only horror film to make my list, The Witch is a deeply atmospheric movie about a family driven to hysteria by the threat of witchcraft in 1630s New England. The film earned a lot of positive buzz after premiering at Sundance and a quick viewing of the trailer will show you why. Writer-Director Robert Eggers creates a chilling landscape I can't wait to visit.
The Lobster
March 11th
Alright, this is clearly the weirdest and most personal pick on the list. Writer and director Yorgos Lanthimos is not a big budget movie director with a huge catalogue of crowd-pleasing films under his belt, but ever since I saw his bizarre and disturbing Dogtooth in 2009 I've been a big fan. The Lobster has an instantly strange and intriguing premise that's worthy of your attention: If our protagonist can't find a life partner in 45 days, he'll be turned into a lobster.
So these are my 10 most anticipated films of 2016, but there's plenty to look forward to this year. Be sure to check back for more of our Most Anticipated of 2016!