In this fifth installment of the popular film franchise based on Hasbro's toy line, a war rages between humans and Transformers. Optimus Prime is gone in search of his home planet, Cybertron, and his creator, Quintessa. Meanwhile, on Earth, it's up to Cade Yeager once again to save the day – only this time it's the future of the entire planet that's at stake. With the help of Anthony Hopkins' Sir Edmund Burton to unlock the secrets of the past, Yeager must face his destiny alongside newcomers Vivian Wembley (Laura Haddock) – a brainy academic – and the young and feisty Izabella (Isabela Moner), as well as a ragtag bunch of Autobots both old and new.
An Imaginative Mythology
People love to hate the Transformers franchise. Even more, they revel in detesting its director, Michael Bay. But all four existing Transformers movies have been huge box office hits, the collective entity raking in a colossal $3.7bn. Whew. Of course, when we say "people" we largely mean critics. But, going by those numbers, Transformers has clearly proved itself to be critic proof. Audiences lap up the big-screen antics of these shape-shifting alien robots – and it's likely to be the same story this time around.
The tagline for Transformers: The Last Knight, or Transformers 5 for short, is 'Rethink the Past', and the film definitely does that: it introduces some even more insane backstory elements to its already cray-cray mythology. And frankly, it's fabulous.
Brazenly Ridiculous
Transformers 5 is high campery at its most resolute; it's deliciously self-aware and embraces the outlandishness of the franchise's combined premises, pushing the series deeper into its own particular brand of loopy, and in doing so, it sticks a firm but cheeky finger up to the army of naysayers out gunning for it.
To criticize it for its ridiculousness is to let its self-reflexivity pass you by. In a way not dissimilar to Paul Verhoeven films Starship Troopers and to a lesser degree, Robocop, it fondly sends up genre filmmaking at the same time as reveling in it.
Let's be clear, though – Transformers 5 isn't as good as either of those. But while second and third instalments Revenge of the Fallen and Dark of the Moon lost their way, the fourth, Age of Extinction, reinvigorated the series with the introduction of Mark Wahlberg to the cast. It was a soft reboot that saw Wahlberg's charming, down-to-earth, quasi-crackpot inventor Cade Yeager bring humour and irreverence to the party.
Hopkins is Class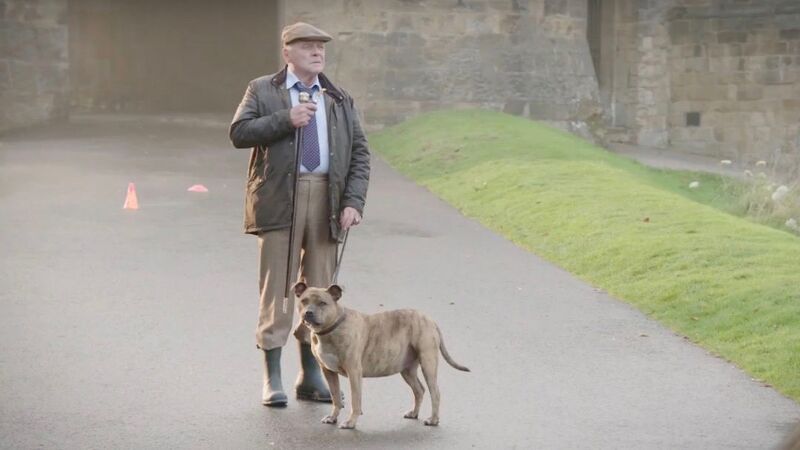 In The Last Knight, he's on similar form, only this time he's assisted by an incredible cast. Most significantly, Anthony Hopkins, who joins the franchise for the first time as Sir Edmund Burton – a posh nob with a huge pile in the English countryside and an assembly of Transformers. One of whom is Hot Rod – a sleek French-accented Lamborghini. At the other end of the scale, there's a WWI tank Transformer with robot dementia among the metal troops.
Hopkins is inspired casting, stirring his unparalleled talent into the mix and delivering his lines with killer comic timing. He even gets a glorious exchange with a feeble, stuttering Cameron-esque Prime Minister during London scenes in which he tells him repeatedly to shut up. Seriously, he's nothing short of brilliant.
Hit and Miss Action and Banter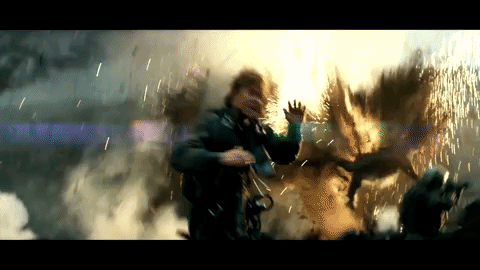 But there's also John Turturro reprising his recurring role as Agent Simmons. He's been hunkered down in Cuba wearing a daily uniform of shorts, socks and sandals and is massively entertaining in his supporting role. As is Stanley Tucci as (an underused) Merlin. There's no hint that his character from Age of Extinction has any direct link to Merlin here but perhaps that's something to be explored further down the line. A sixth film is definitely on the way – the film's final scene leaves us in no doubt there's yet more to this story of interstellar robot tangles.
Adding their incomparable talents to the voice cast are John Goodman and Steve Buscemi as Autobots Hound and Daytrader respectively. You can't knock the actors on display here – and with these guys on board, it's no surprise that Bay insists on including big chunks of robot banter in the final cut, even when it fails to hit the target. Some of this dialogue just ain't well written – although it does help to punctuate some of the more tedious action sequences.
At around two and a half hours long, it's no surprise to hear there's A LOT of action woven into the convoluted plot. But the trouble is, it's all very hit and miss.
When Optimus Prime eventually shows up and beheads a bunch of hostile Transformers with a sword – ace. When Sir Burton and his Autobot butler Cogman race through the streets of London amid a flurry of verbal sparring – great. But a tedious extended final battle needs some serious chopping. Ugh. The problem is there's a lot of action here that's subjected to quick cuts and disorientating, shaky close-ups.
Let's Hear it for the Girls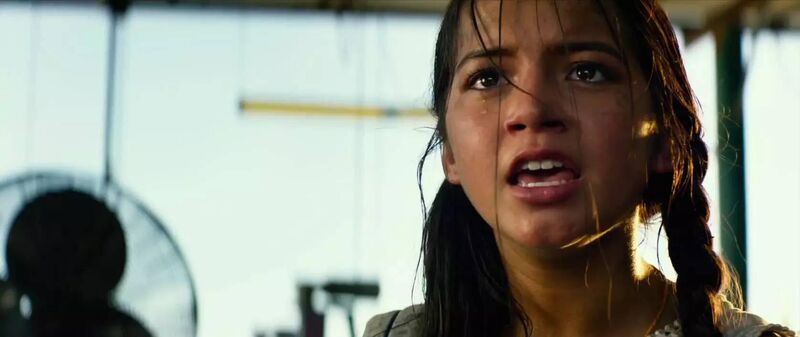 Lastly, let's tackle Izabella. In introducing the badass newcomer, played by Isabela Moner, into the franchise – an orphaned stray who takes up with Yeager in a surrogate daughter role when she loses her remaining 'adoptive' family, Transformer Canopy – Bay picks up Spielberg's mantle. Executive producer on the film, Spielberg specialises in presenting fractured family units and that's exactly what we get here. It's not new territory for the series – Yeager's family is already broken – but it does continue the theme.
Watch this space, though, as Izabella looks set to become more significant going forward with Wahlberg announcing he's bowing out. Might we even see a more female-led entry in the franchise, with Laura Haddock's Vivian taking on added prominence too? And maybe we could even see Yeager's daughter coming back in? It would certainly give Spielberg an opportunity to redress the balance following those remarks from Elizabeth Banks. We can but hope.
Is 'Transformers 5' Good?
While action scenes might not be the strongest point of Transformers 5 and it's saddled with an overlong running time, it is bolstered in surprising areas – with charismatic performances and laugh-eliciting deliveries. Happy – eager, even – to send itself up, the film revels in switching up its mythology, indulging audiences with some genuinely out-there lore that sees it present itself as a far better take on the Arthurian legend than Guy Ritchie's recent King Arthur reimagining. This is an unashamedly cinematic experience, which sets up a staggering sixth film in a franchise that some might say has already jumped the shark. It is difficult to see how they beef things up from here…
'Transformers: The Last Knight' hits screens in the US on June 21 and in the UK on June 22.