How Hollywood's second biggest award ceremony might influence the upcoming Academy Awards.
Three Billboards is Now the Hot Favourite
Christopher Nolan's WWII epic Dunkirk was the frontrunner for the Best Picture Oscar, with Steven Spielberg's The Post and Jordan Peele's Get Out also in the fight. But having won the Golden Globe for Best Drama, Three Billboards Outside Ebbing, Missouri is now the hot favourite. Martin McDonagh's film — which revolves around a mother's efforts to gain justice for her murdered daughter — also took home the award for Best Screenplay (McDonaugh) Best Supporting Actor (Sam Rockwell) and Best Actress…
Francis McDormand Will Win Best Actress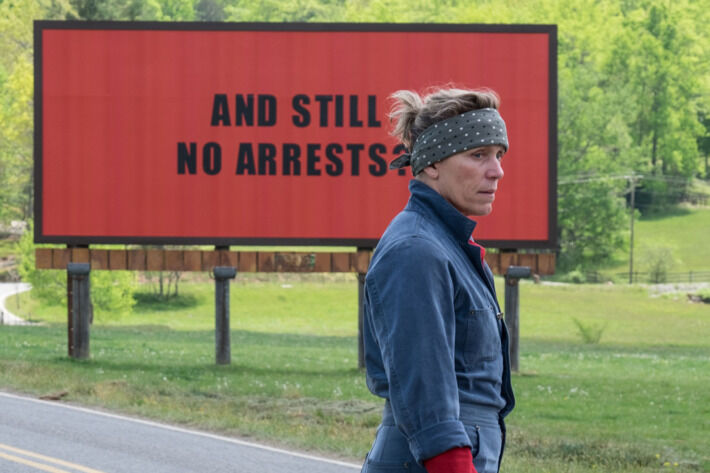 Saoirse Roanan delivers a stunning performance in Lady Bird, and she rightly won the award for Best Actress in a Musical or Comedy at the Globes. But Three Billboards features a career-best turn from Francis McDormand, and winning in the Drama category means the momentum is now with her, and she'll take a second Academy Award to put next to her Fargo Oscar.
Best Director is an Open Race
The smart money is still on Nolan winning the director award for his stunning work on Dunkirk. But having won the award at the Golden Globes for The Shape of Water, Guillermo Del Toro is now a contender. Thanks to Three Billboards' success last night, Martin McDonagh is now very definitely in the running, while Greta Gerwig is an interesting outside bet for Lady Bird. But in spite of last night's shut-out, you still get the feeling that this is Nolan's year.
Gary Oldman Will Win Best Actor
Gary Oldman is one of the greatest actors never to have won an Academy Award. But that will change next month. The star of Leon, The Fifth Element, and the Dark Knight trilogy was previously nominated for Tinker, Tailor, Soldier, Spy but lost out to Jean Durjardin in The Artist. Oldman's masterful portrayal of Winston Churchill in Darkest Hour won him the acting award at the GGs however, and will see him victorious at the Oscars on March 4.
Don't Write Off Get Out
Get Out left the Golden Globes empty-handed. But don't write it off off just yet. The horror movie — which FANDOM named our film of the year — is beautifully written and directed, so has a chance on both those fronts. It's also an incendiary feature, tackling race issues head-on. And with Hollywood in reflective mood these the last few months, and the Golden Globes filled with political statements, we reckon Get Out could yet surprise everyone in the Best Picture category.
The Academy Awards are handed out on March 4.