This Saturday, WWE imposes a Roadblock on the way to the biggest show of the year, WrestleMania. Roadblock is a live event, not a traditional pay-per-view or a normal episode of RAW or SmackDown, but its inclusion of title defenses and big-name matches gives it a slight PPV feel. The name is fitting, seeing as the main event sees Triple H needing to get past an additional nuisance before headlining WrestleMania 32 in Dallas, Texas on April 4.
Don't expect much to change at Roadblock, however. While there is more than one championship match on the card, this feels like WWE's way of bringing in more money to help prepare for the massive amounts they're going to lose come WrestleMania. The card for the Biggest Dance of the Year is looking very underwhelming this time around, especially with the main event bout being a match that nobody wants to see. Roadblock is showcasing some of the matches that are truly worthy of WrestleMania, but are just happening on a two-hour showcase in a much smaller arena.
Let's dive into what Roadblock has in store for us.
NXT Tag Team Champions The Revival vs. Enzo Amore & Colin Cassady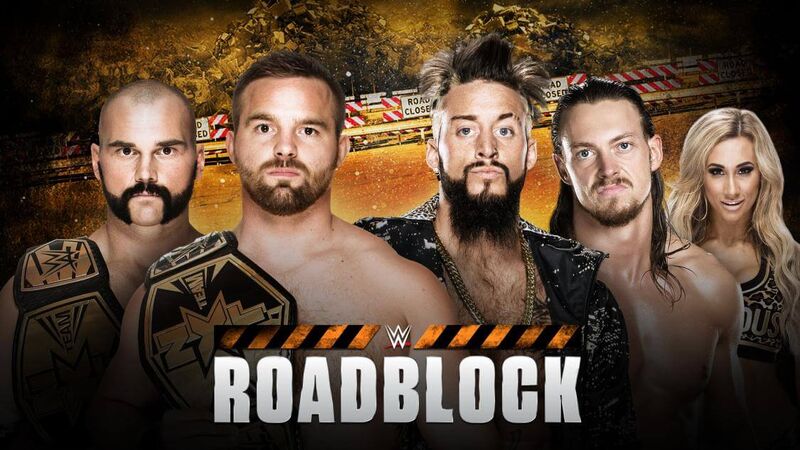 This rematch from last December's NXT Takeover: London has The Revival once again clashing with the most popular tag team in NXT for the Tag Titles.
For the past several months, Enzo and Cass have been booked as fan favorites that just can't seem to win the big one. They've had their shots, and will get another one against the current champions, who defeated them (with shenanigans) back in London last year.
It doesn't make sense for Dash and Dawson to lose the titles so close to NXT Takeover: Dallas the night before WrestleMania, because at this point Chad Gable and Jason Jordan ought to be in the running for the Tag Championships, but WWE Creative seems to like the idea of putting Enzo and Cass, the two biggest names in the NXT Tag Team division right now, in the title match instead.
Additionally, there is a strong chance of an Enzo and Cass WWE main roster debut after WrestleMania. While Kevin Owens holding the NXT Championship while competing on RAW was a nice touch, it doesn't quite fit if the NXT Tag Champs came to RAW holding the belts. Owens held the NXT Championship while he battled John Cena at three separate pay-per-views, but holding a different promotion's championship while fighting on the main roster just takes the NXT title away from where it belongs.
Prediction: Dash and Dawson retain the NXT Tag Team Championships.
WWE Tag Team Champions The New Day vs. Sheamus and King Barrett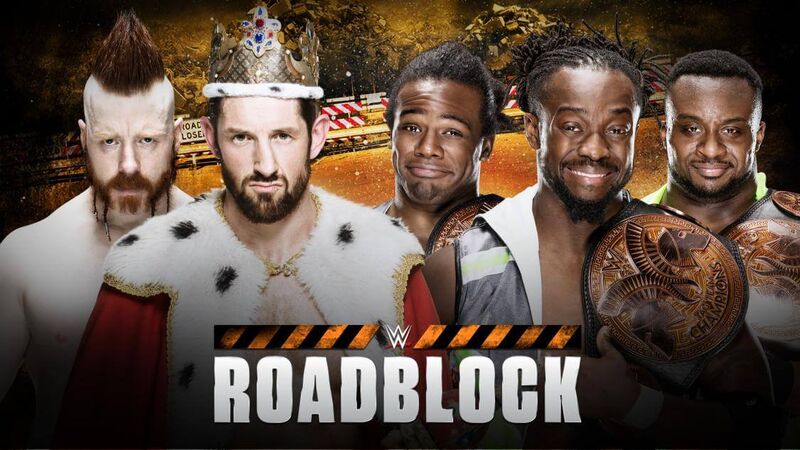 The WWE Tag Team Championship will also be up for grabs, as King Barrett and Sheamus of The League of Nations will clash with the current champions, The New Day. Sorry, but this one is a no-brainer, as rumors have it that Barrett will not be looking to renew his WWE contract after it expires this summer, so it doesn't make sense for WWE to put the belt on him only to lose it so soon.
Granted, the idea of The New Day as tag champs is getting a little old at this point, as they only lost the titles for a month to the Prime Time Players last year before regaining them and holding them since. WWE has tried the angle of the League of Nations vs. The New Day since Fastlane, but it's been such an underwhelming story that it doesn't seem worth pursuing. Since WWE Creative doesn't really seem to care what the fans think, The New Day will be defending the Tag Titles against the two United Kingdom brawlers, regardless of fan sentiment.
There is a small chance the League of Nations could win the match, but it would either mean they lose the titles very soon after winning them due to Barrett's departure, or will follow the Freebirds rule that the New Day follows, where all members of the stable are champions – and that would just be redundant.
Prediction: The New Day retains the Tag Team Championships.
Brock Lesnar vs. Bray Wyatt

During the 2016 Royal Rumble, Brock Lesnar eliminated the entirety of The Wyatt Family, and in an act of revenge, all of them worked together to eliminate the Beast Incarnate in turn. This was the action that many thought would spark a match between Lesnar and Bray Wyatt at WrestleMania, but as WWE has proven many times over recently, disappointment is always on the horizon.
Now, with no story to accompany it, Lesnar and Wyatt will have the match, just without any buildup or any reason to care other than to watch two of the best performers in the business go at each other's throats.
This match serves two purposes: to give the fans the Wyatt vs. Lesnar WrestleMania match on a much smaller scale, and to build up Brock Lesnar's dominance leading to his No Holds Barred Street Fight with Dean Ambrose at WrestleMania. It's a sloppy piece of booking on WWE's part, but it's better than having a poorly written story that nobody is invested in.
Chances are, Brock will walk out the victor, forcing Bray to take a backseat so that hype can be generated for Ambrose vs. Lesnar, but the big question is what Bray will be doing at WrestleMania, as there isn't currently a spot on the card for him. We can only hope that he interferes with another match at WrestleMania so that he can stay relevant and engage in a storyline that fans can once again care about.
Prediction: Brock Lesnar defeats Bray Wyatt.
WWE World Heavyweight Champion Triple H vs. Dean Ambrose

The main event of the evening is the match that most people wanted to see at WrestleMania: the Cerebral Assassin taking on the Lunatic Fringe for the biggest prize in the industry. Alas, Ambrose has been replaced by Roman Reigns, and that essentially signed WWE's death sentence in WrestleMania interest.
Typically, the five or six weeks leading up to WrestleMania are designed to create and entice the biggest storylines of the year, but this time, WWE is pulling main event double duty, spending the first three weeks on a match that isn't even happening at WrestleMania. It's an interesting situation and one that calls for an equally interesting response, which hopefully means a Dean Ambrose win and a main event change for The Show of Shows on April 4.
If Triple H wins, then nothing has changed and the horrifying WrestleMania main event of Roman Reigns vs. Triple H comes to be. This could only be made worse with a Reigns win, as fans just refuse to get behind WWE's Chosen One.
However, if Ambrose walks out with the World Title, this opens the door for several different possibilities.
Ambrose vs. Triple H for the title in a rematch, possibly under a different stipulation.
Ambrose vs. Triple H vs Roman Reigns in a Triple Threat match for the title, which would cement the winner as a tougher son of a gun than before, having won in with a tougher stipulation. Even having Reigns win that match wouldn't be a bad idea.
Ambrose vs. Lesnar for the title, under the same No Holds Barred Street Fight stipulation they already have scheduled.
Ambrose vs. Reigns for the title, in what could make or break the career of either man, depending on who wins.
Ambrose vs. Triple H vs. Reigns vs. Lesnar in a Fatal 4-Way match for the title, something that hasn't been done in the history of WrestleMania, which could help generate a ton of hype.
Some of these options are extremely far-fetched, but fans can only hope that something akin one of these comes to pass or there is interference during the match at Roadblock to set up a new storyline heading into the Showcase of the Immortals. However, given WWE Creative's recent track record, we won't keep our hopes up.
Prediction: Triple H retains the WWE World Heavyweight Championship.
---
Would you like to be part of the Wikia team? Join our Fan Contributor Program and share your voice on Wikia.com!