We feel bad for anyone living in de_mirage, a relatively recent map in Counter-Strike's competitive pool. But we feel especially bad for the residents of B apartments. It's no wonder they don't even have a TV — who can hear anything with all that gunfire?
The previous owners were perhaps overly accommodating of militant factions running through their living room, tracking dust all over their rugs just so they don't have to deal with the awper in mid. Getting out is a no-brainer — but in a neighbourhood where firefights break out several thousand times per day, how much would an apartment go for?
If anything, the property is resilient — no matter how many bombs explode nearby, the Mirage apartment shrugs it off with no structural damage. Maybe there's hope after all — but we set out to learn exactly how much this pad would fetch on the housing market.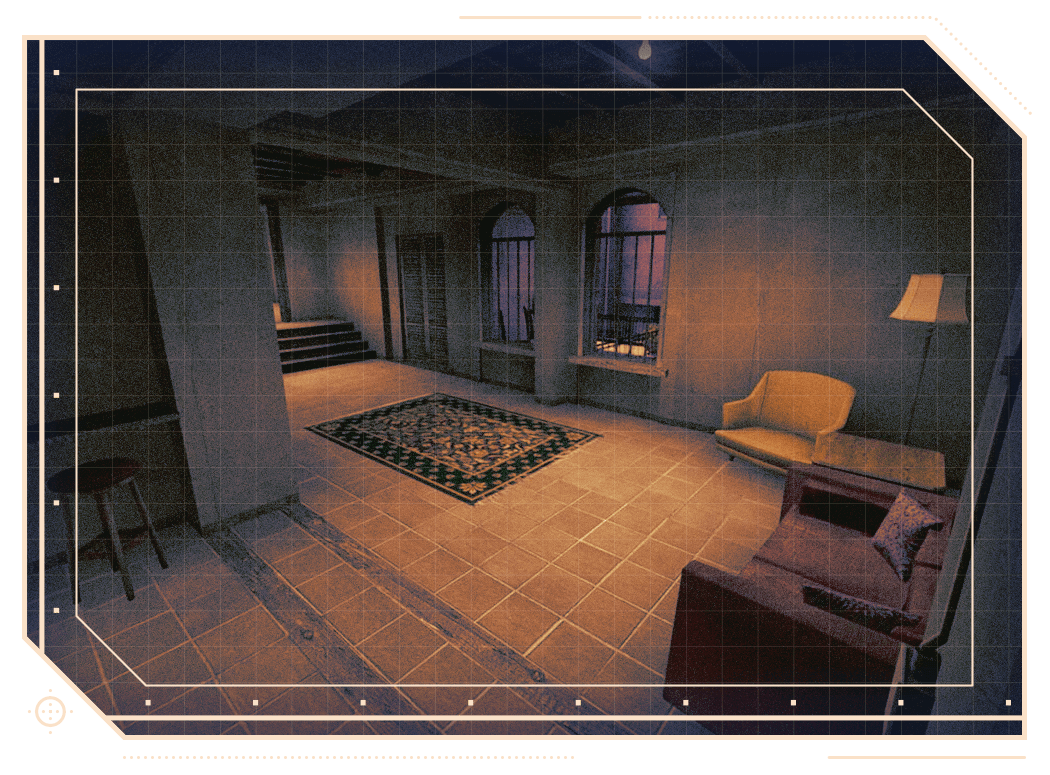 Assessing the Property
Let's take a look at what we've got. The Mirage B apartment isn't exactly the picture of luxury. It's a bare-bones, no frills, grimey flat that's barely fit for living. Did we say no frills? We meant "no doors."
The Mirage apartment is the shameful place you move to in your first year of university, proudly independent but never quite brave enough to show the parents. The bars on the windows suggest it might be a rough area, and that's without considering the gaggle of goons that come running through your living room every few minutes.
If its owners did decide to sell, we can only imagine the spin they'd have to use in its blurb:
The sun never truly sets on this spacious one bedroom flat, perfect for the bachelor who can live and sleep through a literal 24 hours of unrelenting sunlight.Enjoy the breeze in this doorless wonder, walking freely onto your balcony to a fantastic view of a van and cache of lethal warheads. Stylish windows are present but the glass is long gone due to exciting local activity. There's never a dull moment in this one-bedder, rugs included!The previous owner has only installed bars on the toughest window to get to — perfect for those hipsters who love ironic living. Is there a toilet? We aren't sure — who doesn't like to be surprised! It's a must to inspect this delightfully antique chic experience, so don't delay!
Even renovations could have dire consequences. Blocking off the B apartment as an important Terrorist route could affect the Global Offensive that Phoenix has put into play. Revolution was within grasp, until these new tenants forced the freedom fighters into AWP fire in mid.
But hey, it's close to a market and if the price is right, someone will buy it. But in order to whack a price on this thing, we need some geographical context…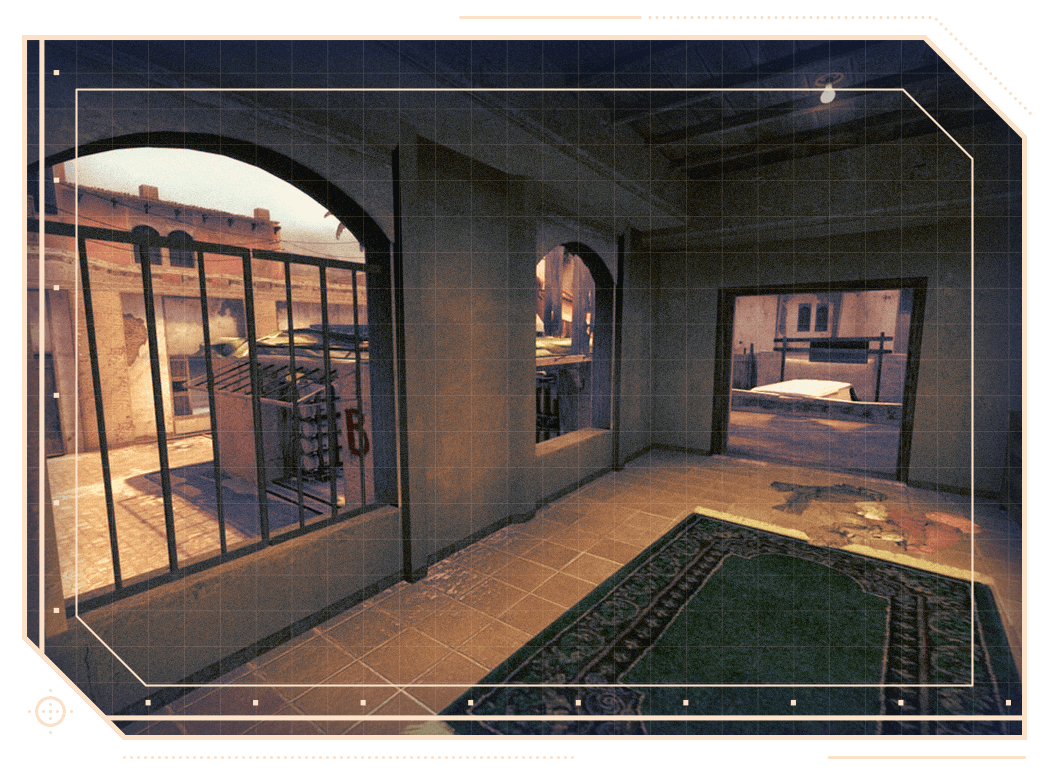 Where in the World is Mirage?
Some of the groundwork has already been done for us here. Thanks to CS:GO's attempts to inject a bit of lore into the series, clues have been left throughout the game files.
A briefing in Operation Bloodhound plays the audio "We tracked Turner's men to a shopping district in the Maghreb region." Operation Vanguard also included Mirage in its list of maps under the Maghreb category.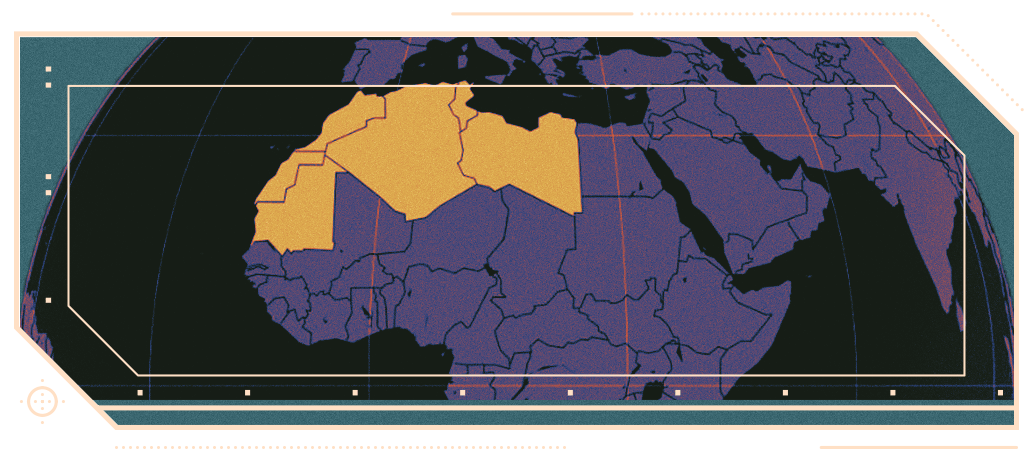 That's not very specific, as this region is essentially just northwest Africa. But it's a first step.
With clues in Mirage's architecture, we can start to narrow it down. A lot of the level design is of Moroccan influence, including the kasbah towers (over what CS players call "palace") and ornate work above doors:

When originally designed in Counter-Strike by Michael Hull, the map was dubbed de_cpl_strike, and had more of an Italian look. In Valve's modern redesign, the map was born again as Mirage in its new, Middle Eastern setting. While not in charge of map updates anymore, both Hull and his friend and mapmaking comrade, known as Oliver, openly refer to the map as being in Morocco.
The newer version of the map has several signs in Arabic with one sign in French — common in the Maghreb region, given its history of French influence. Knowing that, it feels like great attention to detail.
There are some discrepancies, of course. The licence plate of a car on the T side of the map, outside the playable area, looks American. That's probably because the asset was copied from Left 4 Dead 2. And one piece of in-game flavour text indirectly refers to Mirage as a "small town," even though the view around the map clearly suggests otherwise:

With the map officially in North Africa and semi-officially in Morocco, and given its visible Moorish influences, that's enough to convince us. This almost certainly points to a large city like Marrakesh or Casablanca, though a mid-sized city could potentially have enough buildings to satisfy the crowded view we get from Mirage.
How Much Would You Pay?

Before digging down into how much the unit would actually cost, we had some fun and got some of the biggest names in CS:GO to have a guess.
At IEM Sydney, we cornered some of the best CS:GO players in the world. Pro gamers aren't known for being of a… let's say "house purchasing age," but it's no longer rare to have a freelance fragger knocking on the door of 30. With countless hours rushing through the apartment, had they ever stopped to appreciate the immaculate tiling?
At this point we knew little more than Mirage is in Morocco. The guesses are as follows: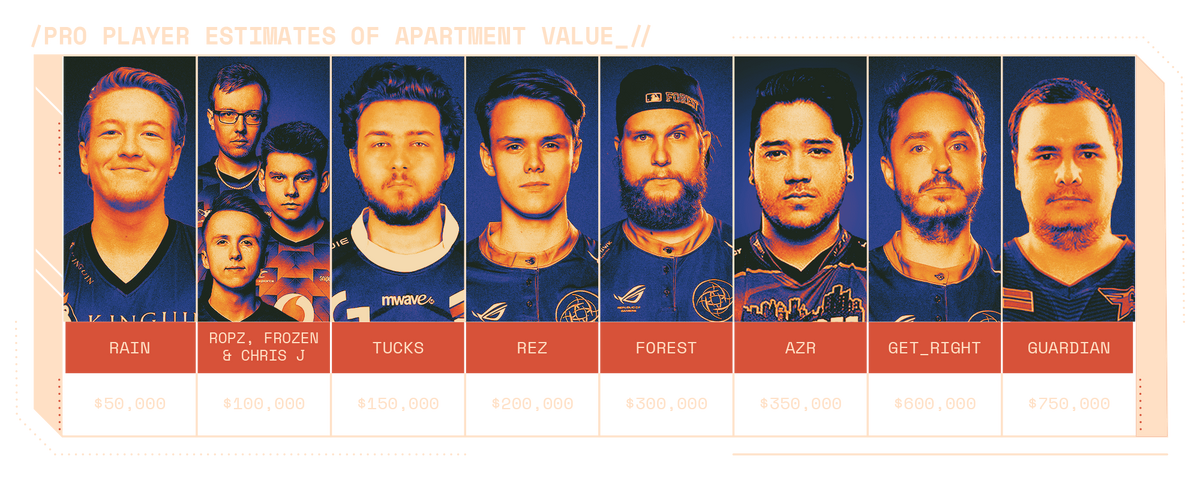 Guardian would clearly win in an auction for de_mirage, but maybe that's because he likes poking his AWP out of those windows.
After having lived in some expensive cities, those guesses on the lower end seem like a fantasy. But given the bars on the windows, bare-bones rooms, and dirty kitchen, can we blame them for going low? With that wooden ceiling, you're almost sure to hear every wretched footfall from the upstairs neighbour, Bootsy McShuffle.
But if we're to find out exactly how much Mirage would cost, we're going to have to find where exactly in Morocco it is. And that's the tough part.
Pinpointing Mirage's Location

There are many kasbahs (fortresses) in Morocco. Perhaps the one that most closely resembles de_mirage is the Taourirt Kasbah in Ouarzazate, central Morocco. It has small towers that fit quite closely with what we see on Mirage.

But there's a big problem — the surrounding landscape doesn't fit the crowded residential area in the skybox. This skybox did have some clues — but we didn't even know which direction we were facing.
We found our salvation in the menu. In CS:GO's minimap settings it's possible to stop the map rotating, and this option specifies the top will be "due North." That sole cardinal direction on the minimap allows us to identify landmarks in the skybox, and the most interesting of these are north and northwest:
With a view above the city, we can see directly north is a large domed building, and northwest we have a tall, thin tower.
Most of the domed buildings in Morocco – mosques, mausoleums, and theatres – are taller and thinner than what the skybox suggests. After a strenuous Google Fu workout and a scouring of satellite imagery, the only large, low, and wide dome we could find that might create such a silhouette is the Olympic Pool Complex Med V:
If not the pool, then perhaps the stadium next to it could cast that curved silhouette on the skybox. Stadiums give good dome.
As for tall, thin, square towers, that's the easy part. They're a dime a dozen, and one of them – this mosque – is a little bit West of our aquatic centre. That puts de_mirage somewhere south of these two landmarks, in the affluent Maarif district of Casablanca.
As a suburb, it looks much more pleasant than the defusal map would suggest. But in the Mirage scenario, the city is on fire, smoke and dust cloud our vision, and warheads are being smuggled through the area. Safe to say, the city is having a bad day.
We have our location — so if the Mirage apartment is in one of these well-to-do blocks, how much is it worth?
Prices in the Maarif

Numbeo estimates prices for inner city apartments in Casablanca to be worth 19,213.59 Moroccan dirhams — or, $1,982.60 USD.
By measuring small steps, we divided the apartment into rooms and calculated it to be almost 92 square metres. That equates to $182,460 USD.
It turns out that lines up quite well with actual real estate listings in Casablanca, too. Take this listing, the closest we could find in size and location. At 92 square metres and nestled in exactly the right spot in the Maarif, it goes for $170,422 USD. At this rate, it looks like either Tucks or REZ are the closest to guessing correctly, and staying under $200k is a great deal for what seems to be quite a lovely place to live. Except…
The Mirage B apartment isn't lovely. It's a "fixer-upper." If you bought this unit based on the beauty of its suburb, you'd be livid when you finally saw the flat.
Perhaps through neglect, or perhaps due to the multiple skirmishes and explosions occurring 10 metres away, the B apartments manage to be the ugly stepchild of a pristine area. Likely a thorn in the side of all nearby owners, whose property values would go up if only that filthy unit on the end would renovate.
So — dilapidation. How do we account for it?
If the renovation reality show craze hasn't hit Casablanca yet, this would be a great candidate. We have no doubt there'd be buyers, if only to flip it once the walls are white again. Someone expecting to make tens of thousands of dollars on their investment might buy in at a low $140k.
New doors and windows, some ceiling soundproofing so upstairs footsteps are muffled, a good scrub in the kitchen, a good amount of paint… It's highly doable.
That puts Tucks from the Chiefs as the closest guess for the actual cost of the B apartments, with his $150k estimate. Congratulations, Tucks!