There'd been horror videogames before Resident Evil. As early as 1982, Atari had published James Andreasen's innovative Haunted House, a game in which the player is represented as a pair of eyes and asked to explore the house of the recently deceased proprietor, Mr. Graves.
You can see the DNA of Capcom's game right there on the screen. You can only carry a limited number of items at any one time. Flight is preferred over fight. There's a neat trick whereupon in later levels you can only see the walls of the house if you light a match.
And yet if we're talking about the true successor to Resident Evil, we're going to have to talk about Alone In The Dark.
There'd been horror games released after Haunted House and before Infogrames pioneering Alone In The Dark in 1992. Also in 1982 was 3D Monster Maze for the Sinclair ZX81, a game in which the player is given no weapon and asked to elude a relentlessly pursuing Tyrannosaurus Rex. A year later was the pioneering, b-movie indebted Ant Attack– not only the first truly isometric game (sorry Q*bert) but one of the very first in which the player could choose their gender.
In the arcades was Sega's side-scroller Monster Bash, rehoused and ported to the Master System as Ghost House in 1986, the same year Konami's Castlevania and Namco's Splatterhouse debuted. These two games might have looked like horror titles, but played more like the beat 'em ups that would follow; Double Dragon (1987), Golden Axe (1989) and Capcom's own Final Fight (also 1989). And then in 1989 came Sweet Home.
THE ORIGIN OF EVIL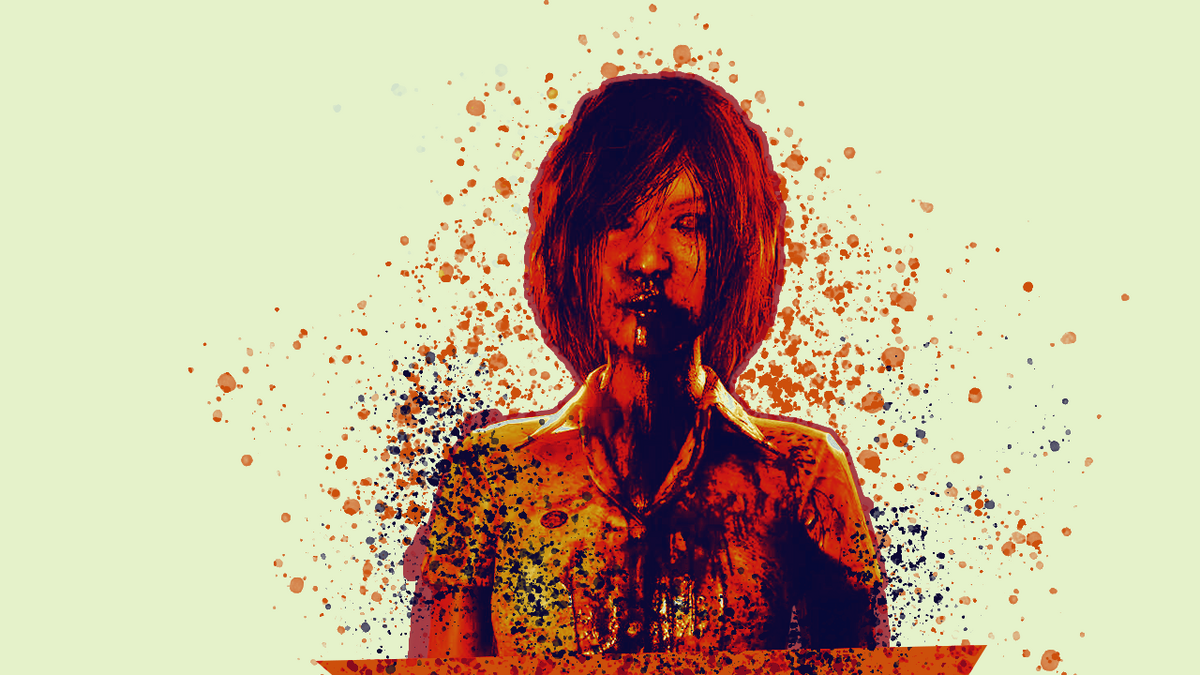 Directed by Tokuro Fujiwara, whose 1985 arcade hit Ghosts 'n Goblins deserves at least a mention in any overview of horror themed videogaming, Capcom's Sweet Home, for the Nintendo Famicom, is the videogame adaptation of the film of the same name, released into Japanese cinemas, also in 1989.
Directed by J-horror legend Kiyoshi Kurosawa, the movie is pretty good! With visual effects handled by the great Dick Smith, it features a superb animatronic demon at the end! The game is pretty good also, though it's unlikely you will have played it; Sweet Home was considered too graphic to share with the rest of the world and was limited to a Japan-only release.
Although the game was received well – think Zelda-esque, top-down RPG with skeletons – the director was frustrated. He knew he could do more. Fujiwara decided to push ahead with a next-gen remake. "The basic premise was that I'd be able to do the things that I wasn't able to include in Sweet Home," he said. "It was mainly on the graphics front that my frustration had been building up. I was also confident that horror games could become a genre in themselves."
And then came Alone In The Dark.
TO THE MANOR BORN
Released for the PC, based on the writings of H.P. Lovecraft and set in a haunted 1920's mansion called Derceto Manor, Alone In The Dark was unlike anything games had seen up to that point. It used pre-rendered backdrops, tight claustrophobic camera angles, it played out in 3D… and it had zombie chickens in it.
With hindsight, it's visuals are too light and too airy to be really scary, but it certainly nailed atmosphere; like Sweet Home before it, much of the lore unfolded via left notes and book passages peppered around the mansion to be found and read. And there were puzzles too.
There are games prior to Alone In The Dark that could justifiably be said to have influenced the survival-horror format – though the term wouldn't come into usage until the release of Resident Evil in 1992 – but it's totally fair to say that Alone In The Dark is the true heir to the title of The First Survival-Horror Game. Don't take our word for it! The 2008 Guinness World Records Gaming Edition says it too!
There was no way that Fujiwara was going to be sated merely making an updated Sweet Home after playing it. Alone In The Dark, said Fujiwara, "was an example of how a horror game could be done".
And yet while there had been horror games prior to Resident Evil – and most of them have had some in-game innovation pilfered by Capcom, then put into their title – there had never been a horror game quite like it.
THERE'S NO AGH IN TEAM
Fujiwara entrusted the young developer Shiniji Mikami with the project that would become Resident Evil, with the end goal being a release on the newly released PlayStation. Mikami had previously worked on a host of Disney licenses, Who Framed Roger Rabbi tin 1991, Goof Troop and the incredibly successful Aladdin in 1993.
Word was around the studio that he loved horror. He just hated being scared. One day Fujiwara approached his employee and asked him if it was true. Mikami said 'yes'. "So I figured we should do it," laughs Fujiwara. "If he'd answered that he never got scared, I couldn't have trusted him with the project. People who aren't afraid of anything don't understand what's frightening. In my view, you can't make a horror game if you don't have any fear."
Mikami didn't share his boss's confidence that horror could be the hit new genre Fujiwara believed it could be. And then, an epiphany. "At one point during development, I thought about how exhilarating it was to take down a zombie and about how that was a feeling that you just couldn't get from watching a movie," he says. "That was the first time that I really sensed that we had a new genre on our hands."
It's been said the zombie movies of genre pioneer George A. Romero – including the seminal 1968 creeper Night Of The Living Dead – served as Resident Evil's initial, cinematic influence. The truth is more complicated than that. Mikami has said that the game was more inspired by the film most often referred to as Zombi 2, a 1979 release by Italian genre legend Lucio Fulci which memorably features a scene in which an underwater zombie fights a shark.
That was the first time that I really sensed that we had a new genre on our hands.
The film was commissioned as a sequel to Romero's Dawn Of The Dead in 1978. (GA.R would return to shoot a live-action Resident Evil 2 trailer in 1998. He was in line to direct the first movie too. He didn't, but we'll get to that later…)
And yet the importance of Zombi 2 to the story is this; Mikami hadn't especially enjoyed the film, and thought with his new commission he had the opportunity to tell the sort of zombie story he wanted to. This involved much trial and error – and appropriation of Alone In The Dark's ideas. Initial concepts explored were the idea of two-player cooperative play via link cable. "Technically, it wasn't good enough" says Mikami.
The game was first conceived as a FPS – screenshots of the prototype game exist online. Ultimately the vision for the game went in an opposing direction; stark atmospherics, lateral puzzles and ammunition that never felt quite sufficient – in short, the defining traits of the survival-horror genre – were favoured over action-packed bullet battles.
It's worth noting that, in some way, the identity crisis that crippled the series for a while in years to come, had seeds sown in the very inception of the franchise.
NIGHT OF THE LIVING DREAD
The first Resident Evil kickstarts the story of the elite task force S.T.A.R.S [that'd be the Special Tactics and Rescue Services], from the perspective of team members Chris Redfield and Jill Valentine. You're given the choice of who to play as at the very beginning. Some of their S.T.A.R.S teammates have gone missing. They explore the outskirts of Racoon City in an attempt to find them. They find a creepy mansion instead.
And then the nightmare – now approaching its twenty-fifth year – begins.
Released as Biohazard in Capcom's native Japan – the name all releases that follow take instead of Resident Evil when released in that country – Chris Kramer, Senior Director of Communications and Community at Capcom US, knew the name couldn't be registered in the U.S.
"I pointed out that a crappy DOS-based game had just come out in the US called Biohazard – not to mention the New York hardcore band of the same name – and that we'd never be able to secure the mark. As a result, the head of marketing held a company-wide contest to come up with a new name for the game [to be released as in other territories to Japan]."
The winning entry was Resident Evil, a sort of pun; this was a game set inside a mansion – modelled on the Overlook Hotel from Stephen King's 1977 bestselling novel The Shining– after all. Kramer voted against it; "I thought it was super cheesy".
But then a lot about that first Resident Evil game is just that. It is, it can't be argued against, a game with terrible and extremely cheesy dialogue. Step forward S.T.A.R.S own Barry Burton; "It might be handy if you, the master of unlocking, take it with you." There is, for example, a scene in which the character Rebecca Chambers offers to treat Chris Redfield's injuries.
"I can treat you," she says, "apart from your major injury". Chris doesn't have a major injury. The mistake is in the missing plural/abstract. The line should read, "I can treat you, except for any major injuries that you might have." And yet it all added to the fun of the fair. Resident Evil had flaws, but it was a brilliant, engrossing – and it's crucial, this – scary game.
"During the time when we were making it, my personal feeling was that Resident Evil was not a game that should be made into a series," says Mikami. "This is because horror tends to have strong patterns that are easy to get used to, meaning they're easy to get tired of. I never thought that the game would become such a huge hit." Mikami expected the game to sell around 200,000 copies.
Released on March 22nd, 1996, at the time of writing the first Resident Evil game is close to five and a half million sales. The franchise it created? Ninety-two million.
"During the time when we were making it, my personal feeling was that Resident Evil was not a game that should be made into a series," Shinji Mikami.
THE SECOND COMING
Unsurprisingly, Capcom weren't keen on dragging their heels in getting a sequel out of the door, and work on the second game began just a month after completion of the first. Now they were pitching for two million sales. Set two months after the events of Resident Evil, the story now shifted to the efforts of rookie cop Leon S. Kennedy and kid sister of Chris, Claire Redfield, in their attempt to escape Racoon City after the outbreak at the mansion had spread.
Again, the player could choose which player they wanted to control, with differing obstacles and stories unfolding depending on which was chosen. Mikami returned, now as producer, with Hideki Kamiya – a planner on the first game who'd only joined Capcom in 1994 – stepping into the role of director. From the very beginning the creative process was fraught.
The development team for the new game consisted of a split between new employees and those who'd worked on the first title. Kamiya and Mikami clashed in their differing visions often. Eventually the producer took a step back, asking only to be updated on the game's progress once a month.
With a projected release date of May 1997, Mikami thought the build – possessing assets he believed were satisfactory in isolation, yet disappointing when sequenced together – would come together. Then, shortly after and with the game approaching '60 to 80% completion' he pulled the plug, describing the locations and gameplay as "dull and boring". The unfinished game is known to fans as Resident Evil 1.5.
Resident Evil 1.5
In 2013 what exists of Resident Evil 1.5 was leaked onto the internet. It offered a fascinating glimpse of what might have been. Its plot told us that corrupt chemical company – and series antagonist – Umbrella had already been shuttered.
Claire didn't appear, with Elza Walker, a college student and motorcycle racer vacationing in Racoon City filling her role. There were more active policemen. No Ada Wong, an antihero figure who in the Resident Evil 2 we know would forge a mysterious pact with Leon. The iconic police station in which so much of the game is set was much smaller and far more modern. And the story, with which Mikami again sought to wrap up the franchise, was ultimately conclusive.
Supervisor Yoshiki Okamoto, co-creator of the massively successful Street Fighter II and who, with the 1985 shoot 'em up Gun Smoke, kickstarted a chain of events that would culminate in the Red Dead series, certainly thought so. Okamoto thought the potential of Resident Evil had barely been realised. He thought it had the potential to be a metaseries in the James Bond or Gundam mold. To do this he realised that the new Resident Evil needed to appeal to an audience that had perhaps never played a video game. It needed to be cinematic.
Okamoto thought the potential of Resident Evil had barely been realised. He thought it had the potential to be a metaseries in the James Bond or Gundam mold.
Okamoto subsequently drafted in professional scriptwriter Noboru Sugimura to rework Resident Evil 2's problematic script (in future years, Okamoto and Sugimura would form the now-defunct Capcom writers studio Flagship, working on the likes of Clock Tower 3, Dino Crisis 2 and 3, as well as the first three Onimusha games).
It needed a series-best soundtrack, composed by Masami Ueda, Shusaku Uchiyama and Syun Nishigaki (with one track composed by future Final Fantasy composer Naoshi Mizuta). Tellingly, during moments of great drama in the game, the orchestra swells; a trick that nodded to the influence of blockbuster movies.
Finally released on January 1st, 1998, Okamoto's meddling paid dividends; the end result was 4.96 million sales.
UNDER MY UMBRELLA-ELLA-ELLA-EH-EH-EH
Resident Evil 2 cemented the locale of Racoon City as centrifugal to much of the series narrative that followed – consider 2012's series curio, the non-canonical third-person shooter Resident Evil: Operation Raccoon City.
Set concurrently with the events of Resident Evil 2 and Resident Evil 3: Nemesis, the game presents an alternative viewpoint of the Racoon City incident, pitting the player as a member of a team of Umbrella assembled elite paramilitary mercenaries.
A critical failure – though with 3.2 million units sold a great commercial success – it showed that Racoon City, Arklay County (a fictional location modelled on Montreal, Quebec!) was a metropolis vast enough to keep the stories coming.
The third game in the main series, Resident Evil 3: Nemesis, arrived on September 22nd, 1999. Produced once again by Shinji Mikami, the game headed back to Racoon City, setting its narrative before and after the incident. It saw the welcome return of fan favourite Jill Valentine. Nemesis was just one of many Resident Evil projects being cooked up at Capcom; it certainly wasn't intended to form the spine of the main series.
Let's explain. At the time, another, concurrent project, was being helmed by the returning Hideki Kamiya. Shortly after the release of Resident Evil 2, Capcom – now confident they had bottled lightning in their possession – set the director of Resident Evil 2 to work on the game that was supposed to be the third in the series.
"The game was loosely set on a luxury cruise liner and had a general plot where [the series mysterious mercenary – and alongside a piece of tofu – an unlockable character in RE2] HUNK was attempting to bring back a sample of the G-Virus," says Resident Evil 3: Nemesis scenario writer Yashuhisa Kawamura. Then in mid-1998, Kamiya and his team realised that their game fell between two posts; too late for a PlayStation release, not enough time to rework for the coming PlayStation 2.
"Resident Evil – Code: Veronica was a Dreamcast exclusive game," continues Kawamura, "the scenario for Resident Evil Zero was just getting started, and Mr Kamiya's team was forced to go back to the drawing board to design for the PlayStation 2. This meant that fans on the PlayStation would have to wait several years for the next sequel, a scenario that Capcom wanted to avoid. The solution, Nemesis – with wildly inexperienced Capcom staffer Kazuhiro Aoyama directing – would have to be renosed as the third canonical game.
Kamiya binned off his cruise liner title. Now he and his team set their sights on what would become Resident Evil 4.
PARASITE LOST
Nemesis is a good game, but it's a strange one, is relatively short and always feels like a game trying to be more than it actually is. It's also much more action-orientated than what the faithfully 'survival horror'-y series had offered forth so far. Most of the action takes place on the streets of Racoon City, with more space for Jill to manoeuvre, diluting the terror induced by feeling hemmed in by the claustrophobic corridors that had defined the series to date.
Your character is now capable of a 180 spin. There's a dodge feature. And, inspired by the relentless march of the T-1000 from 1990's Terminator 2: Judgement Day, Mikami added a new feature… which meant the tension was never, ever turned down.
I wanted to introduce a new kind of fear into the game," he says, "a persistent feeling of paranoia. The Nemesis brings that on in spades. "
RACOON SH**Y
The new millennium started with a new kind of Resident Evil game; the spin-off Resident Evil Survivor, released January 27th, 2000. The FPS was doomed from the start. Developed by external developers Tose – a company most notable for their work on Nintendo's Game & Watch Gallery series – the game was intended to be played with Namco's GunCon/G-Con 45 light gun.
However, on April 20th, 1999, at a high school in Columbine, Colorado, U.S.A. two twelfth grade students, armed to the teeth, murdered twelve of their classmates, one of their teachers, and seriously injured another nineteen children before turning their weapon on themselves. It was videogames' turn to take the blame for the U.S. society's problems.
Survivor was released in North America with no light gun compatibility – and to appalling reviews. And yet somehow it still scored better than 2016's wretched, Call Of Duty-like Umbrella Corps.
Resident Evil has masqueraded as a shooter numerous times. On November 8th, 2001, Survivor spawned a sequel, Resident Evil Survivor 2 – Code: Veronica. Originally an arcade cabinet, an idea Capcom had been toying with since at least 1998, it was simultaneously ported for the PlayStation 2. Confusingly, it took the main story arc for Resident Evil – Code: Veronica (more to follow) and infused it with monsters from Resident Evil 3: Nemesis.
Oh, and there is, it should be mentioned, a third game in the Survivor series, that being 2002's Gun Survivor 3: Dino Crisis, which riffs on Capcom's other survival horror series Dino Crisis. It has no links to Resident Evil beyond two cute Easter Eggs. Look closely and you'll find the 'woman drawing water' statue from the mansion in the first game. Elsewhere you'll find an Umbrella building.
Then, on February 13th, 2003, came Resident Evil: Dead Aim, a game notable for being one of the few titles in the series where the player can move and shoot. When the player moved, the game deployed a third-person view, switching to first-person when the weapon is fired.
It's a mediocre game, also notable for its first and only appearances by the characters Bruce McGivern, Morpheus D. Duvall and Fong Ling (though the Chinese spy would later appear in the 2012 mobile game Resident Evil: Clan Master). The game also kickstarts Capcom's obsession with setting Resident Evil games on boats.
SHOOTING FROM THE HIP
In truth, Capcom's best efforts to squeeze the essence of Resident Evil into the shooter format have followed the on-rails approach. From 2007, Resident Evil: The Umbrella Chronicles, based its gameplay around the use of the Wii's remote and sold 1.4 million copies. A similarly impressive sequel followed in 2009, Resident Evil: The Darkside Chronicles. Both titles were bundled together as the Resident Evil Chronicles HD Collection and released for the PS3 in 2011.
It's an open secret within Resident Evil fandom that the true third game in the series didn't have a number attached to it at all. Released on February 3rd, 2000 for the Sega Dreamcast, Resident Evil – Code: Veronica not only marked the first Resident Evil game not to debut on the PlayStation but saw the series expand its remit for the first time to locations far beyond Racoon City.
The game stars siblings Claire and Chris Redfield, attempting to escape Umbrella owned private prisons set in the Southern Ocean and Antarctica. It's also arguably the best Resident Evil game until its point in the series timeline – certainly, as the first in the series to debut on a sixth-generation console, the best looking – and fans clamour for a remake to this day.
After much speculation, it's recently been confirmed that a remake is not in the pipeline for the foreseeable future. Sad times. The original remains available on all current consoles. It's as great as you remember (and the debuting Steve Burnside character still as odious).
COLOR ME BADD
December 14th, 2001, saw the series grace the GameBoy Color for the first time, with the top-down Resident Evil Gaiden, a game set on a passenger ship – because someone at Capcom loves a Resident Evil game set on a ship… – and staring Leon S. Kennedy and Barry Burton. The good news was Barry Burton, the series most hapless-yet-adorable mainstay, was in it.
The bad was the game's clunky Dungeon Master-inspired quicktime combat mechanic, a save system that until 2006's Dead Rising was the most perverse Capcom had ever included in a game, and an onslaught of tedious fetch quests, rendered the game little fun at all.
Resident Evil has rarely done well with on-the-go experiences; mobile games Resident Evil Assault The Nightmare (2002), Resident Evil: The Missions (2003), Resident Evil: Confidential Report (2004), Resident Evil: Degeneration (2008), Resident Evil: Mercenaries Vs. (2011) and Resident Evil: Zombie Buster (2011) all had little to offer, with only the puzzle heavy titles Resident Evil: Genesis (2008) and Resident Evil Uprising (2009) really worth the player's time.
Oh, and from 2012, the real-time battle game Resident Evil: Clan Master for Mobage, the Japanese social gaming app, is worth investigating, if only for the title's super cute art-style (you'll want to give the Licker a squidgy hug!)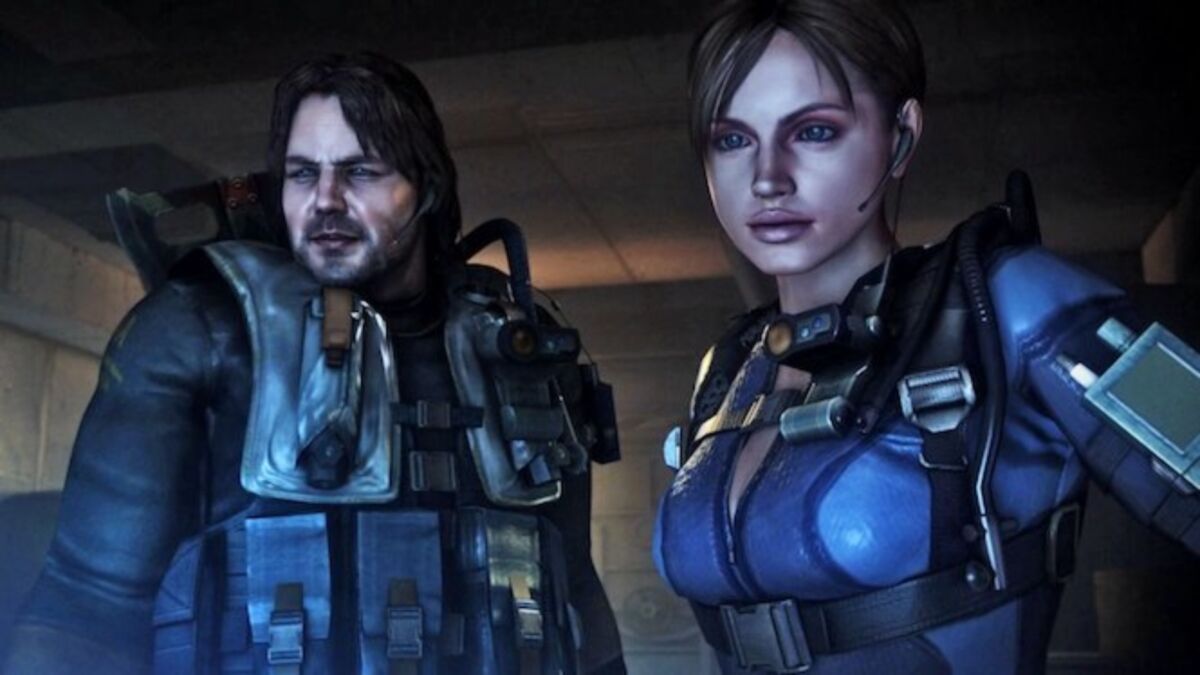 For the 3DS, Resident Evil: The Mercenaries (2011) combined the 'Mercenaries' mini-games from the still to be discussed Resident Evil 4 and 5 – essentially against the clock challenges, featuring a host of famous names from the series past and present. It was a decent handheld time waster, if a game that added nothing to the series lore. Developed concurrently for the 3DS was Resident Evil: Revelations, starring Jill Valentine and Chris Redfield on – guess what! – a ship.
It infused old skool survival-horror chills with the action-game essence of where the series found itself at the time. For the largest part it worked. A sequel, Resident Evil: Revelations 2, was released in 2015, first in an episodic format for PlayStation 4, PlayStation 3, Microsoft Windows, Xbox 360, and Xbox One, then in compendium form. The PlayStation Vita version that followed the same year as was arguably the best of the adaptations. Excitingly, alongside Claire Redfield, the game featured Barry Burton as a playable character for the very first time!
POPCORN AND ICE-SCREAM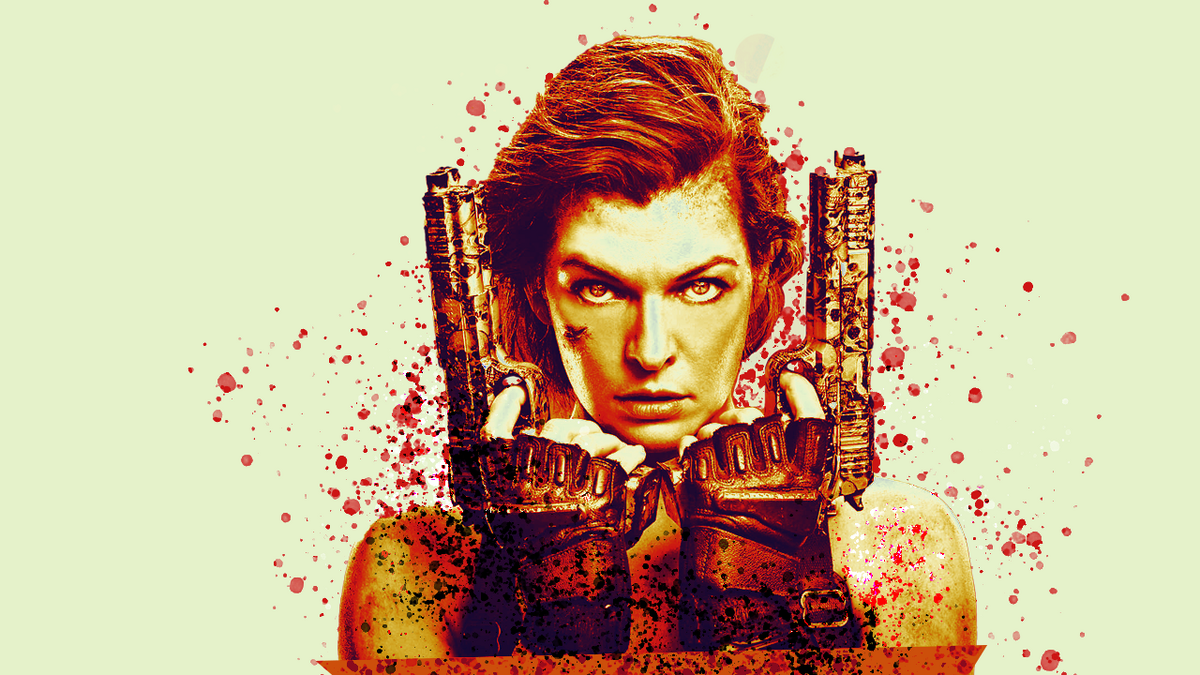 Continuing our loose narrative, 2002 was a pivotal year for the franchise. The Munich based, German film studio Constantin Film had bought the rights to adapt the series for cinema as far back at 1997. Newcastle born director Paul W.S Anderson – no stranger to adapting games franchises for film, having directed the Mortal Kombat movie in 1995 – was hired as the writer and director for 2002's Resident Evil.
Anderson has been at the helm ever since – as has his wife, Milla Jovovich, in the specially created role of 'Alice'. Together the couple have steered the franchise through Resident Evil: Apocalypse (2004), Resident Evil: Extinction (2007), Resident Evil: Afterlife (2010), Resident Evil: Retribution (2012), and Resident Evil: The Final Chapter (2016).
It should be noted that 2002's Resident Evil wasn't the series first feature-length production. 2000 kicked off an animated series that started with Biohazard 4D-Executer, ran through Resident Evil: Degeneration (2008), Resident Evil: Damnation (2012), and Resident Evil: Vendetta (2017). The novels start even earlier, with Hiroyuki Ariga's novella Biohazard: The Beginning being published in 1997.
The comics too. That same year Marvel published a single-issue prologue based on the original Resident Evil, released through a promotional giveaway alongside the original PlayStation game. The following year Resident Evil: The Official Comic Magazine launched, though it only stuck around for five issues.
Despite critical derision – though we'd made a confident claim for the first film being a decent zombie shocker – the Resident Evil franchise has, to date, grossed over $1.2 billion worldwide. A series reboot is currently in the works, and until recently had Saw co-creator James Wan signed on to produce. He's since left the project to helm a Mortal Kombat reboot. Funny that.
Oh, we told you we'd tell you about the George A. Romero Resident Evil movie that never was.
CLASH OF THE TITANS
After impressing with his 1997 TV short for Resident Evil 2, the zombie king was first-in-line to direct the debut Resident Evil movie. Despite not being a gamer himself – he had his assistant play through the 1996 game, recording her reactions and fashioning a script from that – his proposition was a story much closer linked to the games than what Paul W.S Anderson would eventually come up with.
Sure, the Chris Redfield character was reworked as a, um, farmer and given native American heritage, but otherwise Romero's vision was more fan-friendly that what ultimately transpired. Don't just take our word for it. You can find his script online.
Trouble was, Constantin Film boss Bernd Eichinger hated the degree of violence Romero was pitching for. He was terrified the movie would be classified as the almost completely uncommercial X. They went back and forth with script revisions until ultimately Romero was fired from the project. It a decision that led to one of horror movie fandoms great 'what if' scenarios.
"The original game was a slow-burn horror story, punctuated by moments of intense terror," says Jamie Russell, author of Book of the Dead: The Complete History of Zombie Cinema."Anderson's movie, in contrast, took the concept and put it on steroids. It was brash and relentless. At times, you'd be forgiven for thinking he was adapting the Call of Duty games." Romero was reportedly gutted. "From his point of view, the games had basically ripped-off his Living Dead films to begin with," says Russell, not at all incorrectly.
2002 also saw the first remake in the franchise, kickstarting a trend which has come to form a vital part of Capcom's business strategy. This year Resident Evil 3: Nemesis sees it's better looking younger brother come to the fore. 2019 saw Resident Evil 2 finally rebooted (something muted since the turn of the millennium; Shinji Mikami had cancelled said project, worrying it would distract from the then-incoming Resident Evil 4). The reworked Resident Evil 2's sales have since surpassed those of the original.
RE-MAKE/RE-MODEL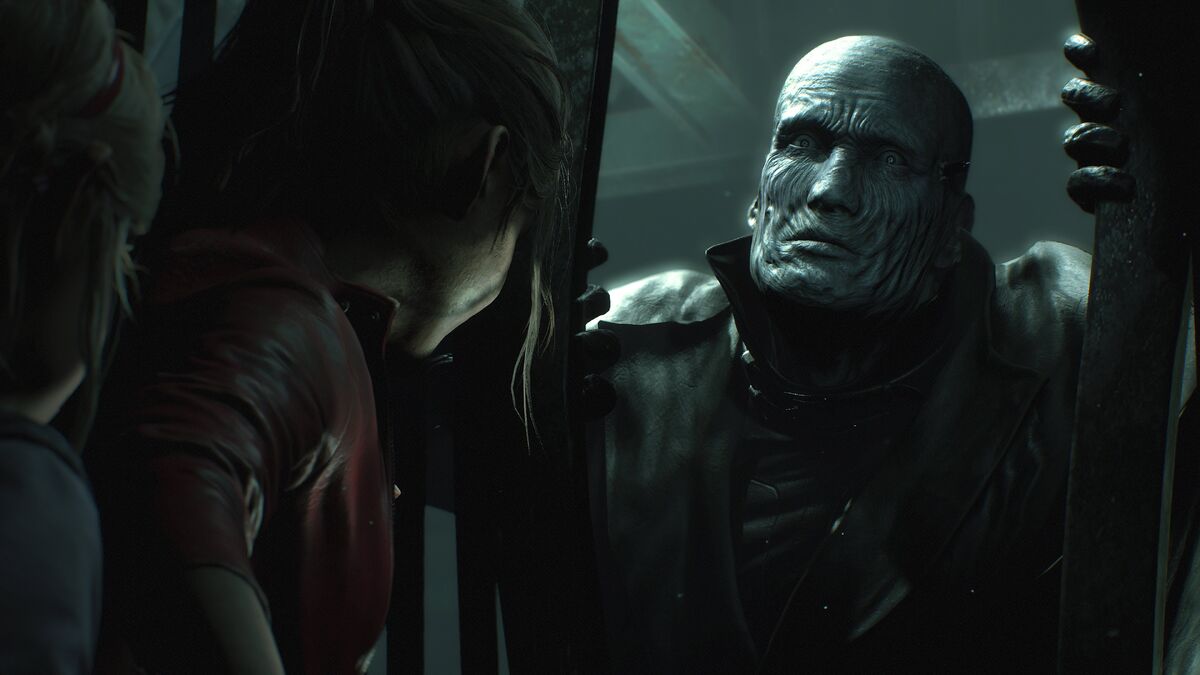 The new Resident Evil 2 and Resident Evil 3: Nemesis are best viewed as reimagining's rather than beat-by-beat remakes. There are new segments, new character designs, and the tank controls of the original game have been replaced with the over the shoulder camera that became standard for the main series from Resident Evil 4 onwards. And yet first up was 1996's Resident Evil, reworked under the watchful direction of Shinji Mikami for Nintendo's GameCube in 2002.
Here there were also new areas, reworked puzzles, even the reintroduction of a previously cut subplot involving living bioweapon Lisa Trevor. It fixed most of the cheeseball dialogue too. It was brilliant… and it sold terribly.
This was an event that would significantly influence the direction the series took forthwith. "The Resident Evil remake is actually one of my favorites of the series," explains Mikami. "But it didn't sell very well. Because of the reaction to the Resident Evil remake, I decided to work more action into Resident Evil 4. [That game] would have been a more scary, horror-focused game if the remake had sold well…"
But first, on November 12, 2002, was a very traditional sort of Resident Evil game. It was called Resident Evil Zero and, chronologically, sat before the events of the first game. This was a true survival horror. Set in the caustic aisles of a speeding train, plush chandeliers swinging above your head, leeches bursting under your feet like pop cans thrown on fire; you played as Rebecca Chambers – a fringe character in the 1996 original – and Billy Coen, an alleged murderer on the run. If you completed the game you could replay the campaign as arch series antagonist and S.T.A.R.S turncoat Albert Wesker. Dread crept. Cooperation in solving puzzles was essential.
It was the last time we'd see a traditional Resident Evil game, in the survival-horror sense, for some time.
..Remake didn't sell well. Because of the reaction to the Resident Evil remake, I decided to work more action into Resident Evil 4.
BREAKFAST AT TIFSCREAMYS
There was little traditional about Resident Evil Outbreak, released December 11th, 2003, or its sequel, the stand-alone expansion Resident Evil Outbreak: File 2, released on September 9th, 2004, both for the PlayStation 2. The first game's in the series to feature cooperative gameplay and online multiplayer support, the idea for Outbreak – a series of scenarios that could be tackled with networked friends – had been kicking around since 1998. Producer Noritaka Funamizu, on the request of Shinji Mikami, even built a demo, before putting the project on ice.
The essence of Resident Evil was the fear that came with solitude and isolation. Didn't multiplayer negate that? Then in 2002 an initiative from Capcom's Production Studio 1 to develop three networked games on the PlayStation 2 was given an edict and Funamizu fancied another go. The other games were Auto Modellista and Monster Hunter and Capcom's goal was to have at least one of the games reach a million sales. Resident Evil Outbreak matched this aim, as did Monster Hunter.
It's no exaggeration to say that the fourth game in Resident Evil's main story arc, 2005's Resident Evil 4, is one of the greatest videogames ever created. It's also little exaggeration to say that – for reasons good and bad – it's release changed everything for the series it formed a part of. It's director Shinji Mikami's masterpiece. A monument to his genius.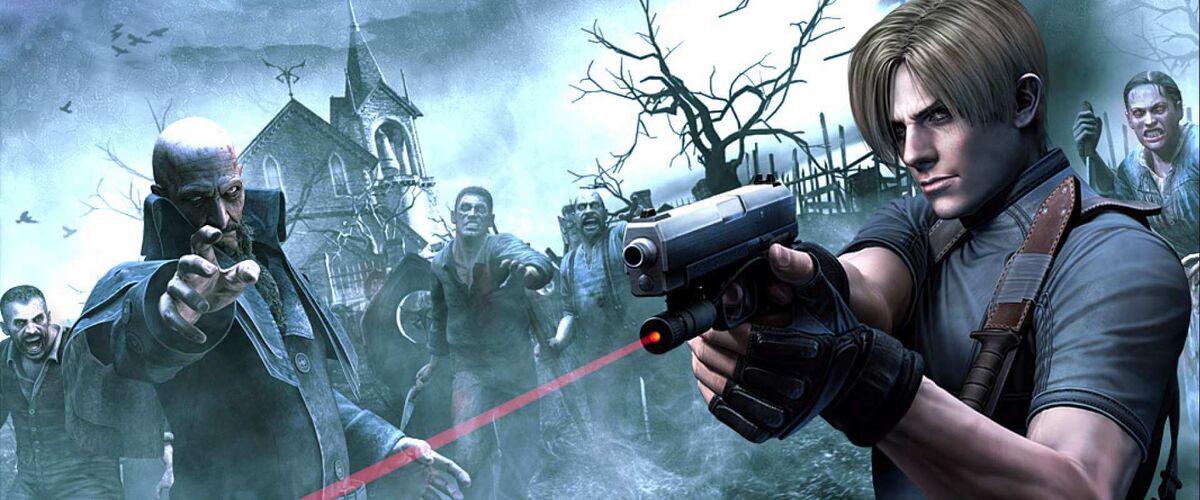 One of the most influential games of all time; without RE4's shift to an over-the-shoulder shooting mechanic, there'd be no Gears Of War. No Batman: Arkham Asylum. God Of War writer Cory Barlog has said the game has influenced ever good game he's worked on. Dead Space designers Ben Wanat and Wright Bagwell add that their game was originally intended to be System Shock 3 before Resident Evil 4 forced them to tear up their plans and create something more ambitious.
Naughty Dog consider RE4's masterclass in eliciting tension core to the brilliance of what they pulled off with The Last Of Us. Even rival games to Resident Evil– namely Konami's Silent Hill series, even Alone In The Dark– made an about turn in their tone and presentation, based on the impact of Capcom's new game.
THE PAIN IN SPAIN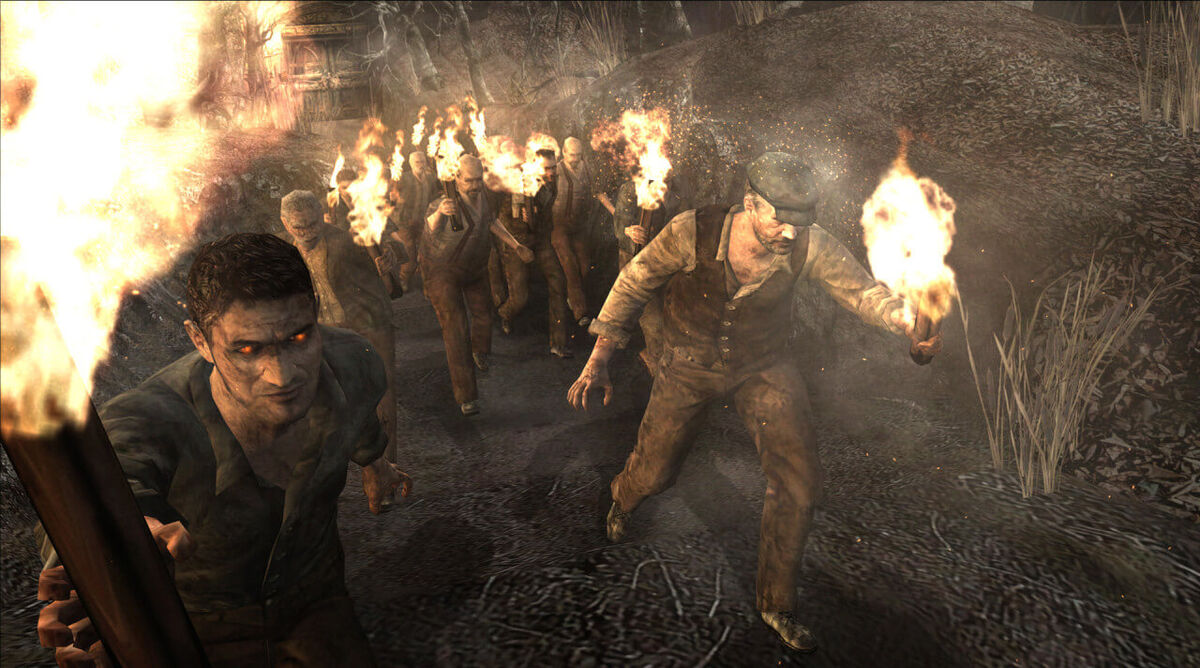 Released January 11th, 2005, set in 2004, six years after the events of Resident Evil 2, the player quickly learns that former Racoon City cop Leon S. Kennedy is now a government agent. He's still got lovely hair. Really floppy, lovely hair. We're told that Leon is being sent on a mission to rescue Ashley Graham, the U.S. President's daughter, who has been kidnapped by a mysterious cult based in Europe. Leon flies to Spain, quickly stumbling upon a group of hostile villagers who pledge their lives to Los Illuminados ('The Enlightened Ones') the cult that kidnapped Ashley.
The villagers have fallen victim to a parasite known as Las Plagas ('The Plague'). The game's enemies aren't zombies. They're the Los Gandos. Not dead, but not really alive either. It wasn't just the mechanics of the game that had changed; it was the parameters of what a Resident Evil game could be. There was a feeling that Resident Evil– for so long constrained by the conventions of the survival horror genre it created – could go anywhere and be anything.
This time around it was anticipating the folk horror revival by at least fifteen-years. Next time round, who knows? And yet much like Resident Evil 2, the series first truly great game, RE4 didn't come easy, with at least four attempts at realising the title being on record. First Hideki Kamiya took a shot. His idea was pretty wild.
With Resident Evil 2 writer Noboru Sugimura he worked up some verticals concerning a game which dealt with a mystery surrounding the body of protagonist 'Tony', an invincible man with skills and an intellect exceeding that of regular people, with superhuman abilities explained via biotechnology. Cool idea, but it strayed far too far from anyone's understanding of what survival-horror was. The idea was developed as Devil May Cry instead, subsequently being released for the PlayStation 2 in August 2001.
CAPTAIN HOOK
Next to try their hand was Hiroshi Shibata, with a trippy, often hallucinatory attempt that has become known to fans as 'the fog version'. Shibata's game made it to 40% completion, was set in Europe like the realised game would be and featured Leon S. Kennedy with a biologically mutated left hand! That idea scrapped, Capcom's appearance at E3 2003 saw the company showcase an actual trailer for what's known as 'the hookman version'.
Written by Yasuhisa Kawamura, many of this version's ideas didn't make it into the finished game – Leon having a dialogue wheel being one. And yet there were those that did; it's hard not to see the man pursuing Leon with a hook for a hand as a sort of spiritual predecessor to Dr. Salvador and his blasted chainsaw.
"I wanted to make Biohazard 4 scarier," says Kawamura of his intentions for the aborted game. "I suggested using a particular scene from the film The Lost Souls, where the main character – played by Winona Ryder – while washing her hands in a bathroom – suddenly finds herself in a derelict building with a killer on the loose. An arranged version of this idea eventually turned into Hook Man."
It was eventually conceded the idea didn't work. Kawamura took the rejection hard. "I felt very sorry. You can even say that I was ashamed," he says of Shinji Mikami's subsequent return to a hands-on directorial role.
There was one more false dawn, a safety-first approach featuring classic zombies and very little else. It was quickly shut down for being formulaic. Mikami decided the new Resident Evil needed to be different, new and fresh. But it needed to be Resident Evil too. The team had been trying too hard to do something different for the sake of being different. Mikami took the helm, got the team excited about the incoming action elements. A breakthrough. Then a masterpiece.
But wait… what bad could the reinvention of Resident Evil 4 possibly bestow on the series?
FEED THE WORLD (BRAINS)
Resident Evil 5 arrived on March 5th, 2009. Set in Kijuju, a fictional region of Africa, the game concerned itself with the investigation of a terrorist threat by Bioterrorism Security Assessment Alliance agents Chris Redfield and the debuting (and really quite likeable) local Sheva Alomar. Albert Wesker returned as the game's chief antagonist, as did – gasp! – a mind-controlled Jill Valentine. Unsurprisingly, there was a segment set onboard a ship.
For the first time in the series, the game finally featured two-player cooperative gameplay. Any suggestion that Resident Evil was still a survival-horror franchise was quickly eradicated by an onslaught of quicktime events, the bare minimum of puzzles and fast paced, often gonzo action. This was a horror game set almost entirely in the bright sunny glare of the daytime.
Worse still was the games ham-fisted approach to race, with Capcom's depiction of Africa owing much to Joseph Conrad's few-more-problematic 1899 novel Heart of Darkness. This was a post-colonial Africa that could barely look after itself, populated by savages running tatty market stalls dealing in the trade of rotten meat, long before infection and their transformation to 'Majini' (a Swahili or Zigula word for 'evil spirit') took place. As for the segment that featured cannibalistic witch doctors, well…
THE NUMBER OF THE BEAST
Resident Evil 6 followed on October 2nd, 2012. The vast, sprawling, multi-character game was a calamitous mess. Directed by Eiichiro Sasaki – who had helmed the Outbreak series – and produced by Yoshiaki Hirabayashi, the initial signs seemed promising. After the missteps of Resident Evil 5, it seemed Capcom were listening to fan feedback and wanted to right wrongs. Zombies made a welcome return to the fold, with Hirabayashi saying,
we brought zombies back because they're popular."
Based on feedback from Resident Evil 4and Resident Evil 5, the fact that there weren't classic zombies in those games and people really wanted them. We tried to respond to the requests and put them in this game." Hirabayashi went on to stress his love of horror and insist that Resident Evil was a horror franchise and he wanted gameplay to revolve around horror themes.
Then Resident Evil producer Masachika Kawata spelled out what longtime fans of the series had known in their hearts for some time.
"Looking at the marketing data [for survival horror games]" said Kawata during press to promote the new title, "the market is small, compared to the number of units Call of Duty and all those action games sell. A survival horror Resident Evil doesn't seem like it'd be able to sell those kinds of numbers." Capcom stopped using the term 'survival-horror' and began using the term 'dramatic horror'.
Survival-horror was far from dead. 2013's The Last Of Us contained moments of pure dread. The following year Tango Gameworks, a new company headed by Shinji Mikami, who'd left Capcom after the completion of RE4, released the cumbersome but raw The Evil Within. "Why I came back to survival horror," said Mikami, "is that survival horror as a genre is becoming all action now. There aren't any real survival horror games in the world right now. That is the biggest motivation for me." The same year offered forth the petrifying Alien Isolation and Red Barrel's Outlast.
Survival-horror was far from dead. But it didn't lurk within the halls of Capcom anymore. Or did it.
SEVEN DEADLY SINS
In truth, Capcom didn't have to do anything differently. With 9.2 million copies sold, Resident Evil 6 is the third biggest selling game the studio have ever released. And yet, built on a new custom game engine, named the RE Engine, which included virtual reality development tools – though, frankly, anyone who chose to play the game with a VR headset on is most likely sat, dead, mummified on their sofa, clutching their chest – few expected the brilliance of Resident Evil 7: Biohazard.
Released January 7th, 2017, the seventh mainline game was a revelation. Not perfect. The last few hours feel rushed, the boss fights are often infuriating – and of course there's an entire level set on a ship. But the first few? Holy sh**…
In game seven, Capcom finally found a way to satisfy their action game urges, while also creating a blueprint for survival-horror that made sense for modern times. For the first time in the main series, the new game positions you in the first person. Inside the decaying house of the unhinged Baker family, rotting meat strewn across tables, terrible secrets to be found in every corner of their mansion – and then there's that twist. The games Southern Gothic vibe is unlike anything the series has ever attempted before. One again it feels like all bets are off.
Rumour has it that Capcom are already at work on Resident Evil 8, as well as a host of other series connected projects. For the first time in forever the series fanbase are fearful about what might be offered forth. That's fearful in the correct sense. Excited and nervous, not cautious and cynical. There's a nice parallel in starting out on this journey in a mansion, then arriving in another, just shy of twenty-five years.
Where we might be in another twenty-five really is a thrilling proposition.