Sitcoms sure like their Christmas episodes. Sometimes they miss, but oftentimes they're a lot of fun. Just as we have 12 Days of Christmas, here are 12 of the best sitcom Christmas episodes to get you in the festive mood.
Parks and Recreation – "Citizen Knope"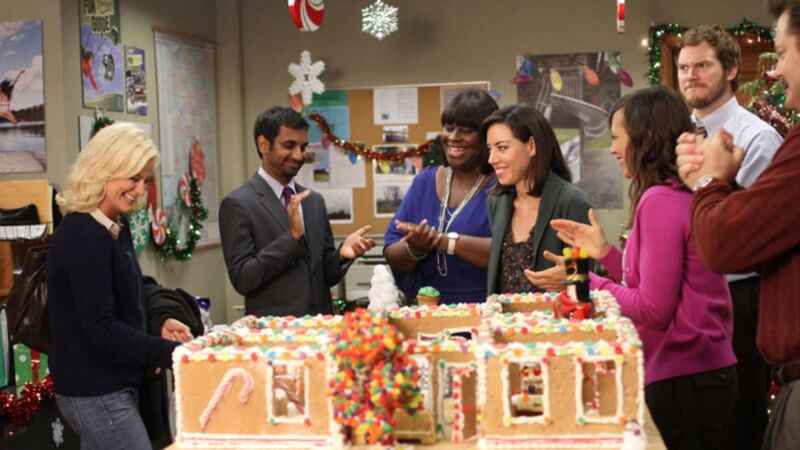 Parks and Recreation is always as warm and fuzzy as your favorite Christmas sweater. However, series four's Christmas episode "Citizen Knope" goes well beyond its normal level of feels.
Leslie Knope is known for her gift giving. Her friends work together to try and give Leslie a gift that makes up for all the amazing gifts she has given them in the past. The Christmas feels hit when Leslie's city council campaign managers quit and her friends step up to take their place.
Jean-Ralphio shows that he is the gift that keeps on giving and ends the episode on a lighter note, leaving you feeling merry and bright. [Kate Fowler]
Seinfeld – "The Strike"
Season nine's "The Strike" is a classic, up there amongst heavyweights like the "The Soup Nazi" and "The Contest" in its iconic place in pop culture. Yes, this is the episode with Festivus. "The Strike" has all the things that made Seinfeld work – the hyper-mundane turning on itself and several plot threads that perfectly tie together. While the title refers to Kramer finally coming off a 12-year strike at H&H Bagels, what's most remembered about this episode is Festivus (for the rest of us).
The episode is sandwiched between two holiday parties, starting at Tim Whatley's Hanukkah party and ending at George's parents' Festivus feast. In between, there's Kramer holding one of the few legitimate jobs he's ever had, Elaine trying to get her Atomic Sub loyalty card back from "Denim Vest" (played by Kids in the Hall member Kevin McDonald), George inventing a fake charity, and Jerry dating a "two-face". And while this one isn't likely to give you any kind of warm and fuzzy holiday season feels, it still absolutely holds up in the comedy department. [Colette Smith]
30 Rock – "Christmas Special"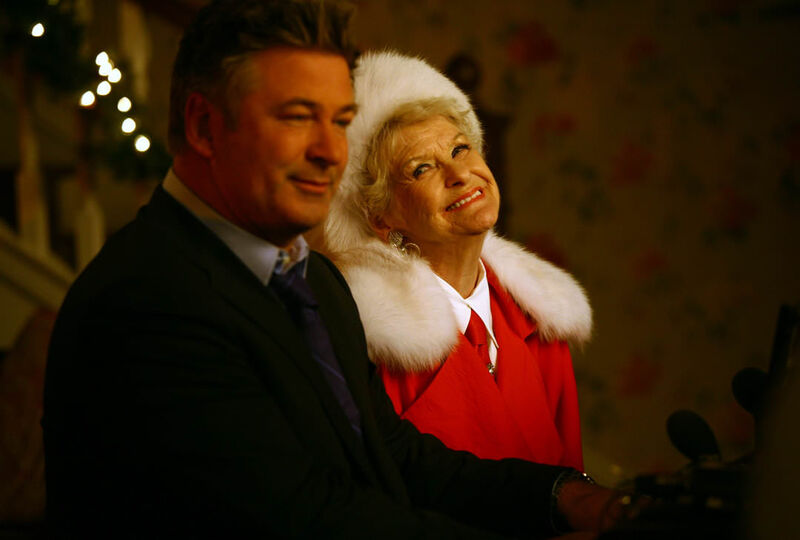 "Christmas Special" is not only a wonderful holiday episode, but it is also an example of why 30 Rock is one of the best comedies of the last 10 years. This episode mixes together the show's usual pessimism with a big dose of emotion.
The emotion surprisingly comes from Jack and Colleen Donaghy. Jack has always been angry at his mother for ruining Christmas by spending it drunk with a man named Mr. Schwartz. Jack changes his mind when he realizes his mother hooked up with the owner of FAO Schwartz when she could not afford to buy presents.
Despite the festivities, 30 Rock does not let the warm and fuzzies get too out of hand. Liz ruins Christmas for two children by telling them there is no Santa and Colleen ends the episode by criticizing Jack. It is hard to imagine Christmas at 30 Rock going any other way. [Kate Fowler]
Community – "Abed's Uncontrollable Christmas"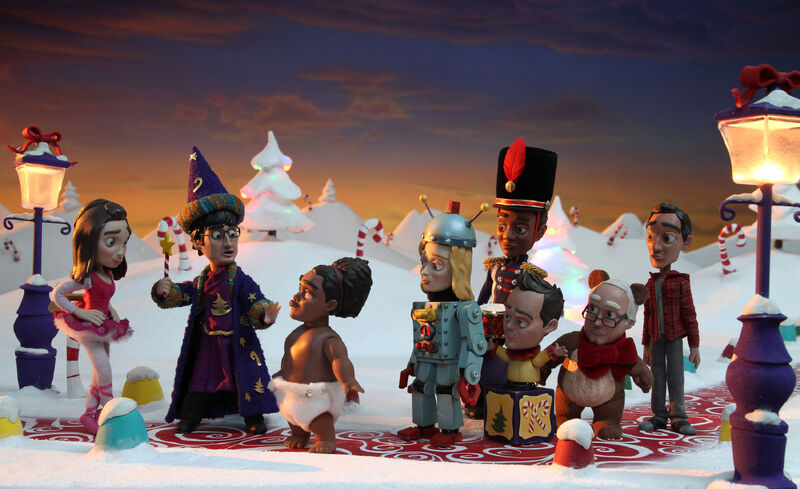 There's no denying that Community had some of the best Christmas episodes of any show, so to pick just one was a tough ask. But ultimately, season two's "Abed's Uncontrollable Christmas" distils laughs, pathos, and a stop-motion animation format into a smartly written little Christmas package.
When Abed wakes to find everything is in claymation — something only he can see — the study group, lead by Greendale's resident counselor Ian Duncan (John Oliver) go on a quest to find out what's at the bottom of it all. By the end, we see a different side to Abed, one that takes us by surprise, but we also learn about his past and his motivations. Between laughs, this perfectly crafted Christmas episode really hits you in the feels. [Colette Smith]
3rd Rock From the Sun – "Jolly Old St. Dick"
A group of aliens experiencing their first Christmas? It sounds like the perfect set up for a holiday sitcom special and 3rd Rock From the Sun delivers. The Solomons experience both the joy and the misery of the festive season in one great episode.
After initially being excited at the idea of Christmas, the Solomons encounter department store Santa disappointment, gift giving anxiety, and a run-in with the police.
Ultimately Dick, Sally, Harry, and Tommy discover what the holidays are really about. The episode wraps up with the lesson that Christmas is "about giving and sharing and just being human". [Kate Fowler]
Arrested Development – "Afternoon Delight"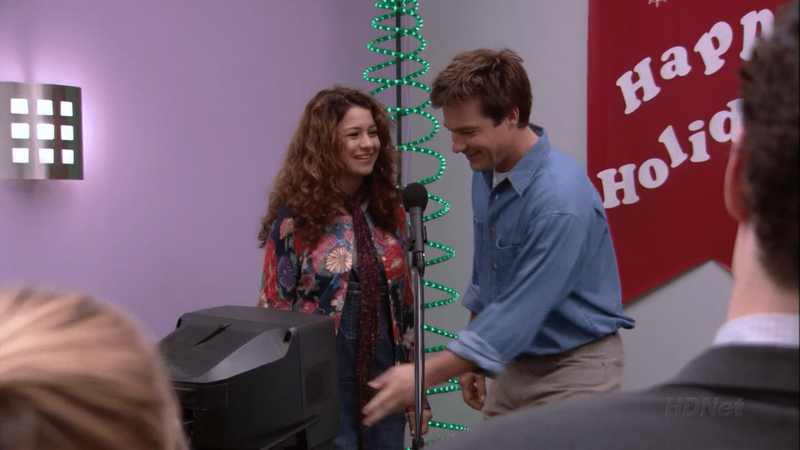 "Afternoon Delight" is one of Arrested Development's more low-key episodes (if such a thing exists for this show) but features one of the most awkward karaoke moments of all time.
Michael wants to teach his son a lesson for ditching their tradition of going to the work Christmas party so he can be with his girlfriend, Yam (don't you mean "Ann"?) So, Michael takes Maeby instead. Maeby is also trying to make her mother jealous because she uninvited her daughter to the very same party.
As always with this show, the office Christmas party is a train wreck where Gob fires everyone. But the cringe-y moment here is the karaoke duet Michael and Maeby perform of the Starland Vocal Band song "Afternoon Delight". On the surface, the song seems innocent, but it's only when the uncle and niece duo get into the groove of the song that they realize the overtly sexual nature of the song. All the awkward and uncomfortable office Christmas parties you may have attended in your life pales in comparison to this one. [Colette Smith]
The Office – "Christmas Party"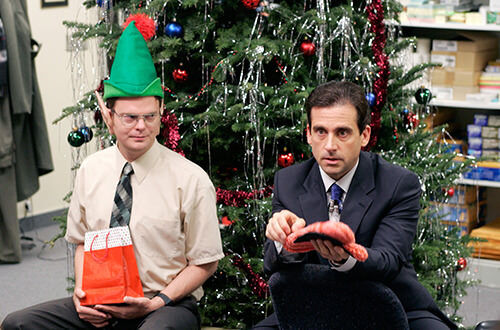 Sometimes it's hard to defend Michael Scott. Generally, he means well. But mostly he just gets in his own way. And "Christmas Party" is almost a step too far for the Dunder Mifflin boss. After receiving a hefty bonus, Michael wants to make sure the office has an unforgettable Christmas party and he heavily overspends on his Secret Santa gift by getting Ryan a video iPod. But when Michael is appalled at the handmade oven mitt Phyllis knitted him, he decides to play a "fun" game of Yankee Swap.
Naturally, things get out of hand, people are upset, feelings are hurt, so Michael buys a whole lotta booze to try to make it up to them, despite corporate banning alcohol from Christmas parties. As with all office Christmas parties, alcohol helps. A lot. And in the end, Michael redeems himself, the unintentionally offensive but well-meaning boss everyone hates to love.
What's particularly cute about this episode is that this is the first time that Jim makes an obvious move at showing his feelings for Pam. His gift to her is thoughtful and sweet, and although Pam's fiancé is still in the picture, her doubts are becoming clearer. This is a great Christmas episode, even with the show still living in the shadow of its UK predecessor (whose Christmas specials are brilliant, but technically not episodes.) [Colette Smith]
Metalocalypse – "Dethmas"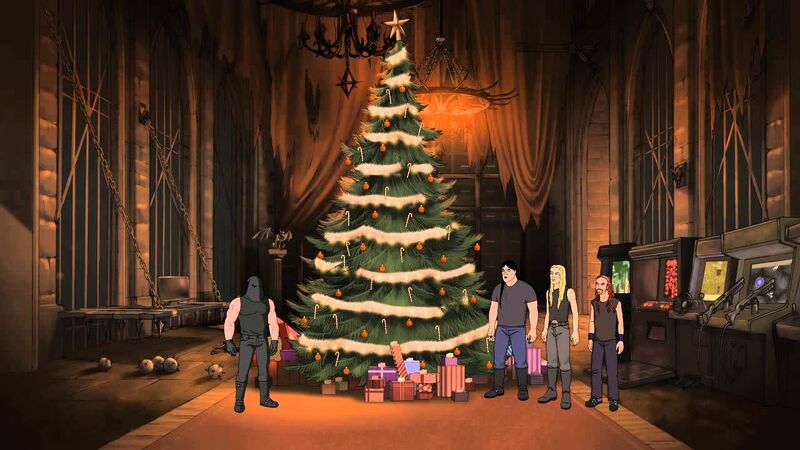 Adult Swim's Metalocalypse probably isn't the first show you think of when it comes to Christmas episodes, but season three's "Dethmas" is the perfect antidote to all the chintzy festive spirit that this time of year manages to throw up. The episode includes Dethklok's mothers' all coming to visit, Toki wanting to do a Secret Santa even when no one else wants to participate, Dr. Rockso getting his act together (sort of), and Murderface spearheading a Christmas TV special. So, usual Metalocalypse shenanigans, really. What makes this episode one of the greatest of all time is Nathan Explosion's take on Christmas trees.
"It's like having a rotting corpse in your house, but the corpse of a tree. You know, it's dead, and then you humiliate it even further by hanging ornaments all over it, like 'f*** you'."
Brutal.
[Colette Smith]
How I Met Your Mother – "How Lily Stole Christmas"
In the early days of How I Met Your Mother, they had some seriously tight storytelling going on. While still adhering to the standard sitcom rules, the writers got in some pretty deep and moving moments. They would cover topics from motherhood, infertility, the cost of following your dreams, death, and family disappointments. The show could also pull out one hell of a decent holiday episode.
Season two's "How Lily Stole Christmas" mainly focuses on Ted, who is still upset from when Lily left Marshall at the end of season one. When Lily decorates the apartment while Marshall is taking his last exam for the year, she finds an old answering machine message where Ted calls Lily a "grinch". Ted refuses to apologize, so Lily takes the decorations down and leaves. To avoid disappointing his best friend, Ted decides to have Christmas with his super religious family up-state. 
Meanwhile, Marshall helps a delivery driver finish his rounds, like the giant lumbering elf that Marshall is. When he returns with the gift that Ted had ordered for Lily — an Easy-Bake Oven that she'd always wanted since she was a child — she realizes just how deep her friendship with Ted goes.
Oh, the magic of Christmas. [Colette Smith]
Friends – "The One Where Rachel Quits"
Friends packs a lot into its series three Christmas episode and it includes a couple of festive treats.
A slightly less self-centered Ross sells Christmas cookies for a little girl after breaking her leg and the whole group comes together to cheer Phoebe up. They indulge her in one of her quirky whims by filling Monica's apartment with brown Christmas trees. But this episode belongs to Rachel.
Rachel quits her Central Perk waitress job to push herself to do something about her dream career in fashion. She moves outside her comfort zone and is rewarded with her first job in the fashion industry.
It is hard to produce a good Christmas story and it is also hard for sitcoms to deliver meaningful character development. This episode does both and that is why it works so well. [Kate Fowler]
Fresh Off the Boat – "The Real Santa"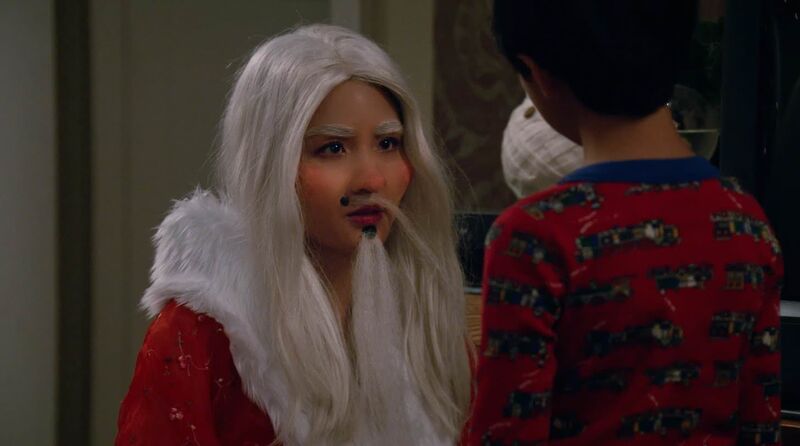 Season two for Fresh Off the Boat was a rocky one. With narrator and original author of the book the show was based on, chef Eddie Huang, leaving the show, it took some time for the sitcom to find its legs. It shifted its focus from middle child Eddie to being more broadly about the entire Huang family. In particular, it capitalized on the great comedic timing of Randall Park and Constance Wu who play the Huang parents.
In "The Real Santa", Fresh Off the Boat does a great job of highlighting the clash of cultures within a safe environment. What's great about this episode is Jessica's attempt at keeping Evan's innocence alive while also encouraging him to embrace his heritage. The idea that the real Santa is a Chinese scientist who delivers toys as his charity for the year is fantastic, but so is Constance dressed as Lao Ban Santa. [Colette Smith]
Curb Your Enthusiasm – "Mary, Joseph, and Larry"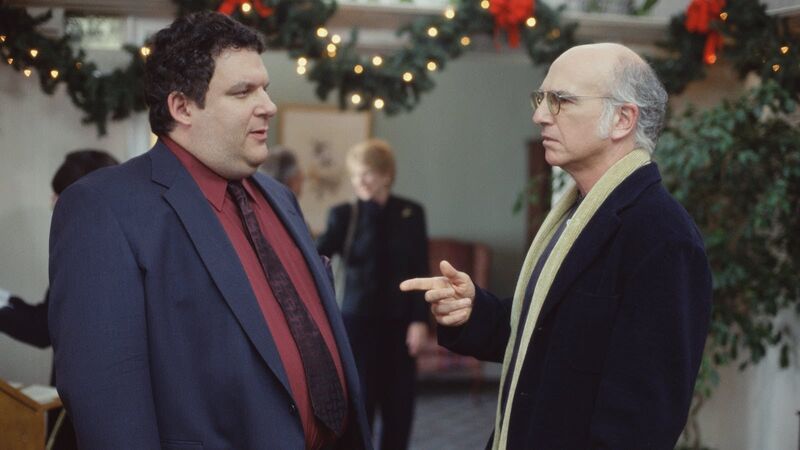 One (of many) things that Curb Your Enthusiasm has always been great at is bringing people and ideas from two different worlds together and watching them clash. And season three's "Mary, Joseph, and Larry" does this to perfection.
As a Jewish man, Larry David has never had a Christmas tree in his home. He doesn't like it, he doesn't want it, and he's afraid it'll upset "his guy". With Cheryl's Christian family coming to stay for Christmas, she insists that "his guy" would understand. But Larry is clearly uncomfortable with all of the traditional Christmas goings-on in his house.
Cheryl and her sister, Becky (It's Always Sunny in Philadelphia star Kaitlin Olson) bake cookies for a nativity scene, but Larry eats them, mistaking them for zoo animals. So, to make it up to them, Larry stumbles upon a church volunteer group performing their nativity scene and he asks them to come by his home. The group arrives, and things go as well as can be expected for a Curb episode. But, in true Larry David style, he offends Joseph and they end up in a petty scuffle, all in front of Cheryl and her disapproving family. When will Larry learn? [Colette Smith]