It's officially winter, the season for building snowmen and enjoying hot cocoa in front of a fire. It is also the time of year when a ton of new anime shows and movies debut. So, here are 15 anime series and movies you need to watch this winter.
Overlord II
Premiere date: January 9, 2018
Studio: Madhouse
Genre: Action, Game, Adventure, Supernatural, Magic, Fantasy
Finally fans of the MMORPG anime series, Overlord will get a continuation of the isekai adventure. At the end of last season, viewers witnessed how the Slane Theocracy took control over Shalltear Bloodfallen and, as a result, turned her against her master Ainz Ooal Gown. Chances are the new season will follow this arc and also include side stories that could easily cover 24 or 25 episodes.
A Place Further Than the Universe
Premiere date: January 2, 2018
Studio: Madhouse
Genre: Adventure, Comedy, Slice-of-Life
What's more exciting than going to an exotic location and enjoying a cold drink? A vacation to the South Pole. This original anime series premieres this cold winter season. It will follow a group of girls as they struggle together to cope with the extreme conditions of Antarctica.
The Disastrous Life of Saiki K. Season 2
Premiere date: January 17, 2018
Studio: J.C. Staff and Egg Firm
Genre: Comedy, Supernatural, School, Shounen
The crazy, short adventure that is Saiki's life returns this winter. The 5-minute long series follows the psionic teen Saiki Kusuo as he tries to keep his power in check. But, it's high school. Temptations are everywhere, and with the ability to read minds and bend spoons, it's hard not to take advantage of certain situations.
Ito Junji: Collection
Premiere date: January 5, 2018
Studio: Studio Deen
Genre: Drama, Horror, Mystery, Psychological, Supernatural
Reported as one of the most frightening and sickening anime of the winter 2018 lineup, Ito Junji: Collection is a must-see for horror fans. Studio Deen is in charge of bringing the Junji Ito anthology series to life. Warning: Ito's characters don't come out unscathed from terrifying situations.
Cardcaptor Sakura: Clear Card
Premiere date: January 7, 2018
Studio: Madhouse
Genre: Adventure, Comedy, Magic, Romance, Fantasy, Shoujo
The latest adaptation of Cardcaptor Sakura will see our heroine face her biggest challenge yet. After having a dream about a mysterious cloaked figure, Sakura's cards turned black, rendering them useless. Thus, she begins her quest to recover her card's powers. Along the way, she faces many new challenges and surprises.
Basilisk: The Ouka Ninja Scrolls
Premiere date: January 9, 2018
Studio: Seven Arcs Pictures
Genre: Action, Drama, Historical, Martial Arts, Seinen
In Basilisk: The Kouga Ninja Scrolls, ten ninjas of the Kouga clan fight until the death against ten ninjas of the Iga clan. The victor determines which clan will succeed the Tokugawa family and receive the favor of the Tokugawa shogunate for a thousand years.
The story continues in Basilisk: The Ouka Ninja Scrolls set 10 years after the war. The sequel will focus on Gennosuke and Oboru's children, Hachiro Koga and Hibiki Iga. Are they, like their parents, doomed to repeat the past? Only time will tell.
Fate/Extra Last Encore
Premiere date: January 28, 2018
Studio: Shaft
Genre: Action, Magic, Fantasy
The Holy Grail war has started again, but this time around an unwilling participant joins the game. Forced to play in this intense battle royale, Hakuno is paired up with a mysterious Servant and must fight to the death. However, his goal is not only to survive but to also find out who he is.
Devilman: Crybaby
Premiere date: January 5, 2018
Studio: Science SARU
Genre: Action, Horror, Demons, Supernatural
A new adaptation of Devilman is coming to Netflix. The streaming giant announced last fall that they would add more content to their already overwhelming assortment. Devilman: Crybaby will be one of the first to debut. This new adaptation will focus on how Akira Fudo first became Devilman.
Zoku Touken Ranbu: Hanamaru
Premiere date: January 8, 2018
Studio: Doga Kobo
Genre: Action, Slice of Life, Comedy, Historical, Drama, Fantasy
The first season of Touken Ranbu: Hanamaru premiered back in 2016 and centered around Touken Danshi. The second season will continue to follow this cheerful group as they protect history and infuse life into objects.
Violet Evergarden
Premiere date: January 11, 2018
Studio: Kyoto Animation
Genre: Drama, Fantasy
Violet Evergarden fans were excited to learn that the visual novel written by Kana Akatsuki and illustrated by Akiko Takase will receive an anime adaptation. The anime follows Violet Evergarden, an "Auto Memory Doll," as she searches for the meaning of a particular word.
The first episode premiered back in July. It received critical acclaim for its stunning animation and moving storyline.
Beyond the Boundary director, Taichi Ishidate will oversee the series. Kyoto Animation will be in charge of animation. Violet Evergarden will premiere in Japan in January of 2018 and Netflix will stream the series worldwide in the spring season of 2018.
Midnight Crazy Trail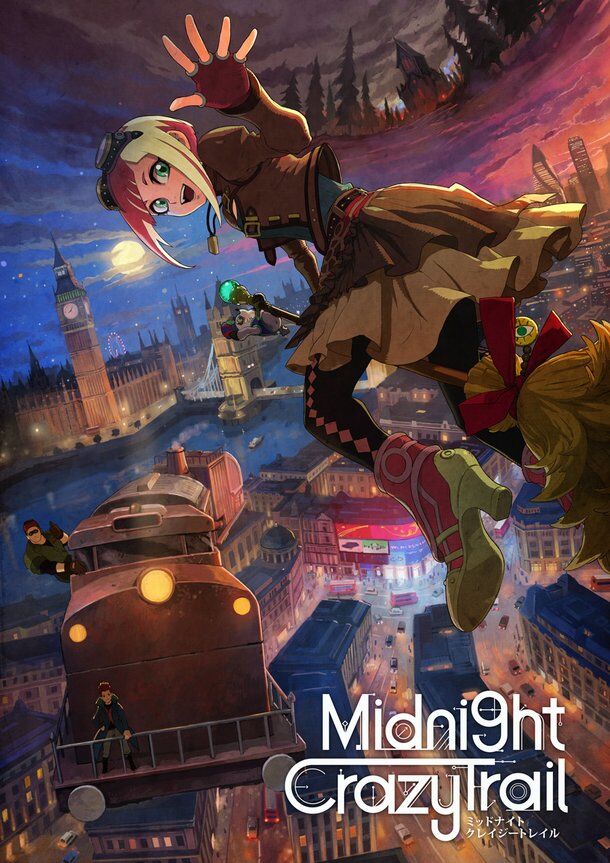 Premiere date: March 2018
Studio: Picona Creative Studio
Genre: Drama, Comedy, Fantasy
Part of the 2018 Young Animator Training Project, this anime submission follows a young witch who travels to the human world to see what it means to be a bride. However, her magical book is in the way. To live the life that she's always dreamed of, she hires two men that are in the garbage collection business to get rid of her book. But, throwing away a magic book isn't so simple.
IDOLiSH7
Premiere date: January 2018
Studio: TROYCA
Genre: Music, Shoujo
With a pre-release this last November, the idol anime series will continue broadcasting this winter season. Based on a Japanese rhythm game and visual novel mobile app of the same name, IDOLiSH7 follows Tsumugi Takanashi the new manager of the seven-idol group, IDOLiSH7. They will embark on an insane journey through the music world, gaining experiences and giving their new manager a hard time.
Kokkoku
Premiere date: January 8, 2018
Studio: Geno Studio
Genre: Mystery, Psychological, Drama, Seinen
There is another horror anime series on the horizon this season. Kokkoku tells the story of Juri Yukawa, who lives with her extended family in a single house, which can be daunting at times. However, when a cult kidnaps her brother and nephew, she discovers that her grandfather has a stone that can stop time.
After finding the kidnappers' hideout, they soon discover that they are not the only ones with a magical artifact. Now it's a race against time to save her family, all the while dodging monsters that are trying to kill her.
B: The Beginning
Premiere date: March 2, 2018
Studio: Production I.G
Genre: Mystery, Psychological, Drama,
Also featured on our list of anime we're most excited for in 2018, is the suspense drama series B: the Beginning. Formerly known as Perfect Bones, Netflix announced the anime show as one of the titles that it had acquired for their portfolio. The series follows Koku, our protagonist, along with an investigator and a criminal organization as they race through a city plagued by crime and the notorious serial killer, Killer B.
The Seven Deadly Sins: Revival of the Commandments
Premiere date: January 13, 2018
Studio: A-1 Pictures
Genre: Action, Supernatural, Fantasy, Shounen
A new season of The Seven Deadly Sins series airs this winter. Based on Nakaba Suzuki's manga serialized in Weekly Shonen Magazine, the shounen series follows a group of knights and a princess on their journey to retake the kingdom.