Durarara!! has won fans over with its fast-paced storylines and over-the-top characters. And although the series ended a few years ago, fans still want to see more of the cast's outrageous adventures. There may not be a sequel planned for the popular series, but, luckily, there are other shows with a similar comedy-action vibe. So, here are five anime shows like Durarara!!.
Baccano!
What could be more similar to Durarara!! than Baccano!? After all, it was created by the same director and studio. The series takes place in the early 1930s in Chicago, where the transcontinental train, Flying Pussyfoot, is starting its legendary journey. But, in reality, the story is about a much bigger plot involving alchemy, gangsters, and immortality. Each character has a hidden agenda, which will change everyone's life both on and off the Flying Pussyfoot.
Both Durarara!! and Baccano! have similar characters and storytelling styles — complete with a staggering amount of supernatural phenomena. Both anime start off by giving us small snippets of each character's story. Initially, they seem to be unrelated to each other, but they ultimately come together in the end. Baccano! also successfully manages to develop each character despite its large cast, multiple points of view, and fast-paced story. The result is a series that's just as epic as Durarara!!
Blood Blockade Battlefront
Out of nowhere, New York City vanishes into a mysterious fog. Now, people refer to the Big Apple as Hellsalem's Lot, a place where otherworldly creatures such as vampires, supersonic monkeys, and humans live. The series follows Libra, a secret organization who keeps the order inside the city, and their newest member, Leonardo Watch, who possesses the "All-Seeing Eyes of the Gods." We watch as our young protagonist struggles to survive in the strangest place on Earth with his equally weird comrades.
Both Blood Blockade Battlefront and Durarara!! concentrate on an average main character who moves to a hectic city. Each protagonist meets a host of exciting, interesting characters while finding their place in a new location. Through a series of unexplainable events, both protagonists get mixed up in the supernatural. But, luckily, they each have a group of friends backing them up that would do anything to make them feel at home.
Bungo Stray Dogs
For weeks a mystical tiger has been stalking 18-year-old orphan Atsushi Nakajima. But he seems to be the only one able to see it. The orphanage he stays at blames Nakajima for the incidents caused by this creature and kick him out. Hungry and homeless, he wanders through the city. But his luck changes when he saves a somewhat eccentric man named Osamu Dazai from drowning. Eager for more help to address the odd events happening throughout the city, Dazai pressures Nakajima into joining his firm of supernatural investigators, the Armed Detective Agency. The group consists of famous literary characters that have special abilities.
Like Durarara!!, Bungo Stray Dogs features a young protagonist who moves into a new region and quickly finds themselves surrounded by bizarre events seemingly orchestrated by an evil organization. Both shows are full of action, fantasy, gang fights, and deceptive characters. This may seem like a lot, but everything comes together thanks to the show's humor and small, close-knit cast. So, if you liked Durarara!!, then give Bungo Stray Dogs a try.
Hakata Tonkotsu Ramens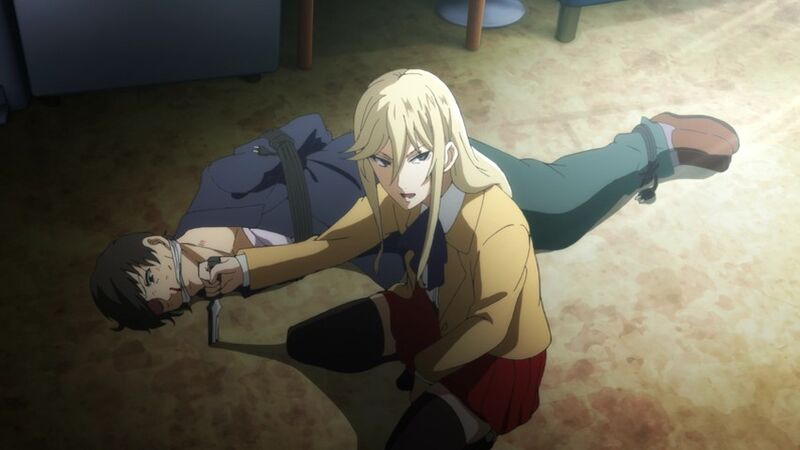 The city of Fukuoka may seem peaceful to outsiders, but, in reality, it's a seedy underworld full of killers, detectives, and professional revenge seekers. Among the city's citizens is Zenji Banba, a detective investigating a hitmen agency in the area. Joining him is Xianming Ling, a cross-dressing male hitman at the agency, who is fed up with his lack of jobs and pay. So, Ling offers Banba a deal: join him and form a team.
The kooky crime drama, named after the location's famous ramen dish, has many similarities with Durarara!! From a diverse ensemble cast to interweaving storylines set in a big city to an unknown criminal underworld, Hakata Tonkotsu Ramens is a series that you should check out. The anime has a large cast with unique and colorful personalities. The plot also has many moving pieces that help maintain the show's energetic and engaging pace. There's even a light novel crossover between both series called Durarara x Hakata Tonkotsu Ramens.
Hamatora The Animation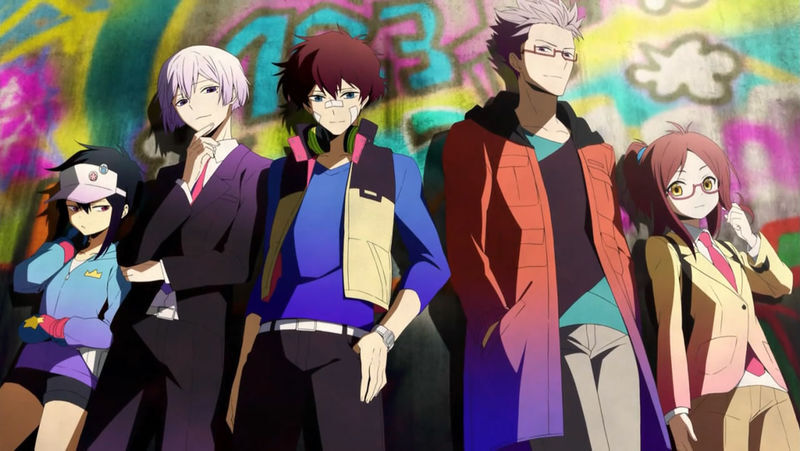 The detective duo of Nice and Murasaki wait every day for work at a table inside Cafe Nowhere, the cafe they use as their agency. Out of nowhere, a job lands on their lap, and it's quite similar to the other ones they've received. In each case, the murder victims are Minimum Holders, a select group of humans possessing the Minimum ability. Nice and Murasaki, as holders themselves, are on the case. But things get complicated when a connection between Nice and the murderer becomes apparent.
Hamatora The Animation, like Durarara!!, is action-packed and full of slapstick comedy. But the anime also discusses serious themes, such as death and psychological trauma. Besides this, Hamatora The Animation includes a large cast, whose action's often come into question. However, similar to Durarara!!, the series leaves the decision of who is good or evil to the viewer.