Superman, Captain America, the Hulk, the Human Torch, Howard the Duck – these are some of the biggest franchises in comics. Well, okay, maybe not Howard the Duck, but you get the idea. These characters were also created or co-created by some of the biggest legends in the business; people who are revered to almost a saintly level. Yet, while these iconic characters raked in millions of dollars for the publishers, the people who actually created these characters didn't get their due. In some cases, they died in poverty.
In the early days of comic books, most of the work was done as work-for-hire, meaning that whatever work you did for the company, they owned it. Payment was often a one-shot deal, and anything outside of that, well, you're on your own. Big-name publishers like Marvel and DC Comics were making a ton of cash while the creators fought tooth and nail to get proper compensation.
Here are five comic creators that were screwed over by publishers.
Carl Burgos
Who Did He Create: 
The original Human Torch
The  History:
The late 1930s was the start of the comic book industry, and it exploded. A company named Timely Comics came onto the scene in 1939 with Marvel Comics #1 and among the various characters that appeared in this anthology title was the original Human Torch. The Torch was a huge hit, appearing regularly in Marvel Mystery Comics and graduating to his own title.
In 1942, Burgos was drafted to fight in the war, and when he returned, he did regular work in comics. He was involved with the brief revival of the Torch in the 1950s when Timely became Atlas Comics, as well as working on various Western, war, and anthology titles.
At the end of the day, there would not have been a Marvel Comics had it not been for Burgos' contributions.
The Legal Battle:
When Stan Lee created the Fantastic Four in 1961 he re-envisioned the Human Torch as a young teen named Johnny Storm. According to Carl's daughter Susan, Carl attempted to sue Marvel Comics for ownership of the Human Torch. She's fuzzy on the details but they settled out of court. It must not have been that great of a deal because, according to her, he threw out the private collection of comics that he produced.
Insult to Injury:
Rubbing salt on the wound was the fact that Burgos later went on to draw a Human Torch story for Strange Tales #123. Burgos didn't really do much in the field of comics after that and he died in 1984. To date, he doesn't get any regular credit for creating the Human Torch, yet Jack Kirby gets credit for co-creating the Fantastic Four. But we'll get to Jack Kirby in a minute.
Steve Gerber
Who Did He Create? 
Howard the Duck, Omega the Unknown
The History:
In the mid-70s, Steve Gerber was the regular writer for Marvel's horror comic Man-Thing. In that title, he introduced Howard the Duck. Howard was an instant hit and was given his own series and a regular newspaper strip. However, Gerber was fired from writing the character he created because, apparently, he couldn't meet deadlines – at least that's how Marvel tells it.
The Lawsuit:
In 1980, Marvel optioned Howard the Duck for a feature film and Gerber was going to see nothing from it. He then tried to sue Marvel for ownership rights since he created Howard the Duck. To help with his legal bills, he published a fundraising book titled Destroyer Duck, which featured artwork from various artists. One of whom was none other than Jack Kirby, but again, we'll get to him in a moment.
Gerber had his day in court in 1982 and ultimately settled out of court. The details of the case are not a matter of public record, but he had to concede all ownership of Howard the Duck to Marvel Comics.
Irony of Ironies:
Gerber's career went on, and he would even still work for Marvel Comics, occasionally even writing for Howard the Duck. As an interesting aside, at one point, Disney (before they owned Marvel) threatened to sue the comic book company because they thought he could easily be confused with Donald Duck. To avoid a lawsuit, Marvel eventually started having Howard the Duck wear pants. The Howard the Duck movie flopped, Howard faded into obscurity, and eventually, Disney bought Marvel. Howard still wears pants, though.
In the End:
Gerber did a cheeky "bait-and-switch" with the character during the time that he was writing for both Marvel and Image. The gist of it is that he kidnapped Howard and replaced him with a corporate shill. Howard then appeared in a few stories as Leonard the Duck for Image.
The legal battle shook up the work-for-hire order and made publishers more accountable for proper compensation to the various writers and artists work for them. Gerber died in 2008, a year after Marvel finally started giving him a "created by" credit in the byline of every Howard the Duck comic published.
Jack Kirby
Who Did He Co-Create?: 
Damn near every character in the Marvel Universe
The History:
Jack Kirby's comic book career dates back the 1940s where he created co-created Captain America with Joe Simon. He worked back and forth between DC and Marvel over the years but, what Kirby was best known for was helping Stan Lee usher in the "Marvel Age of Comics". He helped create the Fantastic Four, Iron Man, the Hulk, Thor, the X-Men, the Avengers, and a good chunk of their supporting cast and villains in the 1960s.
However, Kirby got the raw deal in the end. As Stan Lee became more of a media darling for their co-creations, Kirby was getting less recognition and was still being paid as a freelancer, earning 35k a year in 1970. He tried to fight for a better contract, and when Marvel wouldn't budge, he moved over to DC Comics. Unfortunately, it wasn't a case of the grass being greener on the other side. While Kirby created such characters as OMAC, and the New Gods, he left DC and begrudgingly returned to Marvel in 1975. He later quit again to work in animation.
Kirby then went on to work on creator-owned projects and advocated for better rights for comic book creators. Sadly, Kirby died in 1994 before he could get proper recognition for his work.
The Lawsuit:
But that didn't stop Kirby's estate from fighting to get that recognition by way of lawsuits to claim the copyright on the characters the late King Kirby created all those years ago. This all got started when various Marvel properties started getting film treatments in the 2000s. The Kirby estate sued Marvel, Disney, 20th Century Fox, Sony, Universal, and Paramount Pictures. That all started in 2009 and after many appeals and countersuits finally was settled out of court in 2014. Since then, any book published by Marvel that uses characters created by Jack Kirby now gives credit to him, as does all Marvel films.
Incidentally, DC Comics still doesn't give credit to Jack Kirby for his creations in each publication, although they are set to celebrate his 100th Anniversary, so that might change soon. It remains to be seen if the Kirby Estate will tackle DC as they did Marvel.
Jerry Siegel and Joe Shuster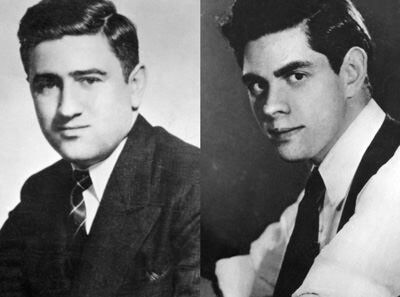 Who Did They Create?: 
Superman (you might have heard of him)
The Story:
Jerry Siegel and Joe Shuster created Superman in 1938 for National Comics, the company that eventually became DC Comics. The two sold the rights to Superman for $130 dollars and the company contracted them to create stories about the Man of Steel for 10 years. After that, they were basically left with nothing while DC Comics made a ton of money on the character the pair had created.
The Law Suits:
There were many, many lawsuits over Superman in the convening years. The first was in 1947 when their DC contract ran out. Siegel and Shuster tried to sue DC Comics for ownership of the character and lost, citing that the creation was a work-for-hire (sound familiar?). They did get an additional payout of $94k for the rights to Superboy, whom they also created for DC. However, their names were removed from any sort of credit. Joe Shuster attempted to fight DC again in 1965 when the copyright went up for renewal.
When DC became part of Warner Brothers in the 1970s and were going to create a Superman film, the two men tried to sue again. Warner Brothers caved in due to negative publicity and agreed to pay out annual pensions to both men at $20K a year, which later increased to $30k. They also had their creator credits restored to anything Superman related.
When Joe Shuster died in 1992, he was heavily in debt. DC agreed to pay the debts, but in the ultimate dick move, his estate had to relinquish all claim to ownership of Superman.
Although Jerry Siegel died in 1996, his estate continues fighting with DC over rights issues. In 1999, Jerry's widow Joanne Siegel tried suing DC for ownership of Superman yet again. In 2001, judges agreed that DC could purchase full rights to the character (eliminating any claim the Siegel family had to Superman) for something in the millions of dollars. This went through all sorts of appeals until 2012 when it was determined that the original 2001 ruling was fair. This didn't stop lawsuits from being drawn for the rights to Superboy. Those were finally settled in 2013, with DC retaining ownership, but the Siegels still have the right to appeal.
How Has it Changed?
These are just five examples of the most well-known people in the industry who created characters. The sad fact is that many other comic book creators have been affected by the old work-for-hire rules. A lot of them have no pensions nor get any royalties nor receive any further credit for characters that may still be making a ton of money for big-name comic book publishers.
So what is being done for these people when they need to get by?
The Hero Initiative is a non-profit organization that provides financial assistance, medicare, and retirement funds to anyone who has worked 10+ years in the comic book industry after 1934. Even though Marvel and DC (among others) attach themselves to the organization and provide financial assistance through it, they also accept donations.