When Good Omens debuted on Amazon Prime Video, it quickly became one of the streaming platform's most popular shows. The highly anticipated adaptation of the Neil Gaiman-Terry Pratchett novel benefitted from a big budget and an even bigger cast. A cast made up of numerous high-profile actors, and many others, filling the 240 speaking roles the series packs. The series follows an angel, Aziraphale (Michael Sheen), and a demon, Crowley (David Tennant), as they attempt to thwart the forthcoming Apocalypse.
We caught up with some of the series' behind-the-scenes talent ahead of its BBC Two premiere, who revealed some juicy nuggets you might not previously have known about the production. Here's what we learned.
There's a Sherlock Easter Egg Still To Discover
So many films and TV shows make a concerted effort to lay Easter Eggs throughout. Good Omens doesn't disappoint here. But while a bunch have already been found, there are some yet to be discovered. Series director Douglas Mackinnon is also known for working on Doctor Who as well as the Steven Moffat-Mark Gatiss series, Sherlock (starring Benedict Cumberbatch). He made sure to stuff in a batch of Doctor Who and Sherlock references throughout. However, there's one he's particularly proud of that's still waiting to be found.
"A show like this can take [the layering of Easter Eggs] and fans love it," says Mackinnon. "And they're still unpicking some. There's still a few they haven't seen. There's still a few Sherlock connections that people haven't got yet. [There's one] in the first episode; there's a Sherlock direct visual reference that nobody's got yet."
Mackinnon also reveals that there are references to another classic TV show: "There are Monty Python Easter Eggs in there, as well, all over the place, including one [that's] very definitely Terry Gilliam."
The Gilliam nod is particularly apt since the former Python had always intended to adapt Good Omens for the screen himself. Mackinnon recounts a story from the Good Omens premiere.
"Terry Gilliam, I met him at the premiere," says Mackinnon. "Neil [Gaiman, who also served as showrunner on the series] knows him like he knows everybody. Neil came up to me at the after-party and said, 'Terry Gilliam wants to meet you and tell you what he thinks.' I remember going — I was quite drunk at this point — through the crowd and shouting at Neil, 'If he doesn't like it, I don't want to speak to him!'"
So what did Terry Gilliam think? Douglas Mackinnon doesn't say…
Benedict Cumberbatch Recorded His Part In 2 Hours
Is there a terrifying entity Benedict Cumberbatch can't turn his hand to? The formidable Smaug, the manipulative Shere Khan, the miserable Grinch, ultimate Star Trek villain Khan… not to mention the fearsome, all-powerful Doctor Strange. And now, Satan. Okay, so Satan isn't in the series all that much, but it's still surprising to think that Benedict Cumberbatch wafted in to say his lines, then breezed out again a couple of hours later.
"He took a lot of directing but he got there," jokes Mackinnon.
Of course, Cumberbatch is just one famous name among a cast of high-profile actors, which includes Frances McDormand, David Morrissey, Jack Whitehall, Michael McKean, Brian Cox, Nick Offerman, Mark Gatiss, Derek Jacobi and Jon Hamm (more on whom follows) – not to mention Michael Sheen and David Tennant.
Neil Gaiman Wrote Jon Hamm's Part Specifically For Him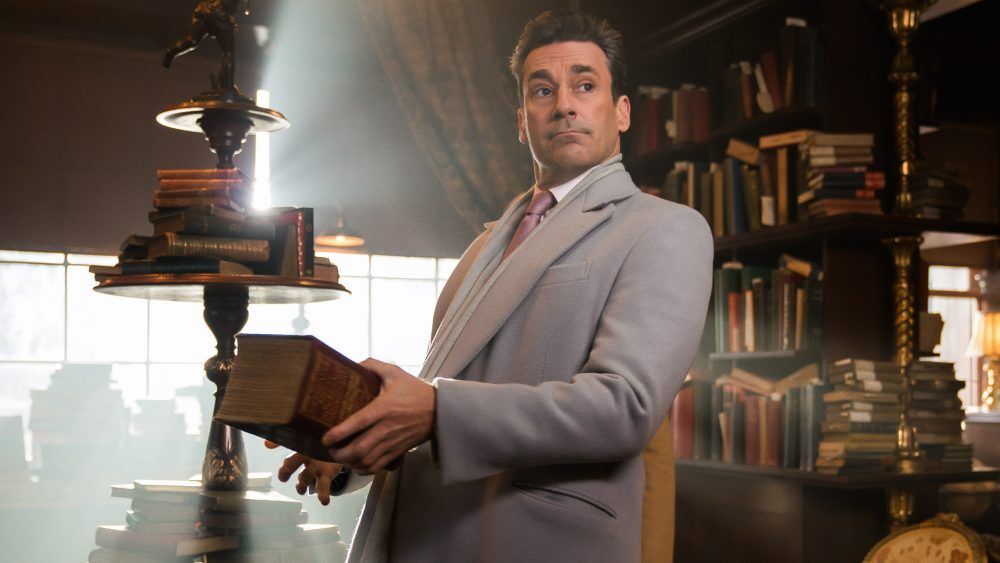 Casting director Suzanne Smith claims that one of the reasons they were able to attract the stellar cast was because so many were fans of the book – something they didn't always know right off the bat.
But director Douglas Mackinnon says that it was something else that attracted Jon Hamm to the project.
"Jon Hamm swears he came because of the money," jokes Mackinnon. "But Jon is actually a huge fan of the book and said that Neil emailed him because he knew him, personally emailed him, saying, 'I've just made up this part — it's Gabriel, would you like to come along and play this?' And he emailed straight back [simply writing], 'Yes. Hamm.'"
Neil Gaiman's Favourite Bit of Dialogue Is Improvised
The behind-the-scenes team is full of praise for David Tennant and Michael Sheen. Head of Costume, Claire Anderson, credits them for being instrumental in conceptualizing their costumes, while Mackinnon cites their chemistry and their differing approaches to acting for being critical to the success of the characters and their on-screen relationship.
But it's perhaps Gaiman's admission that could count as the highest praise, bearing in mind that the author is a highly successful and acclaimed writer with numerous bestsellers to his name.
"There is one moment in the [first] episode when [Aziraphale and Crowley] are sitting on the park bench, and talking about the magic, when they're watching the little boy and his mum," says Mackinnon. "And the end bits of dialogue where they josh with each other about magic and all that stuff, that was completely improvised, and it's actually Neil Gaiman's favorite bit of dialogue."
David Tennant's Wonky Eyes Were Digitally Fixed
You might assume, when watching Good Omens, that Crowley's serpent-like eyes are created using contact lenses. Or perhaps you'd presume they're CGI. Actually, they're a mix of both.
"The CGI versions were usually because the contact lenses had swiveled in David's eyes … and we had to fix it," says Mackinnon.
But watch the series closely and you might be surprised to see his eyes change throughout.
"The use of contact lenses was a big thing," adds Mackinnon. "And Crowley, if you were to analyze it very carefully, his eyes change as it gets into more and more, bigger crises. So he's got extraordinary ones when he's driving a car through the flames and, when he's having a conversation in the cafe, they kind of calm down quite a lot. So David had contact lenses."
But, though David Tennant is actually a contact lens wearer anyway, it didn't come without issues. Says Mackinnon, "He had to go through some quite difficult trials, for instance, in South Africa. Wind and sand and contact lenses is not good."
Aziraphale and Crowley Were Inspired By British TV Presenters
Brits reading this will immediately recognize the names Ant and Dec. A British institution, Saturday-night television's best-loved duo seem a million miles away from the world of Good Omens. But you might be surprised to learn that Mackinnon took his cue from the Geordie double act when it came to representing angels Aziraphale and Crowley on screen.
"One of the things I had from the beginning, I call it the Ant and Dec moment, [was that] I wanted for Aziraphale always to be on the left, just like Ant's on the left [of Dec]," says the director. "That's the heart of this show — the chemistry that David and Michael have together; they're a double act."
So why was it important for Michael Sheen's Aziraphale to always be on the left?
"We didn't achieve it all the time," Mackinnon admits, but says that it was for "the same reason Ant and Dec do it — they want the audience to feel comfortable with who they are, and where they are. So, visually, you don't ask that question anymore. You just think well, these are people that I recognize. And if you go into a strange place like the French Revolution, or something like that [in Good Omens], [Aziraphale and Crowley] are always in the same place, you kind of know who they are. So that's your rock, as a viewer."
Steven Moffat Gave Neil Gaiman a Key Piece of Advice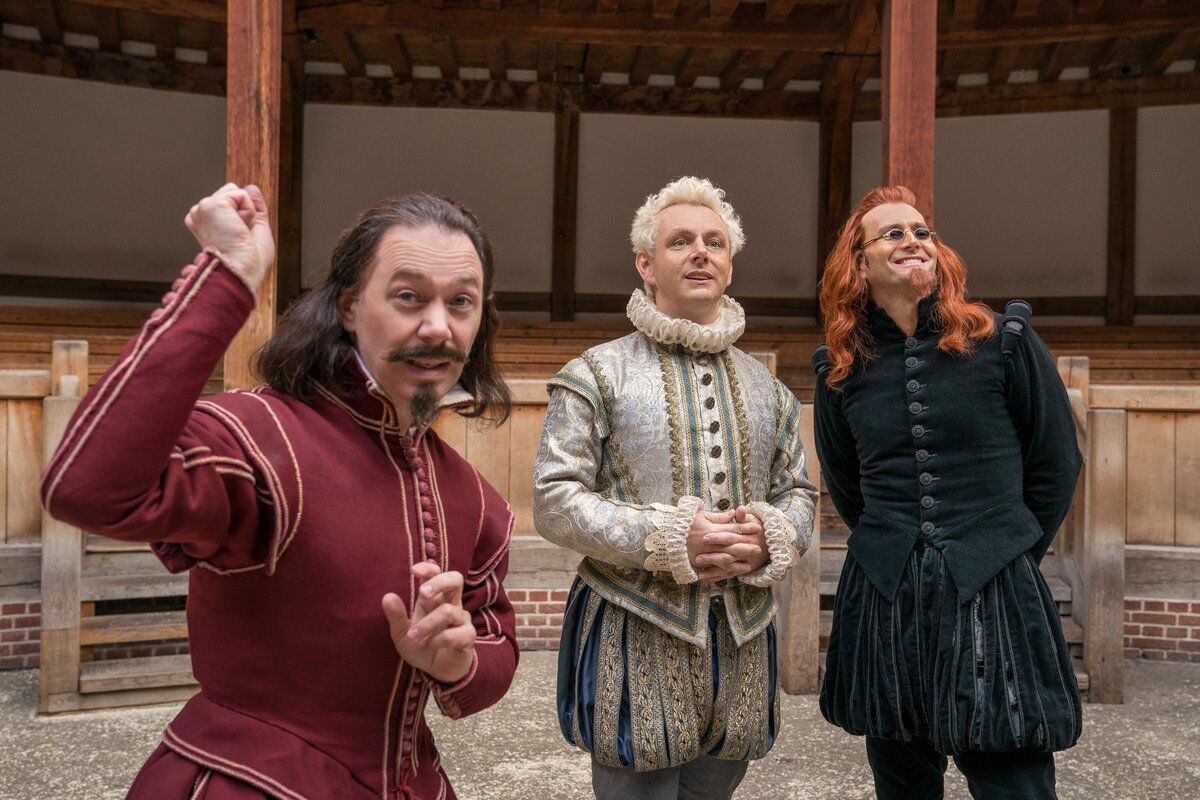 Good Omens represents the first time that Neil Gaiman has performed on-the-ground showrunning duties on a TV series. And as such, it was something of a learning curve for the author. Mackinnon recounts a story of the advice Doctor Who and Sherlock showrunner Steven Moffat offered to Gaiman that had a direct impact on a particular standout scene in the series. But be warned: stop reading now if you haven't seen Good Omens yet and don't want the scene spoiled.
"Neil went for a meal with Steven Moffat before we started and said, 'So what do I do if somebody says we can't afford this scene? Whatever it is. And Steven, who occasionally is very wise, said to him, 'I know what I'd do is I'd replace that very expensive scene with a much better scene. You know, that was cheaper, so I don't feel pain anymore.' And the great example of that in Good Omens is in the Globe Theatre sequence, which Neil has written as: it's the first week of Hamlet, it's a smash hit, and it's packed — and they push through the crowd and have the conversation…"
Mackinnon continues, "So we got amazing access to the Globe but we only got it for four hours. So actually, it was [partly] to do with practicalities in this case. I said to Neil, 'We can't dress the 3000 people. We can't afford 3000 people. We can't afford to get 200 people, then do crowd replication with CGI, in four hours, and do the scene as well. And he said, 'Well, what—', bearing in mind Steven's advice, '–would you like then? Would you like a rehearsal?' [I said,] 'Yes, okay'. He said, 'What if Hamlet had started, and it was a dud; it was a flop?' I went, 'That's it!' So we end up with a fantastic scene. Ten people in the crowd and Hamlet's doing 'To be or not to be' and it's not working!"
Just sometimes, a decision made because of the limitations faced can turn out for the best — and, for a series called Good Omens, you could expect that kind of fortuitous turn of events to be par for the course. Clearly the case here, since the series has been a huge success.
Good Omens is currently airing on Wednesdays at 9pm on BBC Two.