If anime is the decorated war hero of food porn, then Food Wars! Shokugeki no Soma is its head chef. The story of Sōma Yukihira's battle to rise to the top at Tōtsuki Culinary Academy is not only good but flavorful. Full of the intense rivalries typical of shōnen anime, the students engage in action-packed culinary battles. The dishes that result from these battles push the boundaries of innovation and taste. In true Food Wars! fashion, one bite from any of the dishes on this list will blast your clothes off.
French Curry Lobster Rice With Cognac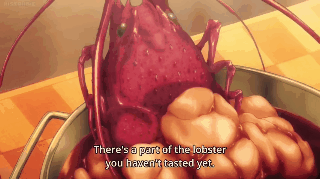 Ryō Kurokiba's stunning dish from the Autumn Elections looks too good to eat. The lobster sits in the curry sauce as if it's a warm bath, intensifying the flavor as he rests. However, eat it, you must, for this is not your granny's curry.
Kurokiba deepens the flavor of traditional curry by adding a high-quality, "Napoleon" class Cognac to his sauce. The cognac not only adds a woody flavor to the dish, it also enhances the flavor of the lobster's brain. Throw away your natural inhibitions, add a few drops, and slurp that brain down. You won't regret it.
Jōichirō Special Rich Ramen
When it comes to breakfast, the last dish you would expect is ramen. Of course, if you know the Yukihiras, you know they are far from conventional in the kitchen. Although it looks like your traditional, hearty ramen dish, this one is deceptively light.
That's because, despite its appearance, Jōichirō's drool-inducing dish is meatless. Tempeh is a worthy meat substitute that pairs well with the soy milk and miso soup-based vegetarian broth. The ramen manages to taste like meat without weighing you down. This dish has everything, including revitalizing properties that make the diner look and feel younger. Jōichirō's ramen is the perfect way to kickstart your day.
Lemon Curd Italiano Semifreddo
At first glance, this dish looks like a normal semifreddo, but this is Food Wars! Nothing is as simple as it seems, and Takumi Aldini's dish is no exception. Each bite of Aldini's dish packs a strong yet refreshing lemon taste. This extra burst of flavor comes from the improvised fourth layer of lemon curd added to this traditionally three-layer dessert.
He further elevates the curd by substituting olive oil, which enhances the natural flavors of the lemon zest and juice. By combining this British-inspired element to a traditional Italian dish, Aldini creates a dish that is the best of both worlds. It is a love letter to lemon lovers everywhere.
Petit Size Loco Moco Don
Ikumi Mito, the master of meat, serves her variation of this popular Hawaiian dish during the Training Camp's breakfast challenge. Mito keeps the traditional ingredients — an egg, hamburger meat, and rice — and still manages to reinvent the dish.
The serving size is much smaller than its Hawaiian counterpart. In addition, Mito adds lettuce and cherry tomatoes to the cup for freshness and texture. She tops it off with vinaigrette instead of brown gravy, heightening the creaminess of the yolk and juiciness of the rib roast hamburger steak. The perfect fusion of Hawaiian and Japanese techniques puts this dish in a league of its own.
Scorched Pacific Saury Carpaccio
Typically served as an hors-d'oeuvre (appetizer), carpaccio is a thinly sliced raw meat dish from Italy. However, during the Autumn Election finals, Hayama Akira presents this lovely dish to the judges as a main dish, confusing everyone. That is, until the tweaks he made to the recipe are revealed.
Akira, known for his intricate knowledge of spices, uses just one to season this dish — Allspice. That's right, that common spice found in all of our kitchens. It sounds simple enough until he brings out the cooking torch. By searing the fish's surface, Akira unlocks an aroma that will knock your socks off, literally. It's no wonder this dish won the final round of the Autumn Election.
Rainbow Terrine
Sōma Yukihira served as Megumi Tadokoro's sous chef for this exquisite dish. Tadokoro's version of a terrine features seven vegetable pâtés and two types of sauce, sweet and sour sudachi and bitter perilla. This unlikely combo creates a dish with 14 different flavors. Now, that's innovative.
The surprises don't stop there. Tadokoro uses preserved vegetables to enhance the umami of each layer. The dish celebrates the flavor of mature vegetables over fresh ones, which is a unique take on the recipe. Finally, she uses Allspice (the Wonder Woman of the kitchen) to mask the smell of liver and aid the diner's digestive system. Not only does it taste good, it also does a body good.
Gotcha! Pork Roast
When cornered, Sōma Yukihira shines in the kitchen, creating meals beyond our wildest dreams. Yet, this savory dish breaks the mold by making something out a nothing — an artificial meat dish. Okay, it isn't completely artificial, but it certainly isn't a roast either.
With his ingredients sabotaged, Yukihira uses potatoes, mushrooms, and bacon to crush the meat dish challenge. He wraps the bacon around a loaf of mashed potatoes and mushrooms and uses twine to attach rosemary sprigs to it. The bacon crisps up while baking to create the illusion of a roast, while the sauce brings it all together. One bite will satisfy all your porky needs.
Eggs Benedict
A Food Wars! list isn't complete without a recipe from the God Tongue herself, Erina Nakiri. Her selection for the breakfast challenge during training camp is simple yet sophisticated. Powered by her superior sense of taste, Nakiri take on Eggs Benedict looks more like a precious gem than a breakfast item. Beneath its perfect exterior, however, lurks a secret ingredient.
To take the egg flavor up a notch, Nakiri adds Karasumi (dried mullet roe) powder during preparation. The powder's saltiness and the egg yolk deepen the flavor of the dish, resulting in a mouthful of yummy, eggy goodness. The taste of this dish was so great in the anime that it forced a man to "bend the knee." There is no higher form of praise.
The dishes on this list represent a variety of flavors and techniques, but one thing is for certain: they all look delicious. So don't just stand there salivating, eat something! Or, better yet, let us know what Food Wars! Shokugeki no Soma dishes make you wish taste-o-vision was real.