SPOILER ALERT: This post contains spoilers from Riverdale episode "Chapter 27: The Hills Have Eyes" Proceed with caution.
Riverdale returned this week with a steamy episode that featured a weekend getaway with our "core four", Betty, Jughead, Archie and Veronica. The episode also featured an interesting new development for Cheryl, one that might mean the christening of a new Riverdale ship! Let's jump into the episode.
Cheryl, the Fifth Wheel
As the core four packed their bags for a weekend away at Lodge Lodge, Cheryl tried to invite herself along. Unfortunately it was couples only, and Cheryl hasn't really dated since her traumatic assault by Nick St. Clair. Cheryl got her revenge by telling Jughead about Archie and Betty's kiss, but that was all water under the bridge for them.
As Cheryl continued to simultaneously gloat and pout, resident lady serpent Toni Topaz tried to comfort her. Cheryl lashed out, as she usually does, but Toni didn't let that stop her from trying to find out what was really bothering Cheryl. Toni could see that there was deeper pain at work.
Cheryl's pain was something her mother alluded to in the beginning of the episode. When Cheryl confronted her mother about running a brothel and being in love with Hal Cooper, her mother accused her of being emotionally anorexic and devoid of all love.
A New Riverdale Ship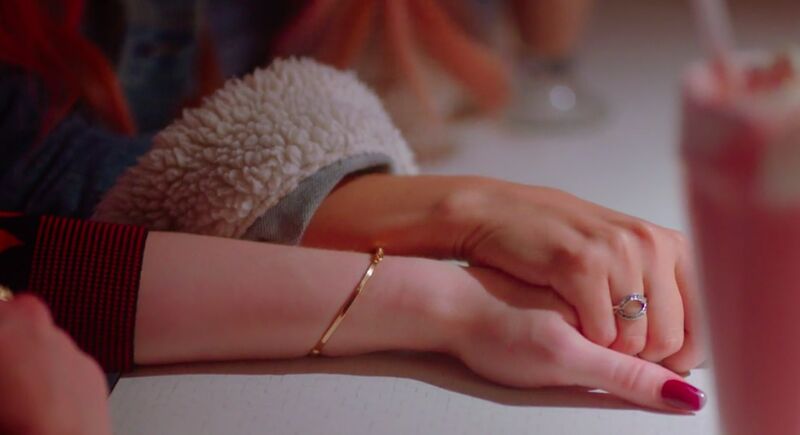 As it turns out, Cheryl wasn't devoid of love. Her love was crushed at a very young age. At Pop's, after the movie (Riverdale executive producer Greg Berlanti's new film Love, Simon) Cheryl and Toni shared a milk shake. Toni called Cheryl out on her secret movie tears, which lead to Cheryl's confession. When she was in junior high, she loved her best friend, Heather. Her mother tore their relationship apart and Cheryl's heart was left broken ever since.
Toni then encouraged Cheryl that she was an amazing person, full of love and worthy to be loved. Toni even gripped Cheryl's hand in a warm, supportive embrace. The pair did not kiss, but it's pretty clear that Riverdale is putting these two in a close relationship for a reason. Actress Vanessa Morgan even took to Twitter to celebrate their new ship "Choni":
Madelaine Petsch also confirmed Cheryl's bisexuality on her YouTube channel:
Riverdale airs on The CW, Wednesdays at 8PM.