There's a lot to love about Netflix's new show She-Ra and the Princesses of Power — it's quirky, quick-witted, stylistically gorgeous, and sweepingly inclusive. The 13-episode first season showcases a diverse pool of voice talent — even the titular princess herself, a white character, is voiced by Aimee Carrero, a woman of color — and a refreshing spectrum of body types. But above all, the show is an absolute smorgasbord of queerness.
Bow (Marcus Scribner), a reimagined fan-favorite from the original She-Ra series, struts around in crop-tops and was raised by two fathers (who we don't see this season, but they're promised a future appearance). Two princesses — Spinnerella (voiced by series creator Noelle Stevenson) and Netossa (Krystal Joy Brown) — are in an openly queer relationship. And at the center of all the action is the slow-burn queer romance of our dreams: A will-they-won't-they, likely season-stretching romantic tension between Adora (Carrero) and her ex-BFF Catra (AJ Michalka).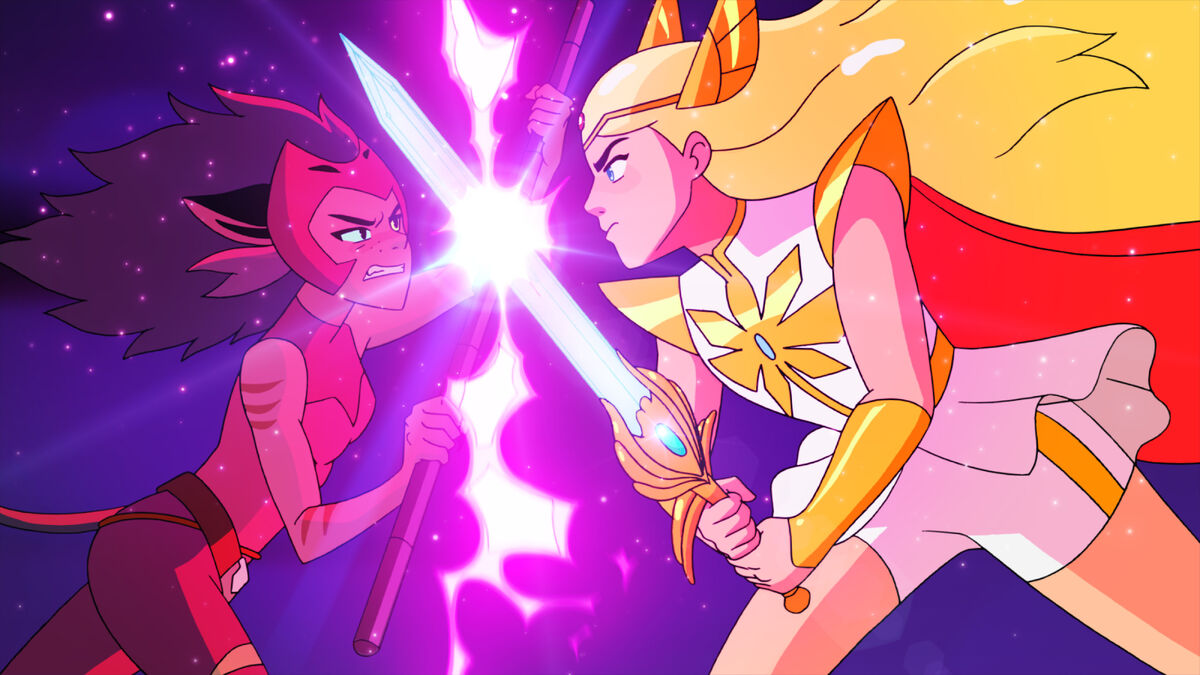 Queer Sexual Tension Is the Best Sexual Tension
Friends throughout their tumultuous childhood in the evil Horde, the two girls have acted as protectors and confidantes for one another. During heartbreaking flashbacks, we see just how heavily Adora was favored by their nefarious guardian, Shadow Weaver, and how often Catra was relegated to second fiddle. We also see how deeply the two cared for each other. They shared everything, even a cot.
But when Adora discovers her true identity — to become one in a long line of women destined to take up the Sword of Protection and channel the ancient powers of the warrior She-Ra — and leaves the Horde, the lifelong friendship splits. Where there was once trust and tenderness, we see confusion, anger, heartbreak, and absolutely all of the sexual tension.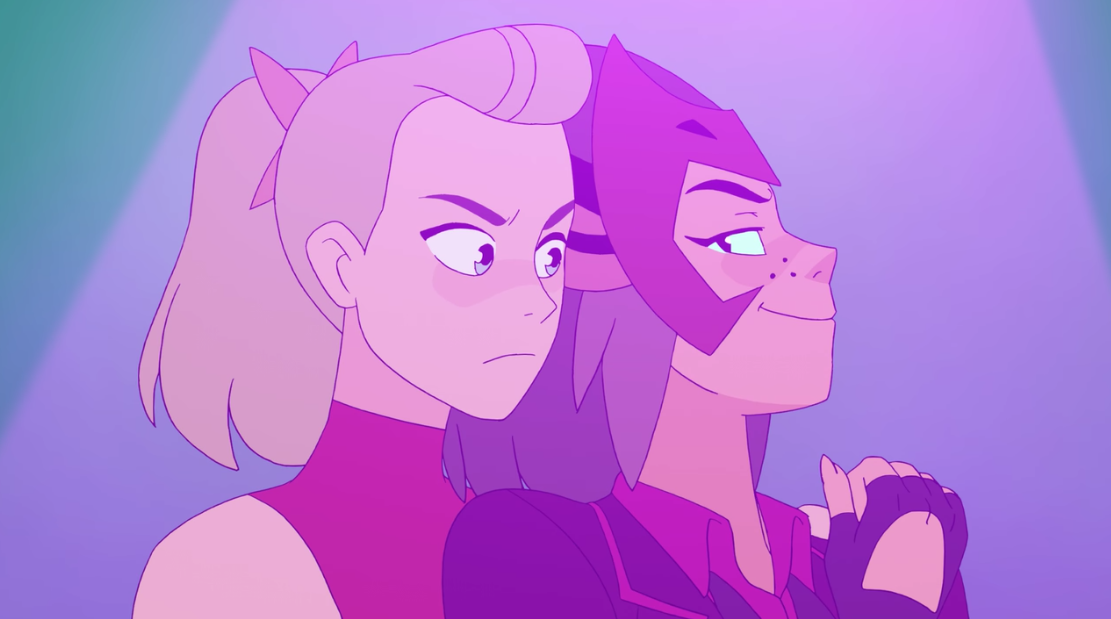 Love Is a Long Road
Catra and Adora are clearly friends, but they're also very clearly more than that. And show creator Noelle Stevenson has a lot more in store. "The relationship between Adora and Catra is the defining one of the show," Stevenson told FANDOM. "It's so complex and complicated between the two of them, and they still have such a long way to go. These two people mean everything to each other and find themselves on opposite sides." But could it possibly be the queer romance we're hoping for? Stevenson is hesitant to say too much; she doesn't want to guide fans' interpretations.
"I don't want to put a narrative on it that isn't necessarily in the show itself. I want the people watching it to draw their own narrative from that. It's something that continues to unfold through the series, and it's something I'm very, very eager for people to see. Adora is a young woman when the show starts, she's on the edge between teenager and adult. She's stepping out into the world — finding her own voice, finding herself. There's a lot to read into that, and a lot of it is subtextual. But it's a reading that's definitely fair."
Lingering Hands and Prom Tropes
Two girls on the cusp of becoming teenagers, Adora and Catra's dynamic silently tells the tale so many young queer women have lived: Do I like you? Or do I like you? During quiet moments, the two girls try to find their way back to the easy camaraderie they once knew. But it's broken; it's gone. And in its place, there are new and confusing feelings — especially when the two frenemies reunite for the Princess Prom. The eighth episode of the season plays like a mash-up of wonderful teen romcom tropes — an aesthetic Stevenson leaned into. "[That episode] comes from a love of teen angst, teen romcoms. Those were big inspirations."
Catra shows up in a killer blood-red tux, and Adora's eyes pop. "Catra's suit fit her personality; she's showing up to mess with Adora and make her jealous," Stevenson laughed. "The suit screams, 'Power move!'" And it works. The two share an unexpected dance that's choreographed à la Pride and Prejudice, with swoops and lingering fingers laid gently together. Catra dips Adora; it's as much a power play as it is a romantic dance move. But then, of course, Catra reveals that she's kidnapped one of Adora's best friends and their lingering hands part and clench back into fists.
Reading Between the Lines
Despite the sexy dance breaks, there's a rebellion to be fought, and Catra and Adora have chosen opposite sides. "Catra's feelings of betrayal towards Adora are personal. Adora's more idealistic, and she loves everyone in the world and wants to save everybody. Catra can't understand or accept that," Stevenson explained. "That's the core tragedy, not just of the characters, but of the show."
And so the frenemies fight, seemingly to the death, so many times during the first season — on snowy cliffs, across battlefields, through forests. But when the killing blow comes, Adora can't bring herself to swing the sword. She loops a hand around Catra's waist and pulls her friend back from the edge of destruction. That tells us a lot, but the fact that Adora grabs Catra's waist instead of her hand tells us even more.