Thirty-five years after the release of the genre-defining cyberpunk classic, Blade Runner has finally returned to the big screen. If the mere existence of a Blade Runner sequel wasn't surprising enough, even more shockingly, this massively belated successor was actually worth the lengthy wait. While Blade Runner 2049 director Dennis Villeneuve had some impossibly big shoes to fill, he managed to perfectly recapture the dystopian yet stylish atmosphere that made the original an instant classic.
Yet, while we loved every minute of Blade Runner 2049, all good things must come to an end. Leaving the darkened movie theatre, we couldn't help but feel slightly empty – like we'd been left with a massive cyberpunk-shaped hole in our hearts. Thankfully, there are several video games to fill that hole.
With Ridley Scott's 1982 sci-fi epic birthing an entire genre, it's no surprise that a fair share of video game developers have also taken inspiration from Blade Runner. Whether its subtle nods to the seminal movie in the likes of David Cage's Heavy Rain or a more aesthetic homage to Deckard and co. like Supergiant Games' Transistor, the influence of Ridley Scott's masterpiece can be felt far and wide in the land of interactive entertainment.
Despite its massive impact on gaming as a whole though, there are five releases that come closer to scratching that Blade Runner itch than any others. Without further ado, here are the games that will give you that cyberpunk fix that we know you desperately crave.
Deus Ex: Human Revolution
If there was ever a series of video games that are clearly (and unashamedly) inspired by Blade Runner, its Deus Ex. Set in an all too familiar-feeling neon-soaked dystopian city, this tale of augmented humans sees man and machine clash over the role of ordinary people in an increasingly machine-driven world.
Taking the best bits of RPGs and shooters, this unique first person series leaves difficult moral dilemmas in the players hands, while giving them a slew of kick-ass augmented abilities to play around with. While Human Revolution is actually the third entry in the series, it's not only (arguably) the best game in the franchise, but also the one that feels the most Blade Runner.
Set loose on a series of suitably bleak and seedy cyberpunk metropolis, as you take down thugs and try and stride the line between duty and what is right, there are few games that will make you feel as much like Deckard as Human Revolution.
Ruiner
As you may have already noticed, we're big fans of Ruiner at Fandom. After joyously letting it kick our butts at Gamescom, we instantly fell in love with the game's fast paced combat and eye-catching Akira meets Blade Runner aesthetic.
Unlike Deus Ex's high brow decision making and stealth-based missions, Ruiner is a game that delights in delivering intense and uncompromising action. With each frame in the game oozing the kind of effortless neo-Tokyo sleeze that defined Deckard's first outing, Ruiner is a giddy blend of lightning-fast battles and an intriguing cyber-crime narrative.
If you fancy inhabiting a world that feels like Blade Runner's while simultaneously beating the crap out of demented cyberpunk gang members, Ruiner is just what the Deckard ordered.
The Last Night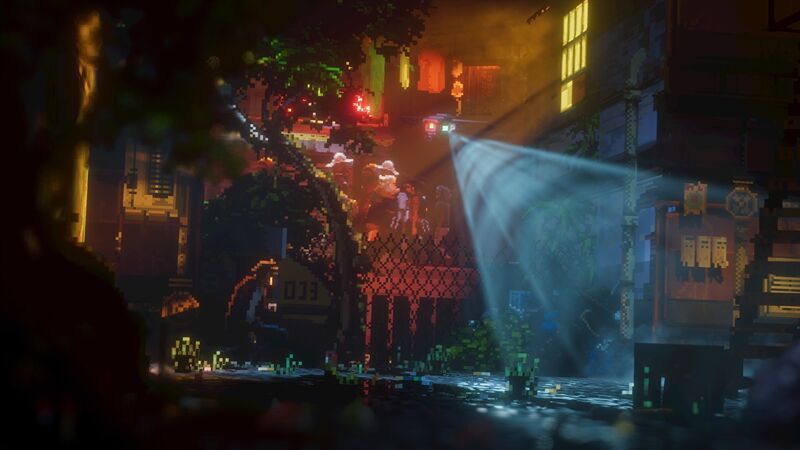 If you've never heard of Odd Tale's The Last Night, a quick glance at its debut trailer will instantly explain why this ambitious indie title turned its fair share of heads at E3. Sporting a gorgeous artstyle that sees pixel art layered in a three-dimensional space, this neon-lit cyberpunk adventure sees players trying to find their place in a world where AI has rendered most modern jobs obsolete.
Yet, while this may look like little more than a highly stylised side-scroller, developer tktk promises that The Last Night will actually play out more like a crime drama than a platformer. With in-game characters supposedly responding to the player's actions, this curious-looking indie title looks to be an interesting and surprisingly complex take on the cyberpunk genre. Sadly though, this is the only game on our list that you can't actually play today.
With the game not releasing until mid next year, curious gamers will have to wait a little longer to find out more about how this ambitious game really plays.
Unfortunately though, when it comes to The Last Night, it's not all good news. Mere hours after gamers found themselves excitedly talking about this cool-looking new indie title, it was discovered that its creator had a bit of a nefarious past. With tweets dating back a few years earlier pledging allegiance to the misogynistic and toxic Gamergate movement, many gamers found their excitement quickly turn to disappointment. Thankfully, the game's creator has been quick to apologise for his former views, revealing in a recent interview how his perspective on the world has changed since.
Murky politics aside, for those wanting their gaming experiences with a cyberpunk flavour, The Last Night looks to undoubtedly be the most Blade Runner-esque experience of 2018.
Nier Automata
Fourth on our list is this year's wonderfully bizarre action-RPG, Nier Automata. While aesthetically, Platinum and Square Enix's bold collaboration couldn't be further from Blade Runner, the themes it deals with feel surprisingly familiar. Without a hint of neon in sight, this post apocalyptic tale sees a team of combat Androids tasked with reclaiming a barren and sand-filled Earth. With a mysterious force of invading robots conquering our home planet, it falls to our own Android assault force to save the day.
Yet, while this could have easily been a throwaway sci-fi themed action game, Nier Automata deals with some surprisingly heavy subject matter. Whether its questioning what really defines sentience or making the player reassess what they know about the game in a few incredibly trippy and philosophical scenes, thematically, this game is Blade Runner's intellectual equal.
Blade Runner
If you want a Blade Runner-esque video game, what better option is there than Blade Runner the video game? This cult classic 1997 adventure game was a technical marvel at the time, using both 3D rendering while actually reading the player's actions in real time, as opposed to most other games in the 90s, which belatedly responded to what you did in the game world.
Developed by famed Command & Conquer studio, Westwood, this adventure sees you playing as Ray McCoy, an esteemed detective tasked with hunting down replicants in 2019's  neon-soaked version of Los Angeles. Playing like a choose-your-own adventure title, this twenty year-old game has aged surprisingly well, telling a gripping story in a world that feels satisfyingly like Blade Runner.
Unfortunately, getting your hands on a copy in 2017 might be a bit of an issue. With the developer losing the source code to the game when they moved office, there's very little hope for an HD re-release. Instead, desperate fans have resorted to tracking down the four-disc boxed copy on Ebay, paying exorbitant fees to relive the classic.
If you are lucky enough to find one in your attic, however, this clever point and click is the closest thing you can get to watching a new Blade Runner movie.