The anime/manga presence at San Diego Comic-Con (SDCC) was particularly strong this year. There were a ton of panels covering various topics, including manga, voice acting, and My Hero Academia. However, it was the Bridging Anime and Hip-Hop panel, created and moderated by Marcus Wolfe and Victoria Johnson, that really stood out.
Backed by a myriad of examples, the panel — which consisted of Detroit rapper Noveliss, Johnny O'Bryan, founder of Noir Cesar Entertainment, and myself, a journalist — explored how and when anime and hip-hop began to converge as well as what the future holds for their symbiotic relationship. Despite our varying backgrounds, the three of us have one thing in common — our love of anime and hip-hop.
When Two Stigmatized Art Forms Combine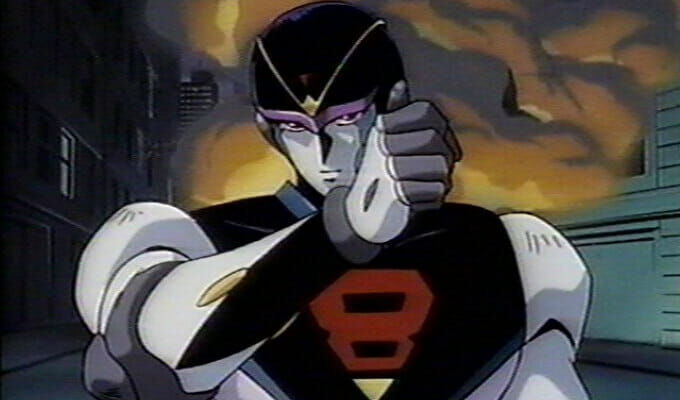 Now, I've been watching anime and listening to hip-hop for a long time. The first hip-hop album I ever heard was Kool Moe Dee's How Ya Like Me Now (1987). The beats and sounds really stuck with me as a kid and turned me into a hardcore fan. I never imagined these two genres would collide.
Many don't realize music and animation, particularly anime and hip-hop, are heavily stigmatized. If you're an anime fan, many will criticize you for being a nerd, a loser, or immature for watching "cartoons." If you like rap music, many will perceive it (or you) as aggressive. So, when they're combined, an outsider might expect pandemonium. But, strangely enough, combining these two seemingly unrelated genres actually works, just as it did for me one fateful Saturday, on the SyFy channel.
That day, Haruyuki Kawajima's animated adaptation of Kazumasa Hirai's manga, 8 Man After (1985), aired on television. The story follows private investigator Hazama Itsuru, who is transformed into a cyborg after a brutal attack. Before things fall apart for Hazama, there is a scene where he arrives at his office and discovers it has been broken into. Walking in, he finds a young boy dancing to hip-hop music. The moment lasts only a few seconds, but it made a lasting impact on fans.
Hip-Hop References in Anime
Samurai Champloo set the standard for combining anime and hip-hop. As a longtime fan of hip-hop music, Shinichiro Watanabe, acclaimed director of Samurai Champloo and Cowboy Bebop, wanted the story, characters, and music to exist on an equal playing field.
Watanabe told Eastern Kicks, "When I first come up with the idea of what I am going to create, quite often the music appears at the same time. So, with Samurai Champloo it wasn't that I had the story in mind and then added hip-hop to it. When I came up with the character of Mugen I heard hip-hop at the same time, and I thought he was going to be a rapper samurai."
The title credits feature Jin breakdancing to dope hip-hop beats. Musicians Tsutchie, Fat Jon, Nujabes, and Force of Nature all worked on the soundtrack to the series.
Similarly, Takeshi Okazaki combined his love of soul, hip-hop music, and Western hip-hop culture and injected it into his creation, Afro Samurai. The limited series follows an Afro-sporting, Black samurai warrior on his quest to avenge his father's death. Continuing to show his appreciation for Japanese animation, Wu-Tang Clan member and producer, RZA, gave the show's soundtrack a balanced mix of hip-hop and soulful vibes to blend with the story.
On the other hand, Devilman Crybaby — definitely not the best anime — takes a different approach by including one thing the others don't: rap cyphers. Throughout the series, four characters randomly appear during certain moments just to stand in a circle and rap (called a "cypher"). One scene, in particular, has one of these characters freestyle to a young lady he's attracted to. His flow is endearing, but it gets weirder as it goes on —  which fits the nature of the series.
Anime References in Hip-Hop Music
On the music front, fast forward to 1996, when Ghostface Killah, member of the Wu-Tang Clan, took the convergence of anime and hip-hop to new heights. "Daytona 500," the first single from his debut album, Ironman, features a music video with clips from the 1960s anime series Speed Racer. It's one of the earliest instances of anime appearing in a music video.
Kanye West's "Stronger" music video takes this a step further. The video is a shot-for-shot homage to Katsuhiro Otomo's 1985 animated film Akira. The film takes place in a post-apocalyptic Neo-Tokyo — a city filled with civil unrest and political corruption. Worst of all, the government is performing experiments on children that turns them into strong telepaths. The plot follows Kaneda as he tries to stop his wildly out-of-control friend Tetsuo from destroying the city with his newfound powers.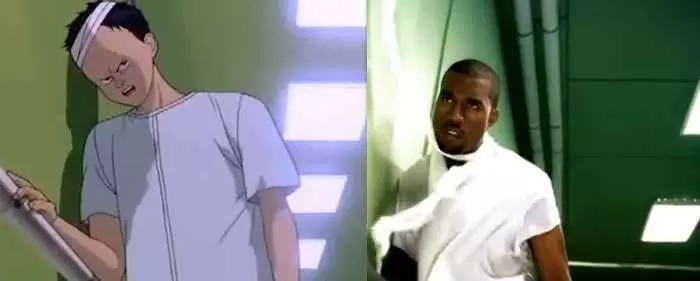 A pivotal scene in the film shows a groggy Tetsuo trying to regain stamina long enough to break out of the facility. He realizes he has telekinesis when he kills the hospital staff with his powers.

Rapper Kanye West re-creates the pivotal scene in the music video. At the time, West was at the height of his career, which could be seen as a newfound power rising within him. Unfortunately, West hasn't offered an explanation for why he chose this particular scene. Maybe, like Tetsuo, he felt stronger but less in control of his life.
If you thought that nothing could top a shot-for-shot remake of one of the most iconic anime films of all-time, then you haven't seen rapper Lil Uzi Vert's music video for "Ps & Qs" (2016). The young rapper loves anime so much that he literally transforms himself into an anime character in the video, further cementing the relationship between the two.
Indie Creators Continue Genre Crossover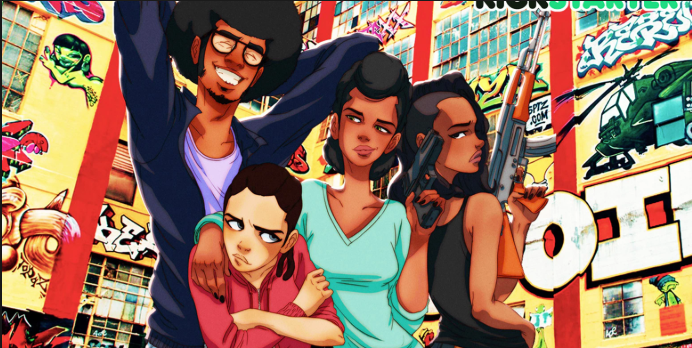 But it will take more than mainstream artists to keep this train running. Luckily, several independent creators are working to keep the relationship between Japanese anime and hip-hop a long-lasting one.
Tephlon Funk, a manga by Stephan Metayer, takes place in an urban setting and draws influence from Nas's debut album, Illmatic. Metayer's goal is to produce an animated show that attracts fans of both genres. (Check out the Tephlon Funk show teaser above.)

Likewise, Noir Cesar Entertainment offers a variety of stories featuring a diverse group of characters that any reader can connect and identify with.
The company's founder, Jonny O'Bryan, seeks to bridge the gap between hip-hop, anime/comics, and streetwear. With a variety of digital content, the company is looking to expand into animation by adapting their manga titles Primus 7 and XOgenysis. (Check out the promo trailer above.)
These two genres work so well together that their relationship really shouldn't surprise anyone. After all, it's been in the making for decades, and it looks like it will continue to grow stronger over time. This is more than just a passing trend. It's an exciting, new, constantly evolving way for creators to tell their stories.