Warning: FULL SPOILERS for the Marvel's Agents of Shield series finale follow!
Chloe Bennet was early in her career when she was cast as a girl named Skye on Marvel's Agents of SHIELD in 2013, but very quickly both Bennet and her character would become key components to the series. As the show progressed, Skye would be revealed as Daisy Johnson, AKA Quake, and become one of the show's most notable heroes — and in her case, a true superhero — while Daisy's connection to her mentor, Phil Coulson (Clark Gregg) was one of the show's strongest emotional aspects.
With the finale having aired, Fandom spoke to Bennet about the final season, how the series ended and saying goodbye to Agents of SHIELD and to Quake – and if she thinks she might ever play her again.
THE LONG GOODBYE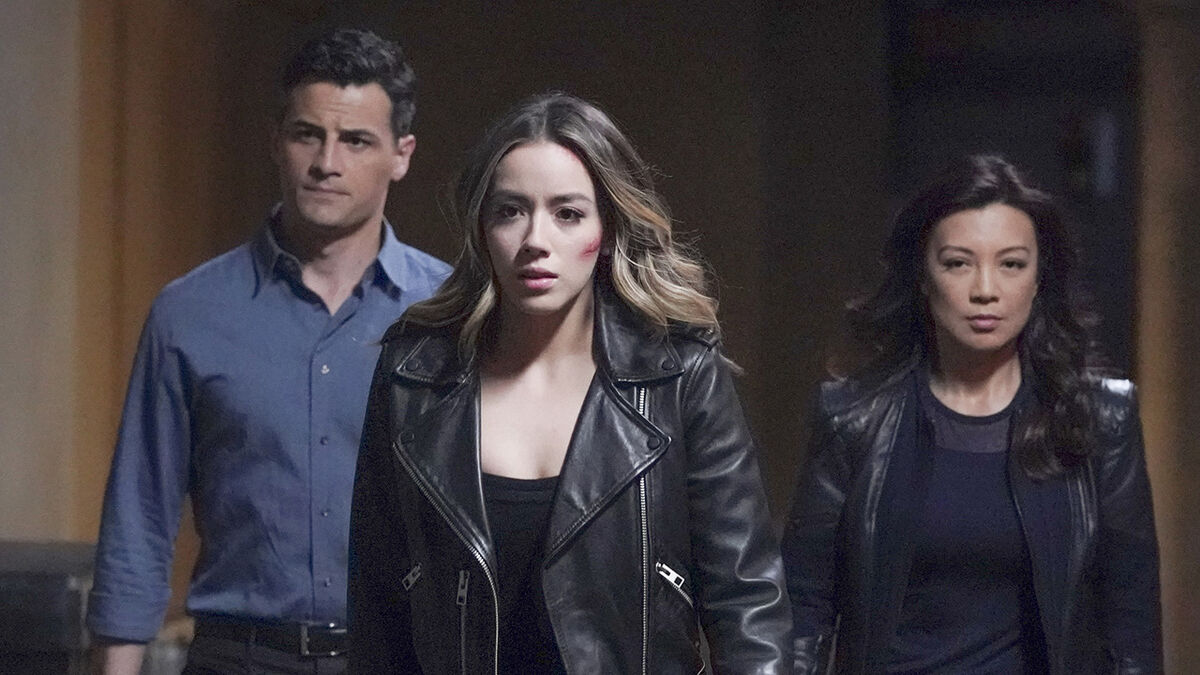 Production wrapped on SHIELD in the summer of 2019, but now a full year later, it has completed airing and Bennet found herself doing press for it as a result. As far as whether this has all helped her process the end of the series, she remarked, "It's really weird. Part of it feels like we wrapped so long ago, but I also keep saying it's been a few months, which is probably my own issue. It might be really hitting me slowly right now. The past few days being so much behind the scenes [photos] and really taking the time to go back and look at all the pictures… There's so much stuff that people don't see. A lot of people are asking me my final words and I don't even know what to say. It's so big that it's hard to grasp upon reflecting. I think it's something that over time will ultimately just hit me."
While there was uncertainty back when Season 5 was being made if the show would continue, Bennet said she felt oddly confident they'd continue – "I just had a feeling." But with Season 7 there was no doubt it was the end, and she noted, "The thing that prepared me the most – when we were shooting, at least – was the workload. They were tearing down those studios the day after we were leaving! We had to be out of there that day, and so I had so much to do – this huge Quake on Quake fight [with Nathaniel Malick]. There was so much actual work to do. If I slowed down to think about, like, 'This is my last time doing this and this is my last time doing that,' I don't think I would've even come close to getting through the actual workload of the episode. But luckily, the fights were so good that I couldn't even focus on any emotional things." 
A DIFFERENT KIND OF DEATH
While no main characters died in the Agents of SHIELD series finale, Bennet observed, "I think they really did a good job of beautifully articulating a different kind of death and something they hadn't really explored on the show, because there are so many character deaths throughout the series of some beloved characters. But this is the death of something that's actually still alive, which is kind of complex and beautiful in its own weird way. The death of a chapter of your life is kind of what they encapsulated the best. It was more heartbreaking to see everyone know that this time was right to move forward. Those are the moments in life that are actually the hardest, to step away from something because of time. We could've stayed together but that's ultimately kind of the most beautiful, poetic thing."
When we spoke, Bennet hadn't watched the finale yet, and she added, "It's kind of going to be hard to watch, because that was so true for all of us offscreen. Everyone kind of collectively was like, 'This is the time to end this.' There's the scene I have with Henry [Simmons], where we go, 'How can we just go on and say hey, how's life? How's work? We can't do that!' We've been through so much, but the reality is that's life and that's what happens. And people do that! And it's kind of the most heartbreaking thing about life in a lot of ways and they did that really, really well. So it doesn't have the crazy deaths that I think most Marvel fans are used to having. But there's just something eerie and calm about how everyone's moving forward. That's the heartbreak, for me at least."
DAISY & SOUSA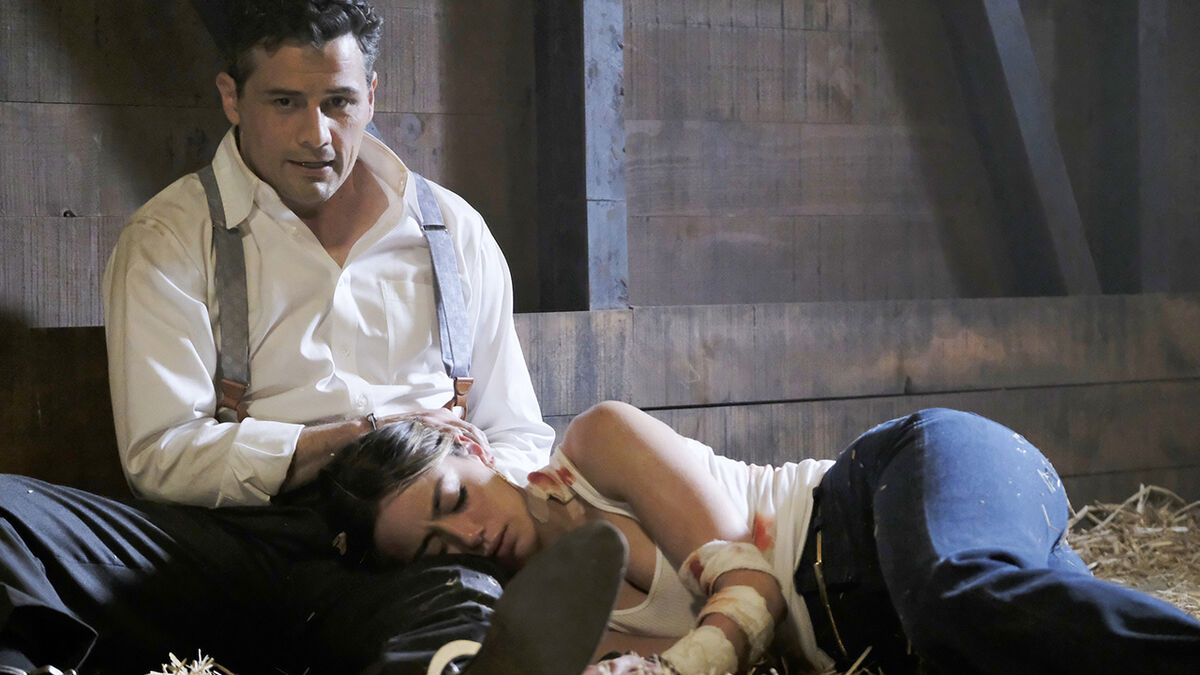 One very notable development for Daisy in Season 7 was her romance with Daniel Sousa (Enver Gjokaj), as the 1950s SHIELD agent not only traveled from another era but from another series, with Gjokaj reprising his Agent Carter role.
That relationship felt unlikely at first, and Bennet admitted, "I'll be honest, I was concerned at the beginning when they told me about it. It's really rare to see a character that is my age that centers around her growing as a person and not her growing in love. I was pretty protective of that, and that narrative for a lot of young women who watched her grow up and watched me grow up on the show – that not all female characters have to be revolved around their love life. But I've gotta say, I am more than elated by the ending."
Bennet felt that she herself, Daisy as a character, and the audience all shared the same skeptical, "That's not going to happen, right?" view of pairing Daisy and Sousa going in, "But then it just works, and it also, again, mirrors life and what often happens. It's finally when you work on yourself and when you're not looking for something… You know the old saying, you get stuck in a time loop and fall in love! Classic, old-time story! I thought they did it in a really clever way."
She added, "It's taken me watching [the season] to go, 'Oh my god, I really loved it for her.' I thought it was actually — in a weird, sci-fi, nerdy way — totally romantic and totally makes sense. Of course, it would be him! And I actually really find both Sousa and Enver to be incredibly complementing to the storyline and to that character. And to feel her growth. Someone who loves strong women, it's really fun to watch. So I'm a total shipper!"
LET'S DO THE TIME LOOP AGAIN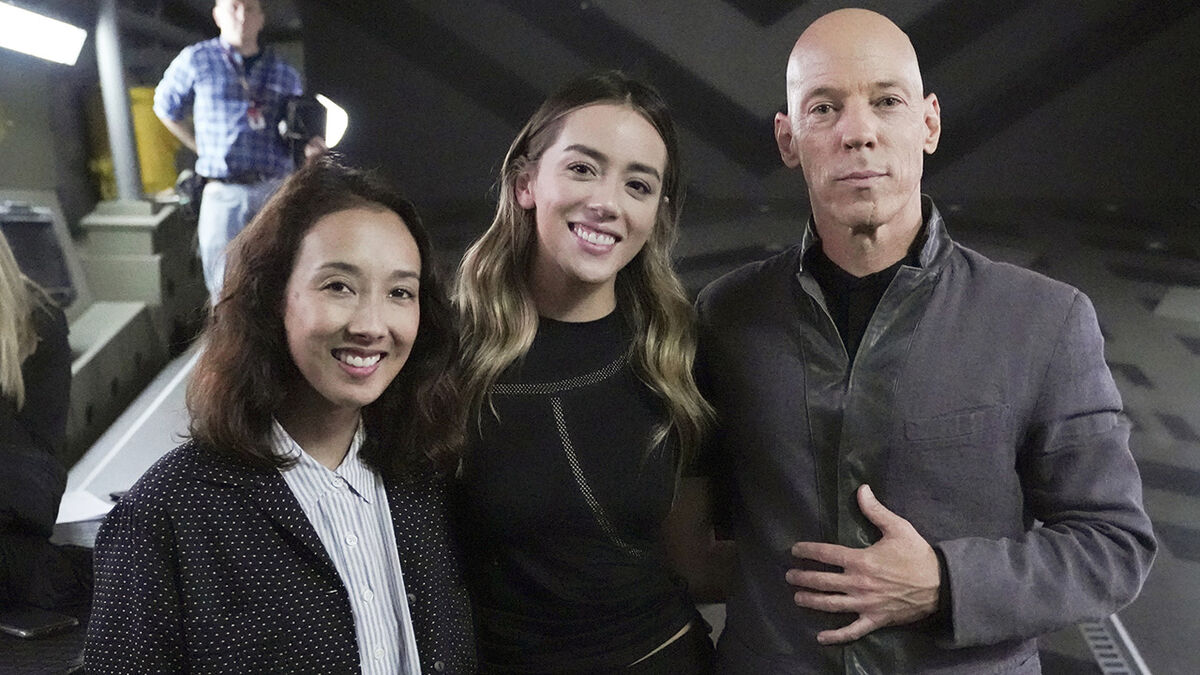 Bennet had referenced Season 7's big time loop episode, "As I Have Always Been," in which only Daisy and the LMD of Coulson are aware the crew is reliving the same events over and over.  Bennet was not only in nearly all of that episode but also had to keep re-doing variations on the same scene over and over. Asked if it felt a bit confusing to film, she replied, with a laugh, "Confusing is a very understated word! It was definitely one of the hardest episodes I've ever done. So painful. It was really difficult!"
On top of the time loop storyline for that episode, Bennet noted, "We had a lot of exposition information to kind of move this story forward for the finale of the show. And a lot of the scenes in that episode were the last time we'd be doing certain things, and so it was really difficult. I did not sleep, I felt like I was in a time loop! I will now have a very special place in my heart for time loops. Because we were on a crazy schedule, it's not like we were finished with that and got to rest. We had the rest of the entire series to finish. It wasn't like, 'Okay, we can finish this up so we can kind of take a mental break.' It was like, 'Okay, we've gotta keep going.'"
Bennet's castmate Elisabeth Henstridge made her directorial debut with that episode, and Bennet said, "I felt a big responsibility to Elizabeth who was so incredibly prepared, and also it was one of my last big episodes so I also felt very… it all started getting very emotional. The logistics of a time loop episode I would not wish on anybody! It was very hard."
THE COULSON CONNECTION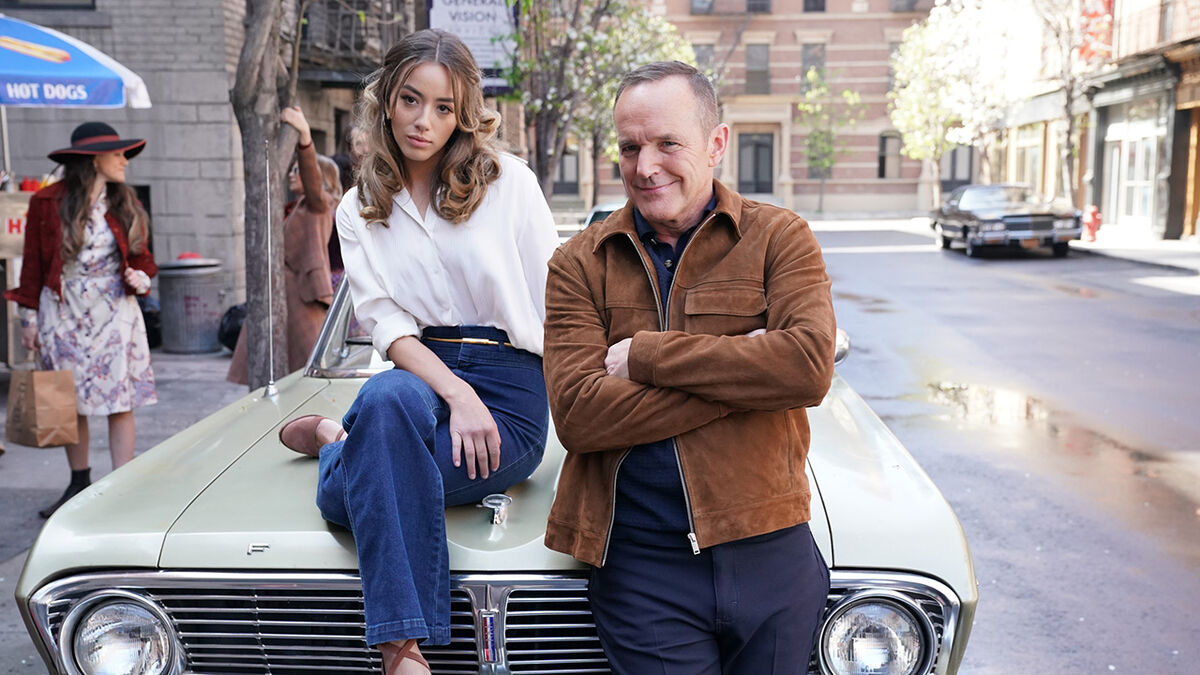 Agents of SHIELD's final sequence found the team reuniting a year after their final battle and catching up a bit, only for us to learn they were meeting via hologram, as we see each of them return to their new lives. Before Daisy returns to a journey through space with Sousa and her newfound sister Kora (Dianne Doan ) by her side, it's Daisy and Phil Coulson (Clark Gregg) – or at least his LMD – who are the last to leave the meeting, sharing one last big onscreen moment together.
Recalled Bennet, "That scene was very difficult to shoot because we would have to shoot everyone leaving their chairs, and it literally was me just sitting there alone in a circle of empty chairs when just moments before I was looking at the faces of these people I've spent time with. Poor [director] Kevin Tancharoen… That was the scene I lost it on set. I think we only got two takes before I was pretty hysterical. When I looked around for my close-up shot of all of the chairs, it really f**ked me up. So shooting that was very, very difficult. They probably only got one take where I wasn't just hysterically crying. It's such an image to be sitting there and all of a sudden they blink out and you're the last one. It was so special to have that moment with Clark."
She added, "I think it was written a little different and we did a little bit more but it wouldn't have felt right if it was with anyone else so I really appreciated that moment. And the writers, they did such a good job with that. I think the fans are going to appreciate that. That speaks to my friendship with Clark. It's such a dynamic friendship in a way that you don't really see that often in life, let alone on TV. He is a coworker, and people say father figure, but he's so much more than that. He's a friend, a mentor, he's hilarious. I just feel so special to have such a unique, dynamic relationship with this person. And obviously that shows up on camera and it's nice. It's really special. I haven't seen it – I'm probably gonna lose it. I'm not ready to do this! I'm gonna be a wreck."
LET THE SKYE QUAKE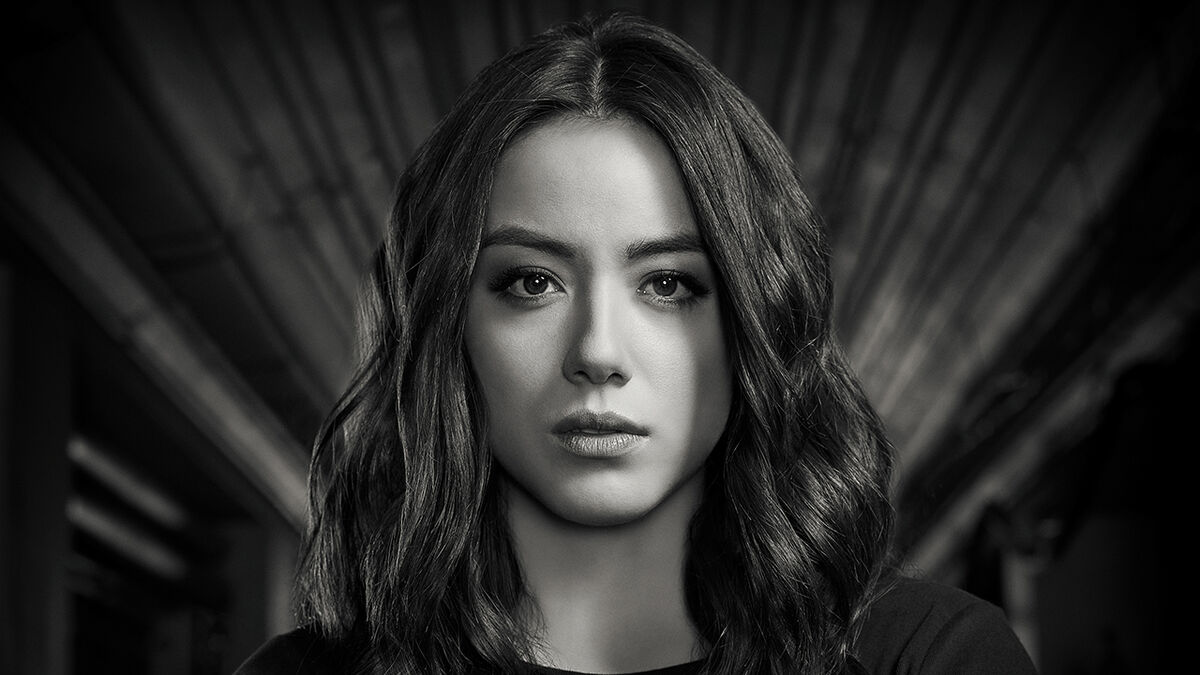 Daisy Johnson went through some massive changes during Agents of SHIELD, from her introduction as the hacker named Skye, to discovering her true identity as the Inhuman named Daisy Johnson, to taking on her Quake persona.
Obviously Bennet couldn't have foreseen Daisy's entire path and says that looking back on it all, "It's really kind of bizarre and unreal. What's funny is, I guess we're talking about an ending, but I think the reality of this is that this is never going to end for me. It's going to be a huge part of my life forever. I grew up on this show, I learned acting on this show. I didn't go to school for this, I kind of showed up to LA as a kid and got scooped up into this world and had the opportunity to be alongside these incredible people. It's very bizarre to think of the me who first auditioned. I feel incredibly different but also the exact same. It's kind of surreal to look back and think I was 20 and now I'm 28 and the final episode is airing and what to make of such a significant ending."
Daisy has become an important hero for many Agents of SHIELD viewers and Bennet remarked, "That's all you can ask for, right? All you want is to make something and spend all these hours and to ultimately have it appreciated and for people to appreciate her and to appreciate what I've brought to the character as an actor.  You can't ask for anything more."
But while Marvel's Agents of SHIELD is coming to an end, Bennet added, "I don't feel like I'm done playing her. I feel like there's room in the Marvel Universe for more Quake. So hopefully you'll see that happen!"
---
For more on the end of Marvel's Agents of SHIELD, check out our interview with the showrunners.