Opening this Friday, the new horror film Girl on the Third Floor tells the tale of Don Koch, played by Phil "CM Punk" Brooks. Don is attempting to renovate the large Victorian home he and his wife, Liz (Trieste Kelly Dunn), recently purchased – only to find the house may have its own plans for him.
Girl on the Third Floor marks the feature directorial debut of longtime producer Travis Stevens (Jodorowsky's Dune, We Are Still Here), who also wrote the screenplay, and he and Brooks recently stopped by Fandom to discuss the film on the heels of a well-received screening at Los Angeles' annual Beyond Fest.
THE REAL HAUNTED HOUSE
One very notable aspect to Girl on the Third Floor is that it's not only about a haunted house, it was filmed in what many say is an actual, real-life haunted house – one owned by the production company who produced the film!
Explained Stevens, of the genesis of the project, "The production company, Queensbury Pictures, is outside in the suburbs of Chicago, and they had come across this house that sits across the street from a church and they bought the house. Then [they] found out that it has rumors of being haunted. And so the starting point from the story is on one side of the street you have a house — it was also reportedly a bordello — and the other side of the street, you have a church. I like that idea, the dynamic between the two. So that was sort of the seed and from that, we sort tell the story of a man who gives into his vices over and over. And a house that makes him pay for that weakness."
So did the house actually feel haunted? Said Stevens, "I first went there during pre-production. My experience walking in the house was one of the most dreadful feelings in my chest. And I was like, 'Oh, this is legit. 'Even on the plane ride there, in my head, I was like, 'This is just local chatter. Everybody's got a haunted house in their town.' I experienced it firsthand. I was like, 'Oh, this is a place that doesn't want me here.' I had a conversation with the house that night, trying to explain our intentions. Over the course of production, people heard knocks or doors opening. You just sort of get used to it. I don't necessarily believe in that stuff, but I experienced it…"
Brooks recalled he and his wife, AJ Mendez, going into the Chicago suburbs shortly before production, explaining, "We were walking around after dinner. And I realized, 'Wait a second, I literally think like a block up is that house that we're supposed to shoot the movie in.' So we walked over and she was like, 'This is creepy… You want to try to go in!?' And I felt like a little kid. I felt little Lonnie in Halloween where the kids are daring him to go up to the Myers house and I was just like, 'Uhh…' And it was still daylight. But it felt like it had a presence to it."
Brooks added, "I'm just like Travis, I don't believe necessarily believe in that stuff. But I would dare you to go down in the basement and tell me that you feel like you're actually alone. It's impossible to do that."
DON'S A DOUCHE  
As Stevens mentioned, Brooks' character, Don, is a very flawed man – something that the house begins to test him with as he begins to experience some very unsettling things.
Said Stevens, "Every human being has the capacity for good and evil. At any given moment, you're making decisions. And there's going to be a consequence for those decisions. Because there's been so many great haunted house movies where the house itself corrupts the people who come in, I thought it would be interesting to do the opposite of that, and have the house reveal somebody's true nature. And that would give us the chance to sort of plant a seed of trying to be a better human being in a horror film."
Said Brooks, of his decidedly less than perfect character, "Watching it objectively now, I'm just like, 'Oh man, Don's a douchebag!' The way he dresses. The choices he makes. He has his dog off-leash! I don't like this dude, you know what I mean? To get to play it as sort of a happy go lucky, almost aloof kind of thing and lull people into a false sense of security, it was a lot of fun."
CROWD REACTION
It's one thing to make a movie, and it's another thing to show it to strangers and Brooks and Stevens said they were very happy to see how the film was playing now that they were beginning to show it to audiences.
Said Brooks, "I saw it at Beyond Fest, and I'm very happy I got to see it in a crowded theater, because you can hear who laughs at what, what plays, what doesn't. The guy in front of me at Beyond Fest, in all the scenes where he was meant to be chewing on his fingernails, was chewing on his fingernails. I don't necessarily need or enjoy staring at my face for 85% of the movie, so I kind of gotta get distracted a little bit and that's the best place to do it."
"I learn new things every time I watch it," observed Stevens. "The Beyond Fest screening was really funny because there was an audience member in front of me who was one of those 'comment on everything in the movie' people. So it was like having an extra layer of sound design in the movie. Having seen the movie a hundred times, to really be watching her and her engagement with it, was a lot of fun."
GETTING GORY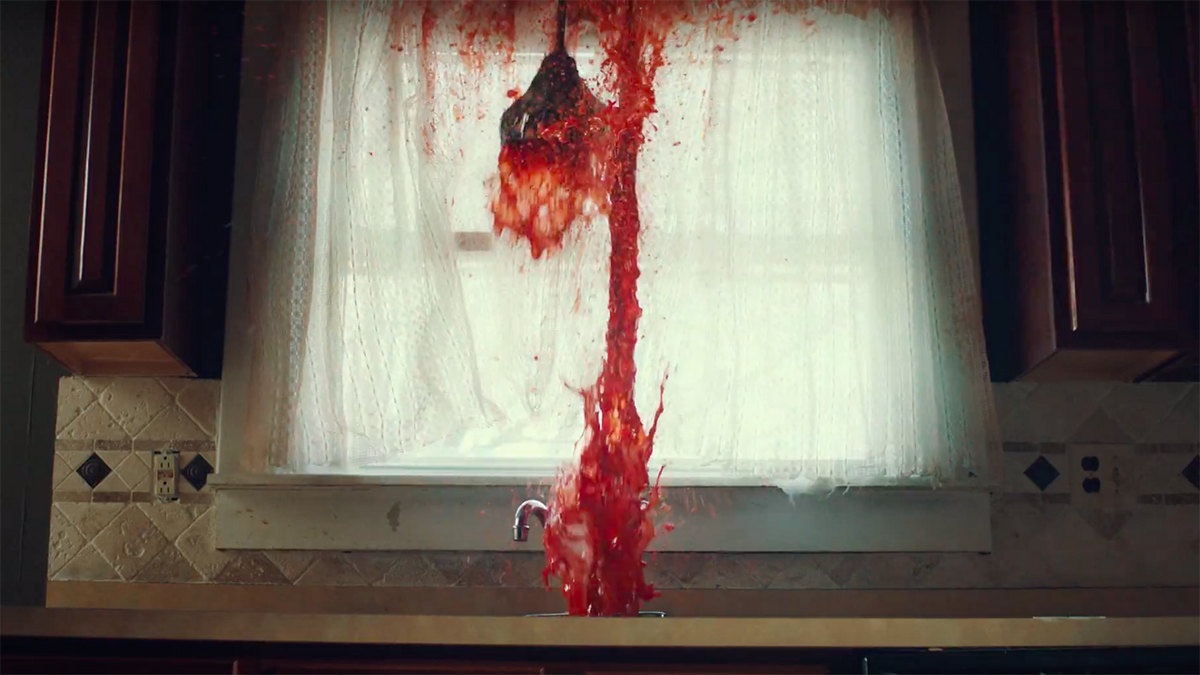 As Girl on the Third Floor continues, Don begins to find all sorts of unexpected issues with the house, some messier than others… which escalates into some notably gory moments, often with Brooks at the center of them, covered in all sorts of horror movie goo.
As to whether filming these very messy scenes was a burden or not, Brooks grinned, exclaiming, "I was covered in goo, laughing at them! 'You're paying me for this, you stupids!' Hillary [Andujar] and Courtney [Andujar] were responsible for mixing up most of the junk that I got covered in and they're just brilliant. They're the ones doing all the goo-ing, so to speak, and they were a delight to work with. I thought they were brilliant and I loved every single one of those scenes. And I think it showed, too, because most everybody on set was just, 'Oh, you okay?' I was just like, 'We're going to shoot it again, why are you going to wipe it off of me? Just keep me covered in it.' It was easy because it was fun for me."
Stevens said he also got a kick out of the days when they were filming the gorier moments, explaining, "I think it goes back to what [Phil] said – it just brings out that childlike joy. And so Courtney or Hillary would come up with a bucket and be like, 'Is this the right color?' And we'd be like, 'More red!' And they'd go away and come back twenty minutes later with it. And that's what we did for a month and it was like, 'This is the best!'"
Brooks is a lifelong horror fan and described getting to now work in the genre directly with Girl on the Third Floor, along with the upcoming Rabid, as, "An absolute dream come true. I hope it continues. I grew up on Fangoria, grew up on monster movies. I've always been attracted to the subject matter." 
Check out the video from our interview with Phil "CM Punk" Brooks and Travis Stevens at the top of the page!
Girl on the Third Floor opens in select theaters and is available on digital platforms on Friday, October 25th.