WARNING: FULL SPOILERS follow for Cobra Kai Season 3.
Cobra Kai Season 3 was released on January 1 on Netflix, continuing a story that has been incredibly warmly received since The Karate Kid sequel series debuted.
With the 10 new episodes out now and many a fan already having binged them, Fandom spoke to the show's creators — Josh Heald, Jon Hurwitz, and Hayden Schlossberg — about some of Season 3's biggest moments and reveals and what it could mean for the already-ordered Season 4.
One last Cobra Kai Season 3 SPOILER WARNING! We mean it! 
WITH AN I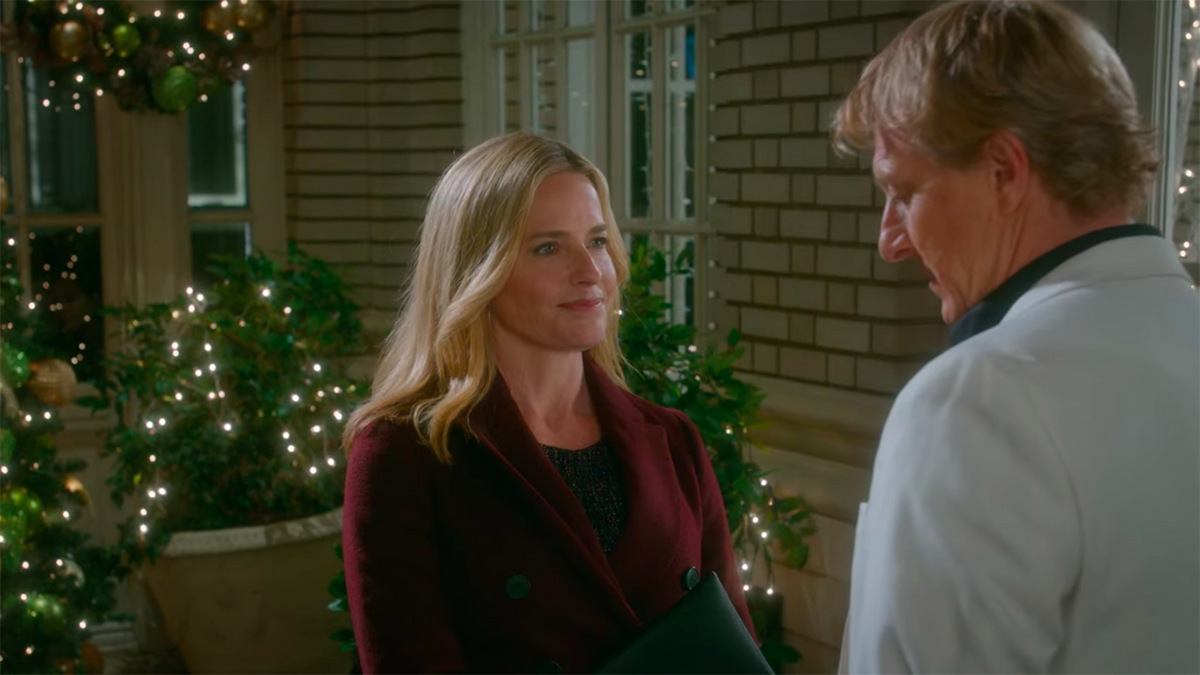 The final two episodes of Season 3 featured the long-awaited return of Elisabeth Shue as Ali Mills. Fans had wanted to see Ali since Cobra Kai began and it was always hoped – though never guaranteed – that Shue would be willing to reprise her role from 1984's original The Karate Kid, which was her stepping stone to a very successful career since, spanning everything from her Academy Award nomination for Leaving Las Vegas to her recent stint on The Boys.
As Hurwitz explained, "From the very beginning, when we were creating the show, we knew that we wanted to bring Elisabeth Shue back. Ali with an I is a character that is not only important to Johnny and Daniel but very important to us personally and to fans all over the world. So, we've been thinking about how to bring her back into the show for a long time."
Hurwitz explained that when deciding what Ali was up to when we saw her again, "First and foremost, it was important to us that we brought her back in a way that advanced her life in a way where it's not like she's just been sitting around waiting for Johnny and Daniel to call and suddenly it's like, 'Oh! That's the only thing in my world!' We wanted to bring her in a way that we get to catch up with where she is but also make sure that she's there at a meaningful time in the lives of these two guys to have an impact on both of their stories."
As for the discussions with Shue that led to her appearing, "It was a process of getting to know each other. Elisabeth has had this amazing career and has done so many wonderful things and The Karate Kid was at the very beginning of her career. She hadn't been in touch with the guys in a while and it wasn't like it was simple to just say 'Hey, come back and lets go play.' It was really getting to know her  and having her understand our true love of the franchise and our love of the character and just how important that character is to so many people. She's a very modest person in certain ways so for her she's like, 'Do people really wanna see Ali again?' And we're like, 'Yes! That's all people want in life!'
Once Shue was onboard, Hurwitz said, "The process of working with her was phenomenal. We had lots of ideas of where we wanted her to be but she ended up reading our scripts and was very engaged from day one. It was a collaboration where we would talk through the character, and all the specifics of how she would say this and she just embraced it and jumped in headfirst and having her back on set was not only a reunion for the characters but a reunion for the actors in a way that it was really special and we feel grateful to have been there to witness them come back together and get to act together again because it was something that was a long time coming and they all had a blast, as did we!"
SILVER LINING
Season 3's flashbacks to John Kreese's time in Vietnam also include Cobra Kai co-founder (and original financial backer) Terry Silver, who comes to feel he owes Kreese his life – something that is a key aspect to Silver's role as one of the primary villains in 1989's The Karate Kid Part III.
Cobra Kai Season 3 ends with Kreese making a phone call to someone we don't see and the showrunners are well aware fans will assume it's Terry Silver on the other end of that phone. But for now, they won't say if those assumptions are correct, with Schlossberg remarking, "We imagined people would assume that he is making a phone call to Terry Silver at the end. Now, is he? Who is at the other end of that call? What's gonna happen? You know, we'll have to see in the next exciting season of Cobra Kai, but obviously we are huge fans of all the movies, of the whole saga. We love the idea of really expanding this universe and it was fun for us [to do the flashbacks]. We know there's a contingent of fans that really want to see Terry Silver back and in a sense they do get him back in Season 3 in flashback form."
Added Schlossberg, "The question is, where is that character today? We don't know. Obviously there's a chance that we may see him again but there's no confirmation at this moment in time."
THE GLORY OF LOVE
While Ali and Terry's roles in Season 3 were kept as a surprise, fans went in knowing Cobra Kai would bring back two other important characters this year – Kumiko (Tamlyn Tomita) and Chozen (Yuji Okumoto) from 1986's The Karate Kid Part II.
Chozen, who once was truly ready to murder Daniel, finds redemption in Season 3 and even passes on a new special Mr. Miyagi move, involving pressure points, to Daniel, which Daniel then uses to defeat Kreese in the season finale.
When it came to bringing in this sort of move, a la the Crane Kick and Drum Technique, that Daniel could learn to use, Heald said, "We always were obsessed Karate Kid fans. We did the Crane Kick when we were 6 years old and came out of the theater after we entered this series. Special moves are a part of this universe and in Season 1, Robby sees Daniel practicing the one-armed balance which becomes this one-armed kick. But we still hadn't see Daniel learn anything new in terms of martial arts because there is the absence of Mr. Miyagi. So going to Okinawa opened up so many doors for us story-wise — some doors that we haven't even walked through yet and that we are perhaps saving for another season — but one of those things is digging deeper into the history ofMiyagi-Do Karate and finding out that he didn't know the whole story. He knew as much as a teenager needed to know to beat up his motorcycle-riding, jacket-wearing villains and a little bit more to beat a couple of other guys when he got a little bit of a taste of what's going on there. But it wouldn't have been an authentic Karate Kid story to tell without that special move that comes back in a moment of crisis."
Daniel is also able to gain more insight into Miyagi from Kumiko and the letters she kept and there also is a brief but notable interaction as the two are having a drink together and accidentally brush hands, briefly having what could be construed as a "moment" – were it not for Chozen arriving right then. Of course, Daniel is happily married to Amanda (Courtney Henggeler), so should we read anything into that quick moment Daniel and Kumiko share?
Said Hurwitz, "Kumiko and Daniel had a very special relationship and it was a relationship that didn't end because of any sort of fight, it ended because of distance. When they reconnect this season, I think you see the chemistry that those two characters still have, only they're at a different phase of life with different life circumstances. They will always have a special connection between the two of them and you see that connection in a clear way in Season 3 but these characters both continue to exist out there and who knows what the future holds? I can say that it was important to us to bring back a little bit of that magic that those characters had with one another and for Kumiko to be involved in Daniel's life in a meaningful way."
ROBBY IN THE MIDDLE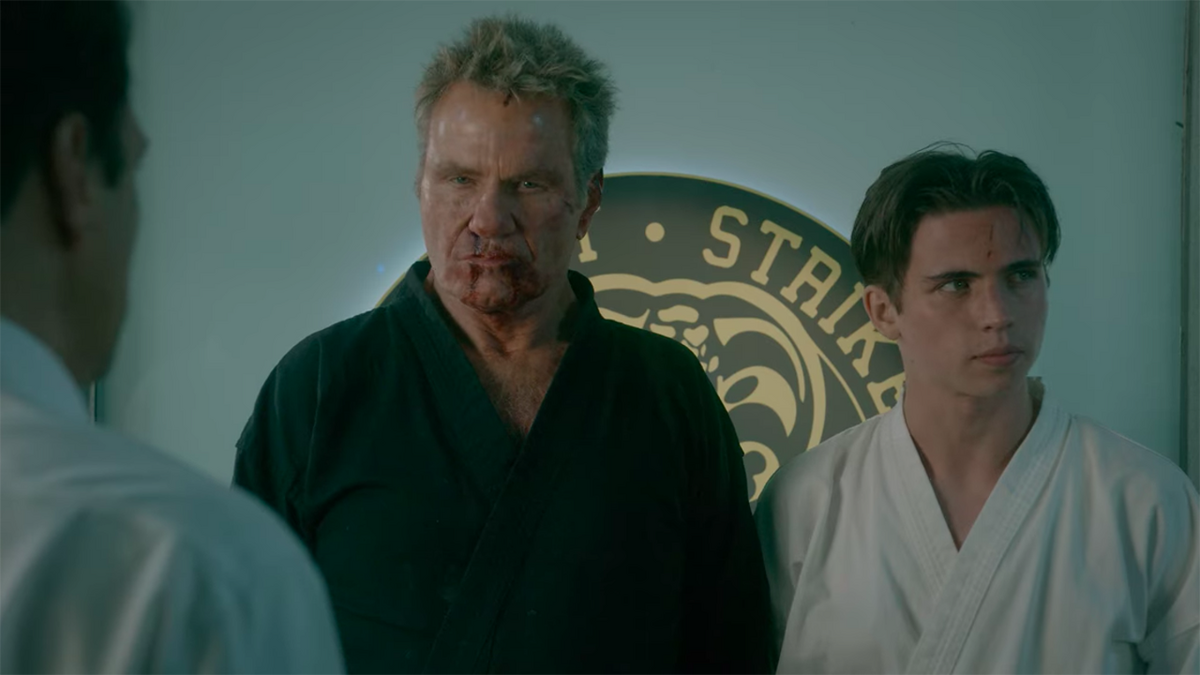 Robby Keene (Tanner Buchanan) has spent all of Cobra Kai searching for a father figure, previously rejecting his actual — and rarely present — father, Johnny, while turning to Daniel and becoming one of his students. But by the end of Season 3, Robby, now feeling betrayed by Daniel as well, has found a new mentor in John Kreese and joined Cobra Kai.
Regarding Robby's shifting loyalties,  Schlossberg explained, "Robby going over to Cobra Kai is something that we started talking about around Season 2. We knew what was going to happen at the end of the school fight, we knew that Robby's Season 3 was going to go to a very dark place and that dark places are Kreese's specialty and that he would be susceptible to that Cobra Kai philosophy. You see it in Kreese's backstory in Season 3 – when your life really sucks then suddenly Cobra Kai's philosophy really makes sense and not only makes sense but actually takes you out of the funk that you're in and gives you direction, although obviously at a cost. So yeah, that was something that we had been planning and something that we really liked with the character."
Looking back, Schlossberg noted, "We purposely set up Robbie in Season 1 as that bad kid in school that you wouldn't like but then all of a sudden he ends up with Daniel and a good mentor and you start to see positive things happening. But then things didn't work out and he's still a kid and doesn't understand why things are happening the way they are and it was fun for us to take the Robby character to that place in Season 3 and give him what I like to call the red eyes that Anakin has in Revenge of the Sith."
THE END?
Season 3 ends with a big setup for Season 4 with Johnny and Daniel finally firmly united against Kreese and Cobra Kai, and a clash set for the next All-Valley Tournament – with the loser closing up shop forever.
So should we take that to think Season 4 could be the final one for the series? Said Heald, "The ending always gets closer with every season we write but it is not fast approaching. We still have a multi-season story in our heads to resolve this in the way that we want to resolve it. I can't say how many seasons it is because it always gets a little bit cloudy as we grow. You know, I've said it before, but there are storylines that we've kicked and we've gotten to, and there are storylines that we've kicked and we haven't even approached yet. We have multiple seasons of this story left in us to tell, but the fun of this show is that it always hits a new climax that feels like this is it, you know? 'It can't possibly get bigger and crazier than these stakes!' And the fun challenge in the writer's room, and with each other, is finding new ways of boiling that pot over and suddenly realizing that you're in a new pot, and it's just as hot, and it's just as dangerous, and you feel just as invested."
FINAL FIGHT(S)
Season 2 ended with the huge karate clash through a high school but Season 3, while not perhaps going as big in terms of extras and the location, still offered plenty on the combat side of things with two different important showdowns – first, the Cobra Kai kids attacking their collective enemies from Miyagi-Do and Johnny's new Eagle Fang group at the LaRusso home and then a fight between Kreese and Johnny, eventually joined by Daniel, at the Cobra Kai dojo.
When it came to approaching the finale, Hurwitz explained, "In terms of the kids, we knew that things were going to boil over as the season was going on, and we were building towards another clash. A funny thing is that the fight happening in the LaRusso house was something that was a result of production challenges but I think it was a happy accident because I think it turned out even better than what we had initially planned. Initially, we were planning to have that fight take place in Miyagi-Do. It was going to be a very dynamic fight sequence between these two sides squaring off, but a combination of weather and timing and all these challenges lead to us moving it inside and I think we found ourselves in an even better setup to have this fight. The intent was to have it at the same kind of level that we did at the high school with a dynamic sequence with lots of stakes and building it in all these individual character moments, We always approach the fights from a place of story and character first and just working with our amazing stunt team, lead by Hiro Koda and Jahnel Curfman, to make it dynamic. We had another big long oner [continuous shot] in there, as you probably noticed, as we did the year before."
As for the Johnny/Kreese/Daniel fight, Schlossberg remarked, "We always want to top ourselves and we thought that school fight was pretty epic and we wanted to have the kids fight be awesome, but we knew we needed more than that. The whole season we sort of built up the anticipation of Johnny just beating the crap out of Kreese. And it's like, well, what would really piss him off is seeing Miguel hurt as a result of Kreese's teachings, and he would go over there, be really pissed [already], and then see Robby there? Okay, then I can legitimately believe that Johnny might kill Kreese. We actually set it up in the beginning, I think at the bar in episode four, when Johnny says, 'You do anything, I will kill you.' And we really wanted to create the sense that somebody could die in this sequence and we knew that we'd have Daniel coming in as a Han Solo at the very end and we have Chozen giving him a special move getting thrown in. And all of that is intercut with Kreese in the past.
Schlossberg continued, "What made us really excited was seeing young Kreese fighting his teacher and old Kreese fighting his student and you see in the past, he was willing to kill his teacher and then you have this moment with him and the student – is he willing to kill the student? And so it has all this fun juxtaposition and great character payoffs all while telling the origin story of Cobra Kai. You get to see where did he get this whole snake thing from in the first place. And so, that for us, as Karate Kid fans, checked the box in terms of like, 'Okay, I think we topped Season 2,' at least for us."
Heald directed the season finale and described it, with a laugh, as "An uncontrollable freight train. I mean it was fight after fight! Every day you would think that's the biggest day we've ever shot on the show and then we completely blow it out of the water the next day. That bridge with the pit underneath it? That was a real bridge over a real pit that was very precarious. We have all of OSHA [Occupational Safety and Health Administration] oversight in terms of making it safe but it didn't look safe — in a great way. It was muddy, it was raining, it felt like you were in a terrible, terrible place, which added to the feeling and the discomfort that everyone was going through filming those sequences. Everybody gave it their all. We asked a lot of every performer on this show and whether you're a one day stunt performer or a series regular, everybody came with a lot of heart to give us what we ended up with at the end of the day."