The action sequences in Cobra Kai Season 3 are next level. In the final episode alone there are three major fight scenes to thrill fans. A mass rumble with the show's Miyagi-Do and Eagle Fang dojos versus Cobra Kai practitioners; John Kreese's flashback Vietnam bridge head-to-head with his captain; and that Kreese versus Johnny and Daniel showdown. What a gift. It's no surprise to learn that the series' stunt team, headed up by coordinators Jahnel Curfman and Hiro Koda, have just been nominated for a Screen Actors' Guild award, building on the show's pair of Primetime Emmy nominations for the past two seasons.
Following announcement of the news, Fandom sat down with Curfman and Koda to talk through those memorable scenes, and throw a few ­punches fan questions at them, gathered from Fandom's Karate Kid community. They discussed the fallout from choreographing stunt sequences involving glass and concrete, changing the house fight at the last minute, and – perhaps most importantly – who would win in a fight. Curfman, who has been working on Spider-Man 3, even gave us a little insight into her experience working with Tom Holland on the film that he's referred to as the most ambitious superhero movie ever made.
Ready to Rumble
Fandom community member Ryn.marie wants to know which was the hardest scene to shoot, and both Curfman and Koda agree that it was the finale's house rumble. The sequence is shot in one take.
"That final fight in the house with all of our younger cast; doing that one shot is always tricky, shooting it as a 'oner' [long take], just because everybody has to get it right all at the same time," says Curfman. "There are no cuts."
Even more impressive when you take into account that they had to switch the location of the action to the house at the last minute.
"That scene was actually supposed to take place outside the dojo, outside in the backyard, and the weather kind of screwed us up a little bit," says Koda. "And they said, 'Well, let's throw it in the LaRusso house' at the last minute and so we had to completely redesign the fight to make it work inside the house. Which made it a lot of fun because there was so much more stuff in there we could move around. That probably was one of the more difficult ones to shoot."
With three massive set pieces to work through in the Season 3 finale, Koda, Curfman, and the stunt team presumably worked for some time to pull them off. It might blow your mind to learn that time was a luxury they didn't have.
"Once we get to those final episodes, we are on such a time crunch and we were not only working through that house sequence, we were also working through the flashback sequence on the bridge with all the Vietnam stuff with Kreese," says Curfman. "And then, we were also working through that giant fight between Daniel and Kreese and Johnny in the dojo. So all this stuff happened at once. We had very limited time to throw that all together but I would say between those three huge sequences, we pulled all of it together in a matter of two weeks."
Curfman explains that the script for the next episode comes through while they're shooting current episodes, so it's a case of prepping and choreographing for what's coming up while trying to stay focused on what they're presently working on.
"So, super-fast paced," she says. "For me, it's harder than working on a feature because we have limited time, we have limited resources, and you're shooting at the same time you're prepping when you're getting brand new scripts. It's not like you get the script at the very beginning and you have three months to plan the whole thing out. It's new material that you're having to get creative with."
It's a challenge Koda embraces: "I like the fast pace of it all and just having to be running and gunning all the way through. You can have so much prepared and you can have everything choreographed the way you want it and you think it's going to work out great but it's inevitable that on the day when you get there on the set things do change and you've got to be able to problem-solve on the spot."
Like switching things up because of bad weather. Of course, that decision resulted in a memorably epic showdown that saw the LaRusso house getting destroyed while Sam's parents were out at a dinner.
Cobra Kai's Most Painful Stunt
With so much going on in the scene, and so many props getting smashed up, you might imagine plenty of the young actors performing fight sequences felt it the next day. Perhaps they did, but when Curfman responds to Karate Kid community member BiggieChiggieMiggie84's question about which stunt was the most painful, she doesn't hesitate to reference another of the big three scenes: the Kreese/Johnny/Daniel fight.
"Probably the stunt doubles going through the glass [was the most painful]," she says. "The Kreese stunt double, and the Daniel stunt doubles going through that big pane of glass. Onto concrete. Inevitably, as a stunt person, you know if you're going through glass you're going to get cut, it's just going to happen. And those guys went through it the first time and the timing was a bit off so we had it set up to go again. They had a few cuts, we had the medic there supergluing the cuts together, cleaning up some of the blood and getting those guys ready to go again. The Kreese stunt double was barefoot and things like that where you've got flesh showing and you're going through that glass onto concrete can be tricky. I would say that was probably one where our guy got banged up the most."
Rather them than me, we bet you're thinking. And if you're thinking they used fake glass, they didn't.
"It's tempered glass so it is real glass and it'll cut," explains Koda. "Special Effects pop the glass with these poppers in the corner that blows the glass so … the timing is important because they've got to blow the glass which shatters it into small pieces instead of big shards of glass. The timing of them popping the glass and then [the stunt guys] hitting it at the right time is crucial."
Not just to make the stunt look good, surely, but also for safety reasons, we're guessing.
Head-to-Head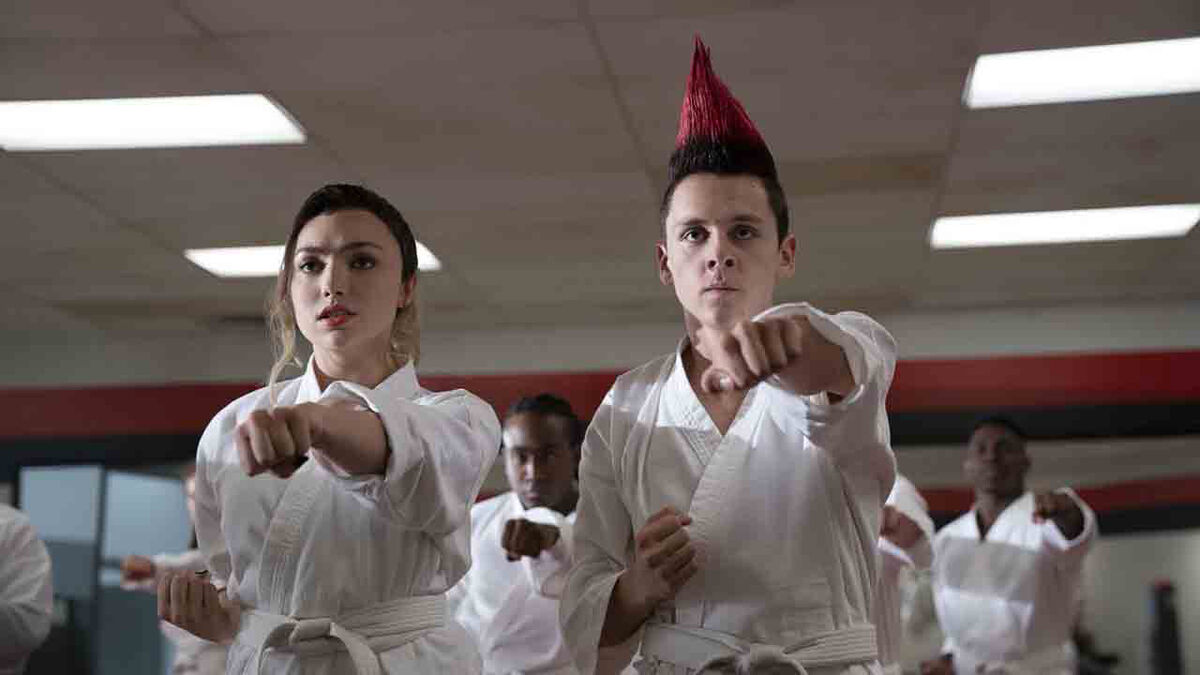 While the outcome of Johnny and Daniel versus Kreese may have been decided in Season 3, plenty of fans want to know who Curfman and Koda think would win out of a series of head-to-heads we're yet to see.
Daniel versus Robby? asks Peldroed2.
"That's a good question!" says Curfman as she ponders Miyagi-Do teacher against (angry) Miyagi-Do student. "Well, Robby's got some youth on his side. That's a tough one, that one might be a draw."
Kongadobe, meanwhile, wants to know whether a young Daniel LaRusso from the first movie could beat Cobra Kai-turned-Eagle Fang student Hawk.
Curfman picks Hawk. Koda agrees: "[Hawk's] style of fighting that we've created for him is just so off the wall and I think the deep anger that he has from being bullied to what he's become… I mean, there obviously was a transition for him in Season 3 but, up to that point, there was a lot of anger in him and he released that anger in Season 3. He's more of a brutal person."
So, Miyagi-Fang wants to know, who is a better fighter out of Johnny and Daniel?
Says Curfman, "They both do so well. Daniel is just very clean in everything he does. All of his movements are very precise whereas Johnny is a little bit more of a wildcard. He's a little bit more exciting, where you never really know what you're going to get."
Hoda jumps in: "If you look over the seasons, and you look at all the fights Johnny has been in and all the fights Daniel has been in, Johnny gets beat up quite a bit and I think that's because he's a wildcard and he just sort of goes with it. Or he's been drinking too much. But he's the one that has the most heart because he won't stop. He just keeps going."
Spider-Man 3 and the Future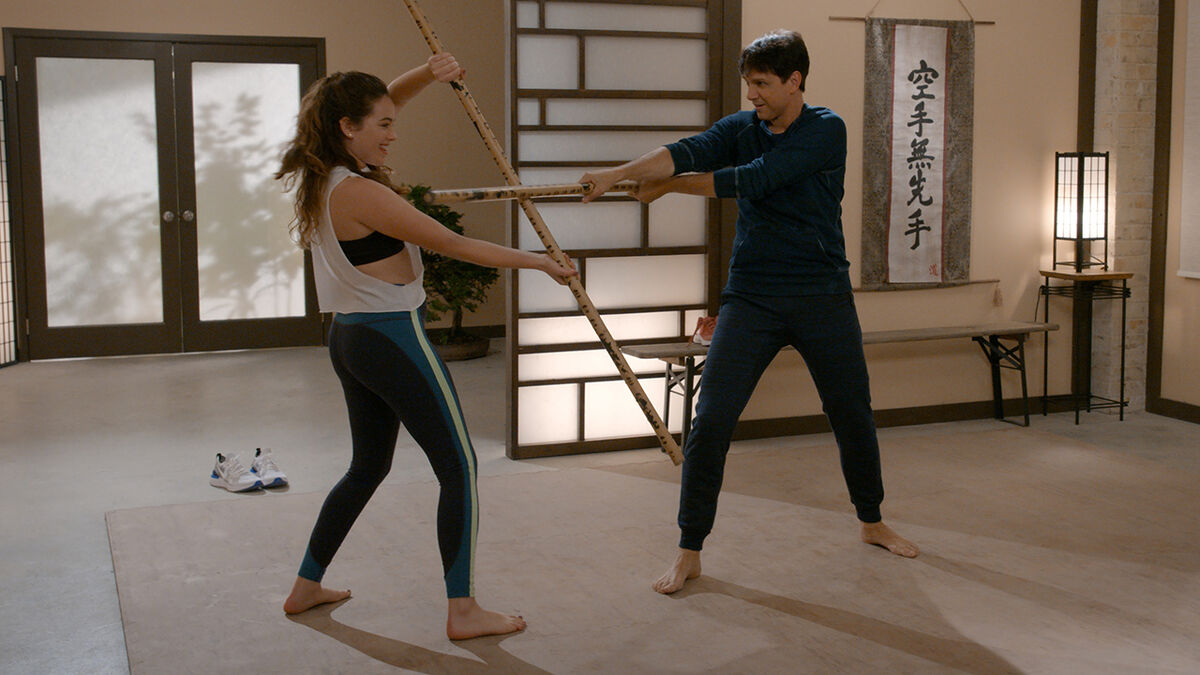 One prominent character we haven't talked about much yet is Daniel's daughter, Sam. Curfman thinks she could well be the most accomplished fighter of all of the young students: "Sam's character had quite a bit of training when she was younger so, technically, if you went into the backstory, she may have the most training of all of them."
Which potentially sets up some interesting developments in later seasons of Cobra Kai. Although, Curfman and Koda will no longer be involved – Season 3 will be their last as Koda looks towards directing and Curfman turns her attentions to stunt work on the likes of the still as yet untitled Spider-Man sequel.
Does Tom Holland's claim that his third Spider-Man film is the "most ambitious standalone superhero movie ever made" stand up?
"Yeah, that's a tough one. I wouldn't say… oh gosh, I don't know how to answer that question without giving too much away," is all Curfman will say.
So what's Tom Holland like with stunts, then?
This she will answer: "He's incredible. He is so talented in the things that he does. He's very gymnastic and he loves doing a lot of his own stuff. It's interesting because I have doubled actresses that are eager to get in there and do as much as they can and then I've also doubled actresses that are like, 'Put my face on Jahnel's body and let's call it a day.'"
We're not sure if that was ever an option for Holland with Curfman but it sounds like it's not a route Holland is taking.
Koda weighs in with his take on the MCU's Spider-Man actor: "He'd be a great stuntman if he didn't want to do acting."
If only we were all so multi-talented.
Catch Cobra Kai Season 3 now on Netflix.