If you've been a fan of Cobra Kai since its days as a YouTube series, then the wait for Season 3 has been a long one, given Season 2 debuted back in April 2019. But while we can't know the exact numbers thanks to the murkiness of streaming viewership, it is clear the fanbase has exploded ever since the show's first two seasons debuted to terrific response on Netflix this past August, and those new fans are now also incredibly excited to get more episodes of the newly branded Netflix Original series on January 1.
The new season picks up in the aftermath of the massive high school karate brawl that ended Season 2, while also bringing back some major characters from The Karate Kid franchise's history that have yet to be seen on the series. Stars Ralph Macchio ("Daniel LaRusso") and William Zabka ("Johnny Lawrence") and their costars spoke about what to expect this season and the ongoing appeal of these characters, more than 35 years after they were introduced.
Back to Okinawa  
Daniel returns to Mr. Miyagi's childhood home, Okinawa, in Season 3, and is reunited with two pivotal characters from 1986's The Karate Kid Part II in the process, his old flame, Kumiko (Tamlyn Tomita), and his old enemy, Chozen (Yuji Okumoto).
When it came to incorporating The Karate Kid Part II's characters into Cobra Kai, Ralph Macchio said, "That's what our creators do such a great job in crafting, is embracing that nostalgia and then using it – in the case of Season 3 to inform LaRusso about things about Miyagi, things that he didn't even know about Mr. Miyagi, and reconnecting with those great characters and those wonderful actors, Tamlyn and Yuji."
Elaborating on what it was like to finally be sharing scenes with Tomita and Okumoto again, over three decades after The Karate Kid Part II opened, Macchio said, "It's the same thing that happened with Billy [Zabka]. There's just some element of… There's a spirit and a connection between those actors, all of us, that were part of what The Karate Kid has become which is way bigger than us as actors, you know? It's so well embraced around the world. Tamlyn and Yuji, I maintain a friendship with [them] and every couple of years we connect in some way, but as far as being in each other's presence for that amount of time, it was like being a teenager again with Tamlyn, that stuff was just so angelic and that kind of [feeling] –– it's been five minutes and 30 years at the same time and that was sort of wonderful and then the Chozen character, what would that be? And how that informs even the LaRusso/Lawrence of it all later on… Yuji knocked it out of the park, and Tamlyn, and all the characters that we bring back from the past."
Added Macchio, "I love tapping into The Karate Kid Part II of it because that was really Miyagi's land, and we got to go to Okinawa [for Cobra Kai] and shoot those exteriors, which was so special. We were sort of having that and Miyagi shine a light on the show and I think that's a nice balance to a lot of the other plot-driven action stuff as well."
One of the most iconic elements of The Karate Kid Part II is Miyagi's drum technique, which Daniel uses to defeat Chozen. Said Mary Mouser, who plays Daniel's daughter, Samantha LaRusso, "The drum technique is fun and exciting because it's another aspect that we get to kind of pull into this – these fantastical elements that get pulled into the real world and see how they would theoretically be applied in a real fight. In my mind, the drum technique still comes back to the hallmarks of Miyagi-Do, which is about balance and about equal movement and things like that."
FALLOUT
Season 3 picks up in the immediate aftermath of Season 2, which ended with Miguel (Xolo Maridueña) badly injured by Robby (Tanner Buchanan) in the wake of the giant school fight that broke out and when Season 3 begins, it's uncertain if Miguel will be able to walk, much less do karate again.
When filming that school fight sequence, Maridueña recalled them deciding on the day they were shooting it, "How dark this ending was going to be. Was it going to be an ending where Robby looked back and knew he was kicking Miguel that hard, or was it truly an accident? That was a big question that we were asking that day and that Tanner was definitely freaking out about, like, 'But he's not a bad guy right? It was an accident, he didn't see!' And so I think on that day we kind of figured it out and found a really good medium in between it being an accident and it just being a rage-filled kick. I was a little nervous at first reading the scripts but also, I trust our creators, Jon [Hurwitz], Josh [Heald] and Hayden [Schlossberg] so much. They definitely have a great way of making things come around full circle."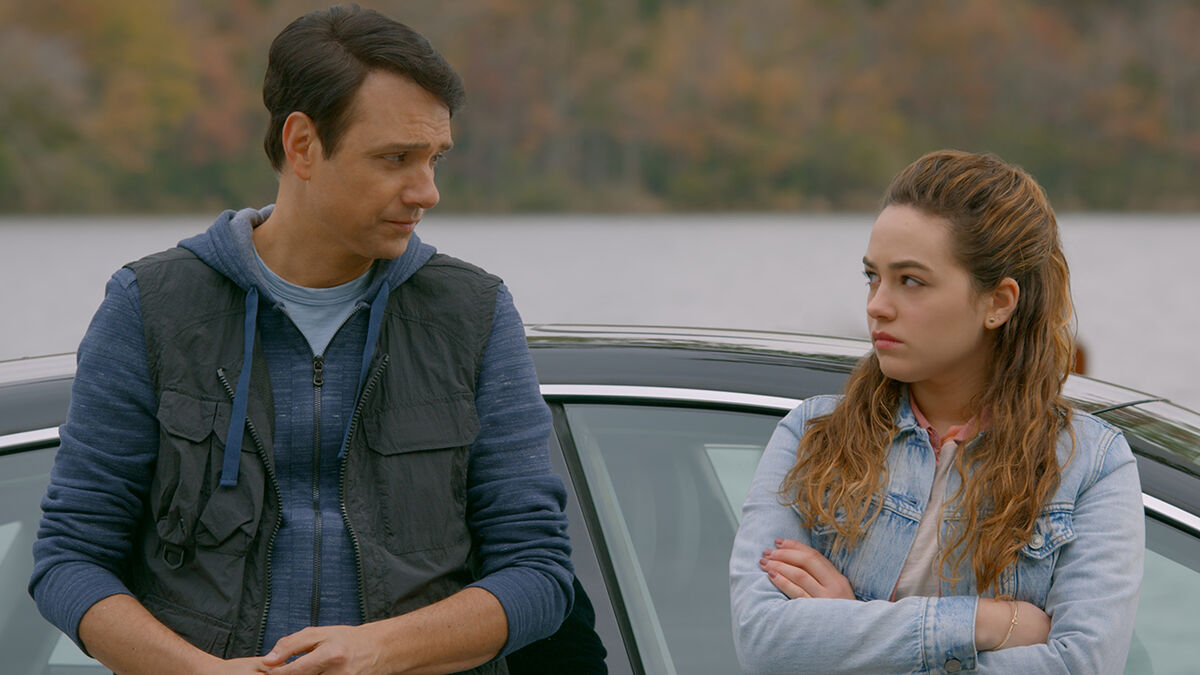 Along with some nasty cuts, Sam meanwhile has a lot of emotional pain to try and work through, after finding herself attacked so brutally by Tory (Peyton List) at the end of Season 2, who truly was out for blood. Said Mouser, of playing Sam's trauma in Season 3, "That was really important to me. I was really excited when they first talked to me about where we were going after the Season 2 ending. I remember once we wrapped, we all kind of looked at each other like 'Alright, what's next? Where do you go from here?' And I remember the [showrunners] being like, 'You know, it's not over. We blew it up and we're gonna have to put it back together and we're gonna see how that goes.' It was really important to me though that it was as honest as can be and I think it was great that all of Season 3 kind of went deeper and darker into the heart and emotion side in addition to keeping the fun, and the lightness, and the badassery. So I was excited to get to kind of sink my teeth into that and show Samantha healing in all of the ugly ways that you heal from something that traumatic. It was really important to me to play it as honestly as possible and its aspects of things I can relate to really strongly with my own life, so it was fun and not so fun and therapeutic and cleansing and good and I'm excited to see how people respond to it."
Meanwhile, Jacob Bertrand (Eli "Hawk" Moskowitz) said that in Season 3, in the wake of Kreese fully taking control of Cobra-Kai, "Hawk is really trying to find himself and who he is under the new Cobra Kai that is lead by Kreese. I think even in Season 2 you start to see how Kreese is sort of digging his fangs into Hawk and manipulating him in some ways and pushing him to vandalize Miyagi-Do and do all these things. There's a lot more of that in Season 3."
AS TIME GOES BY
Macchio and Zabka are obviously both quite a bit older than when they made The Karate Kid, but when it comes to still doing fight scenes, Zabka said, "I love it. I love doing the fights. When we have proper time to rehearse and to train and to choreograph, it's great. We're always hoping for at least one good fight but we also like to leave it to the younger guys to carry the weight on that, as Ralph says. But yeah, you know, you're stretching a little bit longer, and it takes a little longer to get the kicks high and to calibrate your spins and all that but it's a real fun part of it. The physicality of the characters is part of their character, so to get to express yourself in that way, it's awesome."
Said Macchio, "Yeah, everything takes longer and hurts more but you do the proper prep time and you know you gotta be careful because you're doing things over and over and at high speed. We don't have the time that like we had when we made the original film, so that's the most concerning thing is that we have those time constraints and we have to pound through them quickly and you just have to really remain focused and spend a lot of time stretching before, during, and after. And you know, a little Ibuprofen by the bedside…"
When Macchio and Zabka began playing Daniel and Johnny, the characters were high school students, and the two were asked if they themselves ever felt like they were still in high school.
Replied Zabka, "I tell my kids, 'I'm just a big kid, man.' Who wants to grow up, you know? We polish our past, I think. Those times — high school, early college, the friendships you make, the bonds you make, the music you heard, the experiences you had — those things stick with you forever, you know? As you get older things get a little choppier and we're just getting through. There's something solid about that time so to feel that way and to get to play that character and to represent that time brings it all back to the surface in a way that makes you feel like a big kid, which I love."
Said Macchio, "Playing characters that have stood the test of time as adolescents and a piece of our childhood, it certainly leads me to feel that I lead a unique existence because very often I'll meet people and they'll want to talk about that time or that place for them. So you sort of represent youth in a way because our characters have resonated for thirty, nearly forty years. It sounds ridiculous to hear those words but that is the truth and so I embrace it now because, you know, growing up is overrated so let's stay young and this show allows us to do that."
He added with a laugh, "Sometimes it's tougher when they cut out of a flashback to present day. It reminds me that some time has gone by, but for the most part it's fun. It's a fun existence."
Cobra Kai Season 3 premieres January 1 on Netflix.