When it comes to gaming icons, there are few more beloved than Cloud and Tifa. In the twenty years since they stole our hearts in Final Fantasy VII, this iconic duo have inspired countless cosplays, spawned libraries worth of fan art and adorned more merch than you can shake a Moogle at.
While Steve Burton and Rachael Leigh Cook lent their voices to Cloud and Tifa in the wider FFVII universe, in the blocky PS1 original, these characters had no voice. Thanks to technical restraints at the time, these fan favourites were brought to life simply through a mix of brilliant written dialogue and a moving score from series composer Nobuo Uematsu.
Now, twenty years later these iconic heroes have finally been given a voice. Yet, after two decades of history and fan expectation, filling these shoes must have been an incredibly daunting task. With Final Fantasy VII Remake finally out in the wild, we sat down with Cody Christian (Cloud) and Britt Baron (Tifa) to learn how these two rising actors went about lending their voices to a legend.
From fantasy to reality
Cody Christian: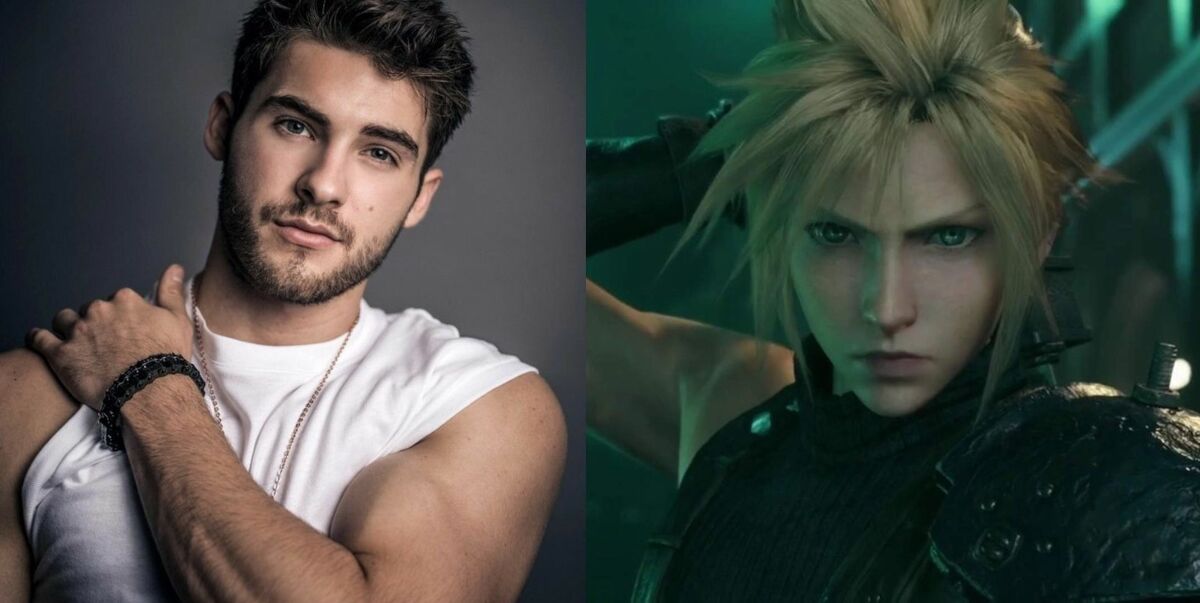 "It was an audition I would never forget," Cody recalls, " [I was called in for] an unknown named project with an unknown named role. I was on a Skype call with Japan and I had engineers and the voice-over director in the room with me. They had me, with no context, pretend that I had a giant sword *laughs*.
"They just said "alright we need to picture you with a big giant sword, maybe 6 feet, and there three, four, five enemies heading your way but you can do a special attack so you take out all five at once. We need to hear your interpretation of that" so I took a deep breath and went 'whatever happens, happens and if I look foolish then I look foolish' and I just went for it.
"I was a little nervous of course because this is the first time I have ever taken a step into [the gaming] world, " he continues, " But once we started working on this project, I am telling you, the little kid inside of me was jumping for joy because for a year straight I got to pretend the  I was one of the most badass heroes swinging a sword with ease. It was such a joy working on this.
 Britt Baron: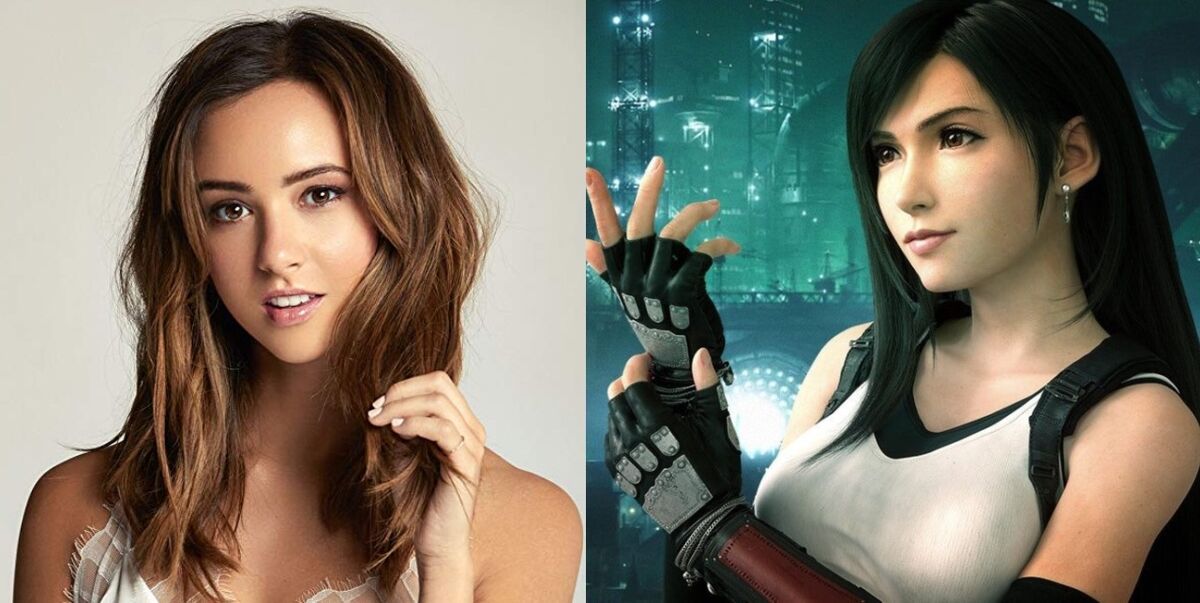 "I had come in to audition for Tifa and then a few months went by where I didn't hear anything, I forgot about it because I audition all the time for video games and a lot of them you don't get — so I just let it go. I think I even auditioned for,a smaller part in Final Fantasy, too, so when my agent called me to tell me I got cast in it, I was confused about which part it was. I thought "oh great!" not realizing that it was the role of Tifa.
"Initially I was obviously intimidated because it's a game that means so much to so many people. So I really had to rely on the directors, especially in the beginning, to guide me. [The Final Fantasy] universe is massive, it is so iconic and means so much to people — so I definitely had big shoes to fill."
Making an icon their own
Cody Christian: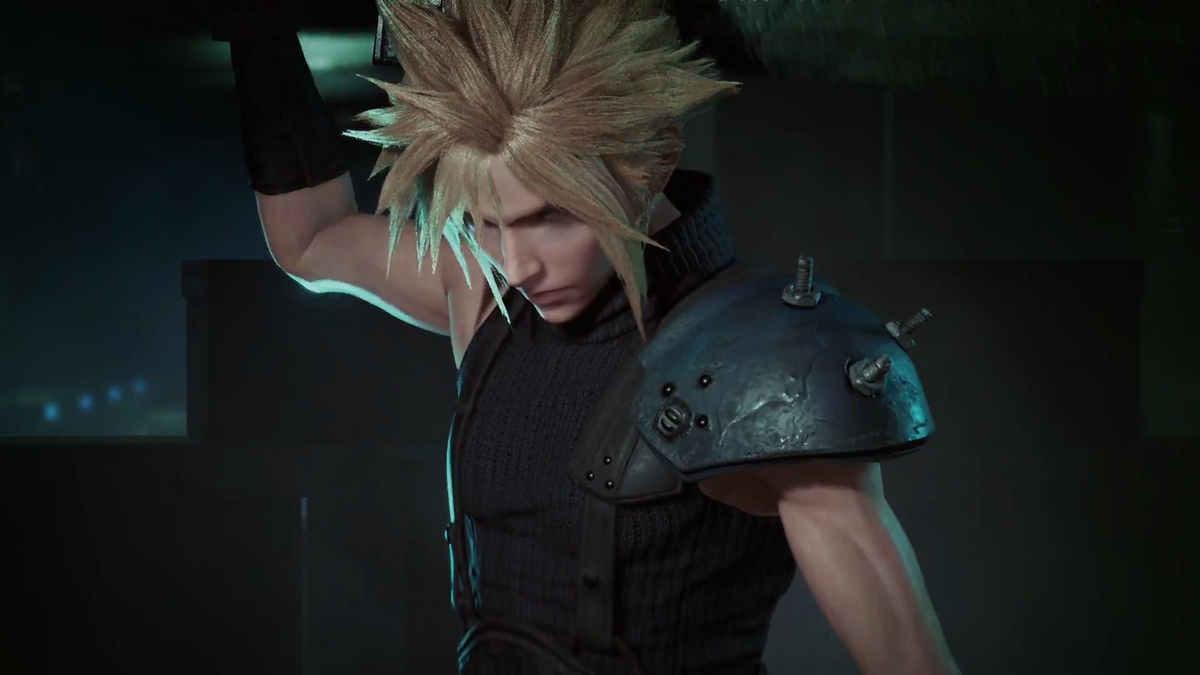 "Luckily, I already had a lot of substance to work with. Steve Burton did a phenomenal job in paving the way for this character and establishing nuances, tone, etc. So, I took a lot of inspiration from him, and on top of that I had a lot of guidance from an amazing team of directors and also the creative team from Square Enix in Japan.
"We had two translators so any question or any information they thought was necessary that aided to the story, I was provided with. So it was definitely a smooth transition from never working on a video game to being handed one of the most iconic characters in the last 20-25 years!"
Having played Linda in Halo and Ada-1 in Destiny 2, unlike Cody, Britt was no stranger to acting in video games. Yet while she had found herself voicing supporting characters before, becoming Tifa was a whole different ball game.
Britt Baron:
"In the world of video games, Tifa is so iconic, so beloved that it is hard. As an actor you're like "where do I even begin? How did I get here?' You start to have this feeling that you don't even deserve this since it is so big, but you have to embrace it.
"Our directors were really helpful in finding Tifa's voice and figuring out how we wanted to play her, because at the end of the day I can only be myself. I didn't want to just mimic the other voices of Tifa. Obviously, in the original she wasn't even voiced at all so, in a way, we had a blank canvas. Ultimately, I found it really fun creatively. I really enjoyed it because  I feel like the pressure made me more excited and work even harder. Obviously, Tifa is one of the best characters ever and I love her! I feel so honored to get the opportunity to have voiced her for"
Learning the legend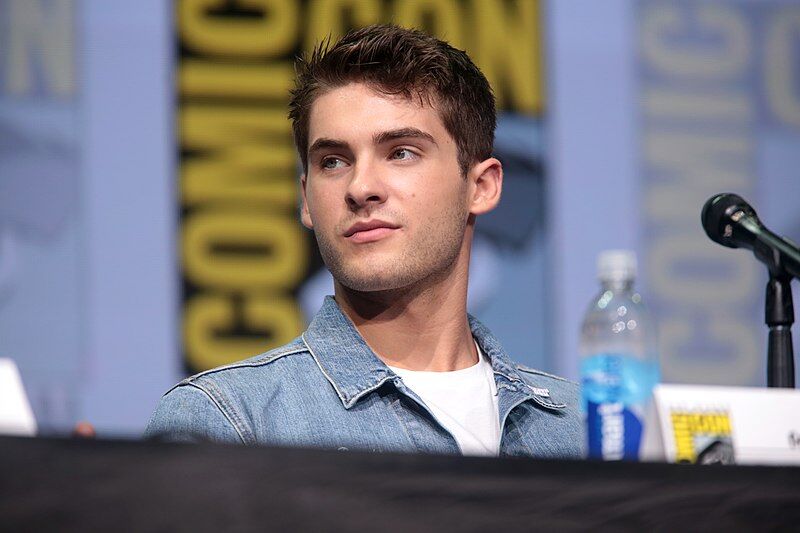 Cody Christian:
"I had to do a lot of research. Thankfully, my brother grew up playing the [Final Fantasy] games. When I finally told him [that I was Cloud] he lost his shit, man!  I have been fourteen coming on fifteen years in the industry and he's never geeked out on anything that I have ever worked. So when I told him about Final Fantasy and he had that reaction, it was really special.
"Luckily, my brother pointed me in the direction of all the source material I needed to get my hands on. One of my first questions [I asked him] was what do you know, what have you seen, what do you think is missing? And I spoke to a couple of my brother's friends who are forum managers on Reddit and heavily in the gaming community. So I got insight from them.
"I didn't play the original, but I went on YouTube and watched walkthrough of the gameplay so I can see the story and see how it was and how it would compare. I pretty much watched anything Cloud was in. I watched Advent Children with my brother. I was playing Super Smash Brothers as Cloud just to see his moves and see what kind of attacks he can do. Definitely a lot went into just getting the right information but also to getting inspired properly – so I could give the performance the fans are looking for.
Britt Baron:
"I didn't want to come in out of left field with a completely different style of performance than what has been established. So, I watched Advent Children, I went down a lot of YouTube rabbit holes, I definitely did my research. I did my best to honor what had been established as Tifa's essence but also, at the end of the day, I am me and I was hopefully casted for a reason. I didn't want to just do an imitation of what had been done before. I wanted to figure out how to bring myself to the character."
Who are Cloud and Tifa, really?
Cody Christian: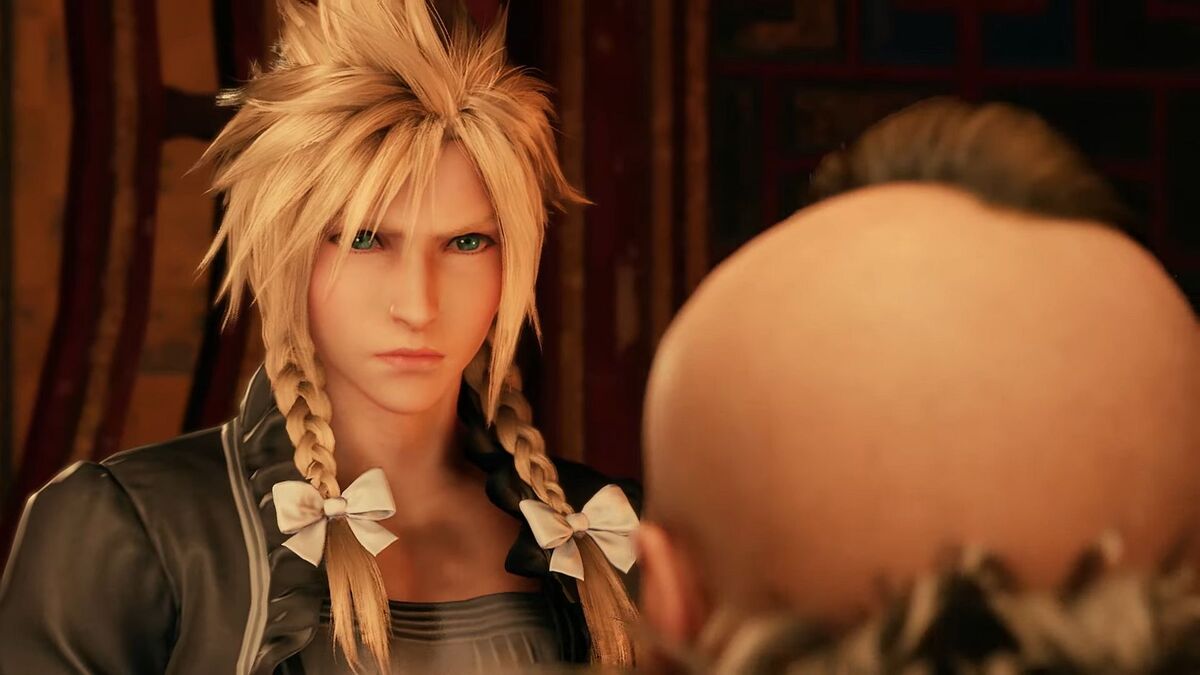 "I think Cloud is misunderstood. I think he is seeking an identity. He is someone with past trauma who is hurt and, in a way, scared of the world but is willing to go back out there and be the courageous hero and adventurer. I think the interesting journey about Cloud is that everything that has happened to him is about that Ying and Yang, the balance of black and white. You can't have a hero without a villain, so to speak. It has been really interesting to see his process and his journey. I love storytelling, I love character development and Cloud is one of the juiciest characters that I have got to work on. It has been nothing short of a thrill."
Britt Baron: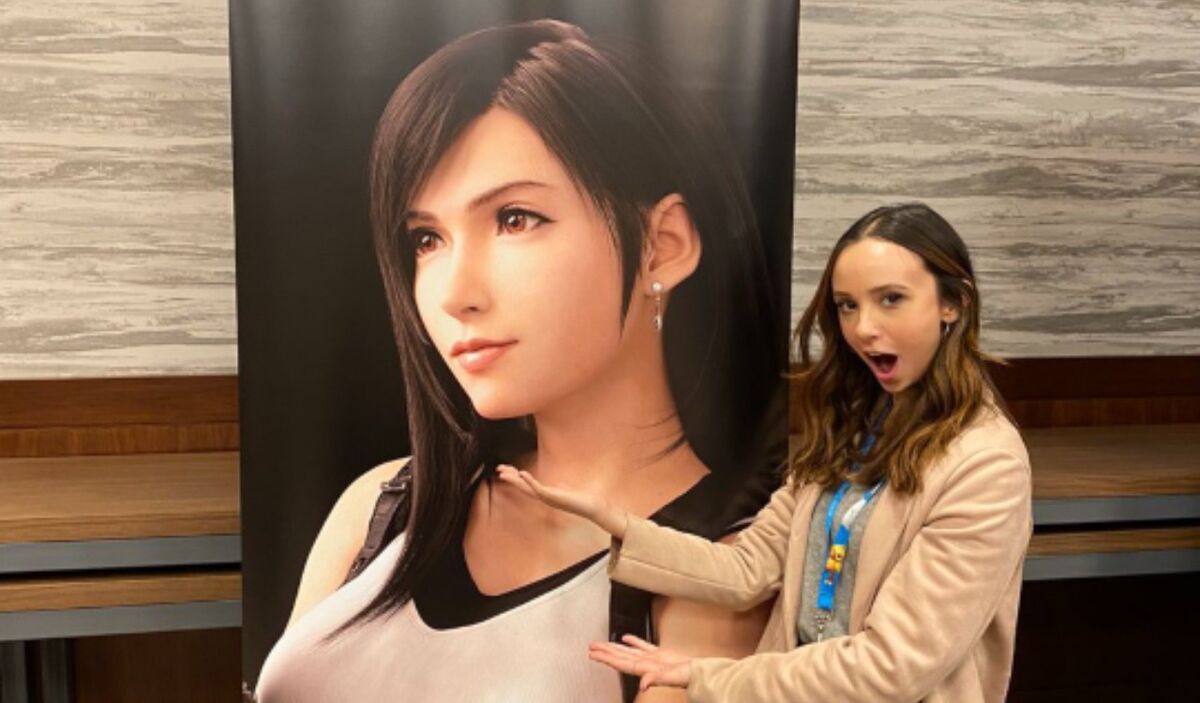 "First of all [Tifa] is such an amazing fighter. She is strong and intelligent. I really related to her passion and her desire for revenge, but at the same time she has a sense of empathy, and I think a level-headedness — especially in relation to Cloud and Barret who are so headstrong.
"I really fell in love with her. I think she is so well-rounded, and in a way everything I would love to be. Sometimes, I can get too hot-headed and it was really nice to play someone who has so much passion but also can calm herself down and think logically. She is beautiful, she is athletic, she is just like the ideal heroin in my opinion."
How Cloud and Tifa rubbed off on their actors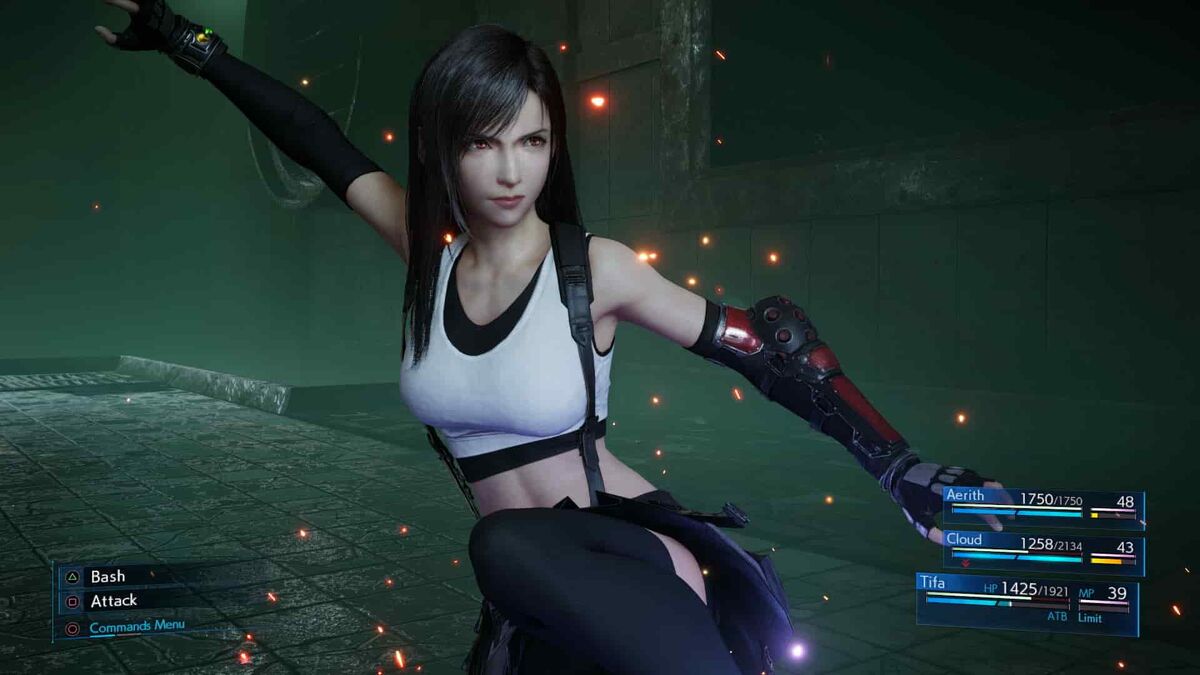 Britt Baron:
"I really feel that I got lost in Tifa while we were recording. There was a point towards the end when we were recording for the last month, I was going in every single day for hours. You are alone and you have these headphones on, and you forget the world outside. You're living in Midgar as Tifa.. Obviously when you are playing a character that you love as much as Tifa – I am not playing a villain – she is really someone you are rooting for, she is this amazing icon.
"After all those hours, your mind starts connecting with this character. I think more so than in any other medium.So when we wrapped, I was pretty devastated. I started crying because you feel like she has become a part of you. It was sad to let that go."
 Cody Christian:
"You create a connection with these characters. Think I was in the booth for nine to ten months straight very consistently. I spent a lot of time not only connecting to this character, so I could understand the humanity and the empathy that I wanted to bring. But even more so, this was a very delicate process so in order to blend the authenticity and the truth, very similar to what Britt was saying, I was in there most of the time."
What surprised them most about being in Final Fantasy
Cody Christian:
"One thing I didn't realise, to be honest with you, was how much work there really is. You're talking, thirty to thirty five hours of playable gameplay So that is thirty-five to forty hours of noises. The battle lines were so much fun because the energy is there. You can feel it when you are performing it in the room. From swinging a sword, to taking a hit, jumping, to the sound of throwing a potion,or breathing when you get hit. Every little piece of life there could be, you have to record that. That was a new process to me. When I first found out, I was like "wait, how many battle lines? How many combinations of this?" it was crazy!
"I think what surprised me the most outside of the process, is the fan base. This is a demographic of very, very passionate people about the game that they are invested in. To see that on such a large scale is really nothing short of an inspiration to do the best work.
 Britt Baron:
"I don't think I fully understood the universe, the fandom, of Final Fantasy until much later. When we were announced, social media started blowing up and that surprised me. I have done a lot of video games, but I had never done something where we were dubbing from Japanese. It was a really fun, challenging experience.
"The dubbing for sure was very hard because you have to fit [the words], in terms of milliseconds. There were a lot of technical things I had to be worrying about, so I had to know who Tifa was from the start and be confident in that. I feel like this was a really great challenge."
Why FFVII Remake is more important than ever
Britt Baron:
"I think that the biggest threat we have right now is our environment, and the virus is a wakeup call that we as humans are not invincible. What an interesting time for this game to be released; in the middle of this worldwide quarantine where we feel, or at least I feel, very helpless and powerless as a human up against this big force — up against governments that are calling the shots. A lot of FF's messages ring even truer now. So I am proud to be a part of it.
"I think that is what everyone loves about Final Fantasy — it is this group of people who are fighting for the betterment of society, You look at characters like Cloud, Tifa, Barret and Aerith, they are willing to fight for the greater good and that is inspiring. They bring me comfort when relating back to our own worlds. Maybe we have more power than we think.