His Dark Materials recently returned for its second season, following Lyra Belacqua, AKA Lyla Silvertongue (Dafne Keen) as she travels to new worlds – including our own — and works alongside her new ally, Will (Amir Wilson), as the adaptation of Phillip Pullman's books moves into material from the second installment, The Subtle Knife.
Fandom spoke to Keen about everything Lyra is going through, from tremendous loss to magical knives to simply encountering devices like cellphones for the first time, along with what it's like to work alongside costars like Lin-Manuel Miranda and James McAvoy.
A LOT TO PROCESS
Season 2 finds Lyra on some big new adventures, and Keen noted she has matured a lot, though that included experiencing some trying and terrible things in Season 1 – from the revelation about who her parents were (and what they were capable of) to the loss of her best friend, Roger.
Said Keen, "I think in Season 1, so many things happened so quickly that Season 2 is more of a processing point. Everything we just witnessed happened and it's this realizing point for Lyra, where she goes 'I was an orphan a few months ago, and now not only am I not an orphan but I thought my parents were nice people who died in a sad situation and frankly, they're both child-killing psychopaths. And the only person who was ever there for me is now gone and it's basically because of me.' So Lyra is grieving through the entirety of Season 2. But what I really admire about Lyra is she carries on. She doesn't stop and wallow… She gets stuff done even if she's sad."
Keen loved getting to explore the dynamic between Lyra and Will, remarking, "I think it's very interesting to see how they're both so distrusting of each other at the beginning and how they grow onto each other, basically. They start off as polar opposites and end up quite similar by the end of the season."
MAGICAL ANIMALS AND MAGICAL KNIVES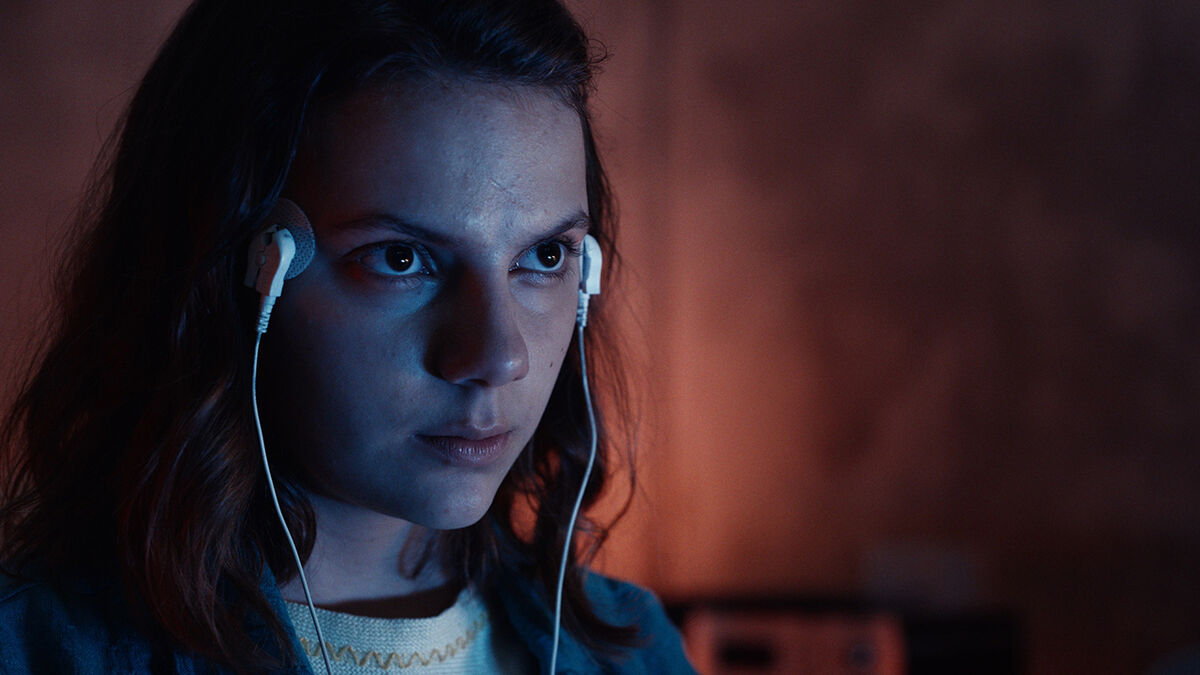 A major part of His Dark Materials are the Dæmons, a physical manifestation of a human's soul, which appear as a talking animal, including Lyra's Dæmon, Pan (voiced by Kit Connor).
Because of this aspect of the story, Keen spends much of her time filming His Dark Materials speaking to a costar who isn't physically there and will be added later via CGI. When it came to that process, she said it was indeed odd, but "I think I've now kind of gotten used to the fact that I have to act to thin air." Still, she noted that the special effects were so impressive, they took her aback when she thought about what it was like on set vs. what's on screen, saying, "What's strangest isn't when you're on set, it's when you go to watch it. I found myself literally doubting if there was an animal that day on set, when you go, 'That's insanely realistic! That could not have been done in a few months. That's incredible.'
Season 2 introduces an important object – a knife – that can allow the one wielding it to travel through worlds and Keen added, "This season, we have to work with the knife, which is absolutely crazy. You're going to see a lot of Amir Wilson and I — if you saw us on set we'd just be jumping in the air and they're like 'Now you're crossing into another world.'"
A CAST FOR THE AGES
His Dark Materials has an incredible cast, including Ruth Wilson, Lin-Manuel Miranda, Clarke Peters, Andrew Scott, James McAvoy, and many more acclaimed performers.
Regarding working with such esteemed talent, Keen said, "It's basically — I have a mini heart attack every day. Every time there's a [new] character, I'm nagging the producers to tell me who the character is going to be played by. And when they don't tell you you know it's going to be someone big. Last time they were like 'We can't tell you,' it was Terrance Stamp."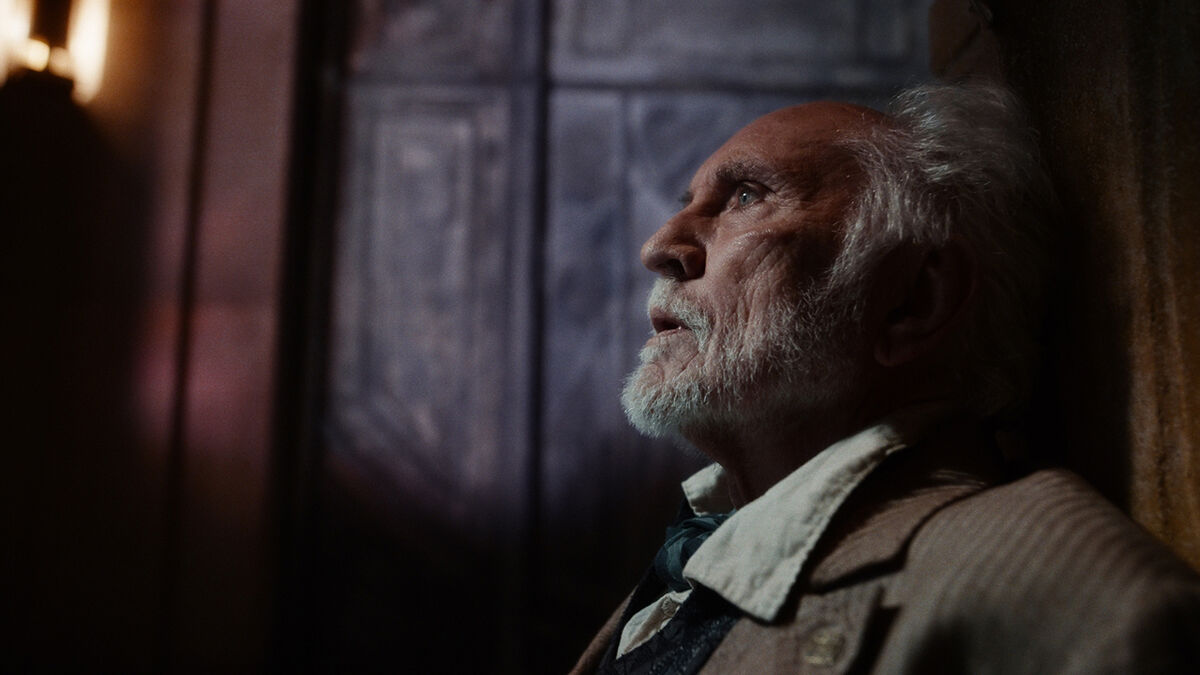 Stamp plays Giacomo Paradisi in Season 2 and Keen recalled, "They told me it was him two days before [filming]. And Terrance Stamp walked on set and it went absolutely silent. Everyone was like 'It's such an honor to meet you.' He's absolutely lovely. All of these incredible people that are in the cast, they're so nice in real life. You realize they're just actual human beings, not just mega-stars. Well, mega-stars are all humans [laughs], but they're just great!"
Of course, one very notable costar for Keen personally is her father, Will Keen, who plays Father Hugh MacPhail. The nature of the story means the two Keens aren't in scenes together, and Dafne explained, "My dad will be filming on the same days as me but on a different stage. So we'll both be picked up by the same car and then go separate ways and then at night we go to the same house." She laughed about the makeup artists telling her, "'Oh my God, you guys have the exact same bone structure.' And I'm like 'You know, he literally made me. It makes sense.'"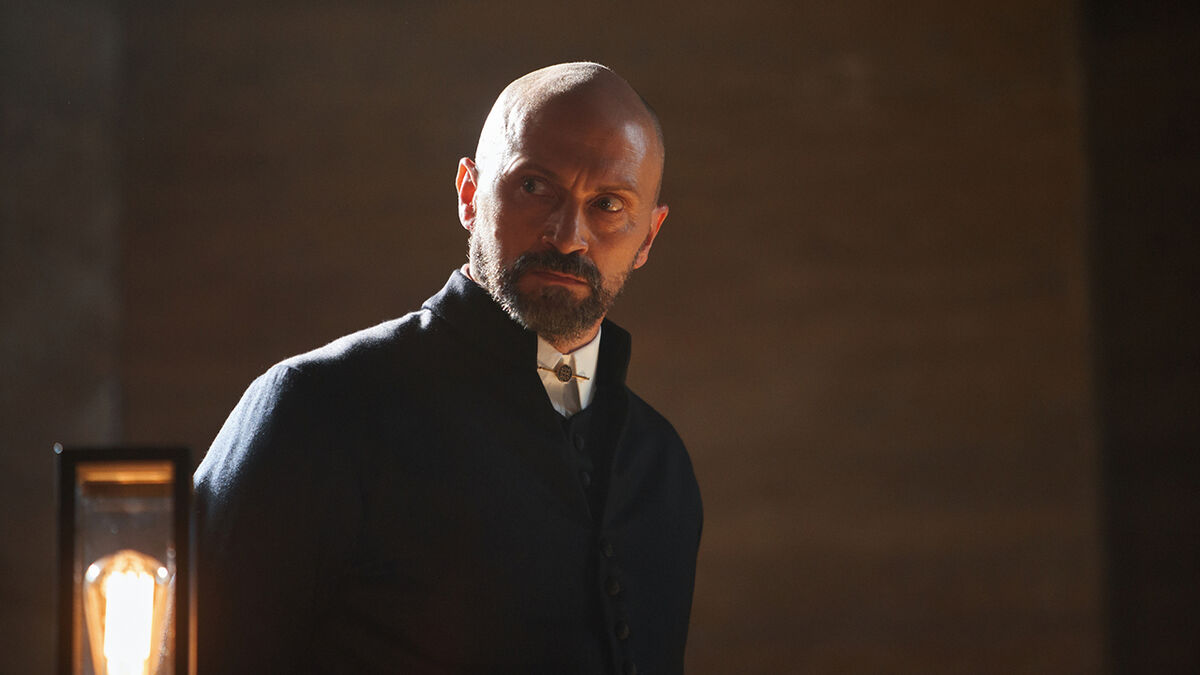 While Keen would love to get some screen time with her dad in His Dark Materials, she noted they have worked together before.  "My first job was with him, actually [in the series The Refugees]. He played my dad and he had to kill me. He had to shoot me in the back with a rifle, which is great. When you're a 9-year-old that does not seem scary at all. [Laughs] Yeah, he was actually more traumatized than I was. I had a great time with the fake blood and he was like 'I just killed my child!' It was intense. I'm looking forward to working with him again. It was great."
SMART BUT WITHOUT SMARTPHONES
Lyra is a highly intelligent and clever girl, but Season 2 finds her out of her element as she travels to our world and encounters mundane items like a cellphone that simply don't exist where she comes from.
When it came to that aspect of her character, Keen said, "It was really strange, especially figuring out what was strange to her. I grew up with phones. I don't know anyone that doesn't own a phone. But for Lyra, it's a groundbreaking device. Then [there's] antiseptic cream. She's absolutely mindblown by antiseptic cream. It's like a potion! It's fun to do all those scenes, especially with Amir, because he's so chilled out. He was like 'It's antiseptic cream.' And then I'd be really extra. Then we had to do a scene in a cinema which was me being extremely surprised at the screen. It was really fun to do all of that."
Keen added, regarding filming the scene in the movie theater, "I probably wanted to vomit after so much popcorn and Coca-Cola, but it was great."
LOGAN AND LAURA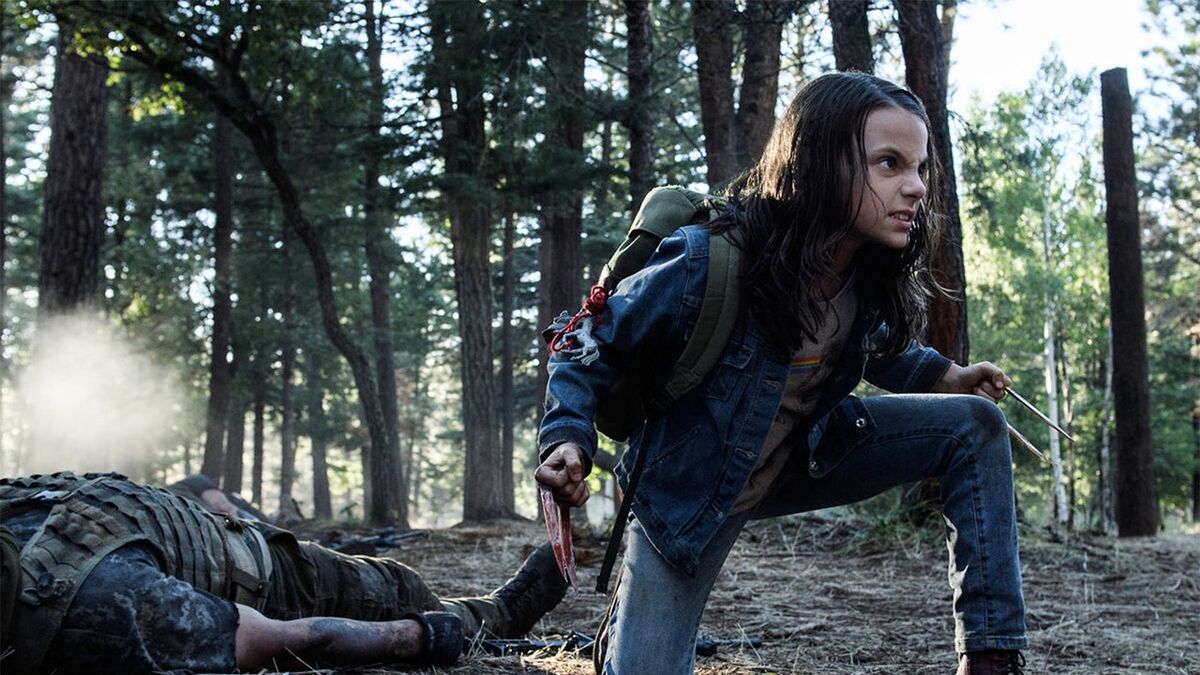 Keen made a huge impact and received tremendous acclaim with 2017's Logan, where she had a starring role as Laura, AKA X-23, the lab-created daughter of Wolverine.
Looking back on the experience, Keen said, "It was crazy. I was filming on set, having a great old time. It was play for me. Hugh [Jackman] was so lovely and Patrick [Stewart] made it so we were just playing, basically. And suddenly it came out and blew up and I can't even explain what went through my head. It was just so crazy thinking, firstly, that it had come out — for me it just felt like it was something private. But it was obviously not private! I had gone into it knowing it was going to come out."
Regarding how people responded to her performance, she recalled "The reaction people had to me appearing in it was so positive and it was so incredible for me as an actress to get to experience that for my first big, big role. To get to experience that much positivity set me on a good foot. When it comes to the business, I felt much more positive towards it. Everyone is always like 'Be careful with critics, they're always really mean.' I did not have that experience at all. I think I was more willing to take jobs after that."
After Logan came out, there was talk of seeing Laura again in another film, but things have changed dramatically for the X-Men films since, with 20th Century Fox being purchased by Disney and the future of those characters now under the purview of Kevin Feige and Marvel Studios. This could mean we might never see Keen's version of Laura again, but of course, as the MCU ventures into the multiverse, there are certainly still some possibilities.
Asked if she felt she might return to the role one day, Keen replied, "I know if they offered me to put the claws on again, I would 100% want to do it. I had the best time on that set."
---
His Dark Materials Season 2 airs Monday nights on HBO in the US and Sunday nights on BBC One in the UK.