At a press conference with the cast at New York Comic Con ahead of the anticipated panel for The Walking Dead, talk turned to the tricky relationship between Daryl and Dwight.
Dwight has been the cause of much trouble and strife for Team Rick, and for Daryl in particular who had to suffer at the guy's hands when he was imprisoned at the Sanctuary. One of Negan's right-hand men, Dwight also memorably took Daryl's bike and beloved leather vest.
So with this in mind, it's not surprising that, come the end of Season 7 when Dwight comes running to Alexandria with his tail between his legs, Daryl is reluctant to trust him.
Having followed Dwight's story closely, as an audience we have some sympathy for him going into Season 8. But how will Daryl and Dwight's relationship play out in upcoming episodes?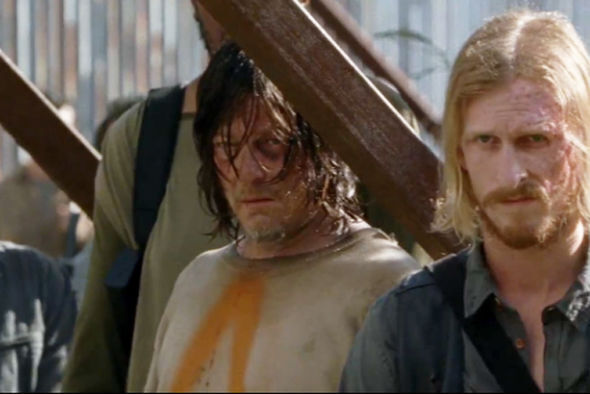 Sussing Each Other Out
Austin Amelio, who plays Dwight, told assembled members of the press: "In Season 7, Daryl comes in and he kind of gets an understanding of what I'm going through. But it's still very much [like] we're kind of sussing each other out the whole time. I think that will probably continue for a while."
Norman Reedus, who plays fan-favourite Daryl Dixon, added: "It's a cat-and-mouse game, that's for sure. You have sympathy for each other's characters because you do things in this world that you wouldn't normally do. So you understand it if you've been in it for a minute. But you go back and forth: can you trust him? Can you not trust him? Are you on our side? Are you not on our side?"
It sounds like we won't know for a while whether or not Dwight is legit or if he's double-crossing Rick and company. Which surely means we're in for a high-tension season that may not give us answers until its finale.
The Walking Dead returns to screens on October 22 in the US and a day later in the UK.