A new villain – the former star of a 1980s TV show called Evil Bratt – is terrorising Hollywood. When reformed supervillain and franchise antihero Gru fails to apprehend ex-actor Balthazar Bratt, he's fired along with his wife Lucy (voiced by Kristen Wiig) from his job at the Anti-Villain League.
When the Minions attempt to convince Gru to revert to villainy and he refuses, they head off on their own escapade. But then Gru discovers he has a secret twin brother and he's given a new purpose – to reunite with his long-lost sibling. Along with Lucy and the girls, he heads off to meet brother Dru, and so begins a new adventure that sees Gru and Dru teaming up to tackle this 80s-throwback adversary who harbours a serious grudge. Of course, things don't run smoothly…
1980s Nostalgia-fest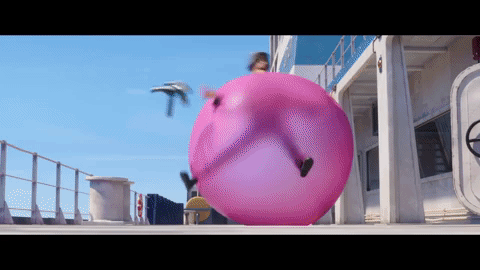 Audiences love the Minions. The tribe of little yellow henchmen who speak a nonsense hybrid language rely on physical comedy and farce, and recall old-fashioned slapstick comedians such as the Marx Brothers and the Three Stooges.
But Despicable Me 3 – the third instalment in the main franchise (not counting Minions spin-off films) – boldly incorporates a more overt throwback to another era. Capitalising on the current trend for 1980s nostalgia embraced by shows including Stranger Things, 13 Reasons Why and new Netflix phenomenon Glow, Despicable Me 3 tosses in a villain who's stuck in the era of giant shoulder pads.
Former child star Balthazar Bratt fell unceremoniously from the spotlight when puberty hit and his show was cancelled at the tail end of the 1980s. Blaming Hollywood for his tanked career, Bratt never moved on and held a grudge that he would eventually hatch a plan to act on. The Bratt we meet is older, sports a mullet complete with bald spot and the same sharp-shouldered purple jumpsuit and roll neck of his bubblegum-chewing TV character.
Thoroughly Kid-Friendly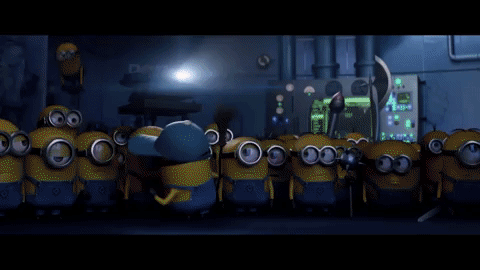 Cue a soundtrack stuffed with cheesy 80s pop tunes – everything from Michael Jackson's "Bad" and A-ha's "Take on Me" to Madonna's "Into the Groove" and Olivia Newton-John's "Physical". There are also (tired) old-school references to Rubik's Cubes and the Walkman built in, presumably meant for the delight of parents taking little ones.
There's even a passing reference to the Brat Pack. In the film, Bratt has an army of lookalike dolls he calls the 'Bratt' Pack. The Brat Pack – with one 't' – was, of course, the name given to a troupe of young and successful Hollywood actors from the 1980s, and included Emilio Estevez, Rob Lowe, Molly Ringwald and Demi Moore, among others.
But let's not be under any misapprehensions – despite these parent-friendly inclusions, this is a film that is through and through aimed squarely at children.
There's so much going on, there's no chance of even the youngest of young viewers getting bored, even if the same can't be said for the adults. It moves at lightspeed, stuffing in a number of narrative strands including one that sees the Minions head off on their own adventure – perhaps the least welcome and most distracting of all the threads. It's skit after skit after skit; a colourful, high-energy caper for kiddiwinks that's surprisingly, yet mercifully, short at around 90 minutes.
Sporadic Brilliance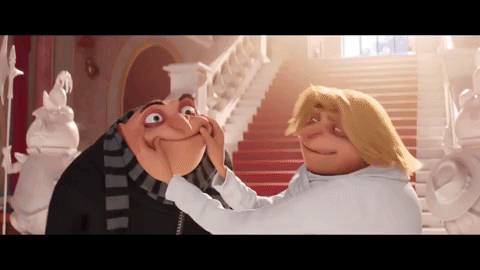 That isn't to say it's without its moments of brilliance for grown-ups. There are some clever bits, funny lines and not one but two outstanding voice performances from Steve Carell. All three of these strengths are combined in a scene where brothers Gru and Dru impersonate one another in front of Lucy and the girls.
Other highlights include Bratt and Gru engaging in a dance fight and lines like the moment Gru says his mum always told him his dad died of disappointment the day he was born. Pure gold. There are Easter Eggs to look out for too that are designed to raise a smile, including the scene in which the Minions encounter a clownfish that looks suspiciously like Nemo, and the Grinch T-shirt worn by one of Gru's little girls. It's the details that help Despicable Me 3 raise its game.
It's also a nice incongruous touch that Gru's full name is actually Felonius Gru, while his brother's is Dru Gru. And though it may sound busy, its varied zany story strands are all given plenty of care and attention, which results in a film of many parts that for the most part fit neatly together.
Is 'Despicable Me 3' Any Good?
There's enough novelty and invention still existing in this franchise to warrant a fourth instalment, which is set up at the end of the film. It also doesn't yet feel like the creative team has got to the point where it's simply going through the motions. The best animations are often those made with an adult audience front of mind, and the Despicable Me franchise definitely makes its young audience its priority. This means that although Despicable Me 3 is better than its predecessor, it's got some way to go to secure a place inside four-star territory.