Spoiler alert: This post contains spoilers from Episode 5 of RuPaul's Drag Race Season 10. Proceed with caution.
After walking into the Drag Race workroom as a legend of the Los Angeles drag scene and then winning the first challenge of Season 10, it seemed that Mayhem Miller was going all the way. But after failing to wow the judges in this week's improvised Bossy Rossy Show challenge, the SoCal queen was forced to exit in 10th place.
FANDOM caught up with Mayhem on the morning after her elimination — and after a night in which "everyone made sure I felt the love and made sure I felt the vodka, too" — to find out more about her experience on the show.
The queen explained that she usually works with designers to ensure she looks good on stage, so winning a design challenge taught her that she could make her own costumes and still slay. But life in the workroom isn't all fun and games, and she admitted that in a sea of big personalities, some queens just wouldn't allow girls to have a moment.
"You couldn't get a breath in sometimes," she said. "It was like being hit with a giant tidal wave over and over again and every time you come up for air you would get slammed back down again, so it was exhausting to have to deal with girls trying to pull focus all the time."
On this week's episode of Untucked, Asia O'Hara said she felt that Mayhem was currently the weakest link and the one she'd choose to go home, but it turns out Mayhem felt the same way about Asia.
"Her performance in the challenge I felt wasn't strong," the queen told FANDOM. "And her runway look I felt didn't follow the description that we were given. It was supposed to be denim and diamonds with a strong country flair … I didn't feel any country from it."
If Mayhem appears on a future season of All Stars, her dream cast is unsurprisingly filled with her SoCal sisters, including Ongina, Jasmine Masters, Delta Work, Mariah Balenciaga, and Morgan McMichaels.
"Of course I would love to have Detox cause she's one of my best friends as well, but she's a rowdy person. She'd be one of the girls I'd be like, 'Okay, shut up now,'" she said. "We just had a season full of New York girls, why not have all California girls this time."
But before we get another All Stars, we need to crown a Season 10 winner. And Mayhem's early elimination proves that anyone could leave at any time. But based on this week's episode and the season as a whole, here are our weekly power rankings of the remaining queens.
9. The Vixen
After weeks of skating by with lackluster looks, The Vixen was finally in the bottom for the first time this week. It feels like they've been keeping her around for the drama she causes, but after not starting any fights this episode (and even making up with Eureka), perhaps next week will finally be her last.
8. Monét X Change
It doesn't feel good to place such a talented queen so low on the list, but after lip syncing for her life twice in a row, Monét is going to need to really change her game plan to turn this ship around. And while it certainly feels like she can redeem herself, she is struggling to understand why the judges are placing her in the bottom, which makes it a lot harder to fix the things she's doing wrong.
7. Kameron Michaels
In the improv-heavy challenge this week, Kameron proved that not only does she actually speak, but she's able to pull out some acting chops and character work that will serve her well in the future. Even still, the further we get in the competition, the more likely she is to get swallowed up by the bigger personalities.
6. Aquaria
Aquaria is another queen who proved this week that she can step up to the plate and give a decent acting performance when she needs to. And it's hard to deny that this young queen knows how to turn the looks. But as we get closer to the end, queens who really know how to create crazy characters are likely to outshine her.
5. Monique Heart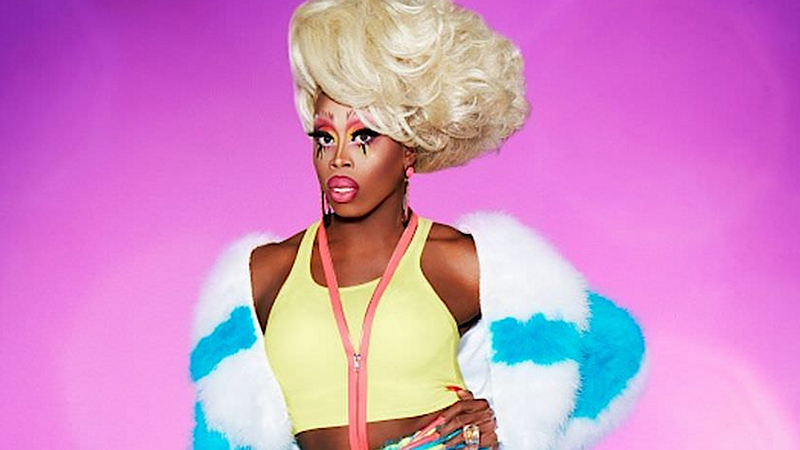 Monique was finally in the top three this week, after seeming to be snubbed week after week. The queen with a huge personality has been delivering unique looks on the runway and proved on the Bossy Rossy Show that she can make us laugh just as much in acting challenges as she does in the workroom. Now that she got some attention from the judges, it will be interesting to see where they place her next.
4. Blair St. Clair
Blair is the little ingenue that could. While most viewers wrote her off as one of the first to go home, the young queen has proven herself each week. Her Old Hollywood style helps her stand out from the rest of the queens and her theater-queen skills should come in handy in future challenges. Without a major stumble, this queen is quietly working her way to the top.
3. Asia O'Hara
Asia landed in the bottom last week for spending more time helping others than working on her own outfits, and it's a mistake she does not plan on repeating. Already coming onto the show as a legend in the drag world, she has delivered enough over-the-top looks and is strategic enough in challenges to climb her way to the top three.
2. Eureka O'Hara
Eureka won this week's challenge thanks to her performance as a giant sexy baby and landed in the top last week as well. She seems to be over her momentary lack of self-confidence and is reminding us more of Season 9 Eureka, who seemed like she could go all the way in the competition. If she stays on this trajectory, we won't see her sashaying away any time soon.
1. Miz Cracker
Always the bridesmaid, never the bride, Cracker seems to be in the top each week but has yet to win a challenge. But even without a win, she's still the one contestant who seems like a shoe-in for a spot in the final three. And Mayhem agrees. "I would say Miz Cracker has a full package and a fully realized character and a point of view in her drag," she said. "I think she would be a good ambassador for the brand of RuPaul's Drag Race."