In a sea of drag queens full of big hair and caked-on makeup, Trixie Mattel still manages to stand out.
From the moment the Drag Race fan favorite bounced into the workroom on Season 7, viewers were mesmerized by her extreme contouring and Barbie-like aesthetic. Trixie beats her mug unlike any other contestant in the show's history, but she didn't always make herself up that way.
At the start of her career, the "Moving Parts" singer painted her face in a more traditional manner but revealed that she was getting bored with the look and almost on the verge of quitting drag altogether.
Luckily for fans, Mattel instead realized that she was the one who created her stage persona and so she had the power to turn it into anything she wanted.
From then on, she started experimenting with different looks that turned her into more of a doll than a human. The queen said she found inspiration in toys that she always wanted to play with as a kid, but that society frowned upon.
And so, her giant expressive eyes took on the shape of characters from My Little Pony. Her silhouette was inspired by Polly Pocket. And her extreme contour helped to make her look like she was made of plastic, just like a Barbie.
In fact, the queen's name is even connected to the famous doll. Her first name comes from her stepfather calling her a "Trixie" when she acted effeminate as a young boy, so she reclaimed it to take away its power. But she chose Mattel as her last name as an homage to the makers of Barbie, the toy that has inspired her look the most.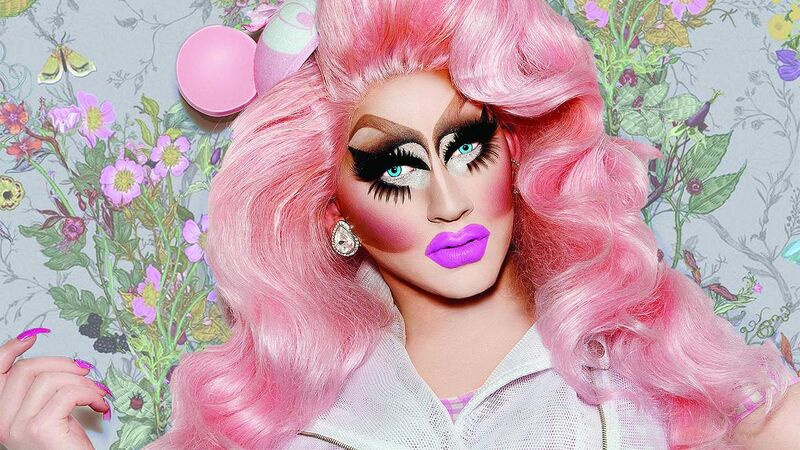 Trixie has said she wants to look like the most made-up person in the world, daring fans to find a place on her face where more makeup could be added. It's a look that helped her stand out from the crowd, but not everyone is a fan.
Season 8 queen Acid Betty attacked Mattel's look when she popped up on screen for a message to Kim Chi during an episode of the backstage series Untucked. "Look at that ugly makeup, let's be honest," Betty said. "That nose contour is atrocious."
Mattel famously confronted Acid Betty for the comments during the taping of the Season 8 Drag Race finale, making it clear that she's not bothered by the criticism.
While Trixie's overexaggerated makeup may have helped her instantly gain attention from fans, she's now forging a place for herself in the entertainment industry that exists beyond her Barbie persona and outrageous look. The queen released a successful folk-country album in 2017 and currently stars in The Trixie & Katya Show on Viceland. Not to mention she's still in the running to win the current season of RuPaul's Drag Race All Stars 3.
It seems that life in plastic really is fantastic.