Black Panther is due in theaters in two weeks, Avengers: Infinity War is due in just three months, and Marvel's third film due this year, Ant-Man and The Wasp, is just beginning to gear up. The ant-sized film made a big splash today by uploading its first teaser trailer.
The trailer featured the film's returning cast Paul Rudd, Evangeline Lilly, Michael Douglas and Michael Peña, as well as some newer actors the Marvel universe, like The Matrix legend, Laurence Fishburne. The trailer featured a flashback to Captain America: Civil War, some epic car chase scenes, and a look at Hope's new superhero identity: the Wasp. Let's break down some of the trailers coolest moments.
The Wasp Suits Up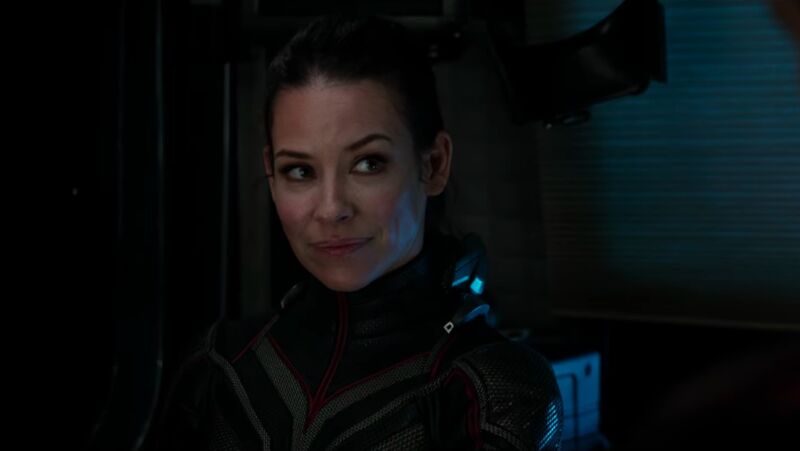 Hope van Dyne made her first appearance in Ant-Man, as Hank Pym's daughter. While she was fully capable of wearing the Ant-Man suit and controlling the ants, her father wanted to keep her safe, thus he hired Scott Lang to wear it. At the end of the film, Hank presented Hope with her very own suit to which Hope appropriately said, "It's about damn time."
In this trailer, Hope is completely suited up. She has wings, she has blasters, she has the suit every girl dreams of. Scott is dreaming of her suit too, because it's superior to his in design. The trailer opens up with Scott asking Hope a very specific question: "When Cap needed help, if I had asked you, would you have come?" This question clearly shows that the film is not going to shy away from Hope's absence in Captain America: Civil War.
Giant Man Returns
As the trailer continues, it reveals that Scott is in trouble, again. He's under FBI house arrest, which puts the Pyms in danger. Hank shrinks his old office down and they all go on the run. They don't go too far though, as San Francisco can be seen in the background of this shot of Giant Man. Something will cause Scott and Hope to suit up, something that requires the return of Giant Man.
Giant Man — Scott's Ant-Man suit when it's been super-sized — made it's first Marvel Cinematic debut in Captain America: Civil War, during the epic airport battle. Scott super-sized himself to help Cap and Bucky escape Tony Stark and the Avengers at the Berlin Airport. Spider-Man had fun taking him down by re-enacting the scene from Empire Strikes Back. It would appear that the skills and size of Giant Man will be needed in this film as well.
The Villain Materializes
The trailer also features unique looks at the film's villain, Ghost. In the comics, Ghost was a super hacker, hired by the Roxxon Corporation to sabotage Tony Stark. The comic book version of Ghost could also dematerialize, become invisible and interface with all kinds of technology.
In the trailer, Ghost's hand comes in and out of focus. When we see Ghost again, she's fully suited up, as you can see in the image above. The film's Ghost is played by actress Hannah John-Kamen, who can also be seen this year in Tomb Raider and Ready Player One. There's also a shot in the trailer of Laurence Fishburn's character Bill Foster in Ghost's chambers. Perhaps he helps create Ghost's phasing ability?
The Quantum Realm Returns
The trailer also features a curious looking ship. The ship, which can be seen above, is likely a rescue pod for the quantum realm. That only means one thing: Hank, Hope and Scott are going to try to save Hope's mom, Janet van Dyne! We already know that Michelle Pfeiffer is playing Janet and now we're sure she's going to be rescued!
Oh, and if you thought you recognized the song in the trailer, you did! As one Twitter user pointed out, the song is "Ant's Invasion" by Adam and the Ants.
Ant-Man and The Wasp hits theaters on July 6, 2018.