Quibi's new sci-fi thriller, Don't Look Deeper, which premiered July 27, is a look at a teenager whose entire world begins to unravel after she makes a truly disturbing discovery. Set in a technologically-advanced world "fifteen minutes from now," in California's Central Valley, Don't Look Deeper examines both the horrors and wonders of A.I. and the themes of what it means to be truly alive. Directed and executive produced by Twilight's Catherine Hardwicke, this 14-episode series will race you through a bevy of dangers as the nature of existence itself gets called into question.
The Story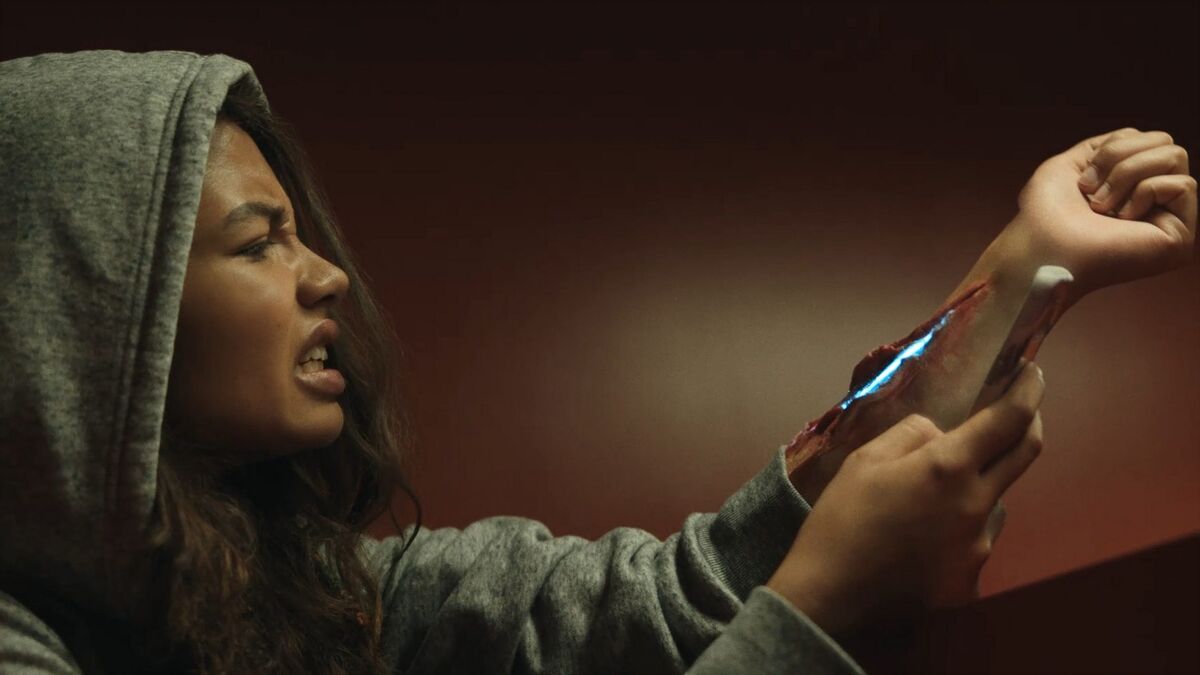 High school senior Aisha seems to have a solid, ordinary life — a popular boyfriend, art school plans after graduation, a loving father — but all that comes crashing down one fateful night when she falls and cuts her arm. It's then she discovers parts inside her that resemble those from the many humanoid service robots that assist at her school.
Aisha's always felt something's been off about herself. Occasional blackouts have only reinforced her idea that she's somehow not a part of everyone else's reality. But after (literally) peeling back her own layers, she comes to learn the radical truth that she might not even be a human being. And who can she even turn to with this shocking revelation? Her best friend? Her dad? Her therapist? Who already knows about her, and how deep does the conspiracy run?
The Cast and Creators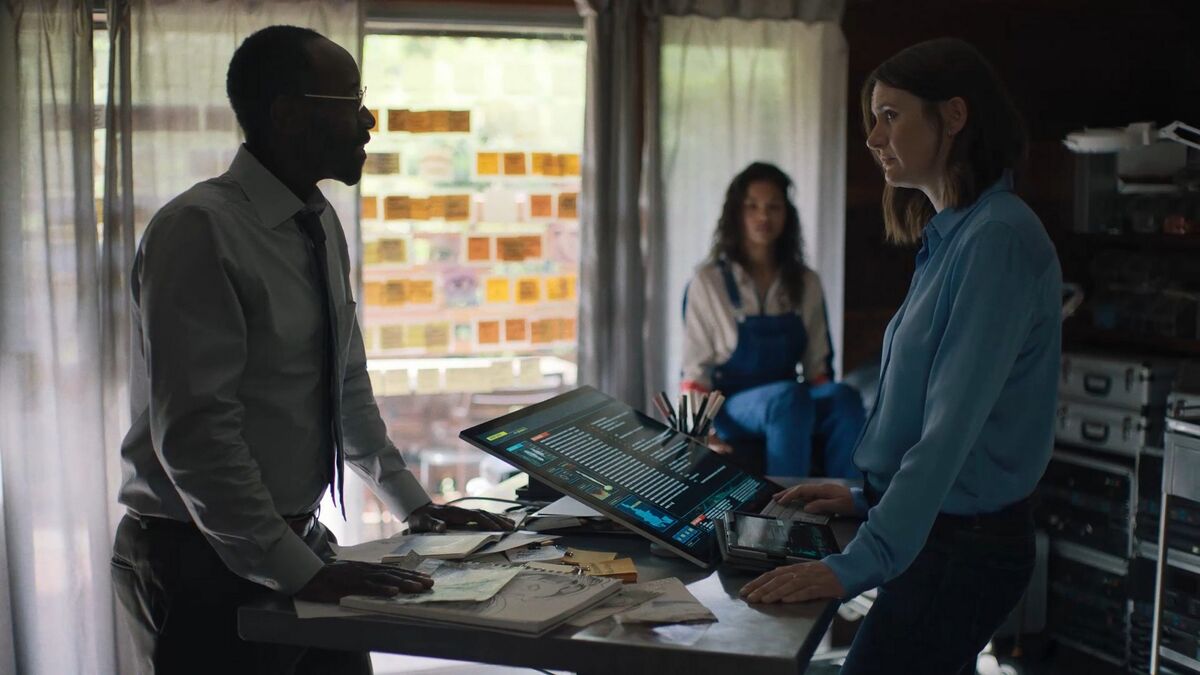 Don't Look Deeper stars Helena Howard (Madeline's Madeline) as Aisha, the teen who finds out she might just be her school's top prize science project. An Academy award-nominee for Hotel Rwanda, and familiar to audiences everywhere as the MCU's War Machine, Don Cheadle plays Aisha's well-meaning father, while The Newsroom's Emily Mortimer plays Aisha's therapist.
Belissa Escobedo and Jan Luis Castellanos co-star as Aisha's BFF and boyfriend, respectively, while Ema Horvath plays a classmate, a robotics scholar who Aisha reluctantly turns to for help.
Directing all 14 episodes is Catherine Hardwicke, who knows a thing or two about teenage outcast stories having helmed Thirteen and Twilight. Hardwicke is the perfect choice to craft a story that's harrowing…but also relatable. Because what teenager hasn't felt like they're on the outside looking in? Like they're a social pariah? In this case, it's a young woman who literally feels disconnected from her own body.
Don't Look Deeper is co-written by Charlie McDonnell and Lost co-creator Jeffrey Lieber (The Originals, Lucifer), who also serves as showrunner. Co-creator McDonnell is a notable presence here in the streaming landscape as he began as a popular YouTube star and musician.
Artificial Intelligence Among Us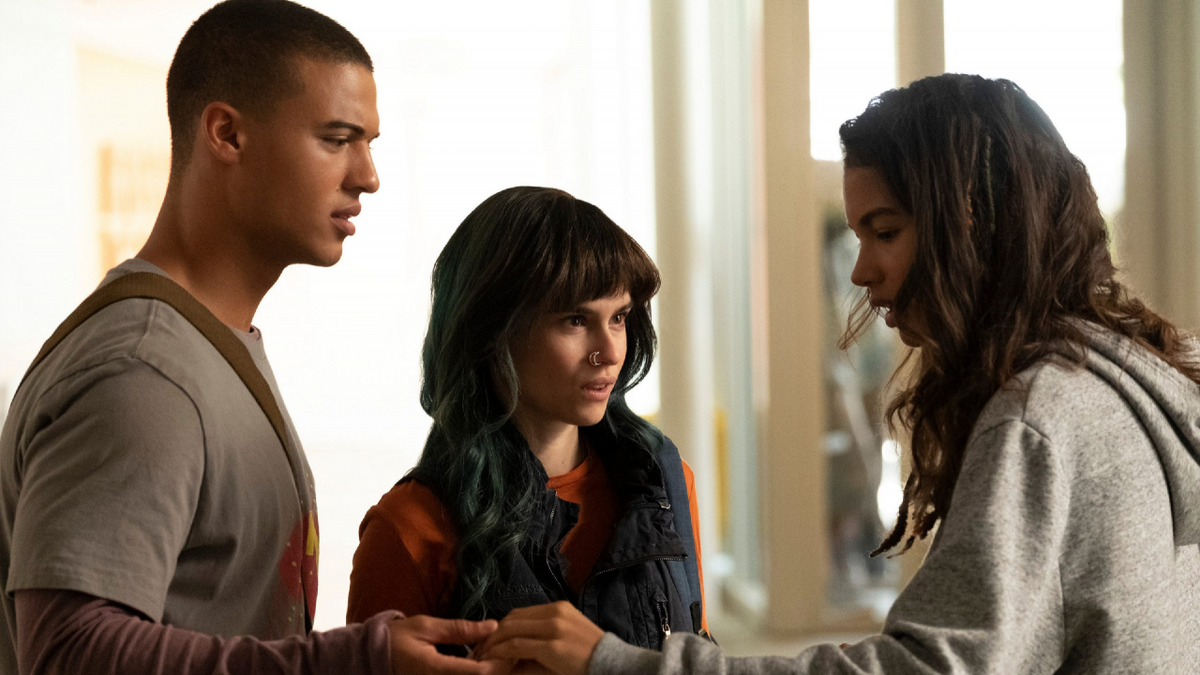 Fans of movies and TV shows that focus on Artificial Intelligence, whether it's an action classic like The Terminator or HBO's mind bending Westworld, will dig Don't Look Deeper's exploration of the topic, and the blending of A.I. themes with teen angst. Not knowing exactly when Don't Look Deeper takes place, other than a near future where A.I. exists seemingly in a service-only capacity, allows the show to take viewers on a ride where everything Aisha learns about herself feels like a nightmare.
At her Merced, California school, A.I. is utilized in the form of human-looking robots who assist the students and faculty with daily tasks. And while these carefully-coded bots resemble humans, they don't come close to matching the realism, and naturalism, of Aisha, who, if she is indeed truly not human, seems designed to seamlessly blend in with other people.
But to what end? Is she the first of her kind? Was she designed simply for the sake of A.I. exploration or do her creators have something more sinister — and weaponized — in mind? All of this is answered on Don't Look Deeper as Aisha investigates her life and navigates through the puzzle it has become. Is she a copy of someone who once existed or were her dreams, desires, and memories just fabricated out of thin air?
Along with its intriguing A.I. story, Don't Look Deeper also dips its toe into the realm of reality busting. Similar to movies like The Matrix or The Truman Show, where the heroes learn their entire world is false, this new Quibi series will pull back the curtain on a world just hidden beneath the surface of a serene suburb.
Don't Look Deeper is available now on Quibi.