It's Evo weekend once again! Three days where the fighting game community descends on Las Vegas to take part in tournaments for not only the current, major titles, but also side tournaments in loads of others. It's a real celebration of the genre and the people who play the games, and with anyone being able to enter and, hypothetically, win the whole damn thing, there's plenty of room for upsets and excitement over the new few days.
Now, if you're the sort of person who knows what a V-Trigger or an Instant Overhead is, then this article isn't for you – shut this window now, you're already set and ready to enjoy some of the finest fighting game action of the year – but if you're not, if you're someone who likes the idea of watching some high-level competitive fighting games, then we've got you covered!
It would take ages to cover every game being played at Evo, and even longer if we were looking to explain the minutiae of their individual systems, so we're going to focus on the five games who have their finals taking place at the Mandalay Bay event center on Grand Final Sunday, what they're like to watch and what rivalries/storylines are currently taking place in the FGC as we head into Evo 2018.
Guilty Gear Xrd Rev 2
In recent years, one of the most memorable and viral Evo moments took place in Guilty Gear Xrd Rev 2, when Woshige stood up prematurely, thinking the match against Ogawazato was over, and ended up getting absolutely leathered. Perhaps not the way ArcSysWorks expected their stunning 2D anime fighter to be showcased on ESPN, but hey, that's sometimes the way things work out!
Guilty Gear is a stunning looking, extremely technical game that casual viewers may not truly appreciate, as there are so many systems at play at any one time. Bursts, Roman Cancels, all stuff that Xrd does a great job at explaining in the game's fantastic tutorial, but visually, when you're playing, not so much. It is still a really striking game, with unique characters and some truly OTT special moves that make it easy on the eye, if a bit impenetrable for new viewers.
The game is dominated by Japanese players. Last year's winner OMITA, NAGE, Machabo and FAB are all strong players looking to take the big prize, while LostSoul, sponsored last year by Street Fighter legend Justin Wong, is likely the only real hope of a non-Japanese top eight placement. This may be Xrd Rev 2's final year on the Evo main stage, so it'll likely be an exciting last tournament!
Super Smash Bros. Melee
In a much earlier slot that usual this year, the ever-popular Super Smash Bros. Melee has had a leading slot at Evo almost every year, and attracts a large, devoted base of fans and players. There's always spirited debate as to whether it is a fighting game or not, but there's no denying that Smash is a very clear and easy game to follow for the casual viewer. First of all, it's Mario and his mates up there, not some daft anime lads and lasses. Instantly recognisable.
Secondly, it's a very visually clear game, with points scored when an opponent is knocked off the side, bottom or top of the screen. Sure, there's heaps of extremely technical and skilled movement taking place, but for those tuning in for the first time, Smash is a game that you can pick up and follow fairly quickly.
Over the years, there's been three major winners of Smash Bros – Mang0, Leffen and Hungrybox – and with this looking like it'll be the last time Melee is a featured game at Evo, it represents the last big chance for a lot of the other players to get their name on the podium. Plup, Mew2King, Wizzrobe, Zain and more are great players with tournaments wins to their name… but they've never taken Evo first place. Who will be the last Melee Evo Grand champ?
Tekken 7: Fated Retribution
The only returning game to have an increase in participants from last year, Tekken 7 has gone from strength to strength over the past twelve months. It is a game that requires, much like Smash, some serious manipulation of the way characters move around the screen. The main one is the backdash cancel, which results in characters looking like they're sliding on ice when backing away from their opponent. It looks a bit silly, but it is a technique top players practice just as much as their combos.
On a basic level, however, Tekken 7 is fantastic to watch. Flashy combos combine with some really smart visual cues, slow motions and a camera zoom when both players go for finishing blows create instant hype – it's impossible not to go "OHHHHH" when you see one of those finishes!
Tekken 7 has traditionally been dominated by South Korean players, with JDCR and SAINT featuring in every top eight of every tournament they take part in. They're usually the last two. Recently, a few other Korean players have started to gain some ground on them – Qudans, JeonDding and kkokoma especially have been putting in impressive performances on the Tekken World Tour as of late.
There are also a few US players who have a strong chance of making the top eight on Sunday, with Anakin and JoeyFury leading the charge. There have even been some solid European players placing highly, with Fergus and Super Akouma being seeded fairly highly for this event. Realistically, a South Korean win is expected, so any other Nationality in the top 8 is going to be deemed an underdog.
Dragon Ball FighterZ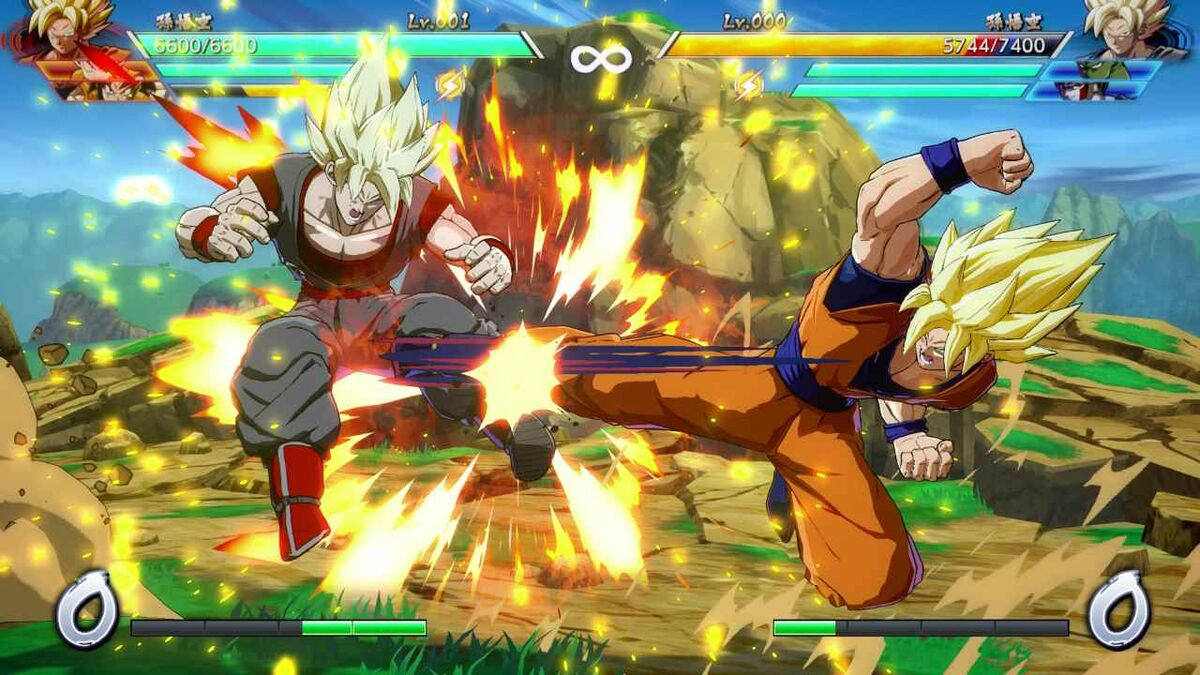 This year's game with the most entrants, Dragon Ball FighterZ (DBFZ) becomes the first game to knock Street Fighter V off its perch since release, and yet, controversially, it isn't going on last on Grand Final Sunday. Much antagonising has been done over the numbers, but regardless, the top eight of DBFZ is going to be one of the most hype of the entire weekend. Visually, the game is an absolute treat.
Saying it looks like an interactive episode of the cartoon is entirely accurate, with ArcSysWorks' anime style suiting Dragon Ball perfectly. Based on this alone, it's a joy to watch, with popular characters slinging fireballs at each other and taking part in wild aerial combat. There is a downside, however. Sometimes, during the frantic scrambles, it's quite hard to understand what exactly you're supposed to be looking for. There's also a fairly well-established meta already, so expect to see most teams featuring Bardock or Cell. Or both.
Early on in DBFZ's competitive life, the two top players were America's Sonicfox and Japan's Go1, who duked it out at various tournaments and, especially in the case of Go1, seemed unbeatable and an shoe-in for Evo Grand Finals. However, in recent months, other contenders have popped up, winning a few tournaments, giving those two a real run for the prize money.
Japan's Dogura, Fenritti and Kazunoko, Anime game legends, have been performing incredibly well, while HookGangGod, ApologyMan and dekillsage have been holding it down for the US side. The main thing here, is not only which player is going to win the first DBFZ tournament at Evo, but which Nation will they be representing? Real bragging rights are on the line here.
Street Fighter V: Arcade Edition
 The MAIN EVENT. The biggest stop on the Capcom Pro Tour for the game that remains the flagship – the face – of fighting games as a competitive sport. Street Fighter V is always guaranteed excitement, not only because of the high level of skill the players exhibit, but also down to the fact that the systems unique to the game, specifically the Crush Counters and V Triggers, are designed to allow for huge comebacks for a player seemingly on the ropes.
This leads to some back and forth action and, regardless of whether you understand the technical aspects of what is going on, a player overcoming a huge life lead to take a round is a moment of obvious hype. Of course, the game looks great, and it's full of characters and moves many have real nostalgia for, regardless of how close they follow the game in the present day.
America has never won the big Street Fighter tournament at Evo. Ever. Last year seemed to be their best chance, where Punk dominated his way through the entire tournament field on his way to Grand Finals, where the Japanese veteran Tokido managed to mentally crack the young Punk before taking the prize in a truly memorable set. This year, the Japanese players have really hit their stride. Fujimura is winning everything under the sun, Tokido is still a threat and legend Daigo Umehara has hit a rich vein of form.
The USA has an amazing roster of young talent, Punk, Smug and NuckleDu all have a real chance of making top eight and beating anyone on their day. Europe, however, unlike most of the other games, has a few real threats in SFV. Norway's Phenom, former Evo winner Luffy from France and the UK's Problem X are all very possible top eight players this weekend, so expect a fair spread of talent from across the globe. Street Fighter V very much defines the 'World Warrior' spirit the series has always talked about!