If you have a person on your holiday shopping list who loves the increasingly ridiculous Fast & Furious film series, you might be at a loss for where to start your shopping. We understand: It's surprisingly tough to know where to start, even though the franchise has raked in over $5 billion worldwide so far. (Unlike, say, Star Wars, which is basically made of toys and Halloween costumes.)
Don't worry, though. We've looked high and low (and fast and furious) to find some solid ideas to help you make your car-action movie fan happy this season.
FAST & FURIOUS: 8-MOVIE BLU-RAY COLLECTION ($89)
Odds are your Fast & Furious superfan already owns all of the movies — even Tokyo Drift, which is mostly bad. But if they don't, they'll be pumped to receive the best versions possible.
This eight-movie collection includes both Blu-ray and digital HD versions of the whole series so far. It also has another full disc full of bonus material, featurettes, outtakes, and all the other stuff your friend or family member will need to really put on their nerd hood.
It's the definitive collection of the franchise … until the inevitable ninth installment comes out. But until then, this is everything a fan will need.
—
Available for $89 from Target and Best Buy.
AUTOGRAPHED MOVIE SCRIPTS ($226)
Reading the script for a favorite movie offers a new perspective on the work. It lets a fan check out some of the scenes and dialogue that didn't make it to the screen and even create a new version in their head.
Owning a physical copy of the text is the next layer of geekiness, and owning a copy that also bears the signature of one of the people who helped bring it to life is … well, it's maybe a little obsessive, but it's still pretty cool.
Hollywood Memorabilia has scripts from the first, fifth, and seventh films with autographs from director Justin Lin and actors Michelle Rodriguez and Jordana Brewster. They'd make a unique addition to your fan's collection.
—
Available for $226 from Hollywood Memorabilia.
FAST & FURIOUS POPS BY FUNKO ($10)
Funko has a cute Pop figure for any fanhood you can imagine and some you hadn't even considered. If you can watch, read, or play it, odds are very good that Funko makes toys for that thing.
Fast & Furious is no exception, and the company offers a trio of plastic statuettes for fans. They have Dom, Brian, and Hobbs. Resourceful shoppers can probably still track down the extra-special deluxe set that comes with a Dom figure and his iconic Dodge Charger to get a little American Muscle on their loved one's shelf.
But if all else fails, you can just pose the plastic guys next to one of those radio-controlled cars up there and call it a day.
—
Available for $10 from Entertainment Earth and Amazon.
OVERDRIVE: FAST & FURIOUS EDITION BY ANKI ($199)
Featured sponsored product. The super-smart car racing and combat game is getting some star power this year with the Anki Overdrive: Fast & Furious Edition.
In Overdrive, players use their iOS or Android smartphones to control their chosen vehicles as they race around the track and battle their opponents. Each car has its own special weapons and attacks, and Overdrive boasts a variety of game modes and objectives to keep things interesting.
This special edition lets fans relive the automotive showdown between Luke Hobbs (Dwayne Johnson) and Dominic Toretto (Vin Diesel) in the most recent film, The Fate of the Furious, in addition to other iconic moments from the franchise — each complete with dialog pulled straight from the films. It also includes tiny, battle-ready versions of the movie's International MXT and Dodge Charger along with everything you need to get rolling.
—
Available for $199 from Anki and Amazon.
"CARS DON'T FLY" SHIRT ($19)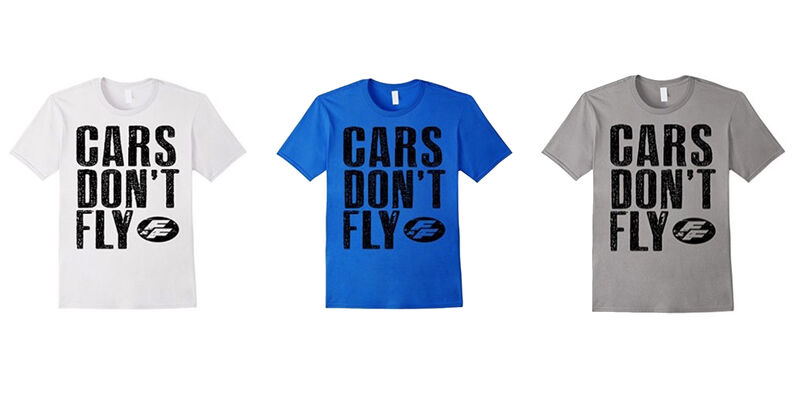 T-shirts let fans wear their love and display it to others. They're a pretty quick, easy, and cheap way to show one's appreciation and seek out like-minded folks to help them nerd out. And if the fanhood isn't immediately apparent, that's even better.
This shirt references a funny repeated line in Furious 7. It starts as something cute that Brian tells his kid while he's playing with his toy cars. But he repeats it later on just before Dom drives himself and Brian out of one giant skyscraper and through another one.
It's great because the reference and source isn't obvious, so it works as a test. The wearer knows that if someone gets it, they should be friends.
—
Available for $19 from Amazon.
STAINLESS STEEL CROSS NECKLACE BY OSTAN ($9)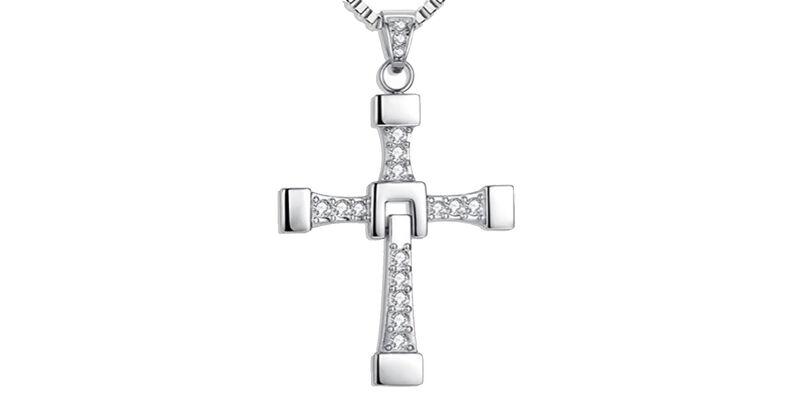 One of the most enduring and iconic elements in the Fast & Furious series doesn't have an engine or even wheels. It's the distinctive cross pendant that Dom Teretto wears around his neck.
He typically wears a stainless steel version, but sometimes he gets slightly fancier and brings out a gold variant. This is the classic version, and fans who want to capture that look would appreciate this necklace.
It's a distinctive piece, mostly because the lower part pivots independently from the rest of it. That's not super useful, but it looks really cool and offers extra opportunities for absent-minded fidgeting.
—
Available for $9 from Amazon.