A defeated Ming the Merciless unskewers his own body from the pointy nose of the careening aircraft that just crashed and burned into the imperial palace, upsetting his wedding ceremony and piercing him through his belly in the process. After he steadies himself, the despotic ruler is confronted by the man responsible. New York Jets quarterback, Flash Gordon, tricked and taken into space by a certain Dr. Hans Zarkov fleeing Ming's attack on Earth, has united the warring populations of Mongo to face off against their common enemy. And now, about to claim victory, the Earthling football star brandishes a garish golden sword over an Emperor Ming spilling green blood from the hole in his middle.
Conceding defeat in this particular battle, Ming activates his magical ring, and dematerializes right before our eyes. The ring clatters to the floor. A timer counts down to zero. "Long live, Flash. You've saved your Earth. Have a nice day," says the floating security robot. Prince Barin steps forward and Hawk Men leader Vultan declares the moustachioed Arborian leader the new ruler of Mongo. Barin promptly ushers in a new era of peace. But is Ming dead? It seems not. Famously, the closing moments of Flash Gordon show a black-gloved hand reaching in to pick up the ring from the floor, then Ming's laughter can be heard. The words 'The End' appear, before a question mark emerges.
This is the denouement to the cult classic colour-drenched 1980 big-screen version of the popular 1930s comic book, the film George Lucas wanted to make before being denied the rights and crafting his own space adventure (you might have heard of it). In celebration of its 40th anniversary, we're looking back on the Mike Hodges-directed wonder with Flash Gordon himself, Sam J Jones, talking about a long-delayed sequel… as well as sexy execution shorts, an overdue meeting with the other Flash from the film, resurrecting a long-forgotten TV series and memories of dearly departed cinema icon, Max von Sydow.
The End?
So what did happen there at the end? I'm probing for an answer to a question fans still debate today, and also looking for hints toward what might have transpired in a planned follow-up.
"I think it's pretty obvious," says Jones, grinning. "We don't know if that was his hand… or was it Klytus's hand that picked up the ring? Was it somebody else's hand with the glove on? We don't know."
Klytus, Ming's right-hand man, was apparently killed following the duel with Flash on the spiked platform at the Hawk Men's Sky City. (How could you forget his eyes and tongue bulging out of his skull? Thank goodness the scene remains intact in the 4K restoration…) If we know anything about comic-book stories, however, it's that death isn't always final. Perhaps it is Klytus, then – pitching up at some point after the events of the film to snatch the ring and absorb Ming's essence from it to become Ming II, as one fan theory has it.
Another prominent fan theory suggests that the hand that reaches in and grabs the item of jewellery does indeed belong to Ming himself. The theory goes that after having transported himself via the jewel, which acts as a portal, to the alternate dimension he (potentially) came from, Ming returns after a period of healing to collect the ring and wreak havoc on Mongo once more.
"That sounds good," says Jones. "But you don't know. I think it's a great concept." And it could work in a sequel.
"I think people are ready for anything," he says. "I mean, it has to make sense, obviously. Just don't do a sequel for sequel's sake. You want to be true to the inherent characteristics [and loyal] to the character [of Flash]. Obviously, you want to maintain that. All the Flash Gordon comic books from the '30s on, there are so many unique stories [that could work in a sequel]. We didn't even get into it in the first part — with the Lion Men, the Lion Women, the women who were from Arboria…"
What Next For Flash and Dale?
The conversation turns back to the ending of the '80s classic, and whether Flash and Dale Arden would have returned to Earth. Arden expresses a desire to go back to New York in her closing lines.
"They should return but they should be called back," says Jones. "The only reason why they can't return [immediately] is because they don't have the proper jet propulsion on Mongo. But maybe Zarkov can design that. So I think they should return after Zarkov designs that and then they will be called back to Mongo again because maybe there's another villain that's raised its head against Prince Barin – now King Barin, right? Or another planet invaded."
All great jumping-off points for the follow-up fans are still waiting for. Not that there hasn't been talk over the years – "Multiple different reputable proven producers have been involved, for whatever reason" — and they've even come pretty close latterly, with Kick-Ass and Kingsman director Matthew Vaughn volunteering to tackle a live-action follow up not so long ago.
The story goes that at the time of filming the original, Jones fell out with producer Dino De Laurentiis, and that nixed plans to shoot a second movie. Some reports say a sequel was slated to shoot straight after the first to take full advantage of the sets. Indeed, director Mike Hodges was initially approached not to helm this one – Don't Look Now director Nicholas Roeg was already on board to take charge of Flash Gordon 1 —  but to take charge of writing and directing the sequel. Before Roeg and De Laurentiis parted ways and Hodges was drafted in to take over duties on the cult original.
"I met with [Twentieth Century] Fox five and a half years ago," explains Jones of the resurrected sequel discussions. "They were going to do a live-action; they brought Matthew Vaughn on board. And so Disney came in after five years, [having] bought Fox and they said, 'Great idea about the live-action Flash Gordon but we're going to hold off right now; we're going to do an animated version [with Taika Waititi].' Okay, that's the way it is. But I'd love to be part of it."
In fact, he goes so far as to say he'd want to be Flash – and fans surely wouldn't argue with that.
"I'd want to be Flash Gordon," he explains. "We all understand the formulas for a movie. You always have to have the younger good-looking guy and good-looking girl, of course, we know that. You have to. That's part of the formula. But you've also got to have the seasoned, rugged, mature guy. Like me, like Flash Gordon. A guy that's been around."
A sequel could feasibly feature Jones as an older Flash, and a younger hero who, potentially, is the son of Flash and Dale Arden.
"If, for some reason, [the Disney live-action sequel] isn't going to happen I would love to be in a position in the future to make it happen myself," he adds. Disney, watch out.
So what would his version look like? Here's a clue: "Of course, Ornella Muti as Princess Aura, the way she was dressed, and Melody [Anderson as Dale] and Mariangela Melato [as Kala]…" he says. "It's a visual masterpiece, so if they just keep [a sequel] inherent to that — the visual masterpiece with the production design and the costumes and being true to the characters — you'll have a great success."
"Sexy" Execution Shorts
I wonder if being true to the costumes means the return of Flash's black leatherette execution hotpants. Alas, he doesn't have the originals in his possession.
"No I don't," he states. "But I have the only Flash T-shirt remaining. They made probably 8 or 10 and they were destroyed during the fight scenes. And I have the only one to my knowledge."
That's got to be worth eBaying if times get hard. Back to hotpants, and the most pressing unanswered question surrounding the entire film: were they simply Flash's existing underwear or did Ming's people slip them on him specifically for the execution ceremony?
"No one's ever asked me that, I've never even thought of it," he says. "I guess you have to say, no matter what you look like, if Ming is going to execute you, they have to put those hotpants on you. I guess. It's a great point. Those are the execution shorts. Why not? Why not look a little 'sheckshy' before you're executed?"
Belated Reunion With the Other Flash
While Flash in hotpants was all Sam Jones, his voice most definitely wasn't. Notoriously, parts of his performance were dubbed by voiceover artist, Peter Marinker. There are conflicting reports about why the dubbing took place with most ultimately suggesting that Jones refused to return for the recording, for one reason or another. Jones suggests it was more to do with his schedule at the time. However, for a long time, the voice actor's identity was considered unknown, including to Jones.
"Peter Wyngarde [who played Klytus], last year he told me he actually knew the guy," says Jones. "And then I bumped into a producer, and he said, 'Oh I know the guy, I have his contact information.' I said, 'Well, good — give him my contact information, I'd love to say hi to him.' He did a pretty good job. It was hard, that time, [but] it was what it was. I had another job, I couldn't get back to London to do the looping and dubbing and it turned out the way it was."
Jones says he's still waiting to hear from Marinker – so if you're him and you're reading this, please get in touch. The world needs a Flash/Flash reunion.
"The guy did a good job," he adds. "I didn't have now or even then a James Earl Jones-type speaking voice but I just felt that he was a little bit higher octave [than me] in some of the scenes … I felt it was a little bit higher than my normal speaking voice. But that's what it was."
Max Von Sydow's Sage Advice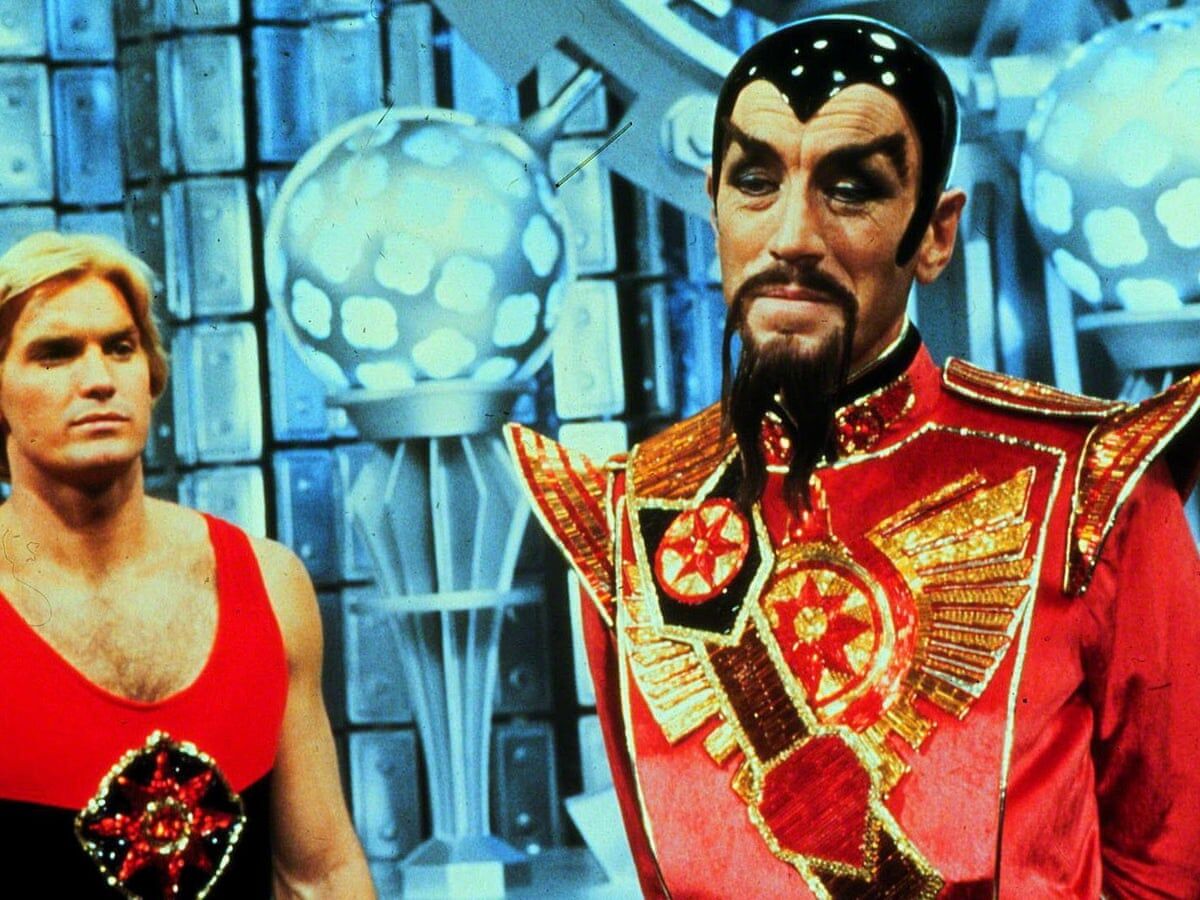 The conversation turns to co-star Max von Sydow, who sadly passed away earlier this year.
"[My experience working with him] was wonderful," says Jones. "He was sort of a mentor, too. It was time to do my close-up and so they turned the cameras around on me. Back then, with film, it would take two or three hours to do the next camera set-up. Long story short, I told him, 'Max, you don't have to come back and wear your uniform, your costume. You're off camera – take it easy and relax.' He was brilliant, he said, 'Don't tell me how to do my off-camera lines. The camera's on you right now and my job is to bring the very best of you out because they're doing your close up. So, I will decide the best way. If it means I have to put my costume on even if I'm not on camera, I will decide the best way to bring the very best of you out.' I said 'Yes, sir. Okay.' And he said, 'Sam, and I expect the exact same thing from you.' Yeah! Thank you, Max.
It was one of the best tips he ever received in his acting career. This, and another piece of advice the acting legend gave him.
"He was making a point from a professional standpoint," continues Jones. "The camera's not on him, it's on me — so that actor's job is to bring the best of me out. However he can do it. And he told me that and it was brilliant. I mean it was my first lead role, you know. I went on to do 64 more films, and he was right. He was right. Because when I went on to do these other films — other than Ted, Wahlberg was incredible, very helpful — but all these actors, they didn't give me much of anything. And the second [piece of] advice was he told me to start saving my money."
Jones says that instead of eating with the crew some days, he and some of the others on the film would go to a restaurant for food.
"He said, 'I've noticed you had lunch. I've noticed at the restaurant you're paying for everybody's food. You need to save your money. You need to stop that." So the second [piece of] advice, it took me about 25 years to follow that instruction. But the first [piece of] advice about being a professional no matter what, I heeded those instructions immediately."
The Highwayman Revival
Which could go some way towards explaining why TV producing legend (and writer) Glen Larson was so keen to work with him again decades later when he began reviving some of the '70s and '80s shows he'd been instrumental in bringing to the screen first time around. Series like Battlestar Galactica and Knight Rider.
Larson had produced a short-lived TV series called The Highwayman back in 1987 that shared DNA with the likes of Knight Rider, Street Hawk and Airwolf. It starred Jones as the eponymous Highwayman, one of a team of federal marshals tasked with righting wrongs "where ordinary laws do not reach", aided by an 18-wheeler truck with a cab that turned into a helicopter.
"That was probably my favourite project of all of it," he says. "Why? Because… look at it [holds up picture]. It's a guy, for a guy. Dressed like the road warrior in Mad Max, he's got a big gun strapped to his leg — that big shotgun goes right down the holster. He drives a big truck, an 18-wheeler, he has a federal badge to do what he wants to do, and we got to film this outside in the great outdoors of Arizona for six months. Loved it."
So what of the reboot he mentions? "Glen Larson called me five years ago. He said, 'Sam, we're resurrecting The Highwayman, you're the guy, he's older now, we're going to do it.' And when Glen Larson says we're going to do it, we're going to do it. So we had the meetings, even the costume person came and fitted me, you name it. And then, all of a sudden, Glen Larson passed away. So I've been talking to the family who owns the rights, and it's really not that difficult if we want to continue forward."
While Sam J Jones might best be remembered for starring in an enduring 1980 cult classic, it looks like there's plenty more from the actor to look forward to yet.
A brand new 5-Disc Collectors' Edition is available to buy on August 10 in the UK to celebrate the 40th anniversary of Flash Gordon, which sees the film restored on 4K UHD for the first time ever. You can also catch the film in select UK cinemas from July 31.