Florence is falling in love through game mechanics.
From the designer of Monument Valley, this charming love story sees protagonist Florence navigating young adult life as romance finds her when she least expects it.
Parts of this tale are told by scrolling through beautifully drawn comic strips, but in truth, it's the polar opposite to a visual novel. Nor is it anything like the usual gaming fare of story tidbits punctuating stretches of gameplay.
Florence tells its story through its actual interactive dimension. Flirty finger flicks capture those exciting early stages of a relationship, while simple swipes can puzzle out how to talk to your partner meaningfully.
These are dull to begin with — by design — to represent the mundanity of a lonely nine-to-five. That's before you become a little too distracted by a cute cello player while riding your bike. Physics triumphs over chemistry, crushing leads to crashing, and Florence falls quite literally head over heels.
After actually meeting your new bae, Krish, talking to him is a minor puzzle. Chat bubbles need to be filled with jigsaw pieces. These become easier and easier puzzles to complete, as conversation starts to flow without effort.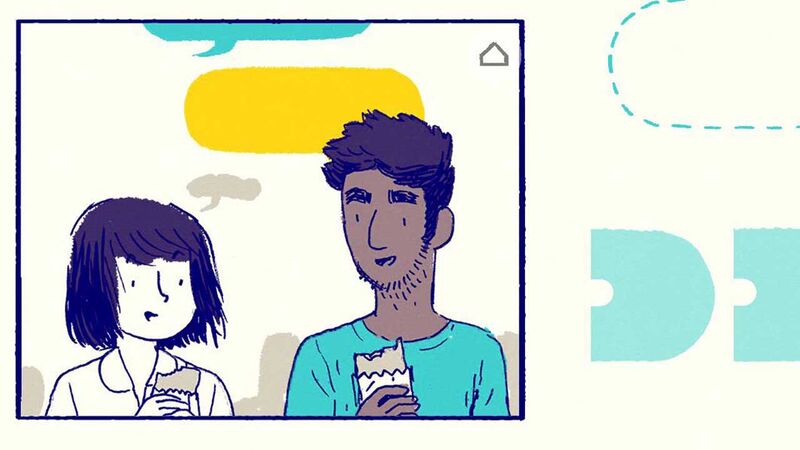 Were these words to become more pointed, so too would the puzzle pieces. In more heated exchanges, taking turns to speak is abandoned. Krish will put together his puzzle pieces at a calculated, beatable speed. It creates the desire to put your own speech bubbles out first, brilliantly representing the urgency of being heard and understood.
Fitting both Florence's and Krish's personal items onto a shelf is, of course, impossible without compromise. This and other microgames, from flirting to faithful feeling, take us through the full gamut of love.
This is the loftiest of game design goals; to capture an idea through pure interactivity. It's doing over watching. Play, don't tell.
Of course, there will always be some sort of aesthetics. Even The Marriage — Rod Humble's famous experiment in trying to tell a story, create emotion, and get across a concept through pure interactivity — had to have some shapes and colours to communicate the mechanics.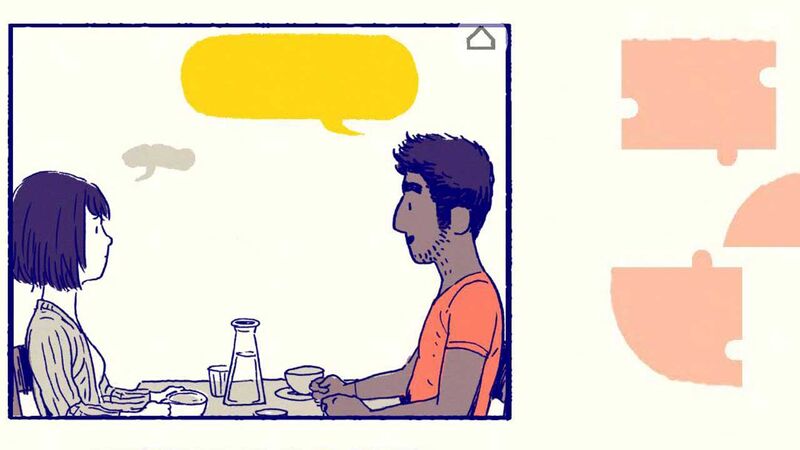 Mind you, Florence doesn't commit to this idea as wholeheartedly as The Marriage. It uses lovely original music to set the mood, and there is the occasional scene with some actual dialogue. But its stretches of silence say more than most love stories ever manage.
Similar to how it'd be wrong to spoil any major plot points, it'd be wrong here to disclose every interplay between gameplay and feeling. This is the crux of the game, inseparable from its story.
It's certainly not unusual for story and gameplay to compliment one another in a game, but rarely are they one and the same.
Florence is short and sweet — with emphasis on "sweet." Its playtime may be short, but it'll stay with you long afterwards. Love in less than an hour. You can grab it on iOS.