Double acts are one of Free Guy's standout elements. In the Artificial Intelligence-based comedy, you've got Ryan Reynolds' non-playable video game character Guy and BFF Buddy (Lil Rel Howery); you've got Stranger Things star Joe Keery's games dev Keys and Utkarsh Ambudkar's Mouser. There are others.
Director and producer Shawn Levy has presided over plenty of successful duos in his career – take your pick of the pairings in the Night at the Museum films(shout out to Steve Coogan's Octavius and Owen Wilson's Jedediah), or more recently think of Clyde (Michael Rooker) and Minnow (Ariana Greenblatt) in Love and Monsters. And then there's Stranger Things, on which Levy performs executive producer duties.
One of the most loved aspects of fantasy horror series Stranger Things has been the pairing of Dustin and Steve. When the double act we didn't know we needed struck Stranger Things midway through Season 2, fans took to social media to declare their appreciation for the #Dusteve bromance. Some even called for a spin-off. Given that Season 3 found each of them new sidekicks to battle extradimensional monsters alongside (Robin for Steve; Erica and also Suzie for Dustin), it led us to wonder whether fans would want to see more of the Dustin and Steve bantership in the upcoming Season 4 or whether they'd prefer to see them explore new couplings. So, we asked. But what did they say?
A Good Thing Going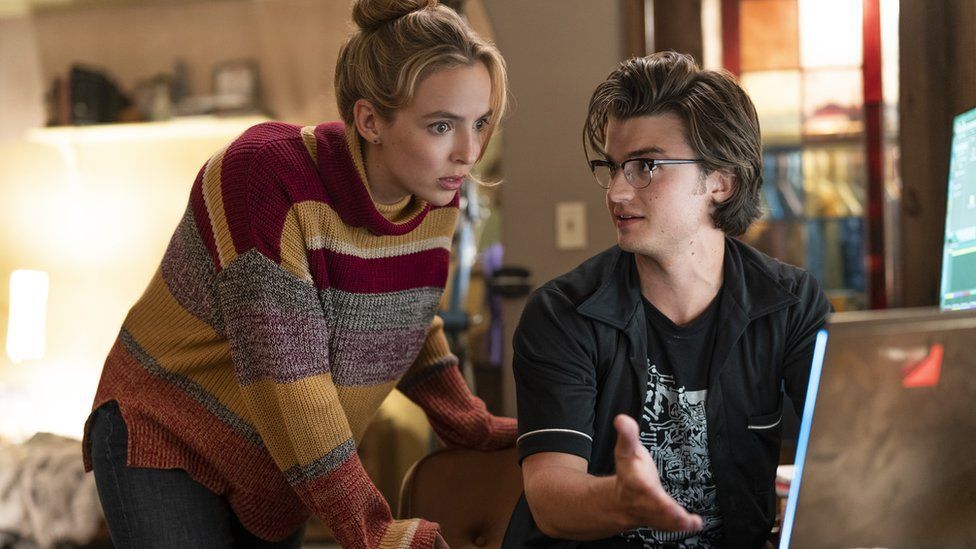 "Stick together probably, I would imagine," answers Joe Keery himself. We're quizzing him ahead of the release of Free Guy about the outcome of our Fandom community poll.
"Because they know I love hanging out with Gaten [Matarazzo, who plays Dustin]," he laughs. "I don't know. I feel pretty lucky that that storyline happened. It's a pretty unlikely scenario. The stuff we've been doing this year has been a joy."
"There are many other new pairings, some that have not been hinted at in the past. But I think yes, I am comfortable promising you, with great joy, that Steve and Dustin is very much front and center in Season 4." — Stranger Things producer Shawn Levy on what's in store for Season 4. 
The split at the time of writing was 76% versus 24% in favour of Dustin and Steve sticking together. A good thing, when you consider, according to Levy, that we will actually be getting more #Dusteve in Season 4.
"I am comfortable promising you, with great joy, that Steve and Dustin is very much front and centre in Season 4," says the director.
Both Keery and Levy use the word joy — which should fill Dusteve fans' hearts with it. But Levy reveals we should look forward to seeing more duos as the series moves forward: "There are many other new pairings, some that have not been hinted at in the past."
Tantalising stuff. Given his affection for pairing characters off, what does he think makes a great screen double act?
"I think that characters who have something to learn about themselves from the other person, that's always a good arithmetic, and a good chemistry," says Levy. "I think then you're just hoping that you get a real-world combo chemistry like Rel and Ryan, Jodie and Ryan, Joe Keery and Jodie Comer, right? You cast talent but that doesn't mean they're going to have chemistry. And when you stumble into that secondary layer of chemistry, which is between the actors, then you've struck gold, and I struck a lot of gold in the chemistry between the actors of Free Guy."
He's not wrong – and the sum of Free Guy's individual performances multiplied by the chemistry between actors elevates the entire film.
Keery drills down further into what makes a great on-screen duo. "I think it's the odd couple thing. That's always, to me, [the crux of it] – two people that don't belong together getting together and having some sharp, witty banter; some good dialogue. You know, opposites attract. I think that's always a great thing to watch."
An AI Movie With a Fresh Perspective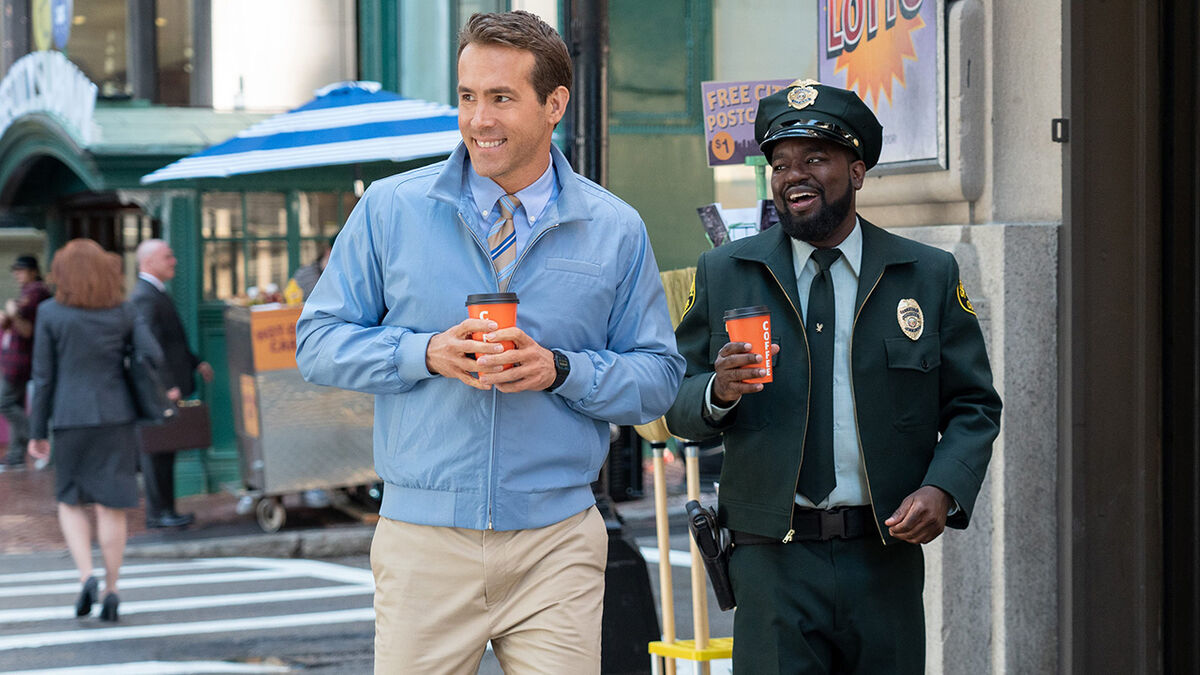 Free Guy features Keery as Keys, co-developer alongside Jodie Comer's Millie of a programme inserted into open-world video game Free City that leads to non-playable character (NPC) Guy (Ryan Reynolds) becoming self-aware. It's yet another movie that tackles the idea of artificial intelligence becoming sentient, following in the footsteps of Ex Machina, The Matrix, Blade Runner, Westworld, and countless others, reaching as far back as the early days of cinema and Fritz Lang's expressionist masterpiece Metropolis. Though most films you can think of explore a dystopian vision, however, Free Guy tackles the subject from a different, more positive, angle and looks at the ethics of how we might respond to the phenomenon. But why are we so obsessed with the idea of AI achieving consciousness?
"I wonder if it's a part of humanity… like, it's always been a thing because we're getting closer and closer to it," ponders Keery. "In the majority of movies about AI, it's always [seen] in this negative light – it's Terminator 2 or I, Robot; these terrible things unfolding. So it is an interesting take where it's a good thing and I always liked that with the movie."
Levy also reckons we've always had these existential questionings "but as we see tech, and AI, and robotics evolve, and automation evolve to a point where we ask, 'Wait, are we replaceable?! Is our essence as unique as we've always presumed, or will we watch this slow encroachment on what we think of as human traits?' I think that is fascinating. If we're going to look at it optimistically, or terrifyingly, if we want to look at it nihilistically."
Stranger Than Fiction
Levy is insistent he's not a smart man, and yet it was more than the film's "big, hooky premise" that attracted him to the project.
"What got me interested was how this idea became a vehicle to explore this idea of our identity evolving," he explains. "What would it be if a background character in a video game had an evolving consciousness? But also, what does that mean, in real life? What does it mean to you and to me as presumably real humans in a presumably real world, you know, kind of questioning our own place in that world and what we're capable of. So those were juicy, relatable ideas that I had a sense would make Free Guy bigger than just a video game movie, it would also make it a movie movie."
And so he spent a lot of time discussing the rules for Guy as an AI as a consequence.
"I was developing the rewrite of the script with Zak Penn, who had written Ready Player One and had a video game consultant on Ready Player One called Mike Mica," says Levy. "We hired Mike on Free Guy and I learned a tremendous amount about the evolution of AI and coding and the potential for both. And it really opened up story lanes that we ended up exploiting in Free Guy … [we] took a lot of ideas that I would have assumed were fiction, and was shocked to learn, oh no, this is happening. It's happening now in 2020, in 2021. So anyway, it was an education and it was a fascinating one."
From Minecraft and Uncharted to Free Guy
That Free Guy – a film about a fictional video game – fell into Levy's lap is interesting. He has been attached over the years to video game adaptations that didn't see the light of day.
"I had flirted with Minecraft, I was very heavily involved in Uncharted," says Levy. "And in fact, the movie that they've since made is very much kind of the script that I spent a lot of time developing. I always wanted to explore the big-screen potential of a video game idea. But it came in the form of Free Guy where I was suddenly not beholden to anything.
"It's like a director fantasy. I get to create a movie, but I also get to create an entire video game. So, I create the iconography. I write the rules, I write the lore and the mythology and it was absolute freedom, as opposed to what I experienced on Uncharted, which is, man, you've got to get certain things right. And you cannot take certain liberties without getting murdered by fans of the game. And so, I ended up making a video game movie that had a lot more creative freedom than any other one would have."
And if Levy wants to immerse himself deeper into his new video-game world, he only has to make a sequel. With the film leaving off with an invitation to explore this original virtual world further, that's certainly a possibility.
Free Guy hits screens on August 13, 2021.
Additional reporting by Eric Goldman.
For more IRL content, check out our article exploring whether you could actually effectively implant a tiny head-bomb without unintended consequences below.