The following article contains SPOILERS for Gotham Season 4.
Gotham Season 4 arrived following a climactic end to Season 3, which saw Lee leave Gotham once again, but leaving the door open on a reunion with Jim. With a cure for the Alice Tetch virus found, its 90% success rate means that the majority of the infected found themselves restored – but what did that mean for Barnes? We've yet to see him show up in Season 4.
S3 also saw Fish Mooney killed, again, and Ed Nygma frozen by Mr Freeze at the behest of Penguin. But perhaps most significantly, it saw the introduction of villain Ra's al Ghul and Bruce Wayne's early transitioning to Gotham protector Batman.
The first half of Gotham Season 4 has been largely spent establishing Sofia Falcone as a villain. But where have the first 11 episodes of the latest run left the show's major players? Find out below.
Carmine Falcone
With news of Carmine's impending death, Don Falcone expresses his desire to take a backseat in Gotham's super-stressful shenanigans. However, he gets killed in a hit, which also sees his daughter Sofia shot. Turns out she's behind the assassination.
Sofia Falcone
Newcomer Sofia Falcone has been revealed to be the mastermind behind the Pyg's activities, and the primary antagonist of the first half of Season 4. With her father out of the way, the path is clear for her to take control of Gotham – and follow through with her prime motive of making Jim Gordon feel guilt for gunning down her brother, Mario, in Season 3. However, with Jim and Sofia having enjoyed a sexual relationship, does she feel more for him than she's letting on? Forming a new alliance with Victor Zsasz, it seems that a new regime could be about to burgeon in Gotham.
Bruce Wayne
Bruce has spent much of Season 4 adopting the guise of a billionaire brat as a cover for his alternate identity. However, things between him and Alfred have become extremely strained and it has resulted in him 'divorcing' Alfred as his legal guardian, firing him from his role as butler and throwing him out of Wayne Manor. Alfred did punch him in the face. Despite his brainwashing in Season 3 at the hands of the Sensei and Ra's al Ghul, Bruce still hasn't got over his parents' death.
Alfred Pennyworth
With Alfred no longer legally responsible for Bruce, and without a home, could this mean he'll leave Gotham? At New York Comic Con, actor Sean Pertwee told FANDOM: "We see a parting of ways. We see who Alfred really was. And it really isn't pretty. He suffers from post-traumatic stress. He needs the boy as much as the boy needs him. When he doesn't have that cossetted nature of looking after and loving someone, he completely unravels, and he changes into the person he was … you see him revert to that war dog that he was. A cold-hearted murderer. An SAS man, a black ops guy."
Jim Gordon
Jim is now Captain of Gotham Central, a promotion wangled for him by Sofia. Although he knows that she's duplicitous, he allows himself to be manipulated by her, leading to him arresting Penguin for the apparent murder of orphan Martin. He takes responsibility for shooting Professor Pyg, when in fact it was Sofia who was in league with the Pyg. Gordon's relationship with Harvey Bullock has been strained this season and this looks set to continue into the second half, with Bullock handing over his gun and badge in the final episode.
Penguin/Oswald Cobblepot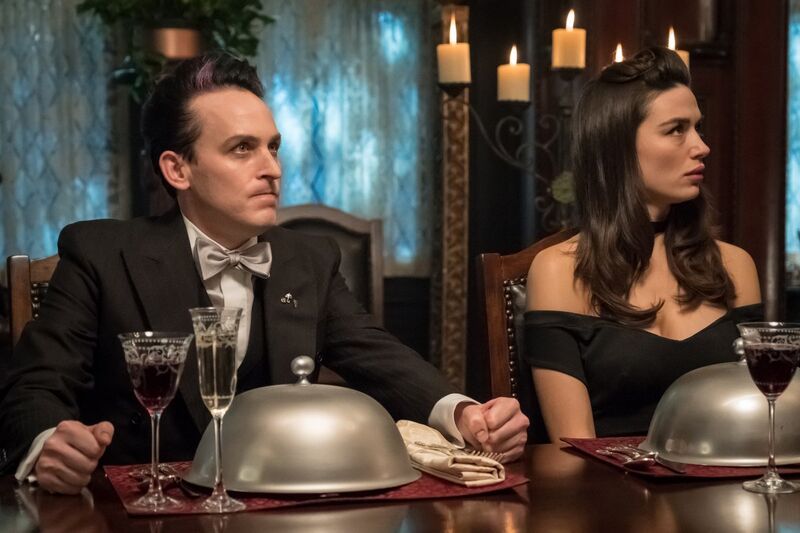 Cobblepot is currently in Arkham Asylum. Now unstable, he's serving time for the 'murder' of Martin after having been betrayed by Victor Zsasz who refused to corroborate his story that Martin's death was faked. Zsasz was upset because he believed Oswald orchestrated the killing of Don Falcone, without bringing him in on the plot. In fact, it was Sofia who conspired to kill her own father, and Zsasz — in his ignorance — has now sided with her.
Solomon Grundy
After Tabitha made a concerted effort to revive the Butch Gilzean's latent personality, it transpires she succeeded. In the final episode, we see Grundy awaken with Butch's memories and character restored.
Lee Thompkins
Lee has returned to Gotham following her departure at the end of Season 3, and is currently heading up the Narrows, a violent, crime-ridden neighbourhood in Gotham. Her look is vastly different from the buttoned-up Lee we've known, and takes inspiration from her virus-ridden incarnation from the end of Season 3.
Barbara and Tabitha
With Penguin now behind bars, Barbara and Tabitha have reclaimed their club. Barbara was revived by Ra's al Ghul following her electrocution at the hands of Tabitha and has also been bestowed with a mystical power.
Ed Nygma/The Riddler
This season has so far seen Nygma thawed out from his icy prison at the hands of Penguin. Having been somewhat discombobulated for the duration of Season 4a, the closing episodes saw Nygma returning to his old psychotic self.
Jerome Valeska
The mid-season finale revealed a face to us we've been desperate to see again – a certain Jerome Valeska. Currently in Arkham, he seems to be attempting to forge an allegiance with Penguin. We'll have to wait and see where this one goes, but are we about to see his full transition into the Joker?
When Does Season 4 Return?
Gotham Season 4b hits screens in the US on March 1, 2018 – but UK fans will have to wait a little longer. Channel 5 owns the broadcast rights to the show in the UK, and hasn't yet begun airing the first half of Season 4.