"I think they'd probably be so dirty and ruthless," says Lena Headey. The actor is contemplating how it would go down if her Game of Thrones character, the conniving Cersei Lannister, teamed up with Karen Gillan's devious and troubled Nebula from the MCU, a trained killer, against their characters in new gangster action thriller, Gunpowder Milkshake.
"I'm going to say Nebula and Cersei are going to win," agrees Gillan, who plays the Sam to Headey's Scarlet in Navot Papushado's original addition to the assassin-fantasy subgenre. "They are willing to play dirty. I mean, Nebula's a sadist. She enjoys inflicting pain on people. So I think they would just be willing to go further. Rather than Sam and Scarlet with their morals and stuff!"
A Handy Duo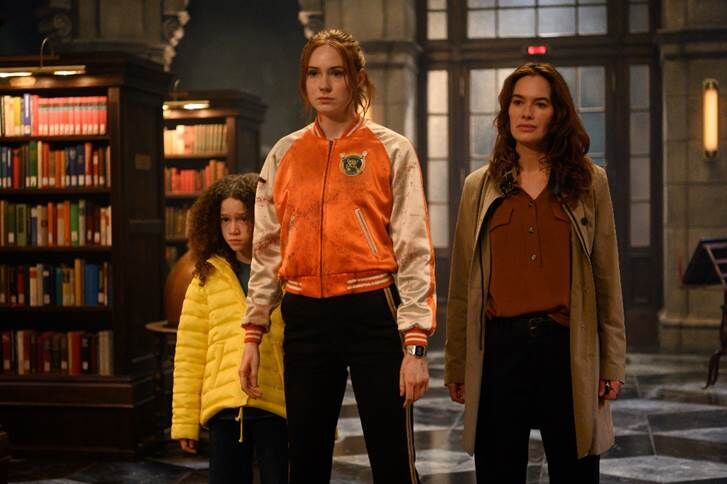 For the record, Sam and Scarlet are pretty handy when it comes to getting into scrapes – and also make a great team. Not least because they're able to call on a trio of additional trained assassin women who have got their back. It's worth pointing out that a Nebula/Cersei victory wouldn't be a dead cert – and when you're dealing with assassins, morality is by definition called into question.
Gunpowder Milkshake depicts a murky, heightened-reality, neon-tinged underworld in the vein of the John Wick franchise. It's gritty and sometimes graphic, sure, but there's also a sense of playfulness built in. Co-written by comic book writer Ehud Lavski, Gunpowder Milkshake tells Sam's story – a young woman estranged from her mother (Headey's Scarlet) but nonetheless following in her hitwoman footsteps.
Sam works for an organization run entirely by men who recruit — and control — women operatives. When a job goes awry and Sam's life is threatened, she winds up reuniting with her mother and a group of women with a shared past – played by Angela Bassett, Carla Gugino, and Michelle Yeoh — to take down the crime lord (Paul Giamatti) and his shady cohorts running the show.
Full-Blown Action
Actually, if you think about it, it's quite likely that Sam at least could best the lot of them given the amount of training Gillan had to do for the film. And, in turn, the number of inventive action sequences there are for her character.
"I feel like through each film [in my career], I've been doing more and more action — through the Marvel films and then the Jumanji films," says Gillan. "So I feel like I've now graduated to a full-blown action film [in Gunpowder Milkshake]. And it was really involved. It was just really intricate. We were using all sorts of objects as weapons I've never seen used before, like suitcases and bowling balls. It just required a lot of practice; we would learn the routines really slowly and then just gradually pick up the speed. And then, just get to the point where it was, like, okay, now you can go flat out with all of the noises that you want to make."
Gillan mentions the array of weapons in the film which are not only incorporated to look cool and serve up some unique fight scenes, but they're also presumably meant to illustrate that the "sisterhood" of women assassins has had to be resourceful. A secretive organization that both director Navot Papushado and actor Carla Gugino, who plays sisterhood member Madeleine, say has a far deeper mythology than we get to see. Indeed, Gunpowder Milkshake's universe is only partly laid out on screen – a strength if anything, encouraging us to imagine a wider world beyond the events unfolding in this chapter of a bigger story.
Wait, There Are More Libraries?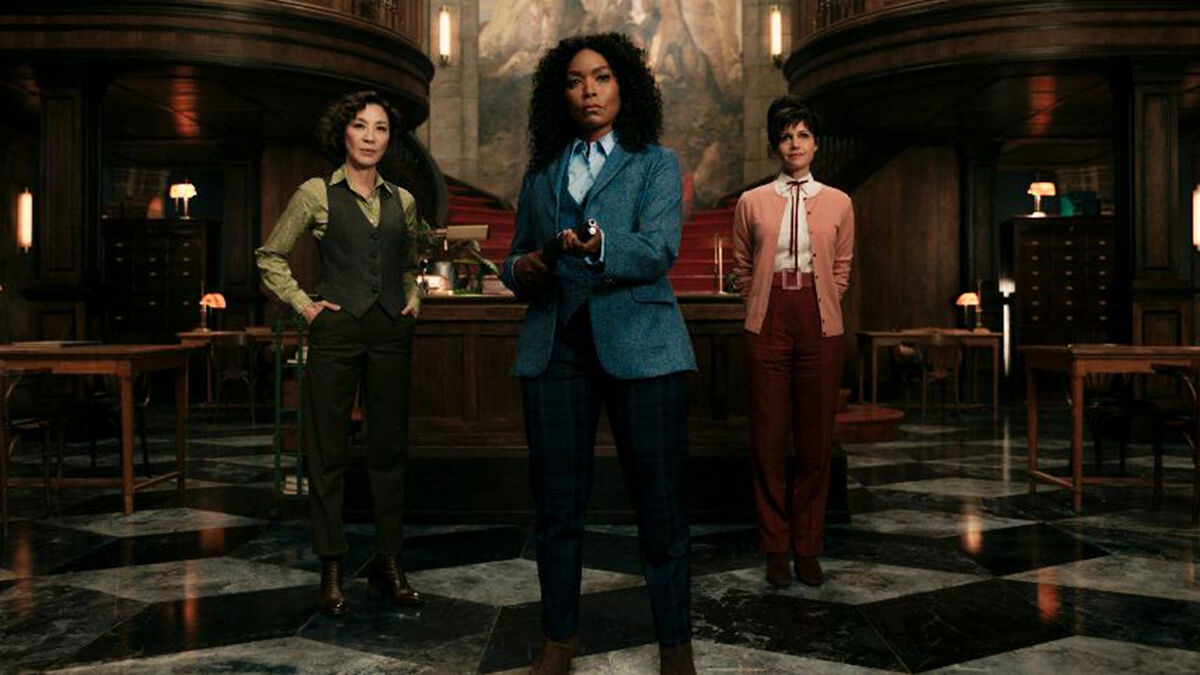 Papushado reveals he spoke "extensively" with the cast about the behind-the-scenes lore of the world presented on screen.
"We all spoke about their characters; their pasts — their mutual pasts, I mean, what led them to where they are now and why [they] are there," explains Papushado. "You have to because you want to capture something very quickly, very fast. For example, Lena meets Angela [Bassett, who plays the sisterhood's Anna May] for the first time and they have to… I mean, it goes way deeper than what they have there. And obviously, they're amazing and talented actresses. And I think by capturing that and imagining that it just enriches the whole story."
There's a sense that there's a lot more to discover about this rich underworld, with Gunpowder Milkshake only scratching the surface – paving the way, of course, for a franchise down the line. It's recently been announced that there's already a sequel in the works.
We first meet the sisterhood trio of Madeleine, Anna May (Bassett), and Florence (Yeoh) in a library that doubles as their well-equipped headquarters. So is there a wider network of women in this organization and are there more libraries like this one out there?
"Yes,' says Papushado. "There are more libraries and more museums and sources of knowledge that this sisterhood is kind of keeping and watching."
Gugino adds, "For sure, they're there. I certainly think that the people in this organization have probably co-opted special spaces that they have been able to use for some of their activities."
They have to be pretty special spaces indeed to conceal the kinds of armaments these women secrete about the place. Books can hide a certain calibre of munition but they also need the kind of spaces that can effectively cloak a heavy artillery ranged weapon. The kind that you can see Gugino bossing in the trailer. Listen to Gugino talk about that big gun and more when you watch the full interview with the cast and director at the top of the page.
Gunpowder Milkshake hits Netflix in the US on July 14 and arrives on screens in the UK on September 17.