Now open at Universal Orlando Resort, the terrific new attraction Hagrid's Magical Creatures Motorbike Adventure is the first major ride to be added to the Orlando version of The Wizarding World of Harry Potter since the Diagon Alley expansion, and its accompanying Harry Potter and the Escape from Gringotts ride, debuted back in 2014.
Located in the original Hogsmeade section of the Wizarding World, in Universal's Islands of Adventure park, Hagrid's Magical Creatures takes the place of the Dragon Challenge attraction that previously occupied its location.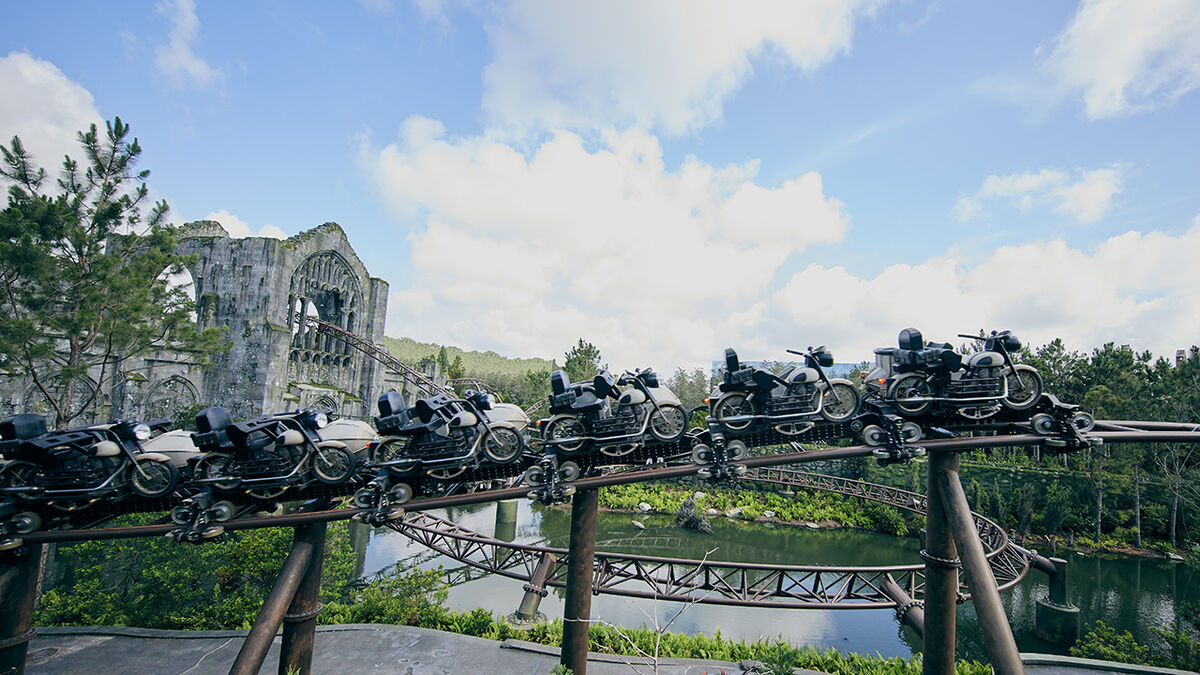 Fandom took part in a press preview of the attraction this week, getting a look at the expansive queue, checking out the notably exciting, multifaceted ride itself, and speaking to some key contributors about their approach to once more expanding the Wizarding World.
Something New for Potter Fans
In general, a massive part of the appeal of The Wizarding World of Harry Potter involves bringing fans into the universe created by J.K. Rowling in her books and depicted in the film adaptations, and the other central rides to date — including Harry Potter and the Forbidden Journey and Escape From Gringotts — have brought those riding them into iconic and recognizable areas, such as the Hogwarts Quidditch pitch, the Chamber of Secrets, and the Gringotts vaults.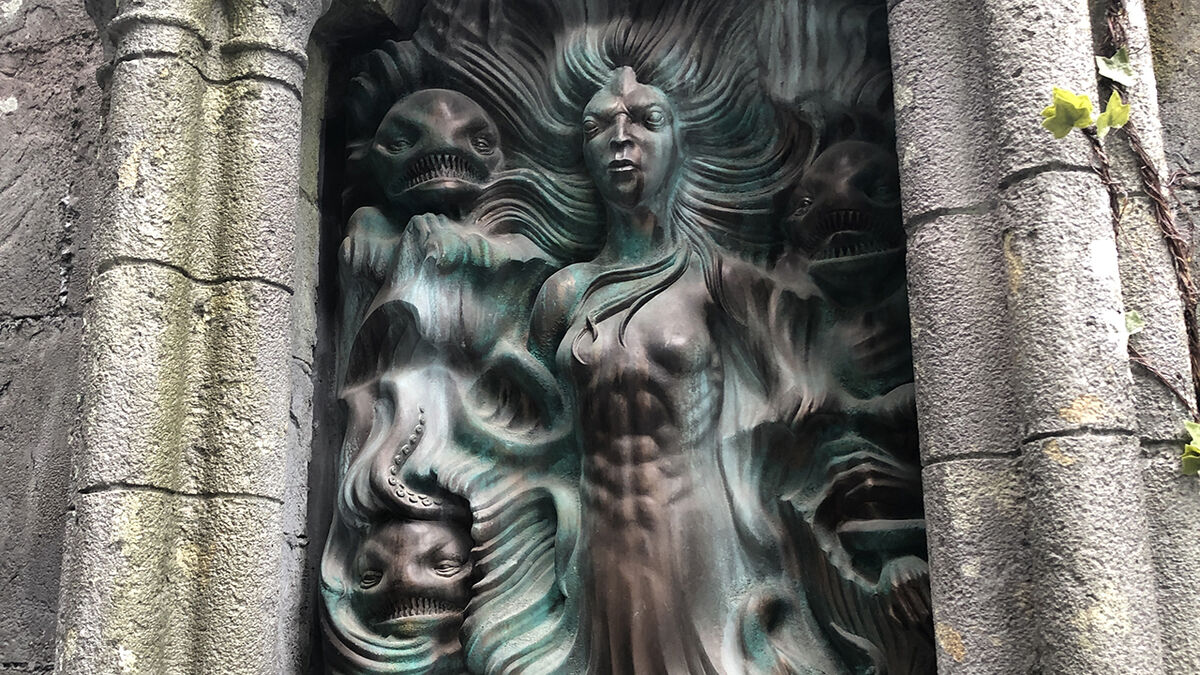 Hagrid's Magical Creatures is a bit different. While it is set within the Forbidden Forest, it's a part of the Forest never seen before. Alan Gilmore, who served as the Art Director on the films Harry Potter and the Prisoner of Azkaban and Harry Potter and the Goblet of Fire, and now oversees the design of the attractions for The Wizarding World of Harry Potter, explained to Fandom, "This is something different. The earlier ones, Diagon Alley and Hogwarts, were from the books. This is not. This is based on a new story, a new experience, and really diving into one of the characters at a higher level of detail."
That character is, of course, Hagrid, and Gilmore remarked, "We're getting to know Hagrid. He's our friend and we all love him because he's a very lovely person. He's caring. He loves creatures, he loves people. He's always been a friend to the students of Hogwarts and now he's your friend as well. You get to see how he lives, the land he inhabits, the creatures he nurtures. That was an interesting journey for us, to go outside the books but stay within them at the same time."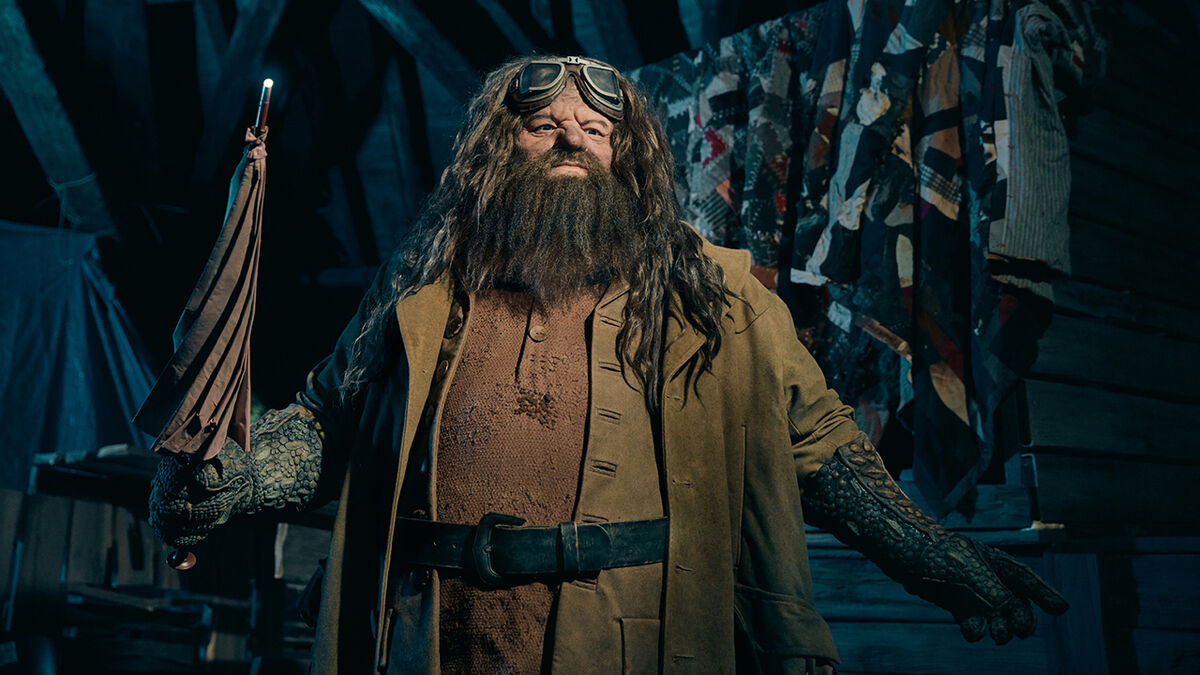 Gilmore stressed that for this ride, "We are deep in the Forbidden Forest. In the true lore of the Wizarding World, the forest is many miles from Hogsmeade, somewhere in the mountains. Hogsmeade exists high up in the mountains, that's why almost all year round it's covered in snow. Hogwarts is down near the lake at the base of the mountain and the Forbidden Forest is somewhere beyond Hogwarts. Hagrid's hut is somewhere at the edge of the Forbidden Forest. So we have a perfect tie in with Hagrid's hut and then this place no one knows about. We call it the ruins, and now we're discovering it's where Hagrid has been going all the time. This is where his Care of Magical Creatures class is brought. So in this amazing, old dilapidated building is where he's been nurturing magical creatures, the Blast-Ended Skrewt especially."
Universal Creative Director Gary Blumenstein told Fandom that when it came to building such a major new Harry Potter-connected attraction, "It takes a lot of effort getting to work with Warner Bros. and doing it the right way. You can run a bit far from the content and you have to reel it back sometimes, so we had to do this the right way and pay attention to the details.  We were excited to expand Hagrid's story and I think fans are going to love an experience in which they are seeing new things, new environments, and new characters."
Creatures, Old and New (and a Weasley!)
Hagrid's Magical Creatures Motorbike Adventures includes several notable names from Potter lore, including Fluffy, unicorns, and centaurs, but one big highlight is the aforementioned Blast-Ended Skrewt, with Gilmore saying, "We're going to get to meet this amazing, new creature which has been written about but never seen before. And there are many others. The pixies are here, Fang is here."
Said Blumenstein, "I have to admit, we've been wanting to develop the Blast-Ended Skrewt for a while now and this was a perfect opportunity. To be able to do that, we were thrilled. To take a creature that fans read about but have never seen and actually bring it to life in the way we have, it's a fantastic animated figure. It has smell associated with it. It has a fantastic special effect. It's a fascinating thing."
And yes, Blumenstein did say smell. You'll want to keep your nostrils open, along with your eyes, because there are some unique scents accompanying more than one of the creatures – and don't worry, none of them are unbearable!
Robbie Coltrane reprising his role as Hagrid is not the only familiar actor from the Harry Potter films in the ride, as Mark Williams can also be prominently seen during the pre-show, as Arthur Weasley lends Hagrid – and those about to go on the ride – a crucial hand.
The ride vehicle consists of vehicles consisting of rows of the motorbike and sidecar Hagrid rode in the films (riders can sit either as the driver or passenger) and Blumenstein explained, "When we settled on 'This should be the motorbike,' we were thinking that not everyone can ride one motorbike to class so how do we do this? Hagrid's not really good at magic so we can't have Hagrid be the one to do the duplication [spell]. We know Arthur was the one who helped him install Dragon fire on the bike — he mentions that in the book — so we thought Arthur is a natural for helping him duplicate the bikes. It's turned into a fun moment in the show when Arthur ends up duplicating this whole fleet of motorbikes for us to ride."
The Walls Tell Tales
The ruins, as Gilmore referred to them, make for a fascinating queue experience for Potter fans, as you walk through an area that has clearly been there for a long, long time. There are ancient images of creatures painted on the wall, but also plenty of writing left there as well – some of which is easier to make out than others.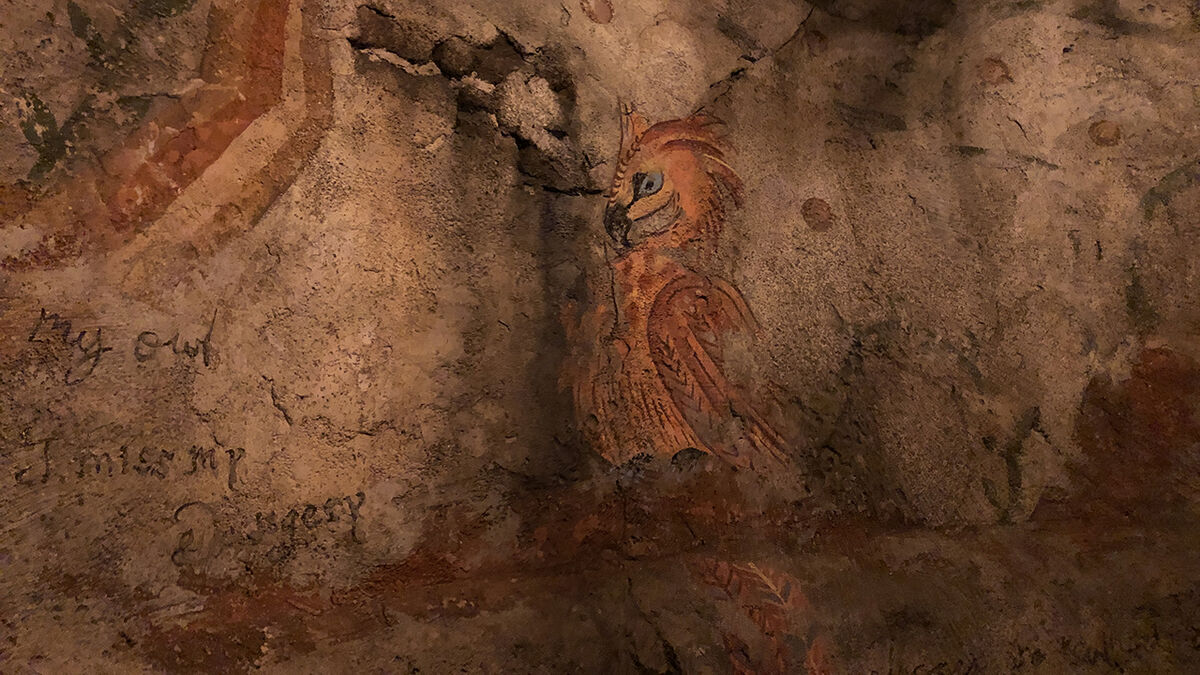 Explained Gilmore, "Well, the wall features almost like graffiti. Many of the rooms in Hogwarts have faded wall paintings and ancient messages you can't exactly read. And this is a place where the students have come and practiced their art, including an amazing room where all of the walls are paintings of creatures. They're expressing what they're learning from Hagrid. This is an escape to nature. It's a very special place for the students."
Said Blumenstein, "I think there are Easter eggs in the sense of what is written and how it's portrayed." Indeed, some of the messages left behind by the students might jump out to fans with a keen eye, such as a very-faded "J & L" carved into a wall…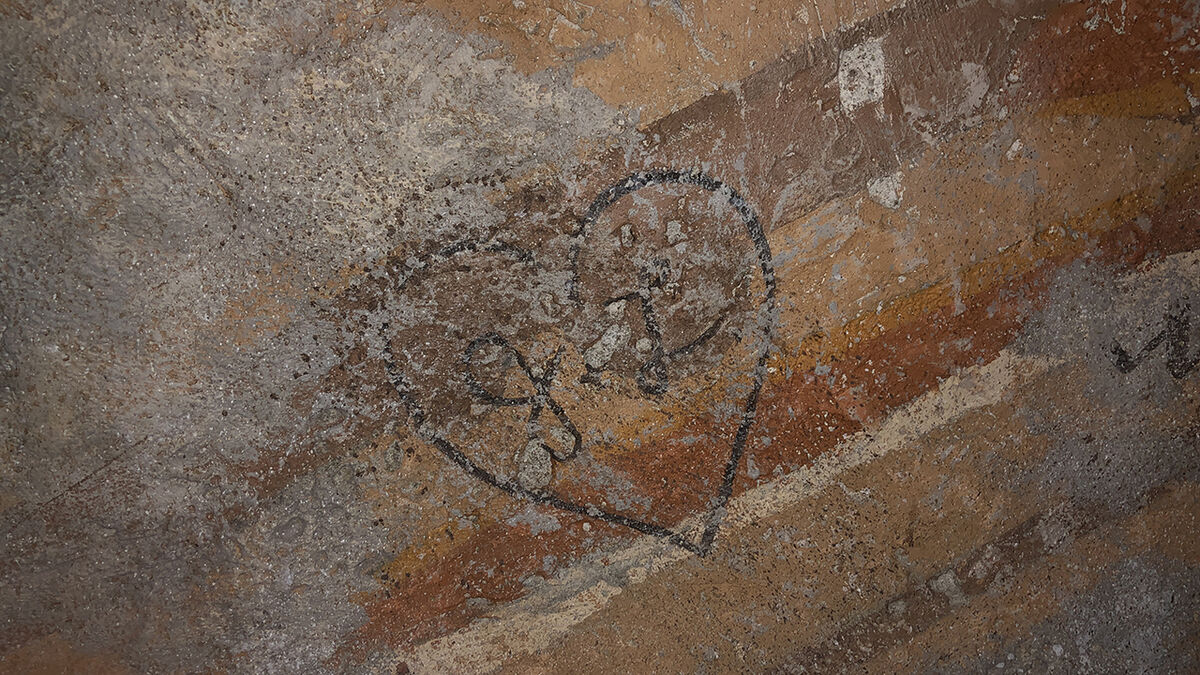 As Blumenstein elaborated, "These ancient ruins behind Hagrid's hut might be a place that school students ditch class to hang out in. That lead the design into the murals and graffiti in there. We worked closely with Warner Bros. in developing what those things might be. It was a great collaboration, developing what we should and shouldn't do. We were very proud of that. It's another one of those things that's completely new territory. It's adds a nice level of detail on top of what would normally be stark ruins."
One room is filled with eggs of all sorts of shapes and sizes, evoking times Hagrid has been known to have an egg he probably shouldn't be in possession of. Said Blumenstein, with a laugh, "We're calling those mysterious eggs. Some are references from what you see in the films and others we'll leave up to your imagination."
It's a long tradition in theme parks to include nods to attractions that previously stood where a new one is placed, and that continues with Hagrid's Magical Creatures. The Dragon Challenge coaster was itself a rethemed version of the non-Harry Potter ride, Dueling Dragons, and you'll find nods to both incarnations in the queue, including a certain golden egg that was a big part of Harry Potter and the Goblet of Fire, before also being seen in the Dragon Challenge queue.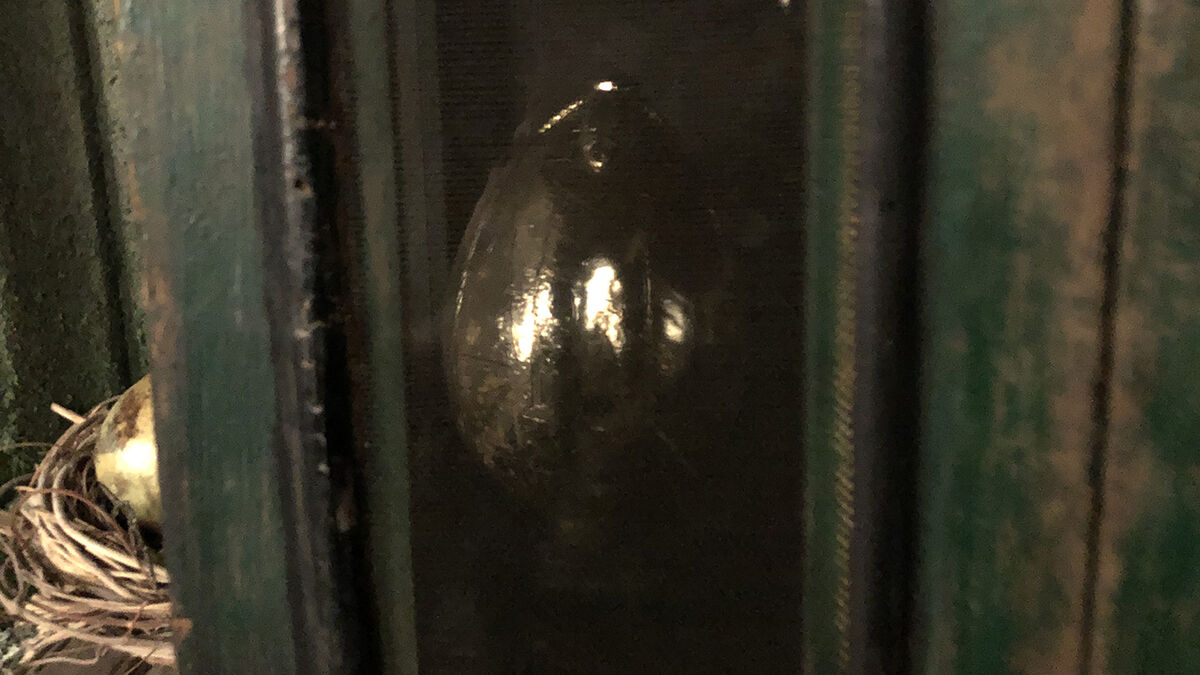 Story Coaster
Those riding Hagrid's Magical Creatures – and the ride, it should be noted, is a true theme park standout, and incredibly thrilling – will experience that it is a rather unique blend of a highspeed coaster with larger story elements, including detailed animatronics, usually used for different types of rides.
Given this ride was replacing a previous coaster, Blumenstein said they always gravitated towards something in the same realm, explaining, "There were a number of ideas that it could be but we wanted to deliver a thrilling, coaster experience but in a way that was immersive and blended in the world of Harry Potter."
Those behind the Wizarding World have come to describe the Hagrid's Magical Creatures experience as a "story coaster," and as Gilmore put it, "We knew going in that that this is maturity level we're at – that we can join the magical world of Harry Potter to the visceral world of the theme park experience. What we've all learned is this is a perfect merger of storytelling and experience. The whole experience of going through the rooms and then going on to the motorbikes is one seamless journey and it's educating you the whole way for what you're about to be doing. As you fly through the forest, you'll see the ruins in the background. It's all joined together. It's one place. I think it's a very successful storytelling moment."
Discussing coming up with the storyline, Blumstein recalled they first knew they wanted to focus on Hagrid and then, "We sat down with a creative team and figured out, if it was a story about Hagrid, what story would we be telling and settled on the Care of Magical Creatures class."
The Wizarding World of Harry Potter does have a ride, Flight of the Hippogriff, that is Hagrid-adjacent, given it deals with another of his beloved creatures, but as Blumenstein noted, that ride is aimed at younger members of the family. "We thought we were missing out on giving the whole family a great magical creatures experience in the Forbidden Forest. We also wanted to bring in some humor. Hagrid is a humorous character. Everything we do has a good vs. evil approach to it and this was a chance to have some fun with Hagrid and his mannerisms and the magical creatures themselves.
Rowling and the Timeline
The Wizarding World of Harry Potter owes its entire existence, obviously, to the imagination of J.K. Rowling. As far as Rowling's involvement in Hagrid's Magical Creatures, Gilmore explained, "We had our thoughts and she responded through her team and edited our thoughts and then we had to come up with the reality and the logic. Being from the UK we're very into our logic. It has to make sense. We have to get the timeline right – the details have to be right."
Pointing at the elaborate design of the Ruins, Gilmore added, "I'm particularly a nerd about the architecture and design. What you see is actually exactly what you'd find. This is as authentic as it can be. There's no fantasy here. This is real. It's a heightened reality. It's making the realty bigger. But everything you see is absolutely real. You can find this stuff in the world."
Gilmore didn't want to give exact specifics on when exactly in Harry Potter history the events of Hagrid's Magical Creatures takes place, but said the best way to describe it is, "It's the Hagrid we know in the films. This is a place outside of what we've seen in the books and films. It's a parallel activity. We don't have our central characters, as such, but Hagrid is our central character here. This is a chance for us to explore one of the most interesting people in the Wizarding World and give him his own place."
Hagrid's Magical Creatures Motorbike Adventure is now open at Universal's Islands of Adventure in Orlando, FL.