Since its debut in 1991 at Universal Studios Florida, Halloween Horror Nights (initially going by the name Fright Nights that first year) has become a beloved institution. In Orlando, HHN was such an instant hit that it immediately became an annual event, while in Los Angeles, Universal Studios Hollywood held a few HHNs in the 1990s and then began consistently doing the event every year beginning in 2006.
Unfortunately though, like so much else, 2020 would see plans for Halloween Horror Nights derailed due to Covid-19. Universal Hollywood was still closed entirely at that point, while Universal Orlando had to cancel HHN – though a couple of the houses intended for the event were opened up for guests coming into the park during the day for a few weeks prior to Halloween.
Now though, to the delight of a very loyal fanbase, HHN is back in its full form in 2021, at both parks. Which is especially notable since that means Orlando can finally do the big milestone Halloween Horror Nights 30, even if it's a year later than first planned.
OLD FAVORITES (WITH A TWIST)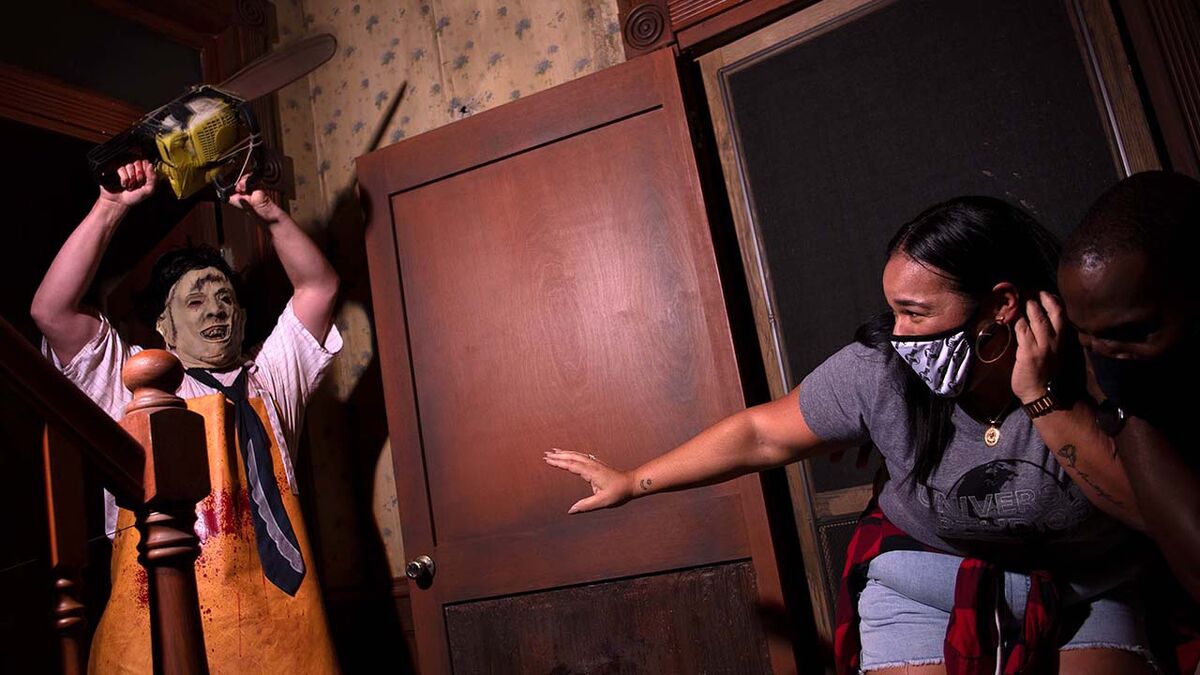 When it comes to more recent horror hits, both Orlando and Hollywood have houses this year based off of Netflix's The Haunting of Hill House — you can read more about the Hill House experience here — but in terms of familiar IP, 2021 is notable for including several houses based off classic films that Halloween Horror Nights has tackled in the past, including The Texas Chainsaw Massacre at both the Orlando and Los Angeles parks.
For returning visitors though, don't expect your experience in the houses to be identical to what came before. As HHN Orlando Senior Show Director Charles Gray explained to Fandom, "When we're revisiting a feature or a show we try to find a different kind of gateway." For Orlando's version of The Texas Chainsaw Massacre this year, Gray noted, "We're approaching it as if it's in between the first film and the second. So we could still have Chop Top [a character first introduced in Texas Chainsaw Massacre 2] in there. We've made some parts of the house we've been in before, but in some of those rooms, we enter through a different door or we go to different places that we haven't been before… We're walking through the house and discovering it in a different way."
One very notable and visually eye-catching house at both parks this year is The Bride of Frankenstein Lives, which takes its iconic character and title and introduces an entirely new story around both. Envisioned as a sequel we never got, the house picks up right where 1935's Bride of Frankenstein film concluded, revealing The Bride discovering the remains of Frankenstein's Monster in the ruins of Frankenstein's castle. The Bride then makes the decision to revive her mate – in a very fun, creative story that has her batting Dracula's Brides, as she seeks out vampire blood as part of her macabre plan.
Said HHN Orlando's Lora Sauls (Senior Manager, Entertainment Creative Development), "We wanted to expand upon her story, to expand upon that great character, and give her a new twist with a story that really had never existed before. We love to do that. We had a lot of fun figuring out what that Bride of Frankenstein story was."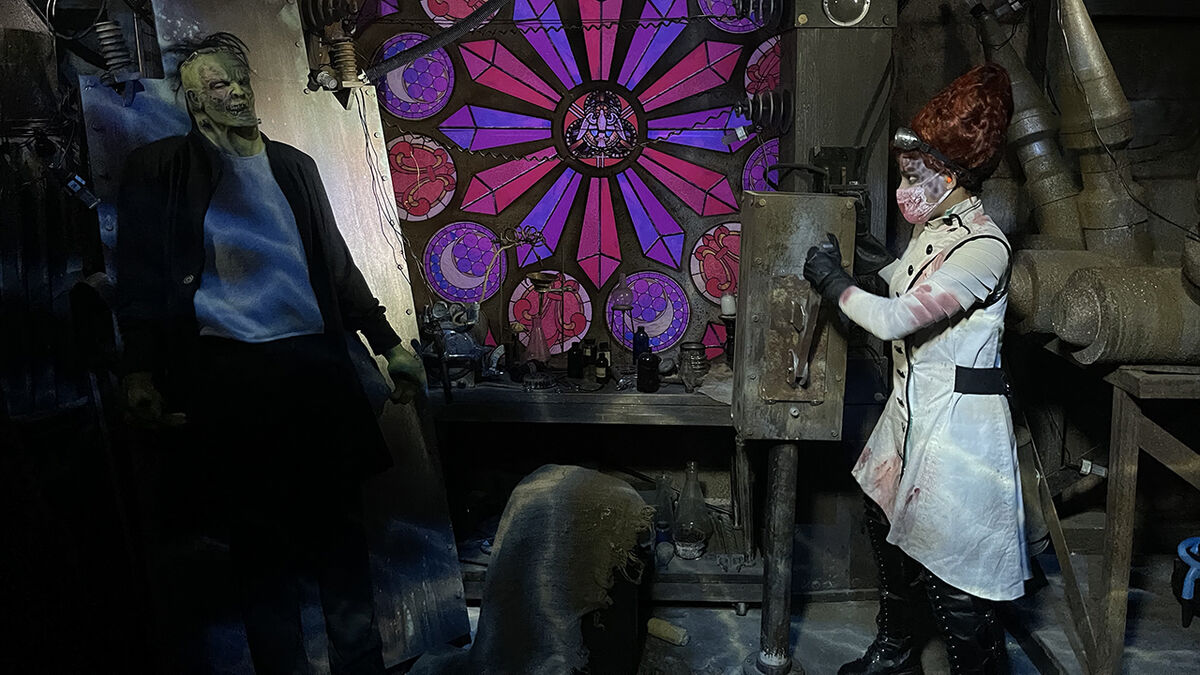 The storyline for Bride was concocted in collaboration with Universal Hollywood's Halloween Horror Nights team, with Sauls recalling, "We had a story that we wanted to share with our partners out in Hollywood and it was a really awesome collaboration day. [HHN Hollywood Creative Director and Executive Producer] John Murdy just started adding all of these elements to what he could see within his event, in his house, of how that story could come to life."
The two versions of The Bride of Frankenstein Lives tell the same basic story but with some notable differences, and as is the case anytime both parks have the same title for a house, the layout and specific gags and scares are not the same, making for unique experiences at both.
Murdy noted that the Bride stands out because she was only in one Universal Monster movie — and very briefly — yet she's become a pop culture icon, observing, "She kind of got the short end of the stick in the original movie. She's essentially a victim; she didn't ask to be born. 'Here you go, here's your husband. And oh, by the way, now we're all gonna die.' So we wanted to create a different story that was more of an empowerment story for the Bride… Now the creation becomes the Creator. Now she's assuming the role of Dr. Frankenstein, trying to bring the Monster back to life."
A couple of other returning favorites at the Hollywood version of HHN this year are The Exorcist and Halloween 4: The Return of Michael Myers. Murdy, like Gray, said they approached these returning titles with the intent of still giving a new spin on them. If you're a fellow fan of Halloween 4, you'll be happy to know we get more Jamie Lloyd in the 2021 version of the house than the last time this film was done at HNN – including incorporating that film's terrific ending.
As for The Exorcist, I will simply say that in terms of scares and jumps, this one delivered big time and was a major step up from the already-impressive previous Exorcist house in 2016, with some terrific, heart racing moments, as we followed that famous film's story.
THE GHOST WITH THE MOST 
Besides The Haunting of Hill House, the one pre-existing IP to get a first-time house at HHN Orlando this year is Beetlejuice – well, "this year" in a manner of speaking, since the Beetlejuice house was fully built in 2020 and was opened up for Universal Studios Florida daytime guests on Halloween weekend, alongside The Bride of Frankenstein Lives and Revenge of the Tooth Fairy.
While he's never had a full house until this one, Beetlejuice has a long history with Universal Orlando and Halloween Horror Nights, with the character having been a part of the park for decades and having been a part of several previous HHN shows. Of course, what sets Beetlejuice apart from pretty much any other house at HHN this year is the comedic bent of the character and the beloved film that begat him. Happily, the Beetlejuice house is a visual delight for any of my fellow fans of the film, filled with specific moments and visuals — including Adam's full model of the town! — that take you through pretty much the entire story.
Gray noted they'd done a comedic house with Ghostbusters in 2019 and remarked, "I think we can afford to do that kind of house because we have 10 houses. And I think that's important. If we only had three or four houses, we'd lean into everything being as pumped up and scary as you can. But in this one, [Beetlejuice] allows us to have more of the Halloween part of Halloween Horror Nights."
Gray added that Beetlejuice, "Is a big part of our event historically and I think it allows us to do a different tone. And then when we're creating that kind of house, we have lists – what are the moments we want to see and the characters want to see? And what is scary, what can we lean into that can be a nice jumpscare or ways to to thrill us as we're going through the house too? Most definitely we try to look at it from a fan approach though."
ICONS EVERYWHERE 
Orlando's HHN has long made use of what is termed the Icons, characters who are often depicted as controlling the mayhem occurring. After three decades, many of these original characters have become beloved in their own right by the loyal fans who return each year and HHN 30 brings the Icons back to celebrate the event's anniversary in a big way, all while several original concept houses, scarezones, and storylines from previous HHNs are also are given new life and incorporated into the event in various manners. This includes the house Welcome to SCarey: Horror in the Heartland, based in Carey, Ohio, the real life hometown of Sauls which has now been the canon setting for many of their original creations.
The HHN team know that their longtime fans love these connections to the past but that it's also important to make it all accessible for someone at their very first HHN too and to simply deliver a scary, memorable experience. One of this year's Orlando houses, Case Files Unearthed: Legendary Truth is an example of bringing the old and new together. In the very creative and cool house, you travel through several adventures of Boris Shuster, a classic 1940s noir-type detective dealing with some decidedly X-Files-type cases. Gray explained that this initially came about because, "we had three or four really strong stories where we found ways to put them together without being confusing. And that's the biggest thing, you got to be able to get the message across in a snapshot."
However, the hardcore Halloween Horror Nights fans may note that both Boris himself and the group Legendary Truth are established HHN lore already connected to the event. Gray remarked, "If you're uninitiated, and you walk in, you just want to see a good, scary house where you can immediately latch on to what we're trying to say and what the appeal is. And we let the other things kind of be those fun, discoverable items."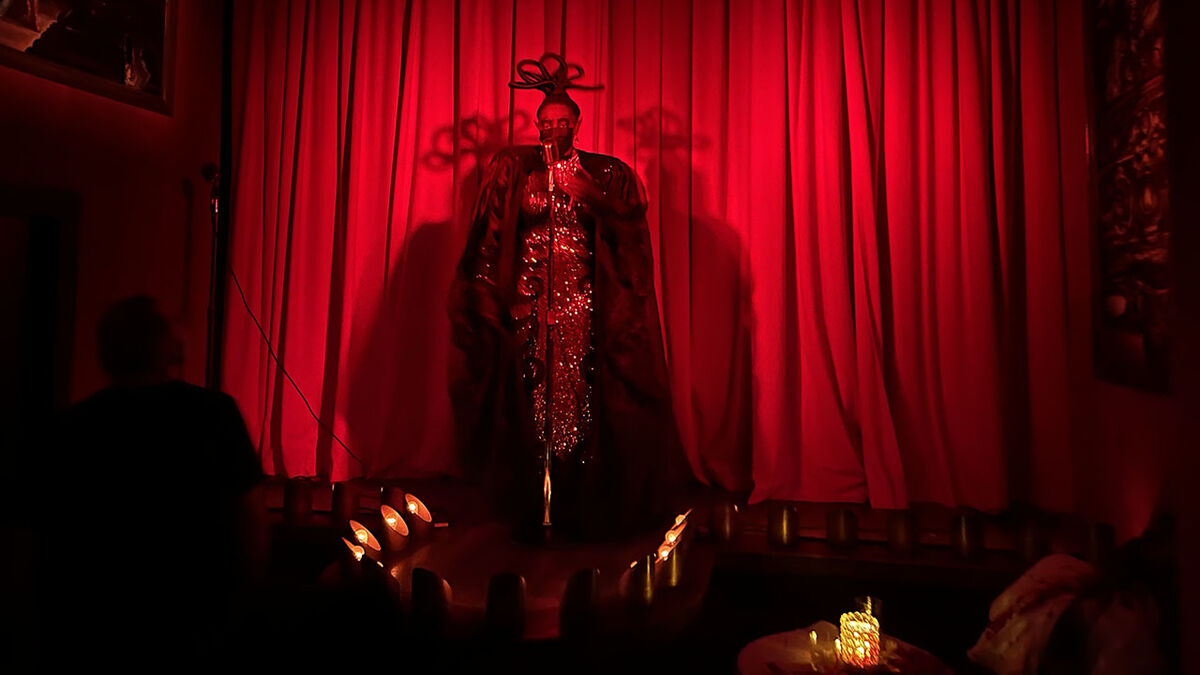 No HHN Icon is as beloved at Halloween Horror Nights Orlando as the vicious Jack the Clown, who has made numerous return appearances throughout the years. Such is Jack's popularity that merchandise for HHN Orlando this year prominently features Jack next to cinematic icons like Frankenstein's Monster and Chucky.
Not only is Jack a part of the HHN Icons: Captured house, alongside fellow icons like The Caretaker, The Director, Lady Luck, The Storyteller, The Usher, and Chance, but on the two nights I attended HHN 30, I saw Jack pop up over and over again simply walking through the Universal Studios Florida streets, alongside various long queues to get into the different houses, or even laughing and yelling from the back of a moving vehicle – each time greeted by cheers as he began speaking to fans.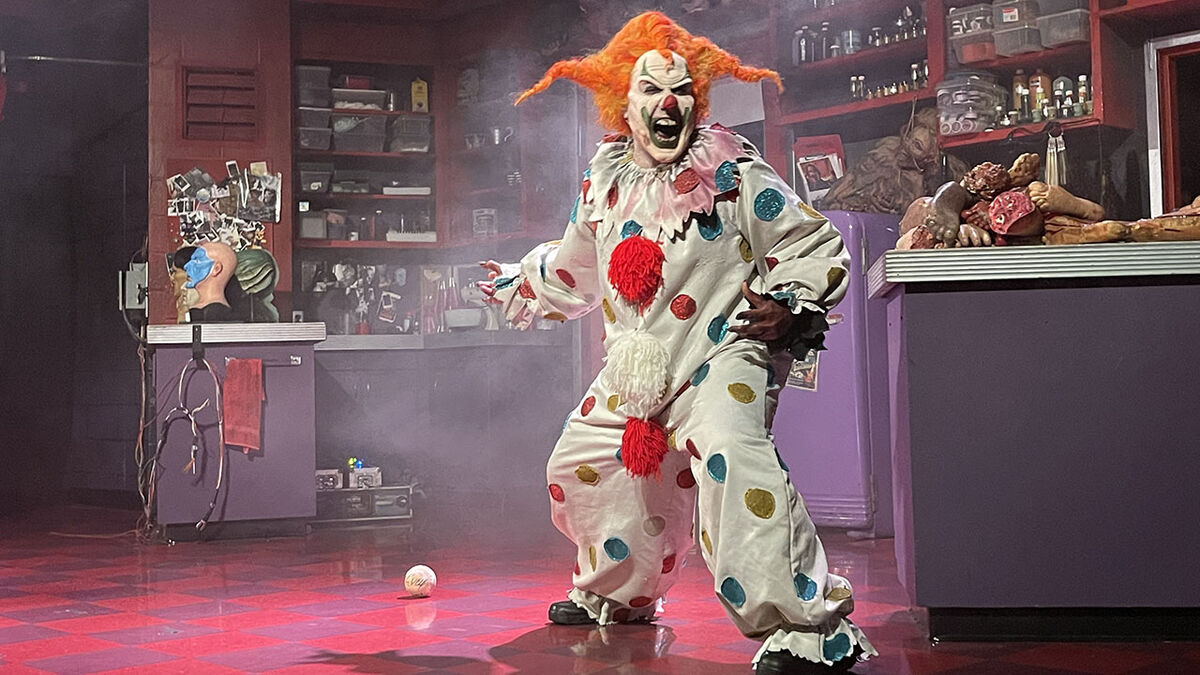 Said Sauls, "Jack has been a very huge part of our event for the last several decades. We have had many live stage shows where he has hosted and he's had his own haunted house, but we've never had Jack everywhere and anywhere. And so that was the key this year. We wanted Jack to be everywhere. We wanted him to be able to be maniacal to as many of what he would call his fans, right? He thinks this is his event!"
Changes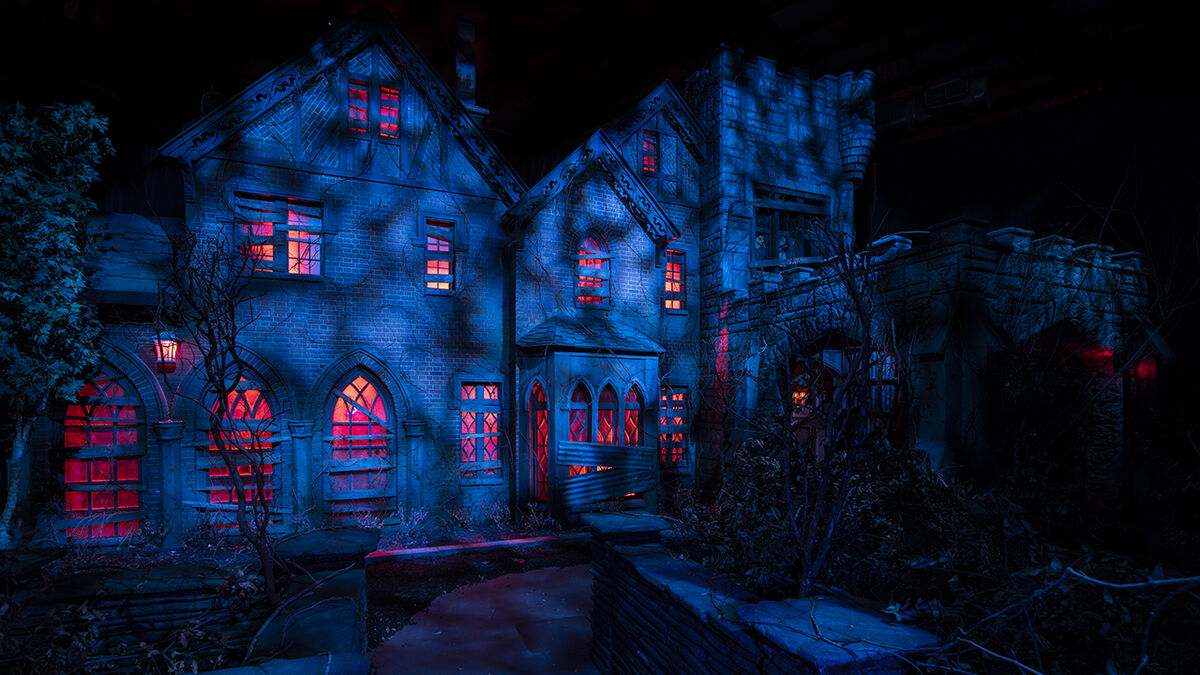 While HHN is back this year, Covid-19 has unfortunately not gone away and that has led to some notable visual changes. In Orlando, there are plastic barriers at some (but not all) of the areas where scareactors appear in houses, while both parks have their indoor performers wearing masks. In some cases, this makes no difference visually  — when you see Leatherface, you simply see Leatherface wearing his familiar mask — though other times there is an adjustment to be made to seeing, say, Beetlejuice, the Bride, or a Hill House ghost with a mask on – though I can personally say it's an adjustment I made quickly, as it's 2021 and we're all well aware of the situation and what has become the norm.
Sauls, who's been a part of the HHN team since 1998, said of these changes, "Flexibility is key, right? We understood that we want our guests and our team members' safety to be of the utmost importance. So making those adjustments were exactly what we needed to do to make sure our guests and team members were both as safe as they could be."
As mentioned above, a handful of the houses at HHN 30 in Orlando this year were actually seen by some guests in 2020 when they were opened to regular daytime visitors to the park. Gray noted that doing the houses during the day and with a much broader audience, "We didn't include a lot of the blood and the gore, though the story itself was fully laid out there for people to enjoy."
Now, bringing them back this year, Gray explained, "We added some characters, we tweaked some character locations, and added the blood and gore." That latter fact is very obvious for the delightfully gory Revenge of the Tooth Fairy house, which focuses on the very dark results of a child refusing to follow the rules when it comes to giving up your baby teeth.
Gray, who's been working on HHN directly since 2013, but was himself a scareactor in the 1990s and a performer at the Bill & Ted's Excellent Halloween Adventure show, noted they were glad they were able to show anything last year, as were their performers. Now, they are overjoyed to truly be back and, as always, "We're all excited to scare people!"
Halloween Horror Nights Orlando and Halloween Horror Nights Hollywood are both now open on select nights through October 31, 2021.
The following houses are part of each event, along with multiple scarezones (and the Terror Tram in Hollywood, this year themed to The Purge)
Halloween Horror Nights Orlando: 
Puppet Theatre: Captive Audience
Universal Monsters: The Bride of Frankenstein Lives
Welcome to SCarey: Horror in the Heartland
Case Files Unearthed: Legendary Truth
The Wicked Growth: Realm of the Pumpkin
Halloween Horror Nights Hollywood: 
Universal Monsters: The Bride of Frankenstein Lives
Halloween 4: The Return of Michael Myers