Sitting on a Zoom call with Fandom to discuss Snake Eyes: GI Joe Origins, Henry Golding had with him one of the coolest, tangible ways of representing his new role as a beloved fictional character – an action figure of himself.
Said Golding, of the unmasked version of the toy of his movie version of Snake Eyes, "Look at the great job they did. Look at the beard. It's perfect." He added, with a grin, "I think they made me a little more chiseled than I actually am but they gotta sell some toys, right?"
Golding is celebrating the debut of the first trailer for Snake Eyes (as seen above), a film that will re-introduce the character in a story about what honed him into the GI Joe team member fans know. Fandom spoke to the actor, known for his roles in Crazy Rich Asians, A Simple Favor, and Last Christmas, about taking on the role and how it touches upon Snake Eyes' past and future.
THE SNAKE EYES MULTIVERSE
(AND THE HAMA FACTOR)
Since Snake Eyes was introduced as part of the GI Joe: A Real American Hero toy line in 1982, there have been many incarnations of the character, including the differing versions in the 1980s comic books and animated series, and then many subsequent revivals in comics, animation, and film (Ray Park played the character in the two previous GI Joe movies).
Golding said he purposely didn't dive too far into one particular version of Snake Eyes, explaining "The fantastic thing about this film is the fact that we start, especially for Snake Eyes, at day one, so to not convolute everything, I was advised do not go and veer into stories that might never happen."
While Snake Eyes is typically known as a masked, silent, incredibly skillful Ninja, Golding said the film focuses, "On a mission for the man that's before the mask and so we really go into the human element and the psyche of a character that we've never really been able to explore. I think that's what's so brilliant about this film is we get to go from this image and really zoom in macro to the man, the human being, behind the mask."
Playing a role behind the scenes is Larry Hama, the legendary GI Joe writer behind both the beloved GI Joe: A Real American Hero comic book published by Marvel in the 1980s and the memorable file cards that came with each action figure and helped define their core characteristics. Golding said Hama was amazing and "such a legend" and noted that with Snake Eyes: GI Joe Origins, Hama, "acts as executive producer on this and so with his guidance, and I suppose artistic license, we were able to tell the story perhaps that he wanted to tell all along. He was beholden to the comic books and the bosses and so he expressed many times, 'I really wanted to do this with the character but they thought it wasn't as obvious as it should be.'"
Golding added, "Back then, it was a different time, we had a very limited understanding of that type of storytelling, and so they needed the in your face kind of obvious telling of characters, and now it's so much more subtle and so much more beautiful to be able to be so much more complex."
BROTHERS IN ARM TATTOOS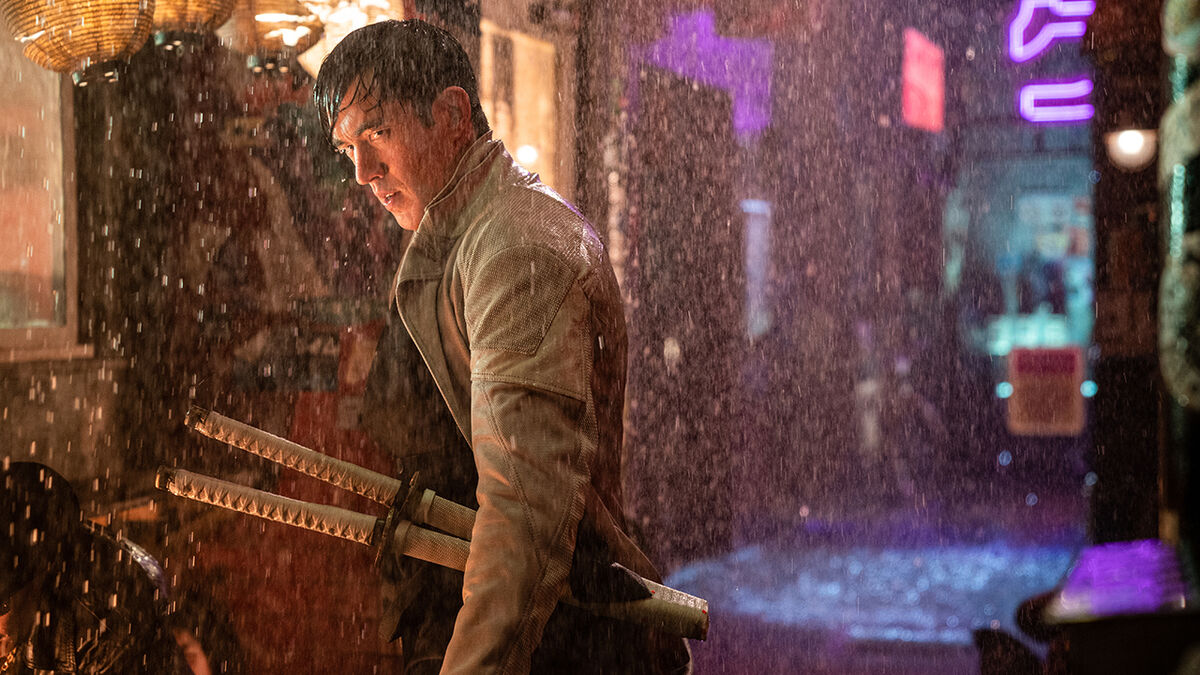 Along with Snake Eyes himself, the film includes a handful of key players from the GI Joe universe who we know will go on to significance, including Storm Shadow, typically portrayed as a Ninja who has a deep, brotherly history with Snake Eyes, that we have seen fracture – at least temporarily – as he goes on to work for villainous Cobra organization for his own reasons.
In Snake Eyes, Andrew Koji (Warrior) plays Storm Shadow, and Golding explained, "We see Snake Eyes before Storm Shadow, we see him as a man who's made very bad decisions, who's driven by the motivations that do not get you anywhere in life, but is so invested in his mission that he will do anything to complete it. Along that journey, his path crosses with Storm Shadow, with Tommy, and Tommy decides that he see the good behind the eyes and decides that he needs to bring him to Japan and teach him ways to settle this boiling rage that is happening in Snake Eyes. And so begins the journey of the man to become Snake Eyes."
Tommy is part of the Arashikage Ninja clan, led by the Hard Master (The Raid's Iko Uwais) and the Blind Master (Spartacus' Peter Mensah) and Golding noted, "Being in the Arashikage holds a lot of reverence and there's a lot of sort of gatekeeping, especially by our masters, the Hard Master and Blind Master. Nothing get past them and so we see the struggle, we see the competition almost, but also we see the struggle with Snake Eyes. Is he doing it for the right reasons, is he doing everything for selfishness, or is he doing it for the good?"
THE JOE AND COBRA CONNECTION
The film also introduces Scarlett (Ready or Not and Bill & Ted Face the Music's Samara Weaving) and the Baroness (Snatch's Úrsula Corberó), both glimpsed in the trailer, and Golding said these two more specifically form a connection for Snake Eyes to the world we know he's destined to be a part of.
As Golding put it, "Scarlett acts like the bridge between the Arashikage and the GI Joes, so she's the main point of contact and, especially within this movie is the intel that helps kind of build this bigger picture, along with the appearance of Cobra. You already saw Baroness in this, so you know there's some sort of Cobra happening. Where there's evil, there's always someone hiding in the shadows, pulling the strings, and of course we know, what's GI joe without Cobra? Nada."
Golding elaborated, "As much as we concentrate on Snake Eyes' personal journey, we also build upon the universe, towards the universe we're heading to, and that is GI Joe in its totality. It's enough bread crumbs to leave you wanting more."
WHO'S AKIKO?
One notable aspect of Snake Eyes is Akiko (Haruka Abe), who stands out because she is a newly created character – though the trailer indicates she's a very formidable one, as we see her jumping right into the fight.
Regarding he role in the film, Golding said, "She is a very close confidant to Tommy and the Arashikage and she almost acts as one of those gatekeepers that I talked about. The relationship between Snake Eyes and Akiko is very tumultuous. We get to sort of see that unfold and why she's so protective over the clan and especially Tommy. Somebody trying to get close, she's obviously going to be suspicious, but the great thing about Akiko is she walks that straight line and there's only one thing on her mind and that's protecting the Arashikage."
ACTION MAN
Several action sequences are glimpsed in the trailer, including plenty of mayhem both inside and on top of cars, training within the Arashikage, and even a sequence that seems to involve a bit of underground cave-like exploration.
This is Golding's first action role and he said the film kept him on his toes, recalling, "We had a good run up into starting production and we did about two months of prep, close to four hours a day training, with some of the best stuntmen in the business. It was hard but every single actor went through it, we powered through it, and by the end of the two months, as soon as we started production, it was like, 'Right, what are we doing next? What's the choreography? Let's learn it.' What took two hours to learn on the first day takes like 10 minutes to learn whilst we're actually filming so we were able to kind of switch it up, change it up, and if something didn't work, there wasn't any freaking out."
Golding said the approach with the action was often, "Let's work it towards the environment," explaining, "When you're in a factory setting, when you're on top of a car carrier for instance, it's a lot more difficult to be doing those moves when you're balancing on top of a car, which is like 20 feet in the air. Your ability to adapt definitely gets a lot quicker."
Snake Eyes: GI Joe Origins, written by Evan Spiliotopoulos (Beauty and the Beast) and directed by Robert Schwentke (Red), opens July 23.