Note: Some of the links below are affiliate links, meaning, at no additional cost to you, Fandom will earn a commission if you click through and make a purchase.
---
The signup process for Disney Plus is designed to be quick and simple. So quick, in fact, that you'll want to have already made a few key decisions in advance before you pull the trigger.
First, click here to go to the Disney+ sign-up page.
Choose "Start Free Trial" for the $6.99 per month subscription. This will start you off with a 7-day free trial which includes access to all Disney+ content, before automatically billing you. You'll also have the option to pay yearly instead of monthly, for a 16% discount.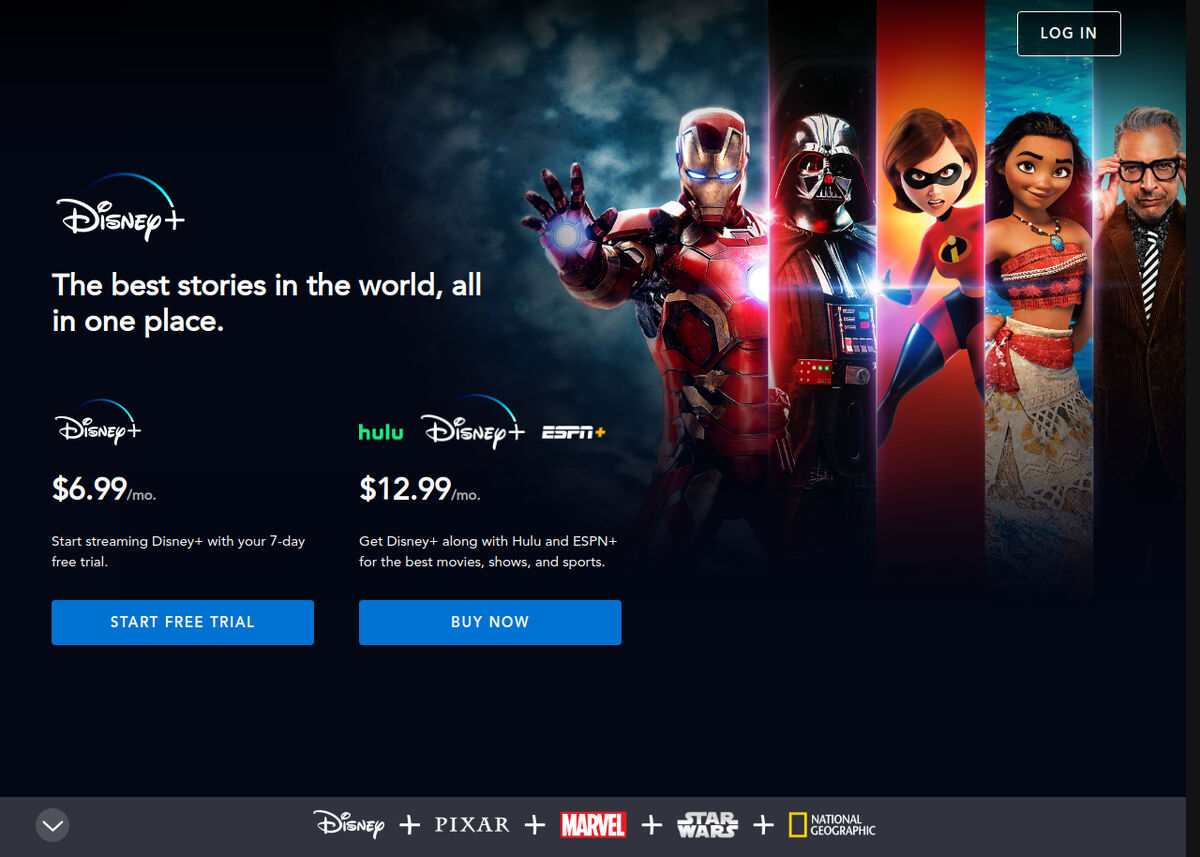 Simply enter your e-mail address and create a password. Your Disney+ password needs to be at least six characters with one number or special character. Longer passwords tend to be more secure.
On the next page, you'll enter payment information. First, choose whether you'd like to be billed $6.99 monthly or $69.99 upfront for a full year's service — which saves you 16% over paying monthly for 12 months. Then, you can enter your credit card, debit card, or PayPal. (If you choose PayPal, you'll be asked to log into your PayPal account if you weren't already logged in.) Once your payment is set up, click the blue "Agree and Subscribe" button to start your free trial.
Disney+ is the only place to stream favorites from Disney and more. Watch now!
After 7 days, your account will be charged either $6.99 or $69.99 plus tax depending on the subscription option you chose. You can cancel your 7-day trial easily online, and once the payments start, you can cancel your recurring subscription at any time. Disney+ does not offer partial credits or refunds if you cancel before the end of your billing period.
If you purchased a Disney+ subscription through your web browser, you can watch Disney+ content right away on that browser. If you want to watch through a mobile app or streaming device like a Roku, Apple TV, Xbox, Playstation (or other game consoles), you'll need to download the free Disney+ app to your device. Log in to the Disney+ app with your account e-mail address and password, and you'll be ready to watch. For each paid subscription, Disney+ supports up to four simultaneous streams through multiple devices.
---
Disney+ is the only place to stream favorites from Disney and more. Watch now!