The breakout star of Marvel's Inhumans looks set to be Lockjaw – a giant teleporting bulldog.
Series director and executive producer, Roel Reine, agrees.
"For me, Lockjaw is going to be the big hero of this whole thing. He's going to be such a star," he told FANDOM ahead of the premiere of what the studio is calling the 'first chapter'.
Inhumans will debut on IMAX screens around the world on September 1 in a global first. The first two episodes have been shot using IMAX cameras and will be screened together as one feature-length experience. The series, which consists of eight episodes, will then air on TV following the IMAX screenings.
While Reine is busy breaking new ground when it comes to event television, he's also responsible for the most sophisticated CG character yet seen on the small screen…
Reinventing Teleportation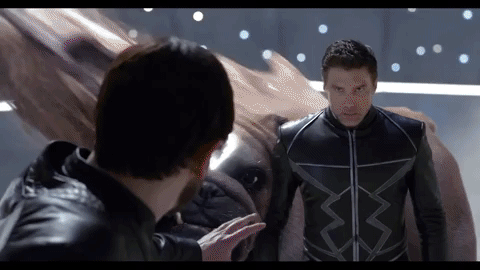 "In the comics, it was never clear how [Lockjaw teleports], so I had to come up with an idea for that," he says. "So I pitched Marvel a version. Because you saw teleportation in Star Trek – you see kind of this lighting, maybe it's a force-field or this digital thing – I wanted to stay away from that because he's a dog."
He describes his teleportation effect as "organic" and as "vaporizing" like "sand or dust."
"Sand and dust goes to a corner [of the screen] and flies away, and then wherever it arrives, it comes back and then forms itself again," the Dutch director explains. "I pitched it to them. They loved the idea and now this is the way he's going to be forever. So I feel like my DNA is in Lockjaw as well."
Will Lockjaw Speak?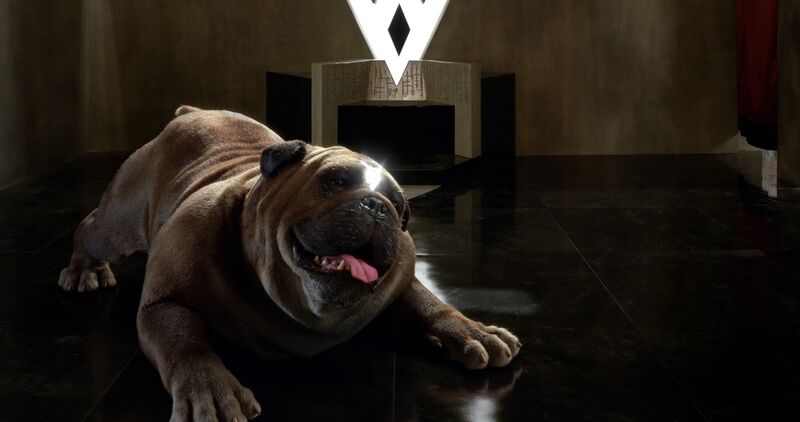 But what of the character of Lockjaw? In some of the comics, he can be seen talking or is referred to as being able to talk. Will he talk in Inhumans?
Reine says, "No. He's a dog. He's a real dog. He acts like a dog, he moves like a dog, he does doggy things."
He even likes his tummy being rubbed.
"And he's drooling, and he's kind of barking, and he's moving, and he's playful," adds Reine. "They treat him like a dog."
In the comics, Lockjaw's backstory remains mysterious. There's some speculation that he's an Inhuman who's been transformed by the Terrigen Mist into a canine-like being, but this hasn't been confirmed. And when asked if we'll learn Lockjaw's origins via the TV series, Reine is tight-lipped – except to say, "There are some things you are going to like".
Reine does, however, give this insight: "He makes mistakes like a dog. He really screws up a lot of episodes."
Stuffy the Giant Foam Bulldog Caused Havoc on Set
Creating Lockjaw meant a bit of trial and error on the part of the entire team. Reine initially thought about bringing in a puppeteer with tennis balls as 'keying points' to help the actors interact convincingly with the giant CGI bulldog.
"But the special effects guys were like: 'No, no, no, [the set] needs to be empty.' So I then asked the art department to build a really big foam dog. We called him Stuffy. But it was the real-size thing. It was completely cut out of foam in the right size so [the actors] could touch it – because when you teleport you have to touch it, and then you're teleported with the dog."
It also had wheels so it could be moved easily around the set.
"Basically it was all for rehearsals and to frame the cameras," he continues. "So we built these sets because we had a real bulldog as a reference, but when you're making it bigger, it not only goes bigger like this [indicates taller] it also goes bigger like that [indicates wider]. So the sets were not big enough. There's this one apartment building [in the series] where he has to walk through a little corridor and when we pushed Stuffy through, it was knocking down stuff. So we had a special effects guy putting these things in, pots and pans, so when he walks through, the pots and pans are falling off."
So far, fans have embraced what little they've seen of Lockjaw. And with Reine also a bit in love with the character, could we ever see a Lockjaw spin-off?
"I'd love a Lockjaw spin-off!" responds Reine. "Yes. That's a good idea. I don't know what the plans are with it but he's going to be a huge thing."
You can experience the first chapter of Marvel's Inhumans exclusively in IMAX from September 1. Follow the entire series on TV and other devices soon after.