American Horror Story has become a cultural phenomenon, introducing a new audience to the horror genre as well as indulging old die-hard fans. Each season features a different story and a different theme, inspired by horror stories throughout pop culture. Many of the show's viewers may be unaware of the references the show draws from. In creating the series, showrunners Ryan Murphy and Brad Falchuk also created an introduction to horror. For horror beginners looking to delve into more of the spooky stuff, here's a primer on the inspirations behind each season.
Warning: spoilers for AHS seasons 1-6.
American Horror Story: Murder House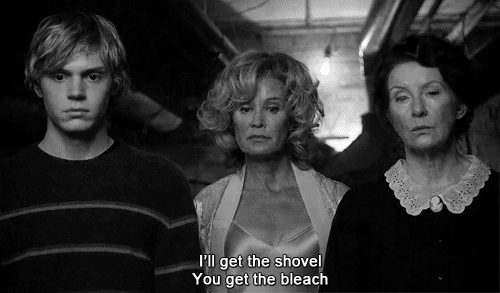 American Horror Story's first outing, now known as Murder House, drew from several traditional ghost stories. The season featured a revolving door of ghosts living in the Harmon home, each interacting with the family in their own way. The Harmons have enough to deal with before the ghosts make things complicated: psychiatrist dad Ben's infidelity, a nosy neighbor that's up to no good, and a daughter who feels lost and alienated because of high school bullies. Then daughter Violet gets herself a neat dead psycho-killer boyfriend (who also impregnates her mother with a demon baby) and American Horror Story ramps things up a notch.
Rosemary's Baby
There's no denying the connection between Roman Polanski's horror film about a woman who becomes impregnated with a demon baby. Just as Constance wheedles and prods the poor mom-to-be, members of the community in Rosemary's Baby push the titular Rosemary to carry the evil child to term.
The Amityville Horror 
The Amityville Horror (both the 1979 version and 2005 remake) tells the story of a family that moves into a house imbued with evil. Ghastly apparitions appear in both the film andMurder House. It wouldn't be a stretch to say that the home on 112 Ocean Avenue was the original Murder House, at least in spirit.
Elephant
While not a traditional horror film, Gus Van Sant's 2003 examination of the mind of a school shooter mirrors much of the massacre Tate commits. Elephant is hard to watch because of its subject matter, but it definitely shares a similar theme with Murder House.
Amityville Horror and Rosemary's Baby are available to stream on Google Play and Amazon. Elephant is available on DVD.  

American Horror Story: Asylum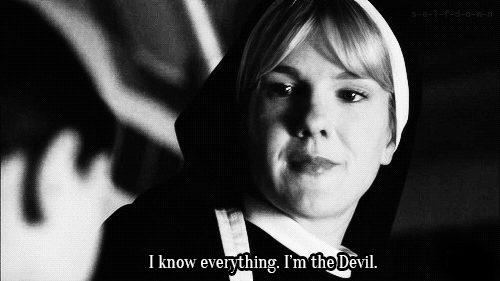 After the success of Murder House, the American Horror Story team decided to go back in time and treat us to the horrors of 1960s mental institutions with Asylum. Admittedly, they went a bit overboard with throwing in lots of new ideas after the fairly simple premise of Murder House. Asylum featured a demon-possessed nun, an evil Nazi scientist, insane people, pseudo-zombies, a serial killer, and aliens. It felt a little hodgepodge and ridiculous. Thankfully, there were still plenty of fun and frightening moments in Asylum. ("The Name Game" is still one of the best and weirdest AHS moments in the series' history.)
The Silence of the Lambs
There are many tiny homages to the 1991 film in Asylum, though none so obvious as Bloody Faces' extracurricular skin-crafting activities. The Silence of the Lambs tells the story of FBI Agent Clarice Starling as she attempts to capture serial killer Buffalo Bill with the help of cannibal Hannibal Lecter. It's an Academy Award-winning film that offers plenty of thrills and chills and echoes a few of Asylum's storylines.
One Flew Over the Cuckoo's Nest
Another Academy Award winner, One Flew Over the Cuckoo's Nest is a startling examination of what goes on in mental hospitals. There, the patients are treated cruelly by some of the nurses and undergo questionable treatments. The hospital uses electroshock therapy, just as doctors in Asylum use it on Sister Jude. Both depict evil women caring for the mentally ill, shock-treatment, and the terrors of mental health institutions in the 1960s.
The Devils
Ken Russell's blasphemous, batsh*t-crazy look at a group of orgiastic, possessed nuns in 17th Century France shares more than a bit in common with Asylum. Both feature a nun/nuns possessed by evil forces, committing gross sexual misconduct. The Devils is a truly demented piece of cinema, though its genius is in its execution and style. This is one of the most-banned films in the Western world, so that has to be some kind of horror endorsement.
The Exorcist
The Exorcist is about a little girl who gets possessed by a demon. There is a sequence of a young boy being possessed in Asylum, in addition to Lily Rabe's nun character's possession. Some of the mechanics of possession are taken straight from the 1973 film, including the infamous "crab walk."
The Exorcist, The Silence of the Lambs, and One Flew Over the Cuckoo's Nest are available on Amazon, iTunes, and Google Play. Finding a copy of The Devils is about as difficult as exorcising a demon, so good luck with that.
American Horror Story: Coven
Asylum had way too much going on, so for season three, the showrunners took a simpler approach. They also did away with Asylum's drab seriousness and camped it up. Focusing on two distinct covens of witches in New Orleans, Coven was easily American Horror Story's most fun season. It was the first appearance of the Jessica Lange/Angela Bassett/Kathy Bates badass older lady trio, and one where they were all given meaty roles. Bassett is divine as Voodoo Queen Marie Laveau. Bates is terrifying and hilarious in turn as slave torturer Delphine LaLaurie. Jessica Lange slays as The Supreme, the most powerful of all witches. Add in a bunch of baby witches trying to figure out their way in the world, some Stevie Nicks, and a unique twist on witchcraft, and you've got this author's favorite season of the series.
The Woods
The Woods is a 2006 indie flick about a boarding school for girls where all of the administration are members of a Satanic coven. While these witches are different from Coven's, it's a female-driven story with funny bits and a lot of camp. Plus it has Bruce Campbell, which is always a good thing.
The Serpent and the Rainbow
Wes Craven's The Serpent and the Rainbow is loosely based on a non-fiction book about voodoo in Haiti. While the hoodoo/voodoo mix used in American Horror Story is a bit different from its Haitian roots, there's still plenty of spooky witch doctor magic here. It also features reanimated zombie slaves, similar to Kyle's storyline.
The Craft
The Craft is a campy, fun horror movie about a group of teenage witches. It's the closest thing to a spiritual sibling Coven has.
The Craft is available to watch on Hulu and can be rented through Amazon and Google Play. The Serpent and the Rainbow and The Woods are available for rent on Amazon, Google Play, and iTunes. 
American Horror Story: Freak Show
As the series has been proven to do, season four did a complete 180 after the success of the campy, fun Coven. With Freak Show, the series' showrunners took a look at the people who were society's outcasts due to their biology. It also features a creepy killer clown that turns out to be less of a villain than initially thought. Freak Show is one of the scarier seasons and continues in the American Horror Story tradition of using horror to make social commentary.
Freaks
Tod Browning's 1932 horror film is clearly a direct inspiration for Freak Show. Both stories feature outcasts in freak shows that turn against the "normal" people for one reason or another. Freaks is absolutely terrifying and features real-life "freaks" (much like AHS's inclusion of Ma Petite actress Jyoti Amage).
It 
This 1990 horror film based on the Stephen King novel shares only the killer clown aspect, but It's Pennywise (Tim Curry) is one of cinema's most terrifying clowns. Though Pennywise is a demonic entity and American Horror Story's Twisty appears to be entirely human, the two are both murderous and seriously creepy.
John Wayne Gacy
Okay, so this one's not fictional. Twisty is based heavily on serial killer John Wayne Gacy, who dressed as the clown Pogo to kill his victims. There are many films about Gacy, including a 2003 direct-to-video biographical horror featuring Firefly's Adam Baldwin as Gacy's dad.
Freaks, It, and Gacy are all available for streaming on Amazon Video. 
American Horror Story: Hotel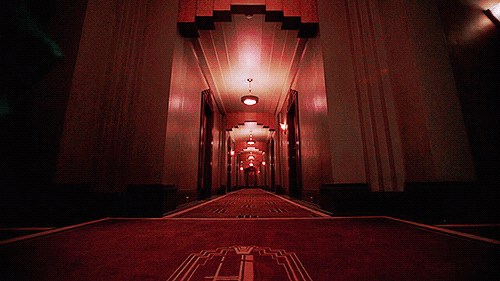 American Horror Story's fifth outing, Hotel, is one of the series' most visually interesting. Taking inspiration from Stanley Kubrick and Dario Argento, the art-deco Hotel Cortez is a marvel to look at. The season focuses on the intertwining paths of guests and staff at the Cortez, including vampire Elizabeth (Lady Gaga), a man after a serial killer (Wes Bentley), a transgender bartender (Denis O'Hare), and more. Hotel is slick and stylish, transitioning between different decades at the Cortez with American Horror Story's trademark flair for the dramatic. American Horror Story is at its best when it's a little campy, and Hotel serves its camp up with a pinch of high art.
Byzantium
Neil Jordan, the man behind the Interview with the Vampire film adaptation, directs this lavish tale about the only surviving female vampires. Byzantium is beautiful to look at, but it's also a unique take on the vampire mythos. Just as Gaga's Countess Elizabeth isn't a traditional vampire, neither are Eleanor or Clara.
Suspiria
It's no secret that we love Suspiria here at Fandom. The film doesn't share much in common with Hotel in regards to the plot, but they share a similar style. The bright colors and distinct camera movements give both Hotel and Suspiria a dreamlike, disorienting feel.
The Shining 
Both The Shining and American Horror Story's fifth season are about a haunted hotel. Each has specific rules set in place for the ghosts within their halls — anyone who dies at the Cortez or the Overlook is doomed to be there for the rest of eternity. There are several shots directly lifted from Kubrick's The Shining, and the art-deco look of the hotel mimics the Overlook in many ways.
H.H. Holmes
Evan Peters' character, Mr. March, is clearly based on turn of the century serial killer H.H. Holmes. Holmes created an elaborate murder house in which he tortured, killed, and burned his victims in 1880s Chicago. Based on the book of the same name about Holmes, The Devil in the White City is currently in development with Leonardo DiCaprio starring and Martin Scorsese directing.
Byzantium is available for purchase on Amazon and iTunes. Suspiria is available on DVD. The Shining is available to stream on Amazon Video, YouTube, and iTunes.
American Horror Story: My Roanoke Nightmare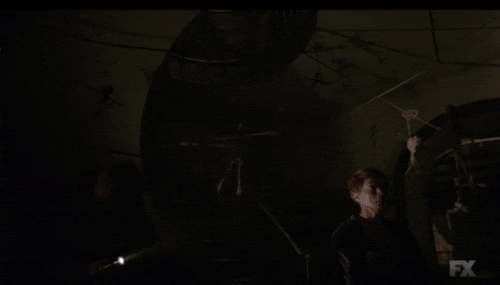 We're only a few episodes into season six of American Horror Story, and this season's theme is My Roanoke Nightmare. Thus far, the season is framed with a fake documentary. Spooky stuff abounds with witchcraft, ghosts, and little stick guys. And, as we've learned from horror movies, little stick guys are always creepy.
Blair Witch 
The parallels between the Blair Witch films and what we've seen so far with season six are impressive. Both feature the aforementioned little stick guys, a faux-documentary, found footage, and legends about "evil" places.
The Amityville Horror 
There's an element of Amityville in season six as well. Perhaps the creators are revisiting what made season one so great and want to tell another great haunted house story. We'll have to stay tuned in to find out.
The Blair Witch Project is available to stream on Amazon and YouTube. The newest film in the series, Blair Witch, is playing in theaters now. 
Follow our weekly recap and reactions to the latest season — American Horror Story: My Roanoke Nightmare.