The Intel Extreme Masters is coming to Oakland's Oracle Arena on Nov. 19 – 20, and the ESL is partnering with SLIVER.tv to let you watch the show like never before — in Virtual Reality. Both Counter-Strike: Global Offensive and League of Legends matches will be streamable in VR on a variety of devices. The matches will also incorporate live stats directly into the VR stream. This follows the success of the first-ever VR esports stream at ESL One New York earlier this year.
About the VR Streams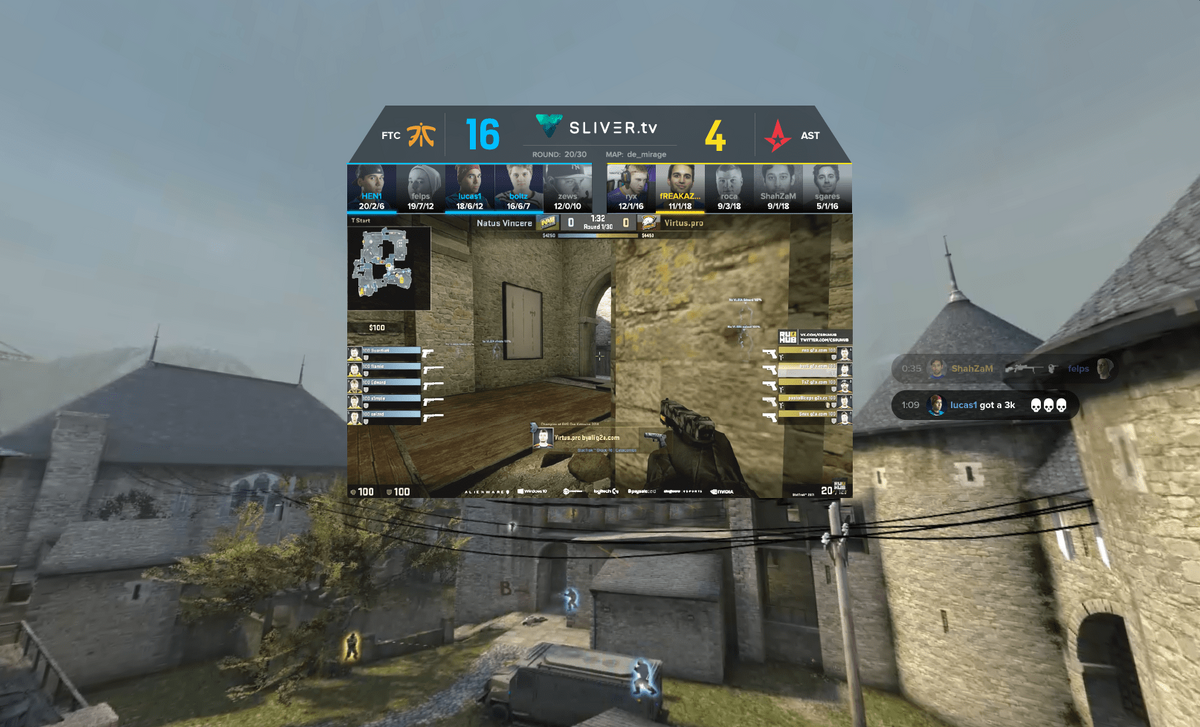 You can view matches from a top-down, bird's eye view that lets you see the entire map. This shows you where the various competitors are located on the map. It also gives you a better sense of the high-level tactics and teamwork on display in these esports matches.
You'll also be able to view CS:GO from the typical first-person view you'd expect in an esports shooter match. In this mode, the action takes place on a large screen inside the game world. This allows you to look down on the entire map to see the two teams, then look up at the big screen to see how the action is playing out.
Check out the 3D trailer below, which allows you to rotate the perspective 360 degrees to see how the games look in the app.
Augmented Stat Tracking
One of the coolest features the ESL and SLIVER are promising is the ability to view real-time match statistics. The appropriately named "VRLiveStats"  platform includes stats like player KDAs (Kill-deaths-assists), kills per weapon, and kill streaks. The stats appear directly over the match in what appears to incorporate augmented reality inside of virtual reality. (Check out our previous article that explains the difference between the two technologies).
The full press release follows:
Cupertino, CA – November 11, 2016 — ESL, the world's largest esports company, and SLIVER.tv, a next-generation esports 360º virtual reality entertainment platform, are partnering for the first-ever live-stream of Counter-Strike: Global Offensive and League of Legends featuring augmented live stats integrated into the Virtual Reality stream at Intel Extreme Masters on November 19-20.

Virtual reality live-streaming unlocks a unique opportunity to transform the esports spectator experience by teleporting the viewer inside top esports games like CS:GO and LoL, and enhancing that experience with real-time player, game and "key moment" stats. ESL is providing this augmented spectator experience in partnership with SLIVER.tv and its VRLiveStats platform. Viewers around the world can for the first-time feel the visual imagery of esports, the intense spirit of competition in CS:GO and LoL tournaments, and get real-time stats including player KDAs (Kill-deaths-assists), event timeline with bomb plants, defuses, kills with various weapons and "key moment" stats such as 2k, 3k and multi-kill streaks by player in round.

Stuart Ewen, Product Manager ESL, said: "SLIVER.tv is helping us raise the bar for VR live streaming with VRLiveStats. Having a real-time in depth look at everything that happens in a CS:GO match is something unique to a VR broadcast. Now, viewers not only have a bird's eye view of all the action and a first person feed, but also all of the statistics to put together a high level view of how a round or match unfolds. All of this is only possible in a VR environment."

Mitch Liu, co-founder and CEO of SLIVER.tv, said: "We're thrilled to work with ESL to showcase our VRLiveStats technology. Our vision is to transform the eSports spectator landscape forever, and incorporating augmented live stats into our VR 360 live-streams of CS:GO and LoL is a big step towards this vision. Fans around the world can now access valuable game stats and information in real-time, all within a natural and immersive VR experience."

George Woo, esports marketing manager at Intel, said: "Each season we push the boundaries of innovation by adding new elements to make IEM more exciting and immersive for fans. This year you can experience IEM for the first time in VR through SLIVER.tv. Powerful and thrilling VR experiences like SLIVER.tv demand a high performance PC —and that is where Intel excels with its latest Intel Core i7 Extreme Processor. With SLIVER.tv IEM is going to be even more exciting for gamers and create new VR fans."

IEM Oakland will be broadcast in virtual reality using a platform agnostic method that is viewable through a website, mobile device, or VR headset exclusively through SLIVER.tv's platform. Fans worldwide can download and install the SLIVER.tv Android and iOS apps to watch in mobile Panorama-360 or using Google Cardboard, as well as on the company's website. For a premium experience, users can download the SLIVER.tv GearVR, Oculus Rift and HTC Vive apps to watch in full VR.
How to Watch
Here are the links to the various ways to view the IEM VR stream:
The Intel Extreme Masters Oakland takes place Nov. 19 – 20. For those who prefer not to watch in VR, the event will also be streaming all weekend on Twitch. Tickets are also still available to attend in person.