After Fede Alvarez's strong 2013 remake of Evil Dead, the infamous cult horror series was back in the spotlight. Since the tease of his return in the remake's end credits, fans were eager to see star Bruce Campbell back in action as Ash Williams. We expected to see a sequel to the remake, but we got something even better: Ash vs Evil Dead.
This Starz original series picks up Ash's story years after he's hung up his trademark chainsaw and boomstick. In the first season, we saw Ash settled into a life of stoned trailer park burnout. Of course, he mistakenly kicks off a whirlwind of demonic bedlam that only he, along with his co-workers Pablo (Ray Santiago) and Kelly (Dana DeLorenzo), can defeat. Along the way, they met the mysterious Ruby (Lucy Lawless) and determined cop Amanda (Jill Marie Jones).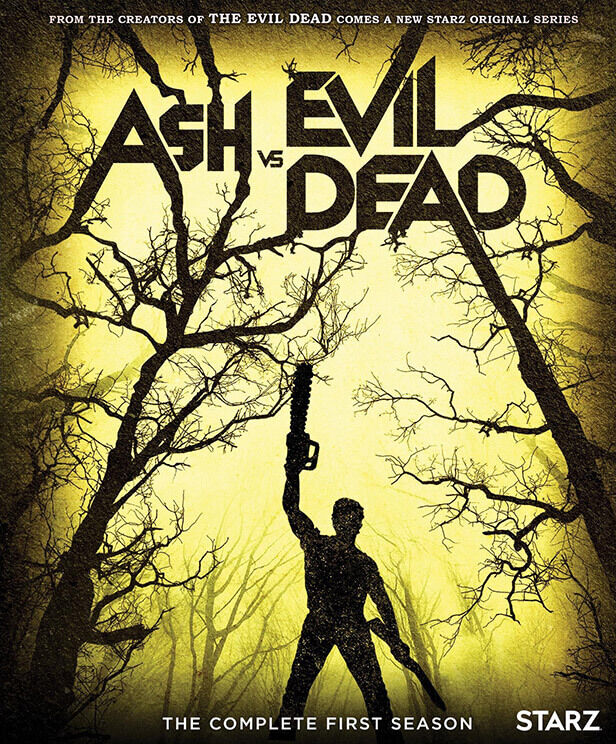 Now, the acclaimed first season has hit Blu-ray and DVD, giving fans plenty of time to revisit the first 10 episodes before season two begins. In celebration of season one arriving on home video and the upcoming season two premiere, I had a chat with the man himself: Bruce Campbell.
TRAVIS NEWTON: When season one first moved forward, how did you define "getting it right?"
BRUCE CAMPBELL: Sam [Raimi] had to direct the pilot because we needed the proper street cred. People had to know that the Grand Poobah was participating. And by doing so, we set the tone, the expectations, and the visual style. And then all the other directors have to keep jumping up, trying to catch that. We also hooked up with a very good partner in Starz. They allow us no content restrictions as far as carnage and mayhem. And our fans have always demanded that, as much as possible. So I'm not sure if they know how fortunate they are that this show, in particular, is on Starz. If we were anywhere else — AMC, SyFy, you name it — this would not be the same show.
NEWTON: Do you have a favorite moment from season one?
CAMPBELL: Season one? Boy… they start to become one long episode. Season two's way fresher. My favorite memory of season one is that we got through it, and the fans accepted it. We screened the pilot at the New York Comic-Con last year, and the fans lit their hair on fire! That was really our relief factor: that they accepted it. We weren't really sure that they would accept a crabby, middle-aged, paunchy Ash as their hero. Thankfully, so far they have.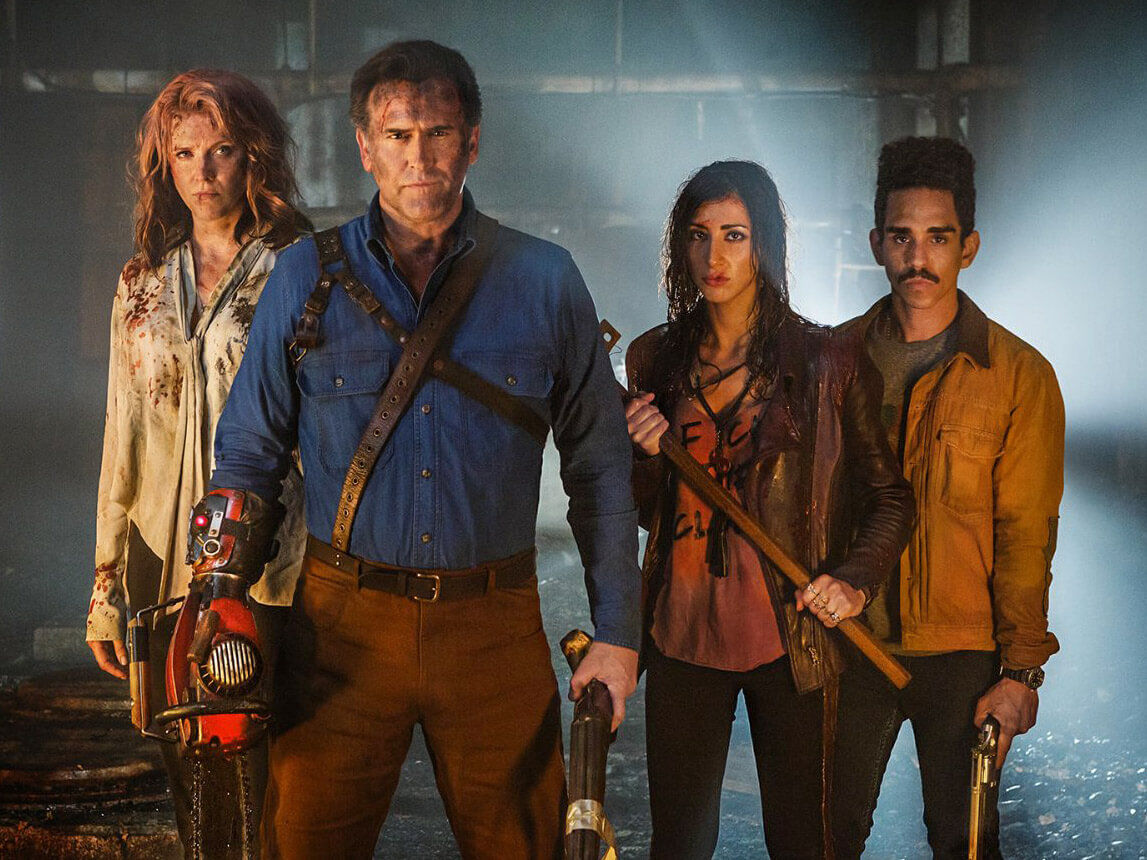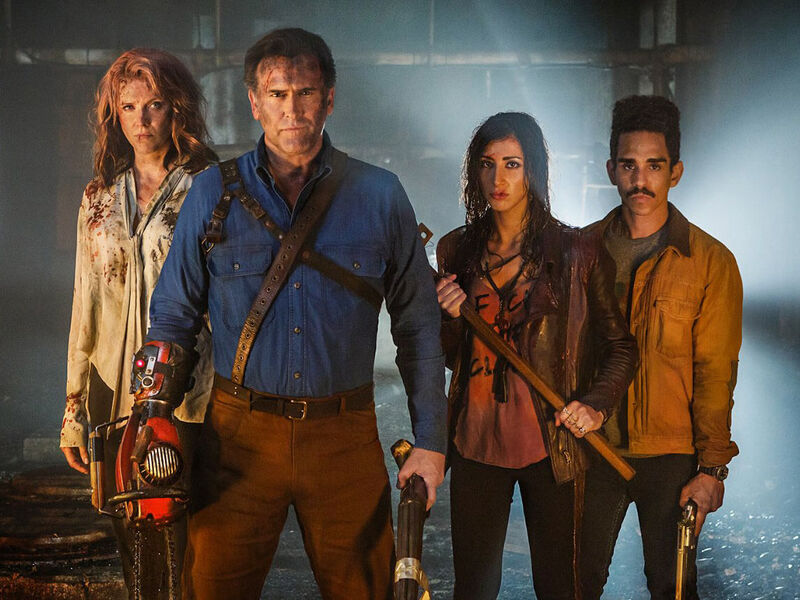 NEWTON: The Evil Dead series has, from day one, has been about creating myth. It implies that these goofy humans are messing with something much bigger than they understand. That mythical lore has expanded with every entry in the series. I'm curious — now that we know Ruby's supposed true nature, how will the mythology expand outward?
CAMPBELL: Well I think it has to go out and up. Or I guess you might say out and down. Whichever direction. Y'know what it is? It's peeling onion layers off of the underworld — off of everything that is not good, not righteous. In religious mythology, there are all kinds of different gods. If you turned all that upside down, you'd have a lot of underworld gods with their own hierarchy, their own demands, their own powers, and their own minions. Ruby is very likely a pawn in that chess game. She's not the big bad — not by a long shot.
NEWTON: Speaking of big bads, there's a new one for season two. Joel Tobeck plays Baal, but we don't know much about him yet.
CAMPBELL: No, we don't. But he's bad. Very bad.
NEWTON: We're going to meet Ash's father this season as well, played by the Six Million Dollar Man himself, Lee Majors. It's very fitting that Ash would have a bionic hand.
CAMPBELL: Yeah! Isn't that incredible?
NEWTON: I love it. Having Ash's father on the show means we'll be exploring Ash's past to some degree. Did you guys cast a young Ash for flashbacks?
CAMPBELL: It wasn't necessary. You'll see how it was structured. We handled it in a very different way.
NEWTON: We were over the moon to hear that Ellen Sandweiss, who played Cheryl in the original film, will show up. Can fans expect any other surprise guest roles?
CAMPBELL: Ted Raimi plays a new character: Ash's old friend Chet, from back in the day. And then there's one full character that I just can't tell you about. I hope it'll be a full-on holy s*** moment for the fans.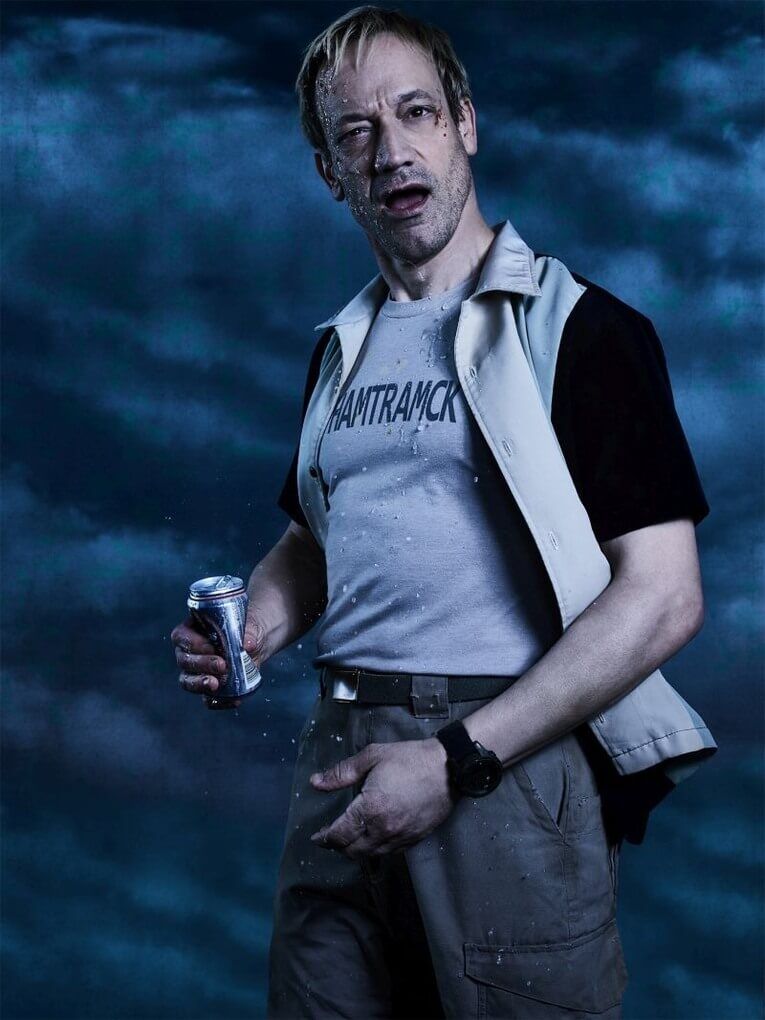 NEWTON: We went crazy when producer Rob Tapert said that Army of Darkness would get some recognition in the upcoming season. How much of an impact will that have?
CAMPBELL: People shouldn't read any more into that than a simple statement. Now, there are some elements of Army of Darkness that we use. But there are some elements, which if we use them, would make our lives more complicated. So we decided to make our lives not complicated. Because if you think about the first two movies, you get everything you need. Shotguns, chainsaws, axes, time travel, and a book. That pretty much covers everything you need. And then the universe that expands from there is new.
NEWTON: Bubba Ho-Tep, a movie I love, is also getting the Blu-Ray it deserves. Are you working with Scream Factory on that?
CAMPBELL: I did my interview for it, yeah! I put on a funny suit and told them everything I remembered about Bubba. I have a lot of good memories of that. It's a true, true, true independent movie. People love talking about indies, but this thing was independently financed and independently distributed. Don Coscarelli basically carted the prints around with his bare hands. He booked the theaters, he self-distributed, and I always like guys like that. When Don was doing Phantasm, Sam and I were doing Evil Dead around the same time. They're both cult movies. Y'know, that sort of thing. I was excited to work with Don. Same goes for Joe R. Lansdale, too! I felt his story was such an original concept. I'm just glad it stuck. And we haven't done a sequel yet because we haven't found material that pleased all of us at the same time. And there's no point in doing something if we're unhappy with it.
NEWTON: Amen. Thanks so much for joining us today, Bruce. Anything to add?
CAMPBELL: Yeah! Get the Blu-ray!
Ash vs Evil Dead season two premieres on Sunday, October 2, on Starz. Based on the early feedback we've heard, you'll want to watch.